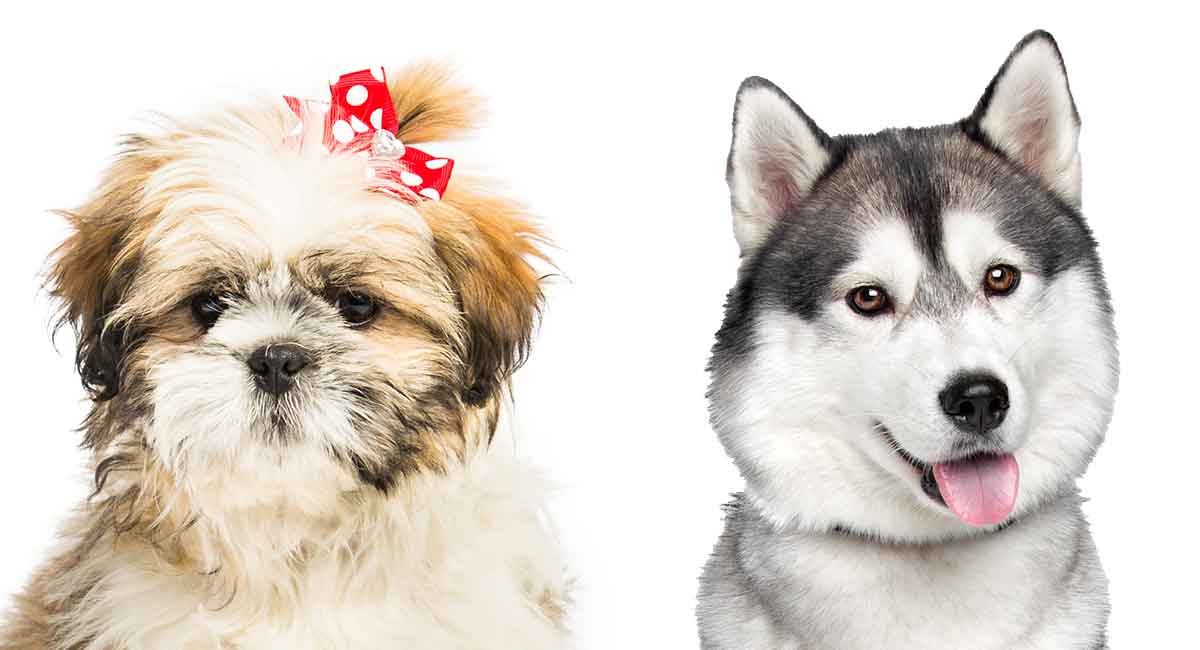 The Shih Tzu Husky mix is an unusual combination.
Due to the vast differences in size between a Shih Tzu and a Husky, standard breeding practices are rarely possible.
There is usually no option but to use artificial insemination. However, the success rate is low as well as expensive.
As a result, this hybrid breed is rare to find with little information available.
So, what is the likely outcome of mixing a pampered lapdog with a tough working dog?
Here we have gathered all the information to provide you with an in-depth guide to the Shih Tzu Husky mix.
Where Does the Shih Tzu Husky Mix Come From?
The Shih Tzu Husky mix is a relatively new breed of dog but, like many hybrid dogs, the exact origins are unknown.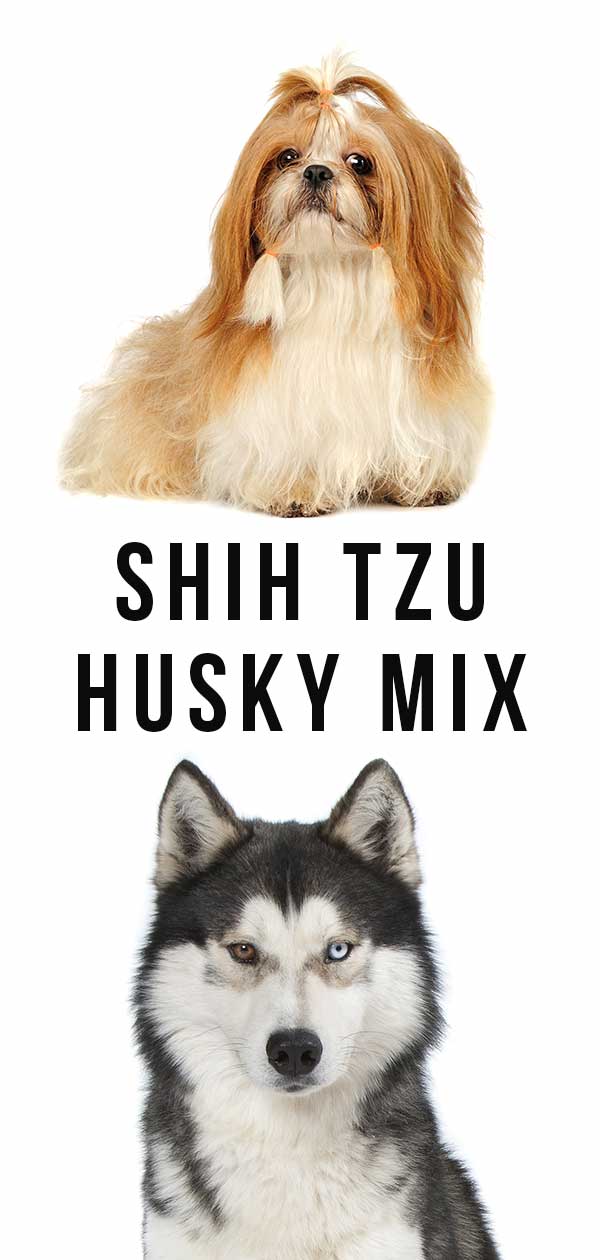 However, there is much information regarding the history of the parent breeds.
Shih Tzu
The adorable Shih Tzu is a small, ancient breed of dog from China, but its origins are shrouded in mystery.
One theory is that Tibetan lamas developed the breed as a replica of a tiny lion, an association with Buddhist mythology, before sending them as gifts to Chinese royalty as prized lap dogs.
The Shih Tzu, which means "lion dog" in Mandarin, is thought to be the result of cross-breeding the Pekingese with the Lhasa Apso.
The breed was not seen outside of China until the 1930s when they were imported to England and eventually throughout Europe.
After the end of World War Two, American military personnel brought the dog back from Europe to the United States and was officially recognized by the American Kennel Club (AKC) in 1969.
Siberian Husky
Another ancient breed of dog whose origins remain a mystery, the Husky has an ancestry dating back over 3000 years.
This Siberian breed was developed by the semi-nomadic Chuckchi people in North Eastern Asia, who used the dogs for hunting and pulling loads over long distances by sled in harsh cold weather.
In 1909, several Siberian Huskies were imported to Alaska for use as sled dogs during the gold rush.
The AKC accepted the Siberian Husky in 1930.
The Controversy of Designer Dogs
The ongoing debate regarding designer dogs and purebreds continues among dog enthusiasts everywhere, with pros and cons on both sides.
Supporters of the purebred argue that by keeping the bloodlines pure, traits are predictable, so owners know what to expect.
However, advocates of the mixed breed believe that their dogs are healthier because there is a broader gene pool and what's known as hybrid vigor.
You can read more on this topic and reach your own conclusions here.
Fun Facts About the Shih Tzu Husky Mix
A Shih Tzu named Bonny starred in the 2012 Colin Farrell movie "Seven Psychopaths." She now has her own Facebook page.
In 1925, Husky dogs were used to transport urgent medical supplies for more than 600 miles during a severe diphtheria epidemic that swept through the remote city of Nome in Alaska.
Shih Tzu Husky Mix Appearance
As a mixed breed, it is difficult to predict what your Shih Tzu cross Husky dog will look like, especially as the two parent breeds differ significantly from one another.
Shih Tzu Appearance
The Shih Tzu is a solid little dog that measures from 8 to 11 inches in height at the shoulder and weighs between 9 to 16 pounds.
Along with large, dark eyes and pendant ears, this breed's unnaturally short face makes her a brachycephalic breed.
The Shih Tzu double coat is soft and long. It's seen in a variety of solid colors, including white, black, tan and gold.
She also may have a mixture of two colors such as white and black or white and liver.
Husky Mix Appearance
The Husky is a robust, muscular and compact dog. This breed is medium sized and longer than tall.
Husky heights range from 20 to 23.5 inches at the shoulder, and the dogs weigh between 35 to 60 pounds.
These agile dogs have a wolf-like appearance, along with striking blue or brown eyes. Their eyes can be bi-colored.
Their ears are triangular shaped, and the tail is bushy.
The Husky sports a thick double coat that is short to medium in length, and comes in many colors and patterns that are unique to this breed.
The most common colors include black and white, copper and white, or pure white.
The Shih Tzu Husky mix is a curious combination. No one can predict what it will look like.
It may resemble a larger Shih Tzu or a slightly smaller Husky. Or, it could look like a little of both.
Shih Tzu Husky Mix Temperament
Each dog has a unique personality. But when you combine the temperaments of two different breeds as well, the outcome is quite unpredictable.
Both the Shih Tzu and Husky are playful, as well as loyal and affectionate dogs.
They love children and are good with pets—if raised with them.
However, because of the Husky's natural hunting instinct, this mixed breed should not be around small animals or birds.
Both breeds can suffer from separation anxiety if left alone for extended periods.
Care is needed when your mixed breed is in the backyard.
Huskies are renowned escape artists who can squeeze, break or chew their way out of anywhere.
Training Your Shih Tzu Husky Mix
As with any dog, it is vital that you start training. Introduce socialization as early as possible, using positive reinforcement methods.
House training your new pet is one of the first steps you should take when bringing her home.
Both the Shih Tzu and Husky breeds are known for being notoriously difficult to potty train, so much patience is required.
It is, therefore, a good idea to crate train your Shih Tzu Husky mix.
It provides a secure environment, plus no dog likes to sleep where she soils.
Despite their friendly nature, the Shih Tzu can be stubborn when it comes to training and won't do anything unless this dog knows what is in it for him or her.
The Husky is a strong-willed, independent dog who, although highly intelligent, is not easy to train and becomes bored quickly.
Because the Husky is a pack dog, she will challenge your leadership and test boundaries if allowed.
When training your Shih Tzu Husky mix, assert yourself as the leader and keep sessions short.
Give plenty of praise and reward her with food.
Exercising the Shih Tzu Husky Mix
Your Shih Tzu Husky mix is likely to be an energetic, playful dog.
Despite her small size, the Shih Tzu tends to be lively and can be destructive if not exercised enough.
However, as a brachycephalic breed, care must be taken not to overexert her.
The Husky loves the outdoors and has high energy levels, requiring plenty of vigorous exercise.
She should never be allowed off the leash because she won't tend to come back.
Also, because of her high prey drive, she is prone to chase after other animals.
This type of dog needs a safe, secure place to run around.
The Husky was bred to be resilient to extreme cold, so this breed's thick coats make her vulnerable in hot weather.
With your Shih Tzu Husky mix, exercise her in the coolest part of the day during the summer to prevent overheating, keeping her in an air-conditioned home.
Taking your Shih Tzu Husky mix swimming to cool down is probably not a good idea.
Although the Shih Tzu breed can swim, their long coats and flat faces make it difficult for her in water.
And coming from Siberia, the Husky has no need or even knows how to swim.
Shih Tzu Husky Mix Health
It is good to know that both parent breeds enjoy reasonably long lives.
The Shih Tzu has an average life span of between 10 and 16 years with the Husky living 12 to 15 years.
All breeds of dogs have health issues with some more severe than others.
Having a short face makes the Shih Tzu susceptible to a variety of eye problems and respiratory issues.
And because of this breed's long back, she may suffer from back and neck conditions.
She is also prone to ear infections, allergies, kidney infections, patellar luxation and hip dysplasia.
The Husky may be at risk of hip dysplasia and eye conditions such as cataracts.
Therefore, a Shih Tzu Husky mix requires hip evaluations and eye clearances provided by the breeder.
General Care
Your Shih Tzu Husky mix has moderate to high grooming requirements.
It will have a double coat and shed all year round, but the length of the hair depends on the traits inherited.
If your mixed breed has the Shih Tzu's long, silky coat, it will require daily brushing to prevent tangles and matting.
The coat of a Husky requires less maintenance, brushing maybe once or twice a week.
Keep the nails trimmed, and clean the ears and teeth regularly to prevent infection.
Always feed high-quality food to your Shih Tzu Husky mix with meat protein as the main ingredient.
Take care not to let her become overweight, especially because this breed is prone to hip dysplasia.
Do Shih Tzu Husky Mixes Make Good Family Dogs?
The Shih Tzu Husky mix is friendly and affectionate.
Generally, this mixed breed is an excellent family dog due to a kind nature and ability to get along with children.
But, due to their high energy levels, this mixed breed is probably not right to have around toddlers.
Considering the Shih Tzu has a flat face, your Shih Tzu Husky mix may also inherit this trait.
If so, this can cause possible health issues, so we cannot recommend this breed of dog as a suitable pet.
Rescuing a Shih Tzu Husky Mix
You may decide to adopt a Shih Tzu Husky mix from a local shelter.
Contact dog rescue centers, and let them know you are interested in this type of breed.
We'll link to some specialist Husky and Shih Tzu shelters at the bottom of this article.
Finding a Shih Tzu Husky Mix Puppy
Designer dogs are increasingly growing in popularity with more than 500 mixes to choose from.
However, the Shih Tzu Husky breed is quite rare, so you may have a hard time locating a breeder.
It is vital to assess the motivation as to why the breeder chose to cross breed these two very different types of dogs.
Spend time with the parents, and make sure the puppies look healthy and happy.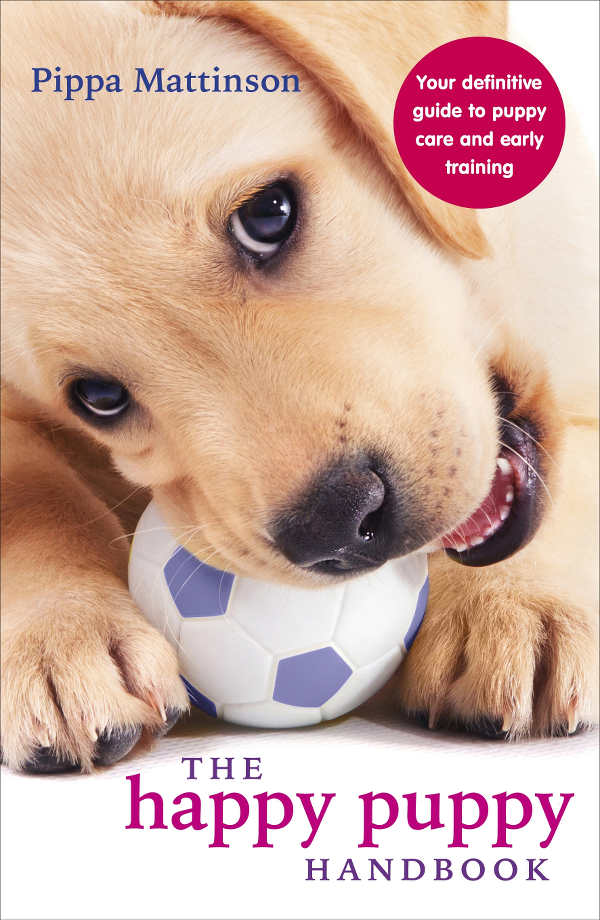 A good breeder will provide the results for genetic health testing.
Avoid buying from puppy mills and pet stores because they have little regard for the health and well-being of the animals they breed.
Raising a Shih Tzu Husky Mix Puppy
This mixed breed puppy may be difficult to train. Motivate her with praise and treats.
It is vital that you feed the correct amount of nutrients to give this mixed breed a healthy start in life.
Our guide to the best Shih Tzu foods will help you plan a healthy diet for her whole life.
Shih Tzu Husky Mix Products and Accessories
Giving this active dog safe toys to play with keeps her occupied.
As this breed sheds all year round, you may want to invest in a handy vacuum to clean up fur.
Pros and Cons of a Shih Tzu Husky Mix
We've given you a lot of information here, so let's try and sum some of it up now.
Cons
Flat face has the possibility of breathing issues
Prone to overheating in hot weather
Sheds all year round
Suffers from separation anxiety
Huskies escape easily
Difficult to train
Care needed with small animals and birds because of the Husky's prey drive
Grooming can be high maintenance
High energy levels
Pros
Loving
Loyal
Excellent with children and other pets if raised with them
Lives a relatively long time
Can make a good watchdog
Similar Shih Tzu Husky Mix Breeds
If you decide the Shih Tzu Husky mix is not for you, you may want to consider other breeds instead, such as:
Alaskan Husky
Huskydoodle
Shih Tzu Husky Mix Rescues
Here is a list of rescue centers that specialize in Shih Tzus and Huskies.
If you wish to add your organization, please include your details in the comment box.
United States of America
United Kingdom
Australia
Canada
Is a Shih Tzu Husky Mix Right for Me?
Only you know the answer to this question.
You need to consider the health problems associated with a brachycephalic breed carefully.
This loyal breed will need lots of company, and time and patience to train.
You might also have to brace yourself for a wait to get one.
If you manage it, do let us know how you get on in the comments box!
References and Further Reading:
Farstad, W. and Berg, K.A., 1989, "Factors Influencing the Success Rate of Artificial Insemination with Frozen Semen in the Dog," Europe PMC.
Fernandez, A., 2014, "Ancient Breeds – Shih Tzu, Tibetan Terrier, and Lhasa Apso," The Canine Chronicle.
Hendricks, J.C., 1992, "Brachycephalic Airway Syndrome," Veterinary Clinics of North America: Small Animal Practice.
Leighton, E.A., 1997, "Genetics of Canine Hip Dysplasia," Journal of the American Veterinary Medical Association.
Wan, M., et al., 2013, "DRD4 and Th Gene Polymorphisms Are Associated with Activity, Impulsivity and Inattention in Siberian Husky Dogs," Animal Genetics.