The Sheepadoodle is a popular sheepdog Poodle mix. It's a cross between an Old English Sheepdog and a Poodle.
Poodles come in three sizes and the size your sheepdog Poodle mix will reach once full grown, will depend on the Poodle parent. Most Sheepadoodles have a Standard Poodle parent rather than one of the smaller Poodle breeds. So these tend to be big dogs weighing up to 80lbs and sometimes more.
The Sheepdog Poodle mix is generally confident, intelligent, and energetic. They are blessed with a mass of gorgeous curls in Old English Sheepdog colors.
That impressive coat takes some looking after. And its worth considering whether you will want to pay a groomer to clip your dog, or learn to groom it yourself.
Sheepdog Poodle Mix FAQs
Looking for a quick answer? Here are our readers most common questions about the Sheepadoodle:
And what about those all important vital statistics?
Sheepadoodle At A Glance
Purpose: Companion, agility and other canine activities
Weight: 40 – 100 lbs
Height: 15 – 22 inches
Temperament: Loyal, intelligent, active
Now we've covered the basics, let's really get to know the shaggy Sheepdog Poodle mix.
Sheepdog Poodle Mix Contents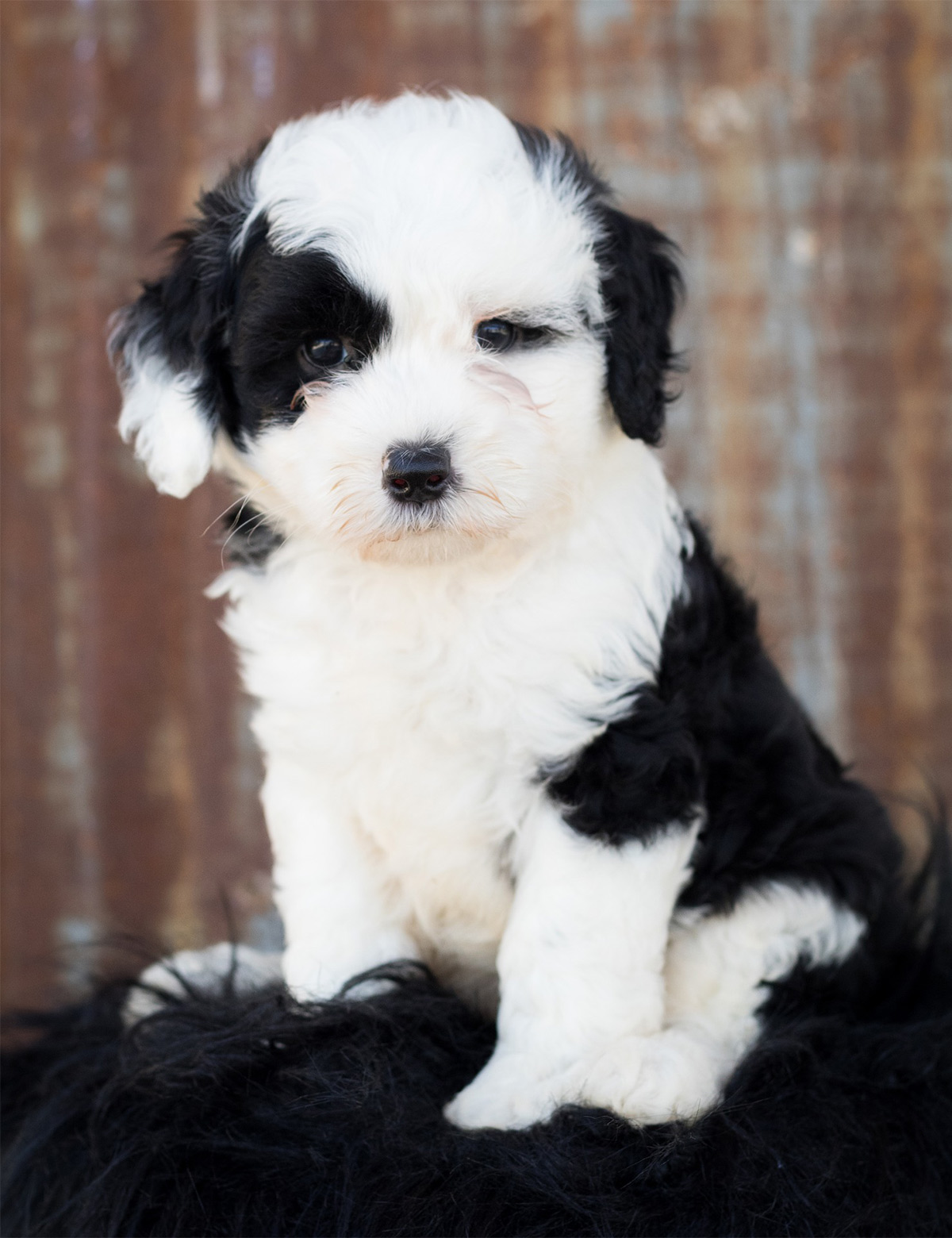 History and original purpose of the Sheepadoodle
This new mix seems to have started to appear in the 1990's in the US. But this is pretty speculative.
However, it's origins go way back. Because it all started with their parent breeds, the Poodle and Old English Sheepdog.
The Old English Sheepdog's origins
Like many of today's popular canines, the origins of the Old English Sheepdog are somewhat obscure.
Although this herding dog is believed to have originated in the west of England. But it might have its roots in the Russian Owtchar, or the Scottish Bearded Collie!
Interestingly enough the first documentation of the dog comes not from the written record, but from the art world.
Many believe that an 18th century painting by Thomas Gainsborough features a dog resembling the Old English Sheepdog.
This breed was used for generations as a hard working, herding dog.
But today they have found a firm place as companions in family homes too.
The Poodle's origins
Like the Old English Sheepdog, the Poodle's origins are also up for debate.
Some believe it be descended from French ancestors while others think that its ancestral roots lay in Germany.
At any rate German artist Albrecht Dürer is given credit for revealing the first images of the breed, depicting the dog in his work as far back as the 1400's!
The poodle comes in three sizes: Standard, Miniature, and Toy.
The Standard, most often used to create the Sheepdog Poodle mix, is the largest of the three and was originally used in the hunting field.
Like the Old English Sheepdog, the Standard Poodle is also now commonly found living happily in homes around the world.
Fun facts about Sheepdog Poodle mix
The Sheepadoodle is best known for a pretty amazing disguise – as a panda!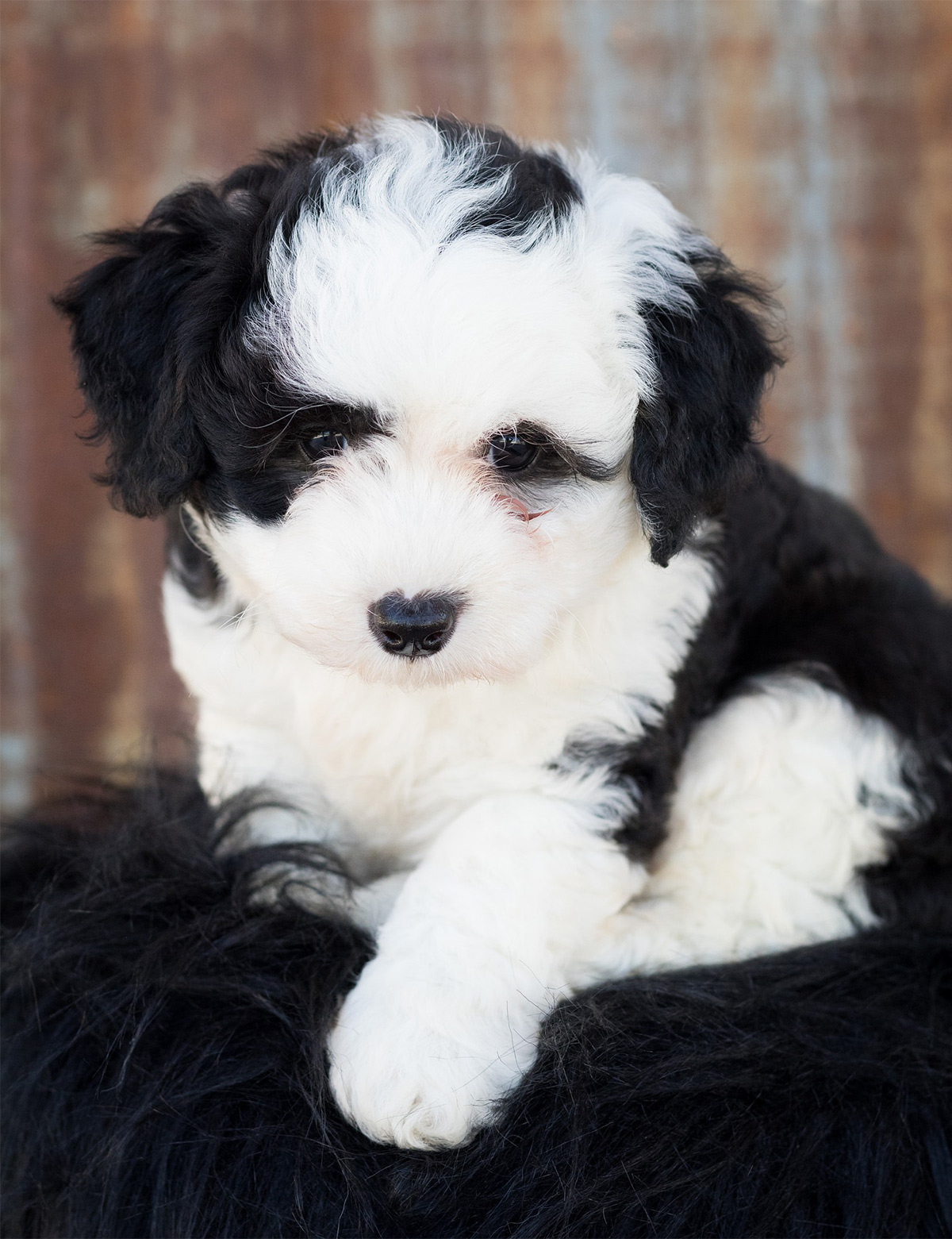 The markings on this giant cutie really stand out from the crowd.
But that's not the only thing about the Sheepadoodle's appearance that has got people talking.
Sheepadoodle appearance
Poodles come in lots of colors, but these don't tend to express in the same range in their Old English Sheepdog mixes.
These easy-going fur balls are usually black and white in appearance, often having one or both eyes ringed by a large patch of black fur.
Topping off their cuddly look is an adorable, dark, prominent nose.
And it doesn't hurt the comparison in the least that these medium sized dogs are just as playful and clownish as the cute panda bear!
Sheepadoodle coats are often mainly white in front and black on the tail end.
Some pups are nearly all white or all black. Often with random splotches of the opposite color.
Then again, there are some adorable Sheepadoodle full grown who resemble a giant tub of yummy chocolate chip ice cream!
As with the Old English Sheepdog, don't be surprised if your Sheepadoodle's black fur eventually fades off into a lovely gray-ish hue after a year or more.
And although this occurrence is rarer, once in a great while soft shades of sable will appear in a Sheepadoodle's coat.
Sheepadoodle Size
Standard poodles max out at around 65 pounds and 21 inches in height.
Old English Sheepdogs stand on average around two feet in height.
Males reach approximately 22 inches-plus, while females stand around 21 inches and over.
These large dogs carry a good amount of weight on their frame, with anything between 60 and 100 pounds the norm.
A standard Sheepdog Poodle mix could be anywhere within these limits.
And his temperament can vary too.
Sheepdog Poodle mix temperament
The Sheepadoodle personality will be influenced by the genetic makeup of the Poodle and the Old English Sheepdog.
In an ideal world, every cross breed would express only the very best qualities of each parent. But in reality (as we know from our own lives!) that rarely happens.
The Old English Sheepdog is praised for its gentle nature and adaptability.
The large breed can be a mellow housedog, but these are big dogs that enjoy exploring and regular walks.
Sheepdogs greatly enjoy being included in family time and along with the Poodle can do well with children provided that they are socialized and trained early.
Old English Sheepdogs do not relish being separated from their humans and they may become destructive if left by themselves for extended periods of time.
Like the Poodle, the Old English Sheepdog is a fast learner and he is an obedient dog.
Poodles rank near the top in canine intelligence and are highly trainable.
They enjoy pleasing their owners and retain an alert sensitivity which means they will tell you when strangers approach.
Poodles have a reputation for being high strung but in fact they have naturally low levels of aggression.
Training your Sheepadoodle
Early socialization and positive reinforcement training techniques will go a long way.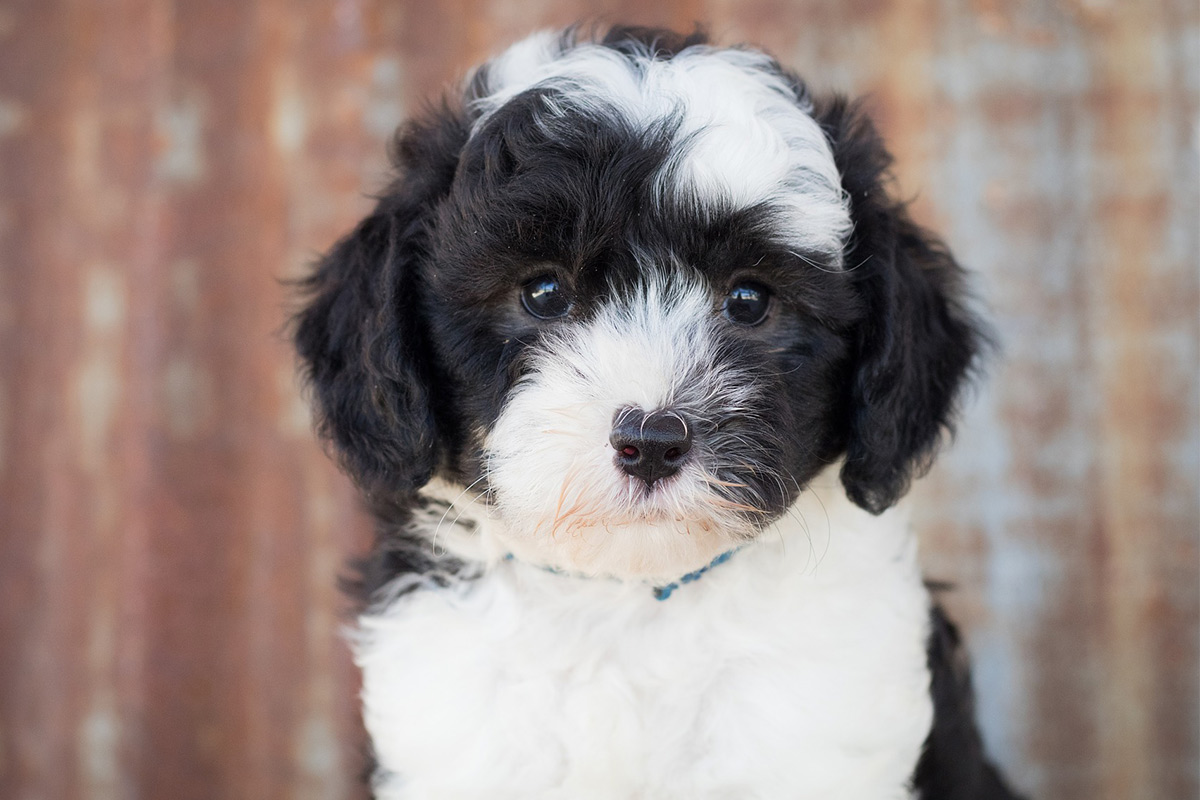 Punishment based training is not recommended and can be dangerous since it can actually mask signs of troubling behavior.
Most Sheepadoodle owners describe their pups as sociable, playful, people-oriented, and displaying a sweet disposition.
It is important to remember Sheepadoodle temperament could be on either end of the spectrum, or a mixture of both.
Exercising an Old English Sheepdog Poodle mix
If you want a dog who's content to be a couch potato or a purse dog, then skip over the Sheepadoodle because these pooches inherit a lively set of genes!
Large, rambling Sheepdogs need an outlet for their physical nature.
They are big, enthusiastic dogs and require proper training to curb what could easily turn into rowdy, unwanted behavior. For example, some may try to herd smaller animals or children!
Poodles maintain moderate levels of energy and like to keep busy, especially mentally.
Your Sheepadoodle will inherit his parent's proclivity for activity, and if they are like the Poodle parent will be need a lot of mental and physical stimulation.
They will also need company. This is not usually a dog that will be happy to be left during alone all day while you work.
But keep them busy and company, and they have a good chance of being a charming companion.
Health is important too, let's take a look at that next
How healthy is an Old English Sheepdog Poodle mix?
Your Sheepadoodle can be expected to be at risk from some of the same health issues as his parents.
Both breeds are well structured. Their legs are not too short. And their muzzles are a good length.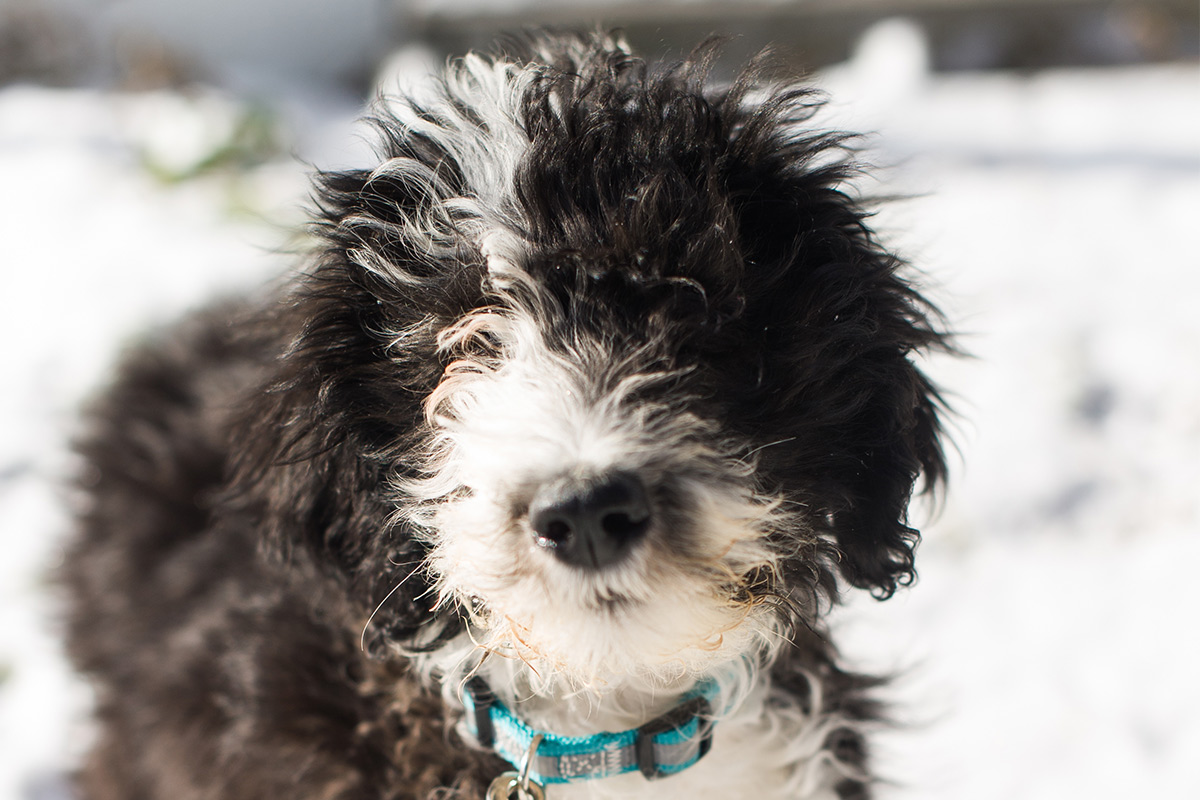 These are important features in any puppy. But there are diseases associated with each breed.
Make sure your breeder has used parents health tested against the conditions common to each of them.
Old English Sheepdogs health
Hip dysplasia, eye disease, and hypothyroidism are all issues to be aware of with Old English Sheepdogs.
Hip dysplasia is not uncommon in large breeds. It can affect one or both hips, and cause pain and stiffness.
Both the Old English Sheepdog and Poodle parents should have good hip scores.
Progressive retinal atrophy is an inherited eye condition in which the retina deteriorates leading to vision loss.
A dog with PRA may eventually lose both day and nighttime vision. Blind dogs are capable of adapting, but this is a disease that can and should be avoided.
Check those test certificates to make sure your puppy doesn't have PRA.
Standard Poodle health
Cushing's disease, bladder stones, and skin tumors are among the problems encountered by Poodles.
Unfortunately Poodles are prone to dermatological issues including sebaceous adenitis, a condition affecting the glands that lubricate the hair follicles and skin.
The condition is frequently misdiagnosed as hypothyroidism, complicating treatment.
Your Sheepadoodle will inherit his parents' health profiles, but how these issues are expressed is impossible to predict in your mixed breed pooch.
What you can do is make sure they are each health tested for the problems that may affect their breed to reduce the chance of this being inherited by your pup.
How long do Sheepadoodles live?
We don't have statistics for the average lifespan of the Sheepadoodle as it's such a new mixed breed.
However, we can get a good idea of how long they might live based on their parents' lifespans. Old English Sheepdogs live around 11 years and Standard Poodles 12 years.
Given the encouraging fact that mixed breed dogs tend to live a little longer, the average Sheepadoodle lifespan should therefore hopefully be in excess of 12 years.
Feeding your Sheepdog Poodle mix
Your Sheepadoodle is likely to be quite a large dog.
And large breed puppies need special attention when it comes to their diet.
As we've seen, joint problems are a potential issue. These can be exacerbated by rapid growth.
To make sure that they grow at a slow but steady rate, ensure that you don't overfeed them.
You also need to be aware of the potential for bloat, which may also be reduced by giving smaller meals and helping your pup to slow down their pace.
Choose a large breed puppy food, and when they reach the cut off for your chosen brand swap them over to a large breed adult food too.
Grooming an Old English Sheepdog Poodle mix
A Poodle mix often has a curly coat. How curly will depend on how much the puppy takes after the poodle parent.
Old English Sheepdogs have a lovely long shaggy coat that can rightfully be described as high maintenance.
It's possible that this coat is partly the reason for the declining interest in this dog breed.
Busy modern owners often lack the time or money needed to maintain a healthy, robust coat.
A poodle coat is a little different. But still requires quite a bit of care.
Doodle dog fur
A Poodle's coat has some key features.
It sheds less fur than a looser coat
It need regular clipping (unless you are a very keen groomer)
Poodles are a popular pet choice for people sensitive to dog hair. This is due to their reputation for a hypoallergenic coat.
However, they are not completely allergen free. And neither are their mixes.
And part of the reason for that reputation is the way that the poodle fur grows.
Shedding and curly hair
Poodles do shed, but what happens next is the cause for their hypoallergenic reputation.
Curly dog hair tends to stay trapped in the coat as it sheds. And Poodles do not have a high-maintenance undercoat.
This leaves less hair on your carpet.
But there can be problems.
The shed hair is still there on the dog. It just didn't fall out.
And that trapped hair can result in matting. Unless brushed daily – and thoroughly!
No guarantees for allergy sufferers
So, there is no guarantee your Poodle mix will have a hypoallergenic coat. Your puppy will probably have looser curls than a Poodle. These are easier to groom.
But they may have tighter curls like a Poodle
Either way, the chances are they will need clipping professionally.
A trip to the groomer every few weeks will usually include a bath.
Which is good as Sheepadoodles may drool!
A grooming routine
Puppies groomed from an early age are much happier and easy to manage.
Be sure to get them used to being groomed from an early age regardless.
Routine cutting and plucking of the Sheepadoodle's ear hair, may help keep the ear canal free from dirt and wax.
And of course you always have the option of keeping their coat clipped short, for an easier to manage regime.
Do Sheepadoodles make good family pets?
The Sheepadoodle is a bold choice when it comes to a family pet.
Due to their potentially large size and potentially rather difficult to manage coat.
However, with great socialization and diligent health testing of their parents, it is possible to turn this fluffy bear dog into a good family pet.
Poodles and Old English Sheepdogs alike are not overly pushy with people, but are still very loyal and loving to their families.
Due to their size they aren't the best match with very young children or those with mobility issues, but for active older homes they could be a great fit.
Rescuing a Sheepdog Poodle mix
Sheepadoodles do come into dog shelters and rescue societies from time to time.
There are pros and cons to rescuing but many people find it to be a good experience.
Make sure you get plenty of information from the rescue center. It's best not to take on a dog with problems if you are new to dog ownership.
A good rescue center will have temperament tested your dog. And you'll be supported through the rescue process.
Adopted dogs don't always have problems. If you have lots of time and love to give, you are doing a wonderful thing by giving a homeless dog a place to lay their head.
Sheepadoodle Breed Rescues
You will struggle to find a Sheepadoodle specific rescue, as they aren't all too common a mix.
However, your best for finding an adult dog with this cross bred background is to contact your local Old English Sheepdog and Poodle rescues separately.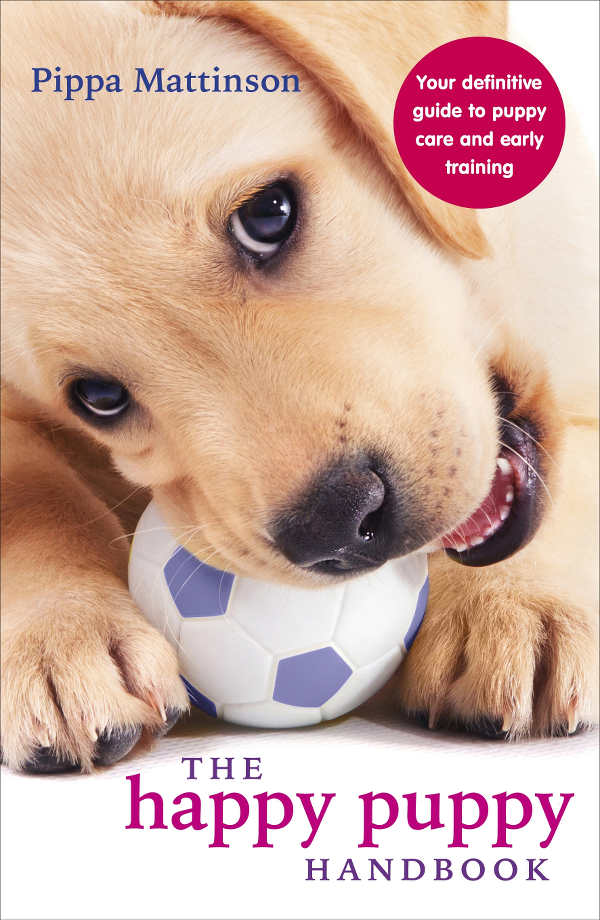 USA Rescues
Canadian Rescues
UK Rescues
Of course, a rescue dog is not a suitable or preferred choice for every home.
There is something special about raising a puppy, and it can be a better option for some families.
Finding a Sheepadoodle puppy
It's worth noting again that the offspring of any cross breed are at risk for the same health issues and concerns as their parents.
In the case of the Sheepadoodle, potentially serious and costly issues include problems with the joints and skin.
Health testing for these and other issues discussed above are an ideal way to anticipate any problems your pooch may face.
So, where can you find a Sheepadoodle puppy?
Sheepadoodle breeders
Be very picky about the person raising your future companion. And stay well away from puppy mills and pet stores.
Conduct a home visit prior to purchasing a pup. By doing so you will see first-hand the conditions that your pup was raised in. You must meet the puppies with their mother.
Meeting Dad is a great idea if he isn't too far away.
You should enquire about the health of your pup and his parents.
Make sure the breeder has a clear bond with the mother, and that she has a purpose beyond producing puppies. Either as a treasured family pet, working or agility dog.
All responsible breeders will readily show you health certificates of the parents of the puppy that you are interested in.
How much do Sheepadoodles cost?
Sheepadoodles are on the pricey end of the designer dog spectrum.
Asking prices ranging from $1,500 to $3,000.
And some breeders advertise pups with blue eyes at a higher cost.
Raising a Sheepadoodle puppy
Bringing a large bouncy puppy into your home can come as a bit of a surprise when reality hits.
Fortunately, most puppy pitfalls can be met and overcome with a bit of knowledge.
Check out our puppy potty training guide to get off to the right start with house training.
Find out how to deal with biting puppies, or excessive barking.
And what about preparing your house for your impending Sheepadoodle puppy's arrival?
Sheepadoodle products and accessories
The Sheepadoodle is a big dog with a high maintenance coat.
Here are some products that will help you to take the best care of him.
Any products aimed at larger breeds, such as a good large breed dog food and large breed crates are worth investigating too.
Pros And Cons of Getting A Sheepadoodle
Having trouble deciding
Let's weigh up those pros and cons.
Cons
High maintenance hair
Socialization
Not ideal for young families
Large
Pros
Friendly
Loyal
Active
Reasonably long lived for a big breed
Of course, picking a breed or mixed breed is never straight forward.
Comparing them with other pups can help to narrow down your search.
Similar Breeds
Still unsure about whether Sheepadoodle puppies play a part in your future?
Here are some similar breeds and mixes that might be just what you are looking for:
St Berdoodle
Icelandic Sheepdog
References And Resources
Gough et al. 2018. Breed Predispositions to Disease In Dogs and Cats. Wiley Blackwell
O'Neill et al. 2013. Longevity and Mortality of Dogs Owned In England. The Veterinary Journal
Duffy D et al. 2008. Breed differences in canine aggression. Applied Animal Behavior Science.
Packer et al. 2015. Impact of Facial Conformation On Canine Health. PlosOne
Famula 2003. Heritability and complex segregation analysis of hypoadrenocorticism in the standard poodle. JSAP.
Nachreiner 2002. Prevalence of serum thyroid hormone autoantibodies in dogs with clinical signs of hypothyroidism, JAVMA.
Nelson et al. 2007. Risk Factors for Ventral Luxation in Canine Total Hip Replacement, Veterinary Surgery.
Pavia et al. 2018. Outcome of ureteral stent placement for treatment of benign ureteral obstruction in dogs: 44 cases (2010–2013). JAVMA.
Bromel et al. 2013. Serum Inhibin Concentration in Dogs with Adrenal Gland Disease and in Healthy Dogs. JVIM.
Hesse 1990. Canine urolithiasis: epidemiology and analysis of urinary calculi. JSAP.
Nachreiner et al. 2002. Prevalence of serum thyroid hormone autoantibodies in dogs with clinical signs of hypothyroidism. JAVMA.
Linek et al. 2005. Effects of cyclosporine A on clinical and histologic abnormalities in dogs with sebaceous adenitis. JAVMA.
Martin et al. 1980. Canine Hip Dysplasia: Breed Effects. The Canadian Veterinary Journal.