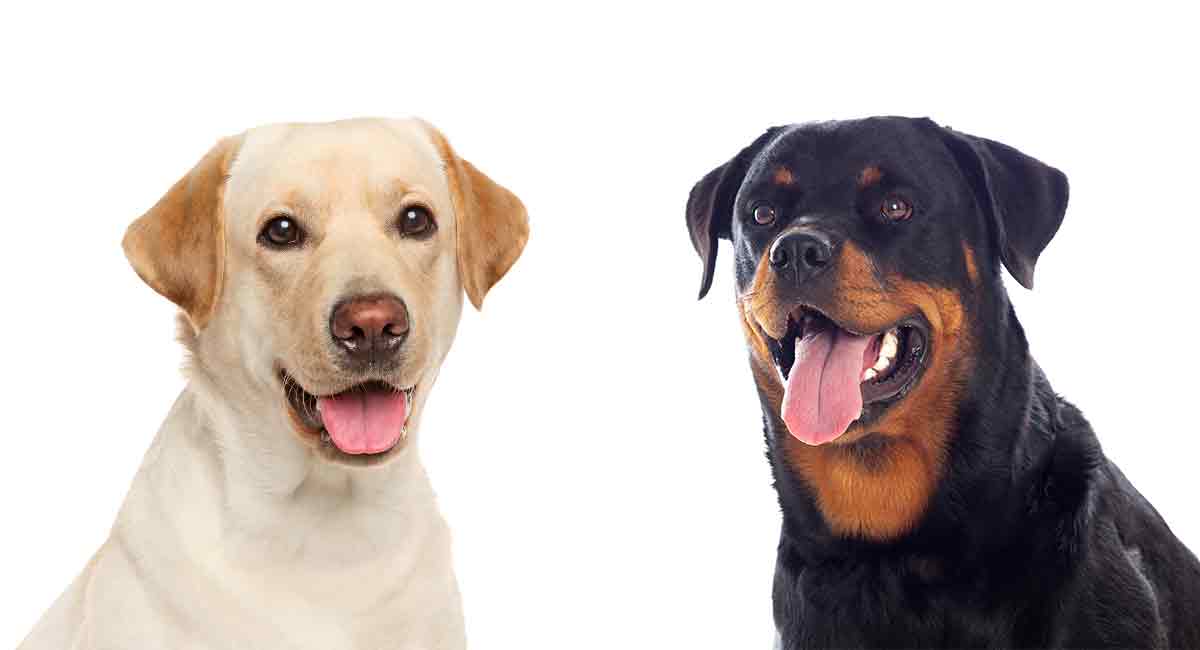 Rottweiler vs Labrador – which will you choose?
Could any choice be tougher?
These are two of the most popular pet dog breeds in America!
The Labrador Retriever ranks number one out of 194 purebred dog breeds.
And the Rottweiler isn't far behind at number eight.
So read on now for a side-by-side comparison of the Rottweiler vs Labrador– may the best pooch (for you) win!
Rottweiler vs Labrador – which pet to choose?
The choice before you of the Rottweiler vs Labrador dog is a challenging one!
But don't panic!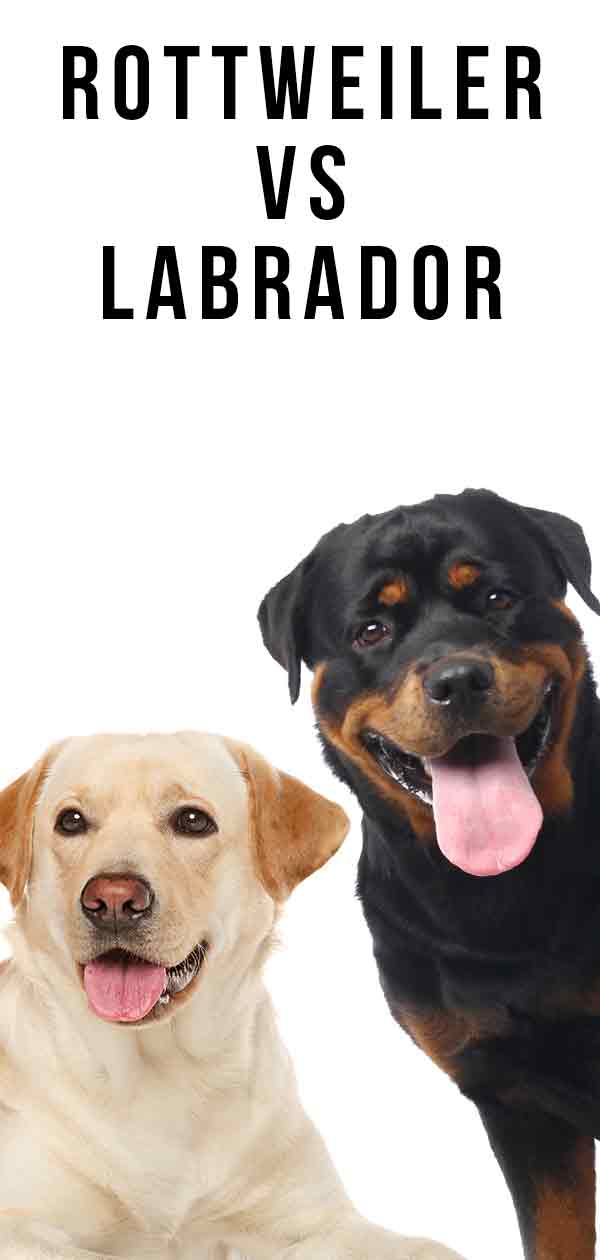 We've got lots of great comparisons between the two.
To help you make the right choice……..
What is the difference between Labrador and Rottweiler dogs?
Labradors and Rottweilers have many differences.
In terms of size and coat.
But also in terms of temperament and health.
You will even need to think about socialization a little differently.
Let's break those down for you.
Labrador dog vs Rottweiler dog size
If you live in a roomy home with lots of fenced land, your pet dog's adult size, height, and weight may not matter so much.
But if you are already pressed for space, your dog's size can really matter!
Rottweiler size
An adult male Rottweiler can weigh 90 to 135 pounds.
A female adult can weigh 80 to 100 pounds.
A male Rottweiler will stand 24 to 27 inches tall.
And a female will stand 22 to 25 inches tall.
Labrador size
On average, the Labrador will weigh 55 to 80 pounds when fully grown.
Male adult Labs typically weigh about 10 pounds more than females.
The Lab male can stand 22.5 to 24.5 inches tall (paw to shoulder) while the female will stand 21.5 to 23.5 inches tall.
Rottweiler vs Labrador grooming and shedding
Pet dogs in general are capable of making a noticeable mess – after all, dogs will be dogs!
There are some important differences to be aware of in the amount of shedding and grooming you are signing up for with a Rottweiler vs Labrador.
Rottweiler grooming and shedding
The Rottweiler's sleek, medium-length coat lies close to the body.
This dog has only a partial undercoat on the upper legs and neck.
There will be some shedding regularly, but the majority of shedding will come during the twice-annual "coat blows."
Otherwise, a weekly brushing along with baths at least monthly should keep this dog looking and feeling good.
Labrador grooming and shedding
The Lab's thick, double-layer, water repellent coat is a signature staple of this dog breed.
You can expect a fair amount of shedding on a very regular basis.
Along with an astonishing amount of shedding twice per year during the seasonal shedding.
You will want to brush your Lab at least two times weekly and schedule regular baths as well.
Rottweiler vs Labrador temperament
Temperament can be a particularly important trait to consider.
Especially if you are bringing a pet dog into a family that includes young children or other family pets.
Rottweiler temperament
The Rottweiler, or Rottie as many fans call this dog breed, is a "people" dog through and through.
This is not a dog that will do well when left to his own devices!
Early training and ongoing socialization will help a young Rottie learn how to channel his guarding instincts.
As well as his innate playful nature.
Labrador temperament
The Labrador breed's winning personality and natural charm is what keeps this dog breed in the number one most popular position year after year.
What many people don't know, however, is that there are actually two distinct Labrador lines.
The American (working) and the English (show) lines.
Temperament can be a bit different from one line to the next.
American Labs being more amenable to training and quicker to mature.
Rottweiler vs Labrador guarding tendencies
The Rottweiler is a born and bred guard dog.
Your average Labrador might act as a watch dog.
However they are more likely to welcome an intruder in with a waggy tail.
Rottweilers need intense socialization from a young age.
Labradors will still need some, but not on the same scale.
Rottweiler vs Labrador training
Both the Rottie and the Lab are very smart dogs!
Training can really help your dog learn to be a productive member of your family and community.
Rottweiler training concerns
The Rottweiler's natural intelligence and giant size give this dog a calm confidence.
That may masquerade as stubbornness during training.
However, this dog wants very much to please you, which you can use to your advantage in training sessions.
Labrador training concerns
Labradors are very keen to please "their" people too.
Both breeds will benefit from positive reinforcement training.
But for different reasons.
Labs are very food oriented.
Rottweilers are strong willed.
So respond better to motivation than confrontation.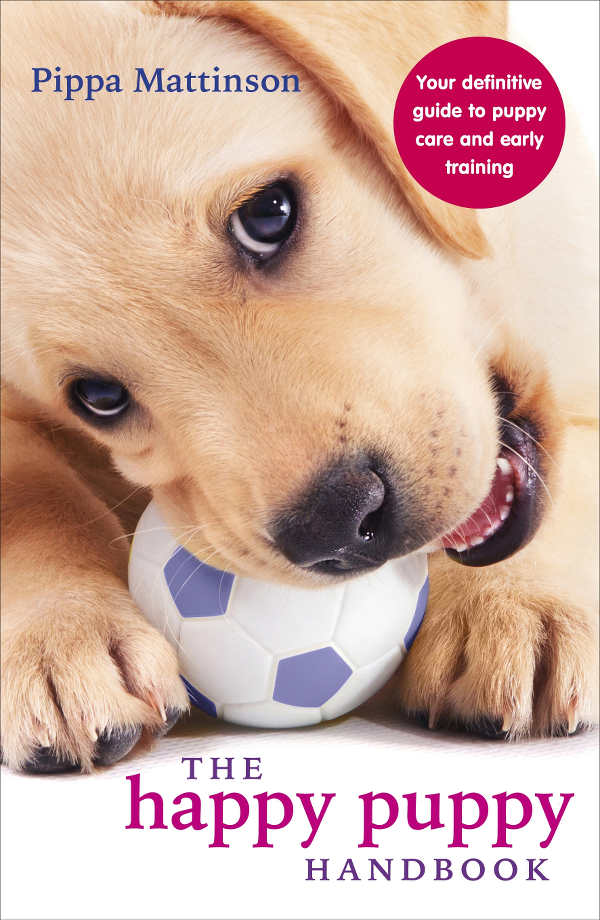 Rottweiler vs Labrador health problems
Both the Rottweiler and the Labrador can have a higher incidence of certain genetically-linked health issues.
Rottweiler health
Required pre-screening tests for Rottweiler parent dogs include elbow and hip dysplasia, cardiac issues, and certain eye issues.
Rottweilers can suffer from cancer more than many other purebred dog breeds.
The age of spaying/neutering and a careful vaccination program have both been found to influence the Rottweiler's longevity.
Rottweilers can also contract bloat, a potentially fatal condition where the stomach twists.
Labrador health
Required pre-screening tests for Lab parent dogs include elbow and hip dysplasia, exercise-induced collapse, and eye issues.
Additional recommended health tests include cardiac issues, progressive retinal atrophy, and dilute color.
Like Rottweilers, Labs can also develop cancer and bloat.
Rottweiler vs Labrador – which pet is right for me?
Rottweilers are loyal companions. They do best in adult families, where their owners are around for much of the day.
This breed need lots of early socialization. They might guard your home or family.
Labradors are fun loving pets.
They are a fairly good choice for younger families, although can be a bit bouncy for very tiny kids.
They need lots of training to keep their brains busy.
Also benefiting from a home where they have company most of the time.
So, what do you think? Who is the big winner for you – the Labrador or the Rottweiler?
Let us know in the comments!
References and Further Reading