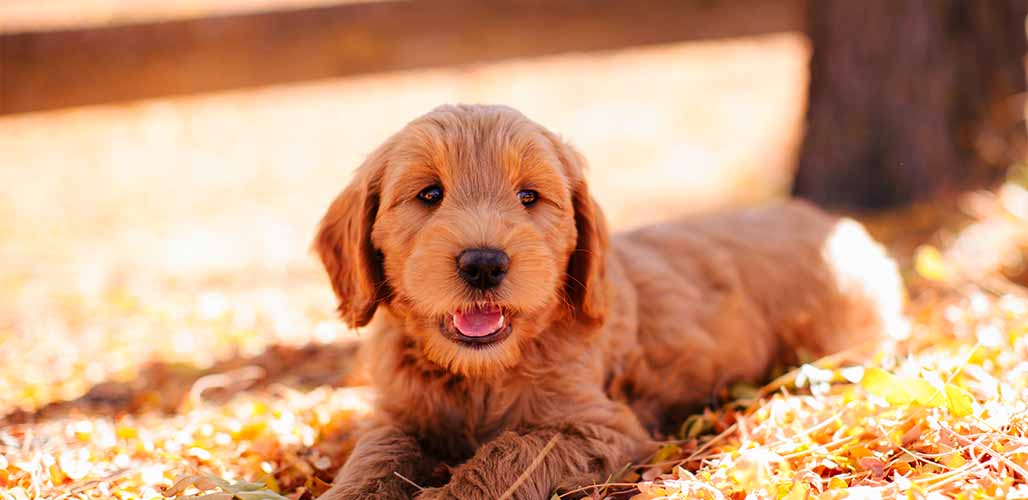 A red mini Goldendoodle is a smaller version of the traditional Goldendoodle, with red fur. These mixes tend to grow between 13 and 20 inches tall, but size and other features will be less predictable if you choose a first generation mix! No matter what fur color you choose, a mini Goldendoodle puppy will be affectionate, people-oriented, and very clever. But, the curlier their fur, the higher their grooming needs will be. So, this little mix isn't right for every home.
Contents
Are you ready to find out if a red mini Goldendoodle is right for your family?
What is a Red Mini Goldendoodle?
The Goldendoodle is a popular modern mixed breed. This hybrid combines the classic family dog, the Golden Retriever, with the clever, energetic Poodle! Mixed breed dogs have soared in popularity over the past few decades, becoming a common choice for families and individuals alike. And, like many other dog trends, people sought to make the Goldendoodle smaller.
Instead of breeding Golden Retrievers with Standard Poodles, breeders began to use Miniature Poodle parents. This produced the Miniature Goldendoodle. Smaller sizes were made more consistent by breeding the smallest offspring together, to create more reliable traits. But, as a mixed breed, traits like size can still be unpredictable until your puppy is fully grown.
Red refers to the color of a mini Goldendoodle puppy. Both Poodles and Golden Retrievers can come in red. But, this might not be red like you think it! Rather than a firetruck red, dogs will have a burnt, rusty hue to their fur. This color could also be described as a reddish-brown, auburn, or a red-gold.
Red Mini Goldendoodle Appearance
Red fur can range slightly in tone from one pup to the next. But, on the whole, red mini Goldendoodles have a rusty, auburn shade. They are darker than popular apricot Goldendoodles. Some might also have small patches of white, particularly on their chest. But, most will be solid in color all over their bodies.
Fur type will vary depending on your puppy's generation and the genes it inherits from its parents. Golden Retrievers have a medium length, double layered coat. It may have some wave and feathering, or could be straight. Poodles, on the other hand, will have very tight curls or corded fur. Mini Goldendoodle fur can fall anywhere between these two extremes. But, since curly fur is a desired trait, you are likely to see it in later generation mixes.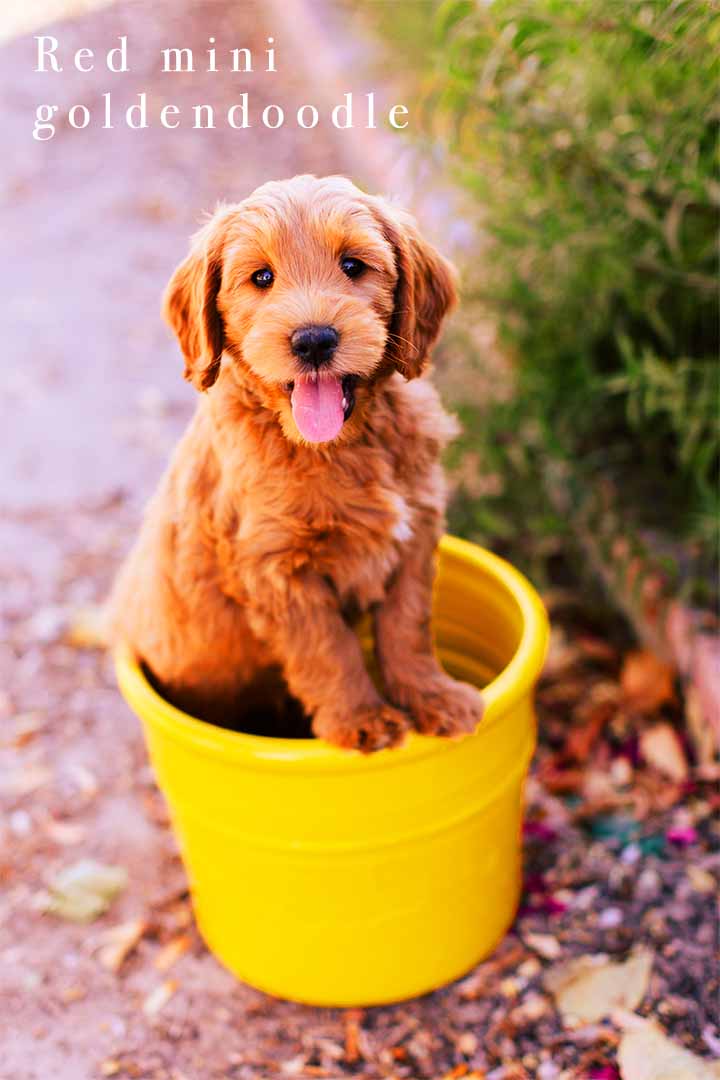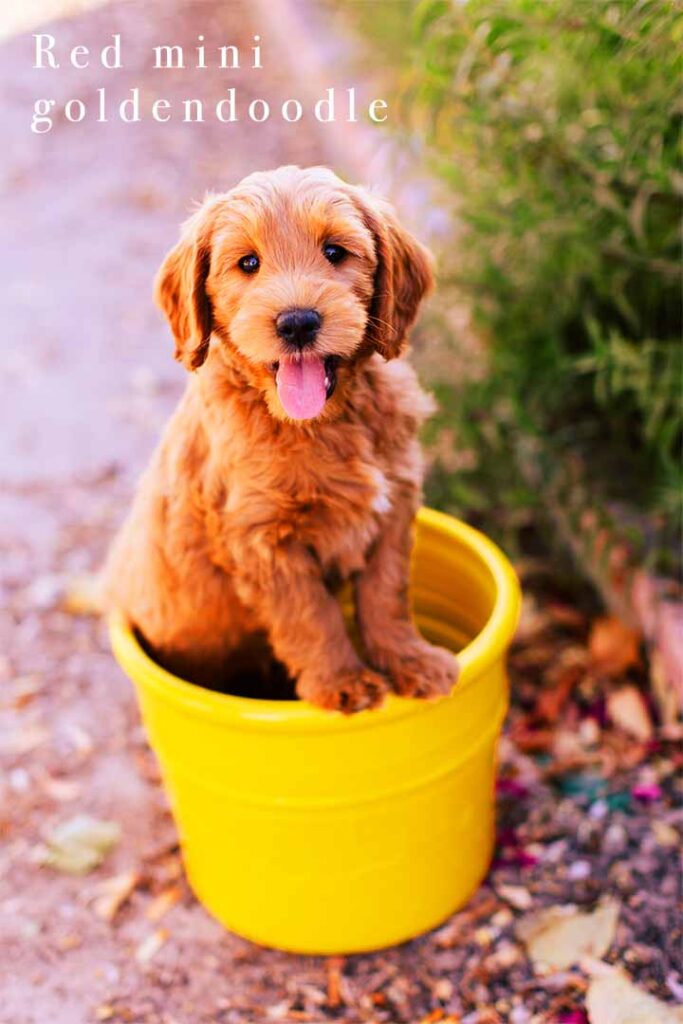 How Big Will a Mini Goldendoodle Get?
The miniature Goldendoodle was first bred for people who wanted a Goldendoodle but didn't have the space or strength for such a large dog. Mini Goldendoodles can be happy in smaller homes than a standard mix, though they are just as energetic and time consuming to care for!
Size can still vary in a mini Goldendoodle, though they are most often much smaller than a standard version of this mix. A first generation mini Goldendoodle will combine a miniature Poodle with a Golden Retriever. So, their height can range from 10 to 24 inches tall. Adult weight can range from 10 to 75 lbs.
A full grown mini Goldendoodle with smaller parents is more likely to be smaller. Females also tend to grow smaller than males. First generation mixes are less predictable than later ones, since their parents are the most different and they can inherit any blend of traits from them. So, to get a smaller guaranteed adult size, choose a multigen Goldendoodle with small parents. On average, these mixes tend to grow between 13 and 20 inches tall.
Red Mini Goldendoodle Temperament
Temperament will vary from one dog to the next. Breed can influence temperament traits, but so can your dog's early life. In general, a Goldendoodle is a friendly, affectionate and social mix. They form strong bonds with their close family, and are known to get along well with kids and other pets, particularly when raised with them.
They are very intelligent dogs, so can take to training quickly. But, the downside of this is that they will need a lot of mental stimulation. If you leave them to entertain themselves, they may do so in destructive, undesirable ways, like barking, digging, or chewing things you don't want them to. Particularly if it earns them your attention!
Socialization is vital from a young age to ensure that your mini Goldendoodle has the friendliest, most confident personality. A lack of proper socialization can lead to fearfulness and even aggression as an adult dog.
Exercise and Training Needs
As we know, this mix will be clever and people-oriented. The benefit of these traits is that mini Goldendoodles usually enjoy and succeed at training. Positive reward techniques are best, since these dogs are often food motivated and eager to please. These methods will also build on the strong bond between you and your dog. Keep sessions short, successful, and consistent for the best results!
The potential downside of these traits is that your dog will take up a lot more of your time and attention than you might initially realise. Mini Goldendoodles are smaller than the standard version of this mix, but they're no less energetic. They need daily exercise outside of the house and daily mental stimulation.
Exercise can come in a huge number of forms. You can go swimming, hiking, or even play energetic games like fetch. It's a great idea to invest in some interactive dog toys to ensure that your Goldendoodle is happy and stimulated, even when you need to take a brief break from them.
Red Mini Goldendoodle Health and Care
Mixed breed dogs are quite controversial. Some people dislike them because it's much harder to predict the traits you will get, and disreputable breeders are more likely to jump on the trend, producing unhealthy, unstable dogs. But, mixed breeds can be a great way to increase genetic diversity and health in dogs.
Despite the increased genetic diversity in mixed breed dogs, a Goldendoodle can be prone to the same health conditions as its parent breeds. Health testing before breeding can minimise the risk of passing on these issues, but it won't eliminate any risk of puppies experiencing a health problem. Some of the most common health problems for mini Goldendoodles include:
Cancer
Hip and elbow dysplasia
Pyometra
Pigmentary Uveitis
Muscular dystrophy
Patellar luxation
Progressive Retinal Atrophy
Mini Goldendoodle Grooming and Hypoallergenicity
The exact grooming needs of your miniature Goldendoodle will depend on the coat type they inherit from their parents. First generation dogs are the least predictable, and the most likely to have the Golden Retriever's straight double layered coat. Straight fur, or fur with a very slight wave is less prone to tangles, but won't catch shedding hairs.
Goldendoodles with curly fur will need more grooming. Shedding hairs will get caught in their coat rather than falling around your home. But, this can lead to tangles and knots in their hair. If you don't groom them (daily in some cases), these knots can turn into matts. Matted fur is painful for your dog and may need to be shaved off completely.
A low shedding, hypoallergenic coat is a major selling point for modern Doodle dogs like the mini Goldendoodle. However, studies have revealed mixed opinions on whether or not hypoallergenic dogs even exist. The allergen that triggers a reaction to dogs is found in their dander, saliva, and sweat, rather than their hair itself. So, you could still react to a 'hypoallergenic' dog. And, individual dogs from the same breed can impact you differently.
Implementing a good cleaning routine is a good way to reduce allergens in your home. Spend some time with your chosen Goldendoodle before bringing them home to see if they trigger your allergy symptoms. And, get someone else in the house to do their grooming outside, so you aren't having to come into close contact with those pesky allergens on saliva-coated hairs and dander.
Mini Goldendoodle Lifespan
Lifespan can be difficult to predict in mixed breed dogs. After all, we can't predict the health issues that could impact our dogs in the future. But, by looking at the average lifespan of the purebred parent breeds, we can get a general idea. On average, Golden Retrievers live to 12 years old. Miniature Poodles have a slightly longer average, of just under 14 years.
Smaller dogs tend to live longer average lives than large breed dogs. So, there's a chance that your miniature Goldendoodle will live longer thanks to their size. But, studies have also shown that mixed breed dogs live a longer average lifespan than purebred dogs. So, on average, a Goldendoodle should live well into their teens. Particularly if you offer them the best care possible!
Is a Red Mini Goldendoodle a Good Family Pet?
For an active family with lots of time to dedicate to training and grooming, a mini Goldendoodle can be a great pet. Red mini Doodles can make just as good a pet as any other shade! And, their beautiful fur is bound to receive plenty of compliments.
But, this breed is not for everyone. Since they are a mixed breed, mini Goldendoodles can be quite unpredictable. So, there's no guarantee that you'll bring home a dog that doesn't trigger your allergies. And, despite their smaller size, mini Goldendoodles have very high exercise and mental stimulation needs. Failing to meet these is a major reason so many people think these dogs are 'crazy' and uncontrollable.
Mini Goldendoodles can be happier in smaller homes than the standard variety. But, they'll need daily exercise, training, and grooming. You will also need to socialize them from a very young age to prevent aggression and fearfulness. Their small size is not an excuse to slack on training. Training is vital for your dog's safety, as well as the safety of vulnerable people or children around them.
Make sure you're honest with yourself about how much time you can dedicate to a dog before settling on the mini Goldendoodle. These social, energetic dogs often need a lot more care than people realise.
Finding Red Mini Goldendoodle Puppies
Over everything else, your priority should be finding a reputable breeder when searching for a mini red Goldendoodle. Mixed breed dogs like this are very popular, which means the market is rife with unhealthy puppies and disreputable breeders. This includes puppy mills, pet stores, and so on. Choose a breeder who provides evidence of health testing, who provides the best care for their dogs and puppies, and who is very knowledgeable about the mix. Getting a puppy is not something to rush into!
Some breeders will specialize in certain colors. So, you might have more success finding a red puppy by looking for breeders that exclusively breed red-toned dogs. But, in other cases, you might have to go on a waiting list for specific colors.
Price often reflects popularity in dog breeds. And, mini Goldendoodles are a popular mix! The cost of these puppies will vary depending on demand, coat color, coat type, generation, and so on. But, most mini Goldendoodles will cost between $1200 and $2500. For a cheaper option, consider choosing a rescue dog! They will be just as loving as a puppy, and can even have some basic training to save you that little bit of work and time.
Apricot vs Red Mini Goldendoodle
Red and apricot are two of the most popular colors for the miniature Goldendoodle mix. And, they're very similar, so many people confuse the two colors! However, red mini Goldendoodles tend to have darker, more pigmented fur than apricot varieties. The apricot dogs are more golden and less red! But, the label that a breeder puts on them can be down to personal opinion and the popularity of each color. Apricot Goldendoodles are very popular, so a puppy may be more likely to sell if they're called apricot.
Apricot and red mini Goldendoodles can vary in other features too. Including their hair type, overall appearance and their exact personality. But, this variation is more down to whatever features they inherit from their parents, rather than any links to coat color.
Is a Red Mini Goldendoodle Right for Me?
The red mini Goldendoodle has a beautiful coat and the same potential traits as the standard Goldendoodle, in a smaller package! This mix needs plenty of exercise, training, and mental stimulation to stay happy and healthy. But, in the right home they can make a wonderful companion.
Do you already have a miniature red Goldendoodle at home? Or are you still looking for your perfect Doodle mix?
More Goldendoodle Guides
Best Dog Food for Goldendoodles Health and Happiness
Chocolate Goldendoodle Traits and Care
References and Resources