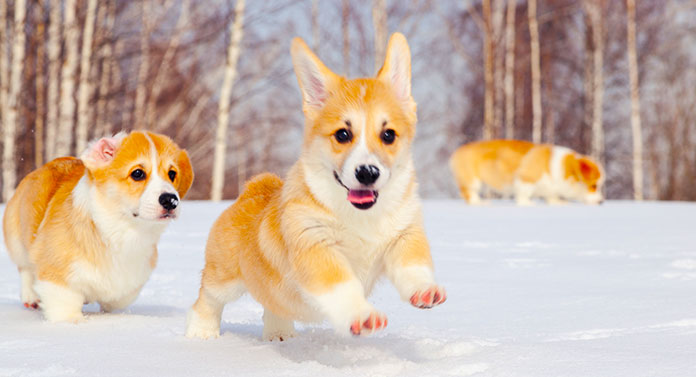 A red Corgi is either a Pembroke Welsh Corgi or a Cardigan Welsh Corgi with a red coat.
The AKC breed standard accepts red as a standard color for Pembrokes, and red and white for Cardigans.
So, it's possible to find purebred red Corgis. But, you could also find the popular shade in a Corgi mixed breed.
Are you hoping to introduce a red Corgi into your family? Let's find out if this breed suits your home.
What is a Red Corgi?
A red Corgi is simply one of the two Corgi breeds in the shade red.
This is an accepted, standard color by the AKC. So, you can enter a red Corgi at dog shows if you have one of these puppies!
Both Pembroke Welsh Corgis and Cardigan Welsh Corgis can come in a red shade. If you'd like to find out the differences between these two varieties of Corgi, this guide will give you more information.
It's most common for red Corgis to have white markings.
But, red Cardigan Corgis can also have black, brindle, or ticked markings.
Other than their fur color, they will be the same as any other Corgi of the same variety. This includes their general temperament, care needs, and health.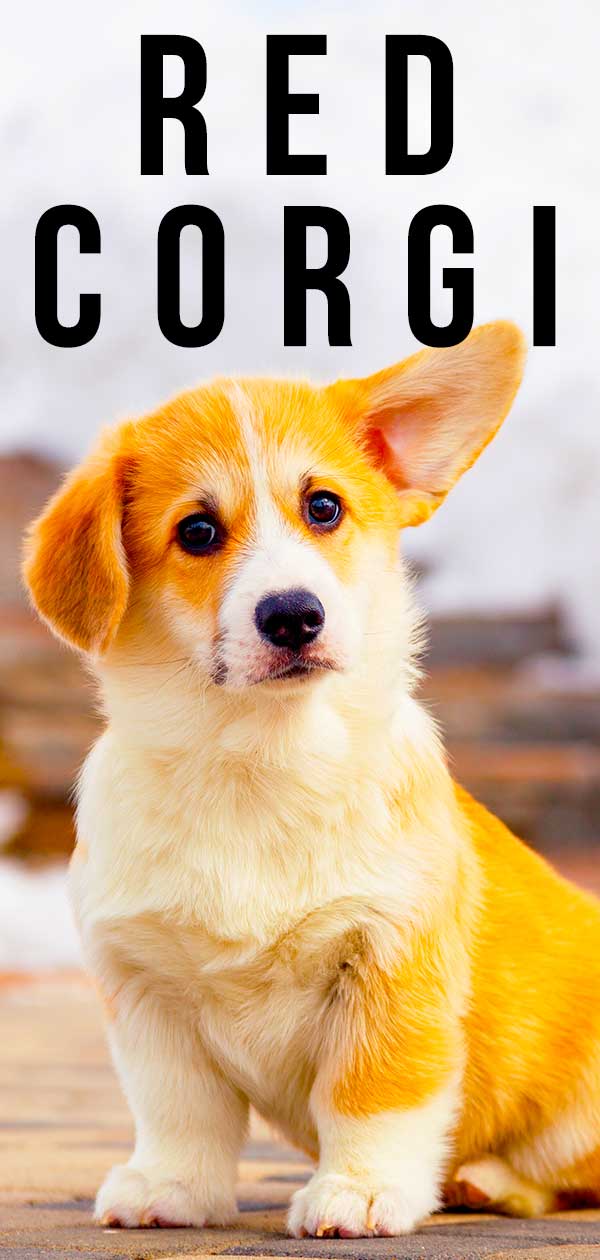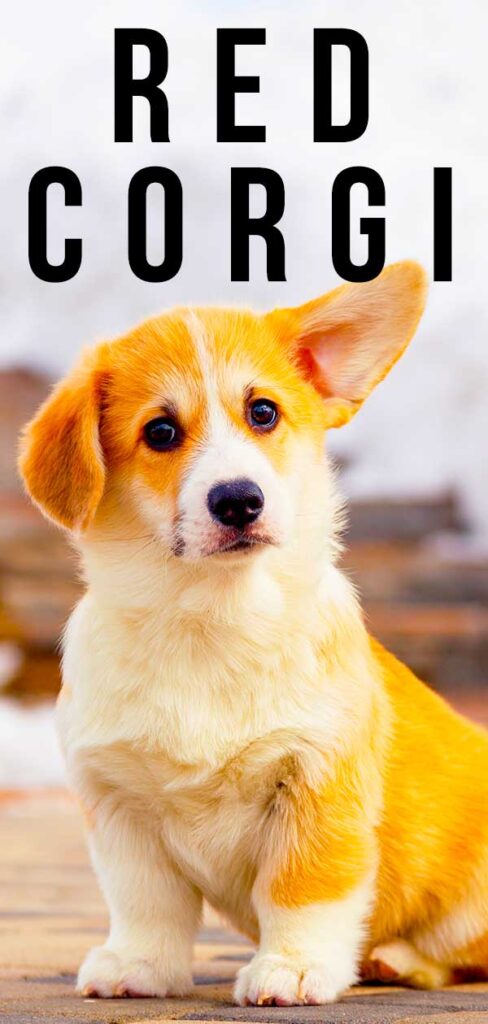 Red Headed Tri Corgi
As well as the popular red and white Corgi, you may have also heard about the red headed tri Corgi.
The markings on this Corgi are also sometimes known as "saddle back".
Red headed tri Corgis have three different colors on their fur – red, white, and black.
They usually have the same red and white placement as a standard red and white Corgi. But, as well as this, they have a black 'saddle' marking on their back.
A red headed tri Corgi will have red coloring on its ears, the top of its head, and around its eyes.
This coloring is found on a Cardigan Welsh Corgi. But, it is not an accepted variety for Pembroke Welsh Corgis.
How Does the Red Color Happen?
The red coloring on Corgi dogs isn't just random, it's all down to their genetics.
There are two pigments that control all dog fur colors. The first is eumelanin (black), and the second is pheomelanin (red).
The exact shade of your Corgi's red coloring will depend on the genes that interact with the red pigment.
In fact, the tan, fawn, and sable shades that Corgis can also come in are all controlled by the red pigment.
Red Corgi Temperament
Now that we know a little more about how that wonderful shade actually happens on Corgis, let's find out if it affects the temperament of this small breed.
Studies have shown that coat color in dogs can impact people's opinions about their personality.
But, there's no evidence that the genes that cause red fur actually affect a dog's temperament.
This means that your Red Corgi's temperament will likely be the same as any other Corgi.
What to Expect
Corgis have a history as working dogs. So, they are known to be intelligent, alert, and energetic.
But, as family pets they are also known to be friendly and affectionate, especially if well socialized as a puppy.
You can expect these traits from a red Corgi, as long as you train and socialize them well from the time you bring them home.
Red Corgi Health
Just like a red fur color doesn't affect your Corgi's temperament, it also won't affect its health. But, this doesn't mean that there are no problems to be aware of.
Instead, you need to learn about the potential ailments that trouble Cardigan Welsh and Pembroke Corgis.
All Corgis and prone to some problems related to their conformation – that is, their short legs and long backs.
You should watch out for a spine condition called intervertebral disc disease (IVDD).
Along with this, your Corgi can develop joint problems.
Here are some more problems to be aware of.
Corgi Health Problems
Hip and elbow dysplasia
degenerative myelopathy
Von Willebrand's Disease
To learn more about these health problems, take a look at our guide to comparing the Pembroke and Cardigan Corgi breeds.
Make sure you feed your red Corgi on a proper, balanced diet, and give them the correct amount of exercise.
Attend regular veterinary check ups, and consult your vet any time you notice something wrong with your Corgi.
Are Red Corgis Rare?
Red is a standard color for both varieties of Corgi. But, it will most often be accompanied by white markings.
This is a popular shade. So it shouldn't be too hard to find a red Corgi.
You'll likely even be able to find slightly older Corgis in rescue centers. Particularly breed specific ones.
There are a number of shades that Corgis can come in. So, it may be harder to find an exact shade of red that you're looking for.
Particularly as dog coats can change color as they grow older.
What Other Corgi Colors Are Possible?
As well as red, or red and white, there are a number of other shade combinations that are available in Corgi pups.
The Pembroke Welsh Corgi can also come in black and tan, fawn, or sable, all with the possibility of white markings.
And the Cardigan Welsh has an even wider selection. Standard colors for this variety include:
Black and white
Blue merle and white
Brindle and white
Sable and white
Markings can include: black mask, ticking, brindle points, tan points, and a combination of these markings.
Non-Standard Markings
Standard markings are preferred for Corgis that will be shown. But, it's possible for any dog to come in non-standard colors.
Non-standard, but accepted colors of the Corgi include:
Brindle merle and white
Gray and white
Liver and white
Red merle and white
Sable merle and white
White merle
Where Can I Find a Red Corgi Puppy?
When you've decided you'd like to get a red Corgi puppy, you should next choose between the Pembroke and Cardigan varieties. There are some subtle differences between the two that may affect your decision.
Make sure you search for a reputable breeder when looking for your puppy.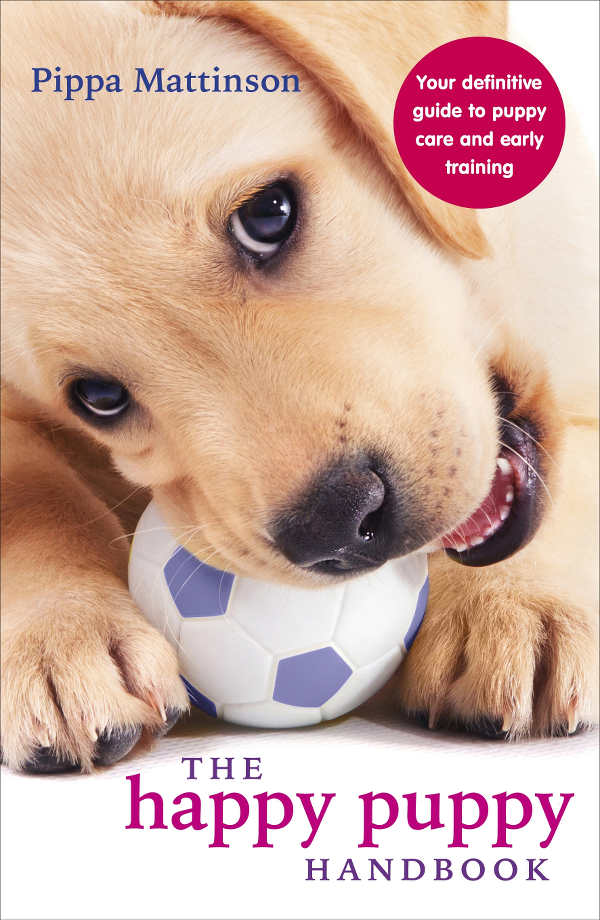 A healthy puppy is more important than one with a particular coat color.
Good breeders will health test their parents for any hereditary problems that could be passed down to puppies. They will also care well for both the puppies and parent dogs, and answer all questions you have.
If a breeder refuses to show you health certificates, or the mother dog, you may want to consider going elsewhere.
Meeting the mother dog can also give you an idea of your puppy's temperament. Make sure she is friendly and open.
Avoid pet stores and puppy mills. You can get more help using our puppy search guide.
Mixed Breed Red Corgi
Red Corgis can be purebred, but you can also find Corgi mixes with that popular red coat.
Here are some Corgi mixes that you might want to consider looking at.
Just remember that mixed breed dogs can inherit any mix of characteristics from either parent breed. So, they may lack the rest of a Corgi's appearance and temperament.
Red Corgi Summary
Red is just one of many shades that Corgis can come in. Both Pembroke Welsh Corgis and Cardigan Welsh Corgis are available in this color.
The red shade will not impact your Corgi's health or temperament. If they are purebred, they will have the same general temperament, needs, and health as any other Corgi.
But, if they are mixed breed, the other parent may also pass down traits and needs.
Do you have a red Corgi at home? Be sure to tell us all about your wonderful Corgis in the comments!
Readers Also Liked
Do Corgis Have Tails?
Merle Corgi
References and Resources