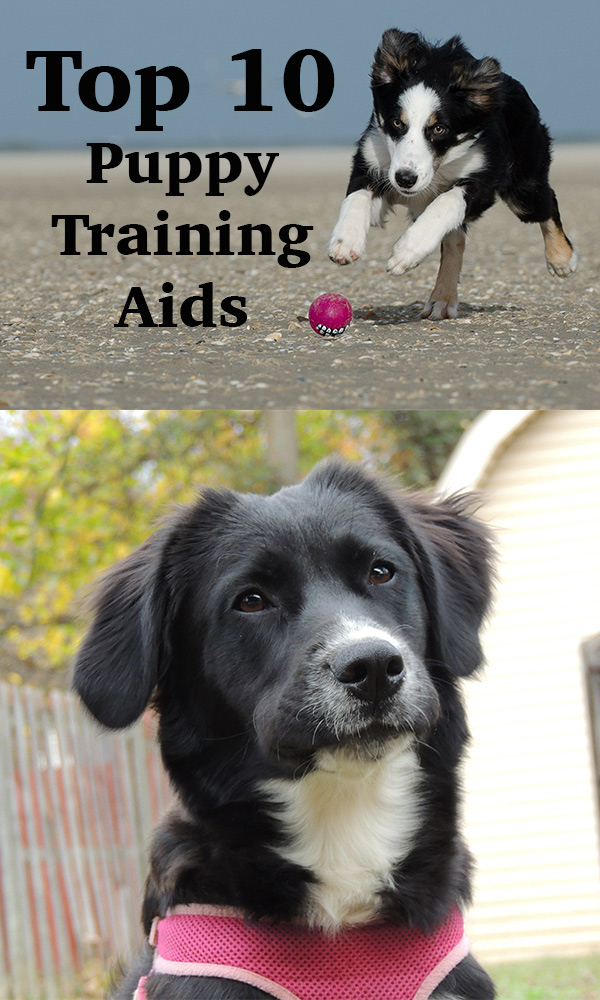 When you are training your puppy, it pays to have some great equipment.
Although there are very few essential tools for effective dog training, there are a wealth of items which can be extraordinarily helpful.
Making your training sessions faster, easier and more enjoyable for you and your dog.
So let's take a look at 10 top puppy training aids, which I can highly recommend.
1. Puppy Retrieving Dummies
If you enjoy gundog training, then you will be familiar with the retrieving dummy. Most commonly seen in the mouths of Retrievers and Spaniel breeds, they are in essence a fetch toy for working dogs.
However, there is no reason that they can't provide a brilliant energy outlet and training aid for any breed of dog.  Not just for those with gundog ancestry.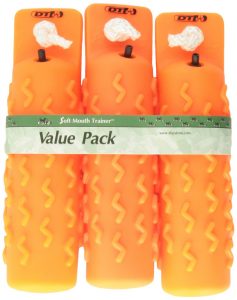 The best thing about retrieving is that it enables a dog to engage in a pleasurable, free-running activity, whilst remaining under control and supervision.
I used to use mainly English style canvas retrieving dummies
.
These are important if you want to prepare your dog to pick up a heavier item, as they weigh about 1lb.
You can buy puppy weighted versions of these that serve the same purpose, but are smaller and lighter for your growing dog to lift.
I also use USA style rubber dummies.  If you only want to train using retrieves for fun, they are a great choice. They are light, easy to clean and very simple to spot in the undergrowth due to their bright colors.
They also float in water, so you can have fun training a retrieve in pretty much any location.
Make sure you don't allow your dog to play with the dummies unsupervised however, as they are not chew proof toys.
2. Puppy Harnesses
I have only been using harnesses for a couple of years, and the Freedom Harness
is my current favourite.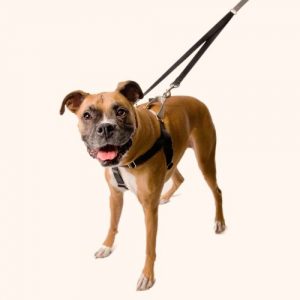 I think it is important to have a front attachment for puppy control before you have taught heel work.
When wearing a traditional collar, a pulling puppy can choke themselves and end up very uncomfortable when they pull on the leash.
The front attachment means that even if your puppy pulls, he won't end up throttled.
The back fastening is necessary for attaching a long line when training outdoors.
When teaching recall, a long line is often used by modern trainers in this way.
Speaking of which…
3. Training Leashes: The Long Line
Training without force means extra special attention to controlling your dog's access to rewards.  And I am not just talking about food.
Chasing squirrels, playing with other dogs, jumping on people, and helping themselves to people's picnics, are all activities which are rewarding to most puppies.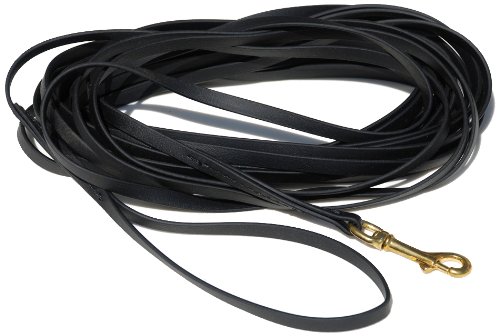 When you start training your dog to respond to your cues in the presence of things he finds rewarding, including players and spectators at football matches, people eating, and children playing, you will need to attach him to a long line
in order to ensure that he cannot reward himself for ignoring you.
This is a temporary but very important step along the training process.
Biothane long lines are light, don't become heavier when wet and are easy to keep clean. If you are going to use a training leash, a biothane long line is the best choice. 
If you want to train your dog using modern positive reinforcement methods, you will find a training leash very helpful.
4. Tennis balls
Food is not the only reward valued by our dogs.  A great reward for many dogs is a simple 'catch' of a dog tennis ball
.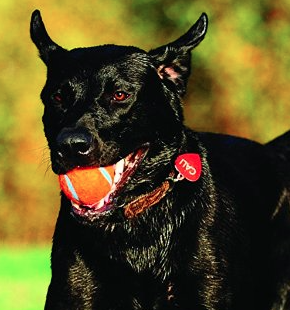 This simple object can therefore make a very handy, portable training aid.
If you want to use the tennis ball in this way, you'll need several, or to teach the dog to return with the first one you throw for him.
Lots of dog breeds are very motivated by playing with you.
If your puppy is one such dog, then you may find your training sessions are improved by the well timed addition of this rewarding activity.
5. The Clicker
A clicker
is not essential in dog training, but it really does help.  It can be very difficult to pin point behaviors that are transient or followed quickly by other behaviors, without this useful tool.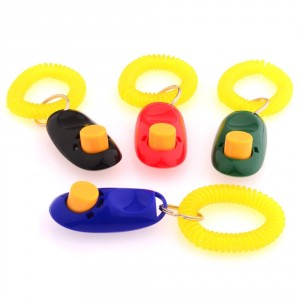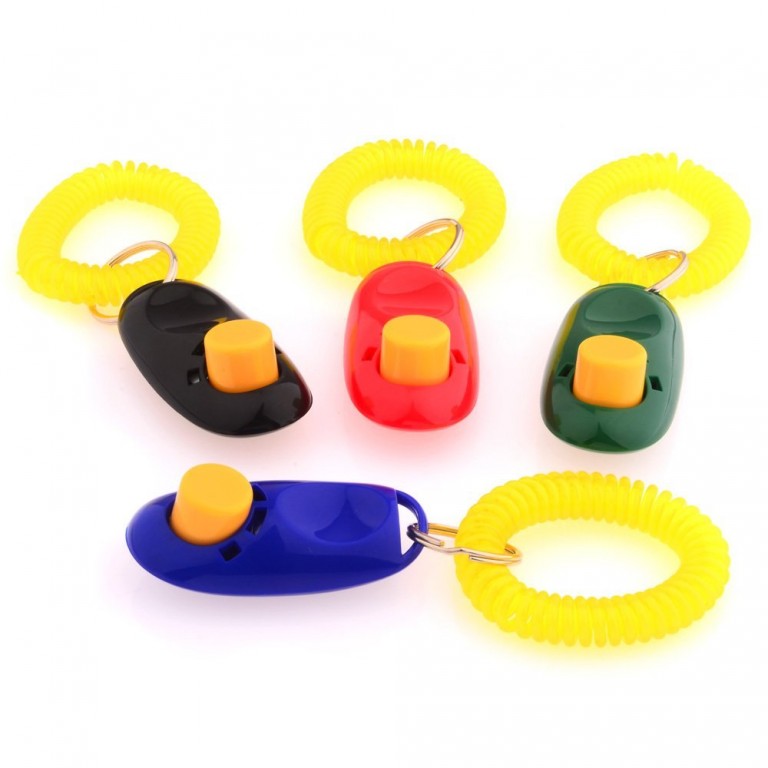 A clicker is what is known as an 'event marker'.
The immediate and clear signal lets your dog know exactly when he has done something you like.
When you follow this sound with a reward, he will be more likely to repeat the exact behavior again in future.
There are a lot of different variations of clicker available.
If you have a confident young puppy, then I'd recommend a clicker with a strong, easily identifiable click.
Preferably that comes with a wrist strap for easy access and convenient holding.
However, if your puppy is nervous of unexpected noises, then you are probably better off choosing a clicker with volume control or that specifically advertises itself as being quieter, in order to keep your training a happy and stress free experience for your dog.
6. The Treat Bag
If you want to use force free training methods, then using treats will be an essential part of that.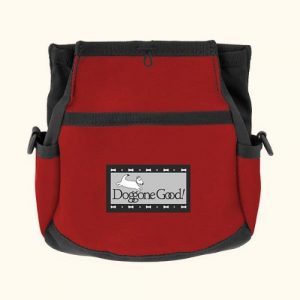 To help make it as convenient as possible you will need a great treat bag.
The Doggone Treat Bag is a very popular option.
This great quality bag is durable, well made and easy to use.
The opening uses magnets for simple opening and closing, but also has a secure cord-pull operation too.
The compartments are lined, and can fit up to 3 cups of treats.
It is even big enough to hold a tennis ball in with your food, to give you a range of rewarding options.
A divider panel allows you to have a couple of food choices, or have somewhere safe to store your keys and phone.
The Doggone Treat Bag can be worn using the belt provided or attaches to your belt using a strong clip.
It even has additional small pockets and attachments for holding you other dog training accessories.
7. The 'Run Around Toy'
A run around toy is a powerful reward for some dogs.  Our chocolate Labrador Rachael is one of them.  Her idea of heaven is to be given her run-around toy
.
The run around toy is one that has no 'strings attached' – but not in the literal sense.  It is a toy that you don't try and take off the dog.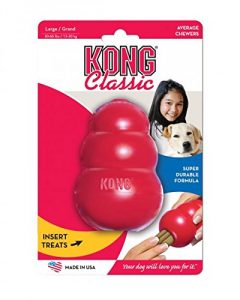 A toy that has no rules attached to how it can be played with.
It does not have to be given back. Or dropped. Or interfered with by you, in any way.
If the dog does drop it at your feet or push it into your hand, then fine, you can throw it for her.
But it is entirely on her terms.
Being given the run-around toy is a great reward for the dog at the end of a training session or after a really great retrieve.
Rachael's run around toy is her Classic Red Kong. Most dogs love this product for chewing, but Rachael will play and bounce with hers. It's her favorite thing.
8. The Place Board
I had a couple of place boards made by a local carpenter last year.  I bought some fake grass to stick on the top.  I've had fun experimenting with these.
They are a great way of teaching a dog to respond to directional hand signals without the use of retrieves. As well as a good way to get a dog started with shaping games.
9. The Yellow Cone
I use my yellow cones for all kinds of things,  marking out distances for retrieving, as retrieve markers, and more recently as a 'go-round' target for teaching a send away without retrieves.
Begin training with your yellow cone indoors, in a very boring environment. Then move it outdoors when the behavior has been learned without distractions.
Cones are very versatile and portable training aids, which can help you to train and exercise your growing puppy.
Even our endlessly busy 13 year old spaniel Meg loves the 'go-around' game.  Who says you can't teach an old dog new tricks!
10. Notebook
Probably the most useful training aid in my bag is my notebook.
I find it hard enough to remember what I did the day before with a single dog, never mind four.
If you have never kept a training notebook, try writing down what you achieved in a session and what you want to achieve in the next one, I think you'll find it really helpful when it comes to keeping on track and moving forward to the next steps.
How about you?
What is your favourite training aid?  Share your secret with us in the comments box below!