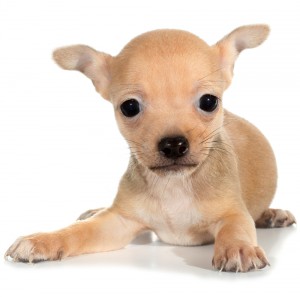 There are many different breeds of pedigree dog
And they come in a bewildering range of different forms.
To try and make sense of this huge variety, we divide the breeds into several groups of dog
Each of which have certain characteristics in common.
This article focuses on the Toy Group.
The Toy Group
Toy dogs are a special group of small dogs bred specifically to act as companions.  Some of these dogs are miniaturised versions of breeds that probably originally belonged to other groups.
Thus we have the Yorkshire Terrier, the Italian Greyhound and the Cavalier King Charles Spaniel
Others are unique breeds in their own right, and don't really fall into any other category.
Health and longevity
Generally speaking, smaller dogs tend to be longer lived than larger ones.   Their bodies don't have to work so hard and so is subject to less wear and tear.
Chihuahuas (like the puppy pictured above)  for example can reportedly live from 14-18 years (source)    But being small is not necessarily a guarantee of a long and healthy life.
Brachycephaly
A number of our toy breeds are brachycephalic dogs.  These are breeds where the facial bones have been significantly shortened, relative to the size of the dog.
Severe brachycephaly has a significant impact on the health of the dog concerned. Even if the longevity of the dog is not curtailed, the quality of it's life may be poor.  And this is an important consideration if you are looking for a puppy.
The Pekinese and the Pugs are two examples of severely brachycephalic dogs and have a number of health problems as a result.  These include breathing difficulties, eye problems and problems keeping themselves cool.
You can find out more about brachycephaly and its effects in this article: brachycephalic puppies.
Teacup dogs
You've probably heard about the further miniaturisation of some of our toy breeds, sometimes referred to as teacup dogs.
We'll look at this in more detail in another article, but it is worth pointing out at this point that teacup dogs may have their health compromised, and have a reduced life span  compared with other Toy Dogs
Dental problems
Some toy breeds are particularly prone to dental problems, partly due to overcrowded teeth.
This is another thing you need to take into consideration when you are narrowing down your choice of puppy.
Most popular toy dogs
The most popular breed in the toy dog group is the Pug.  You can find more information about Pugs and links to lots of Pug resources on this page:  Which breed of puppy: looking at Pugs
Here are a list of the top ten most popular toy dogs in the UK.  These dogs are listed in order of the number of puppies registered in 2013 and a position on the list does not imply quality or health.
Cavalier King Charles Spaniel
Chihuahua (smooth coated)
Chihuahua (long coated)
Yorkshire Terrier
Maltese
Bichon Frise
Pomeranian
Papillon
Chinese Crested Dog
There are 23 breeds of toy dog recognised by the UK Kennel Club.  You can find a complete list and further information here: Kennel Club Toy Breed information
Classification of breeds varies slightly from country to country.  The American Kennel Club for example lists the Shih Tzu as a member of the Toy Group whereas the UK Kennel CLub lists them in the Utility Group.
Love 'em or hate 'em
Toy Dogs often arouse quite strong feelings.  People tend to love them or hate them!
It's important to remember that they are still dogs.  And that inside each of these little dogs lies a personality every bit as big as their larger cousins.
Healthy Toy Dogs can be trained to be obedient, and even useful, and if properly bred, raised and socialised are no more snappy or grumpy than any other type of dog.
Is a toy breed right for you?
There are definitely advantages to owning a smaller dog.  Both in terms of general care, and also for control reasons.  It is much easier to manage a boisterous puppy that weighs four pounds, than one that weighs forty pounds.
In purely practical terms, the crate you will need to contain a Chihuahua in comfort is going to be a lot more space friendly, than the crate you'll need to contain a Boxer.
Some toy breeds have been bred with excessively long coats and may need quite a bit of clipping or grooming, so you need to factor that in to your considerations.  And very small dogs are vulnerable to injury especially in a home where there are lots of young children tearing about.
The most important factor to consider though, is probably going to be the health of the dog.
A healthy future
Good health and temperament is just as important in these small breeds as it is in larger ones and should not be neglected.  Unfortunately to some extent it has been.
If you want to see a future where all toy dog breeds are healthy and happy, it is important to avoid encouraging the breeding of extremes (in size, leg length, skull shape, etc).  And to check out the health issues carefully for any breed that interests you.  Remember that (at the time of writing) health issues associated with conformation seem not be listed on KC breed health information pages.
Make sure the temperament of the parents of your prospective puppy is sound. No matter how small a dog is, he should be happy and friendly, even if inclined to bark.
It is well worth researching the breed of your choice carefully. Click on the breed links to find out more about each breed.  And you'll find some more information and resources below
More information and resources