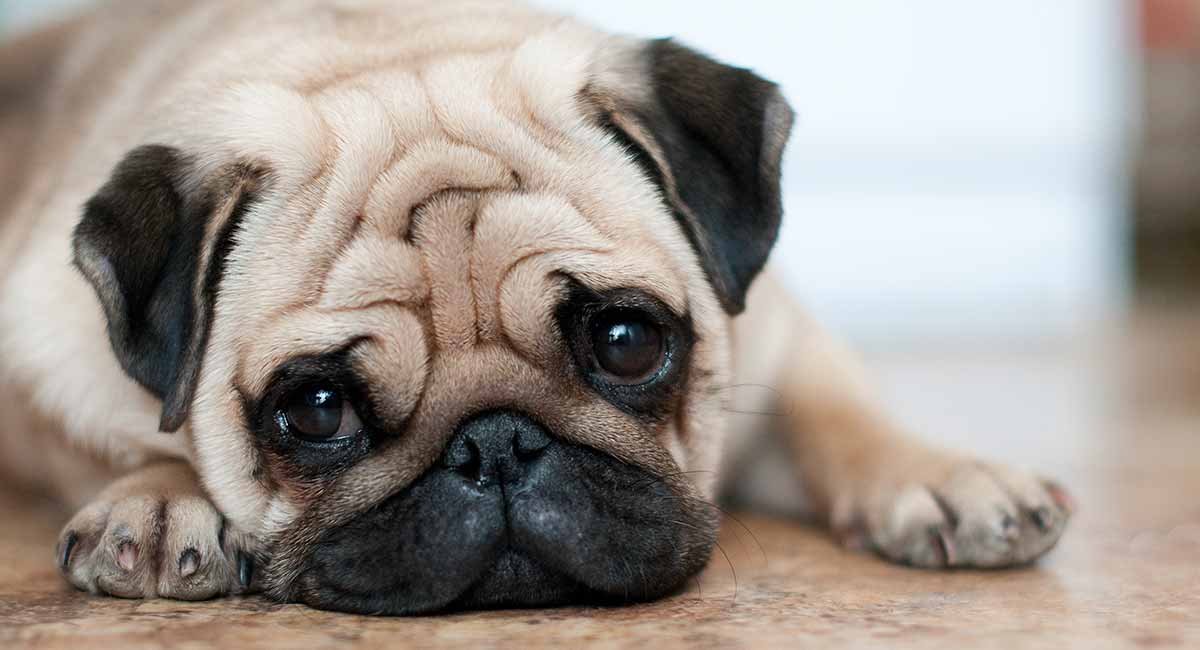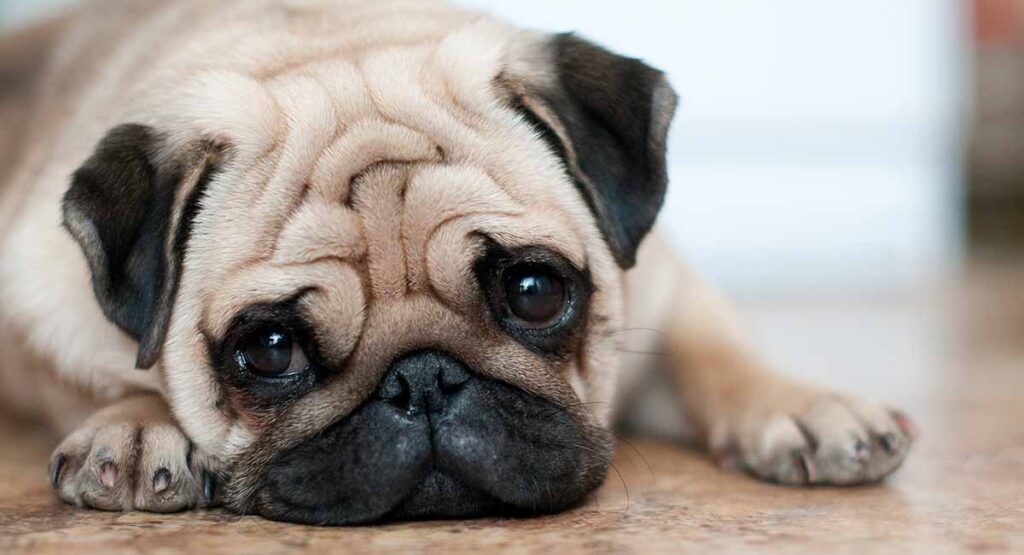 Pug names are great fun to find. You can use them to show off their adorable short, sturdy bodies, massive personalities and gentle characteristics. Today we'll share dozens of cute name ideas for your new curly tailed Pug. With names that reflect their traits and nature as companions and lap dogs, to their loving, loyal temperaments and short fawn or black coat. If you want modern, trending names that match your favorite celebrity or movie, or ideas that are as original as your new rescue Pug, then we're here to help with these great baby Pug names list.
The best way to get a Pug is to either adopt an adult rescue Pug, or to buy a Pug that has been bred to have a longer than average face. Although Pug's flat faces are adorable, they come with breathing and heating issues that can cause a lot of sadness for these low energy yet loving dogs. Retro Pugs are definitely worth looking into.
What Should I Name My Pug?
Puppies need to learn their names pretty quickly. They are the way you get them to come to you, and form the basis of that all important early bonding. So it's a good idea to give them a name that it's easy to learn.
Names that can be said easily, clearly and in the same way by every member of the family are a sensible move. They shouldn't be too long, just a couple of syllables at most. And they shouldn't sound like any of the other commands you will want your Pug to learn later on either.
Girl Pug Names
Female Pugs really suit traditional human names, of loads of varieties! Whether you love modern, unusual girls names, or are looking for a classic, traditional female baby name, there is something to suit every Pug in this names list:
Frankie
Bella
Rae
Ellie
Pip
Callie
Tessie
Ali
Nell
Kimmy
Isla
Sammie
Opie
Viola
Lorna
Donna
Wendy
Jessie
Una
Elise
Mollie
Gloria
Annie
Clara
Boy Pug Names
Male Pugs are even cuter when they have sweet baby boy name. These ideas contain a huge range of different types of male name. You'll find everything from trendy and trendsetting, to vintage and retro names that'll turn heads and have you giggling to yourself.
Cam
Johnny
Andy
Phil
Darren
Dudley
Eric
Dave
Mickey
Timmy
Adam
Rex
Pete
Noah
Harry
Oscar
Benny
Smithy
Taylor
Danny
Lloyd
Oli
Cooper
Sam
Fawn Pug Names
Most Pugs are a pale fawn color. They have dark faces with a mask of black, and adorable black ears too. These colors offset each other beautifully, and make the Pug's unique face stand out even more. Here are some cool ideas for naming a fawn Pug pup.
Toffee
Coffee
Fudge
Maple
Hazel
Clay
Dusty
Treacle
Spice
Otter
Honey
Oak
Goldie
Beech
Birch
Copper
Tanner
Havana
Chocolate
Cocoa
Bean
Black Pug Names
The black Pug dog is an unusual one, but they can be found if you look hard enough. Black Pug puppies are entirely dark in color, with the same short coat length as any other Pug.
Echo
Midnight
Luna
Lupine
Shadow
Raven
Panther
Knight
Chase
Crow
Shadey
Sabrina
Diesel
Salem
Goth
Ebony
Sooty
Votex
Drac
Oreo
Lilith
Pepper
Cosmos
Galaxy
Cute Pug Names
Cuteness might be the most defining feature of the Pug, with their cute if sadly dangerous flattened faces and big bulging eyes. Whether you want a Pug that has a name as sweet as a candy store, or you just need something suitably pretty for your adorable baby Pug, this names list has what you need.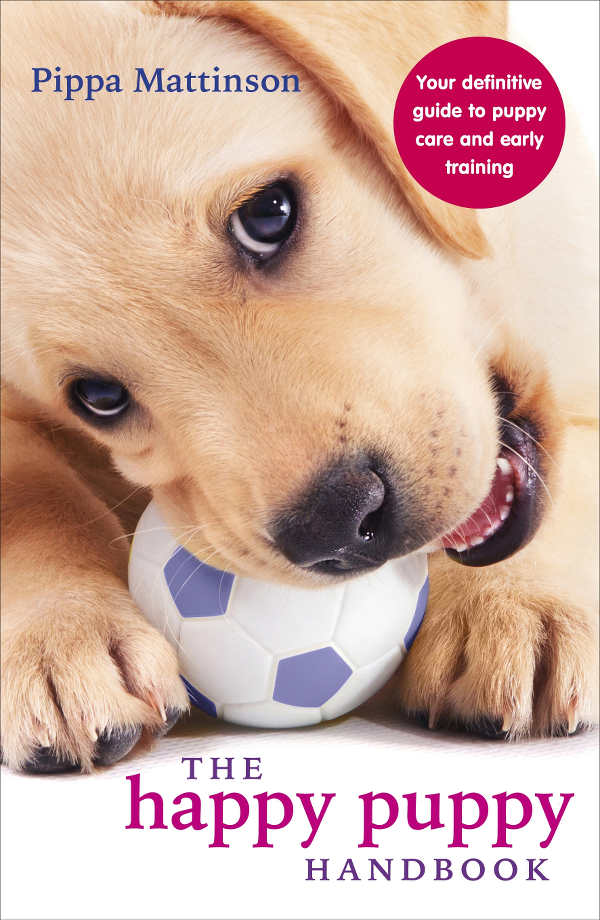 Baby
Sprinkles
Wiggles
Disney
Gidget
Doodle
Fidget
Boo
Star
Tofu
Maple
Dolly
Snickers
Boots
Cola
Glitter
Toto
Lopsy
Spud
Georgie
Honey
Hop
Jelly
Noodles
Famous Pug Names
Pug characters are increasingly more popular in tv shows and movies, but they have actually been around for longer than you might think. Including way back when in one of the earlier Disney movies, Pocahontas! See if you think any of these famous Pug names might be a good fit for your new Pug.
Mel (Secret Life of Pets)
Frank (Men in Black)
Patrick (Patrick)
Mittens (The Campaign)
Poundcake (The Campaign)
Percy (Pocahontas)
Precious (The Nut Job)
Molly (Valentino)
Maggy (Valentino)
Margot (Valentino)
Maude (Valentino)
Monty (Valentino)
Milton (Valentino)
More About Pugs
Pugs might be incredibly cute, but they come with some health problems too. If you are bringing a Pug into your life, make sure you know everything about them in order to do the best by your new pet.