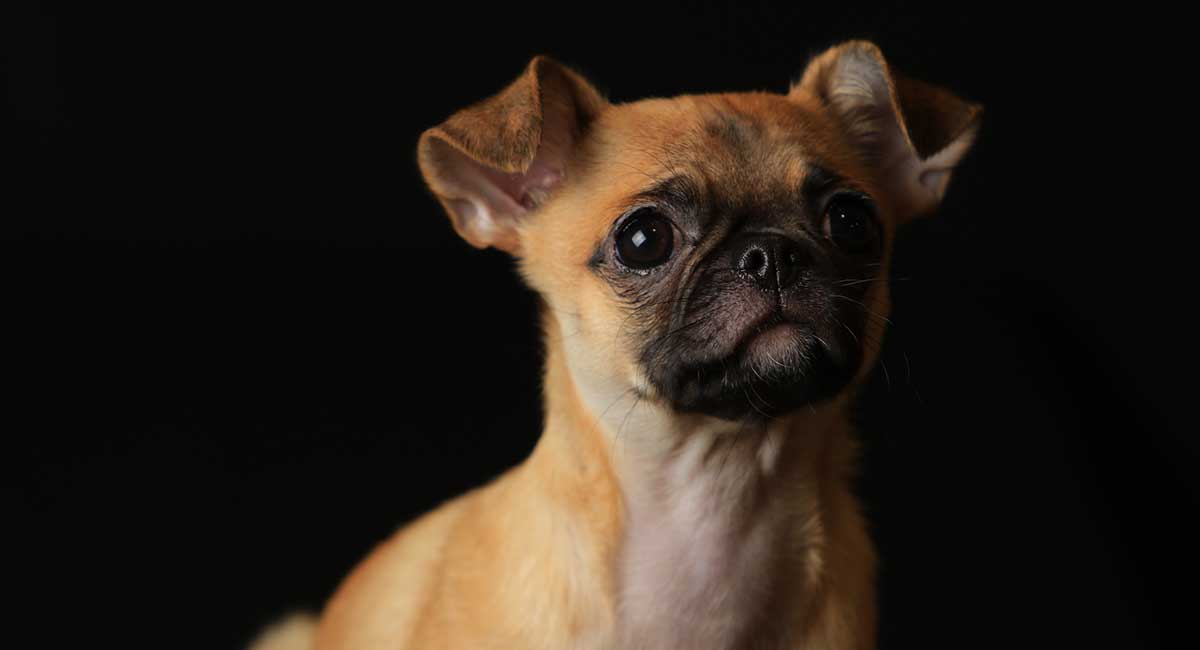 Pug mixes are naturally cute, but does that mean you should get one?
We've put together a Pug-Tastic list of the best Puggy crosses out there.
On his own, the Pug is a popular little fellow.
However, he does have some serious health issues that could be passed on to any of his Pug offspring.
So are mixes healthier?
Mixing it up!
Pug mixes are crossbreed dogs who are a mix between Pugs and other popular purebreds, such as the ones listed below.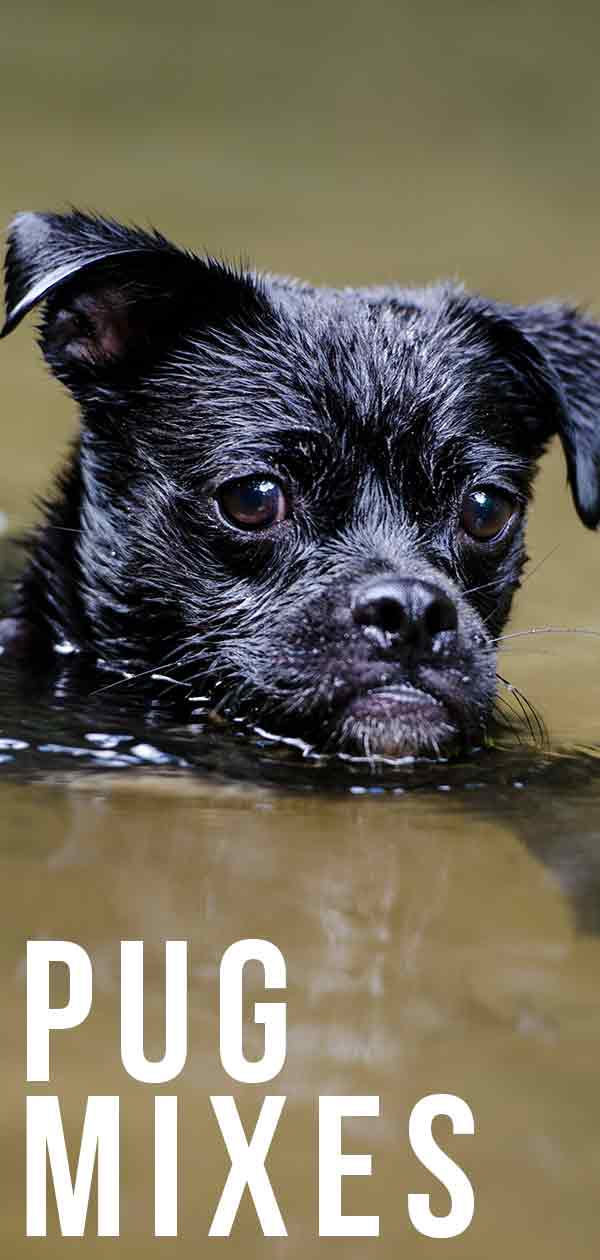 There's a seemingly endless supply of Pug mix possibilities to choose from, so we have decided to cover ten of our favorites!
Let's get started!
No 1: The Boston Terrier Pug mix
Appropriately nicknamed the Bugg, the Boston Terrier Pug mix may be the perfect dog for novice dog owners, young families, and households full of other pets.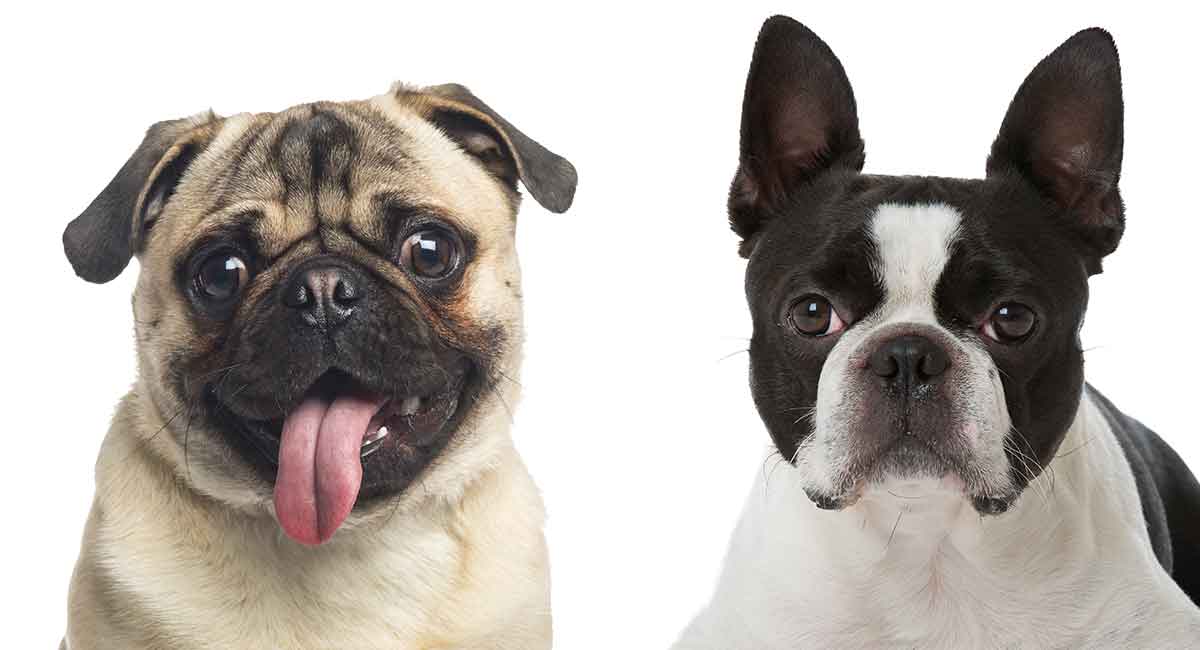 Out of all the Pug mixes on our list, the Bugg is perhaps one of the most adaptable Pug crossbreeds, getting along with just about anyone and anything.
Even though he is small, the Bugg is compact and sturdy enough to play safely with smaller children without getting hurt.
And where the Pug is mischievous and affectionate, the Boston Terrier is playful and intelligent, meaning their crossbreed offspring is likely to have a charming personality!
Best of all, the Bugg is eager to please, easy to train, and needs minimal grooming and only moderate exercise!
No 2: The Chihuahua Pug Mix
If you're eager to learn about some tiny Pug mixes, then the Chihuahua Pug mix is the mix for you.
Affectionately known as the Chug, the Chihuahua Pug mix is a Pug hybrid that is full of sass and attitude.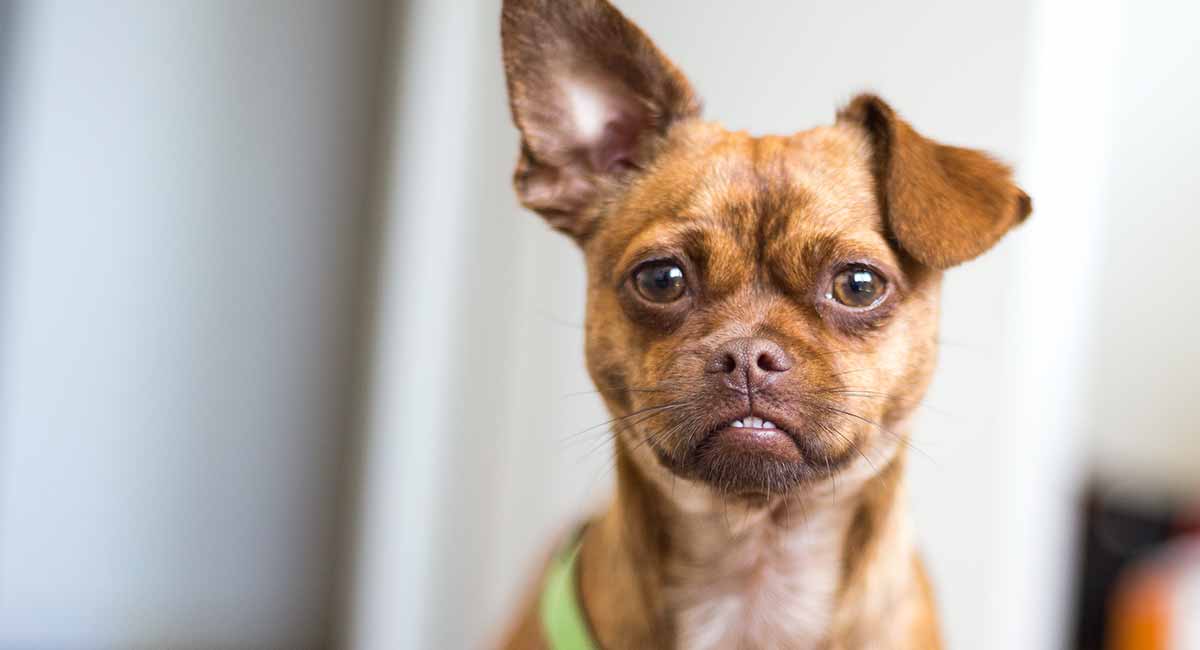 However, while the Pug makes for a wonderful family pet and gets along well with just about everyone, the Chihuahua is a bit of an attention hog.
He prefers to be the only dog of the household.
Additionally, Chihuahuas can have some aggressive tendencies and are not the most patient dogs with small children.
For this reason, a Chug mix would do best in homes with singles or families with older children and no other pets.
No 3: The Beagle Pug Mix
The Puggle, or the Beagle Pug mix, is an irresistible combination.
This is one of the most adorable Pug mixes, with his wide eyes, squishy face, and long floppy ears.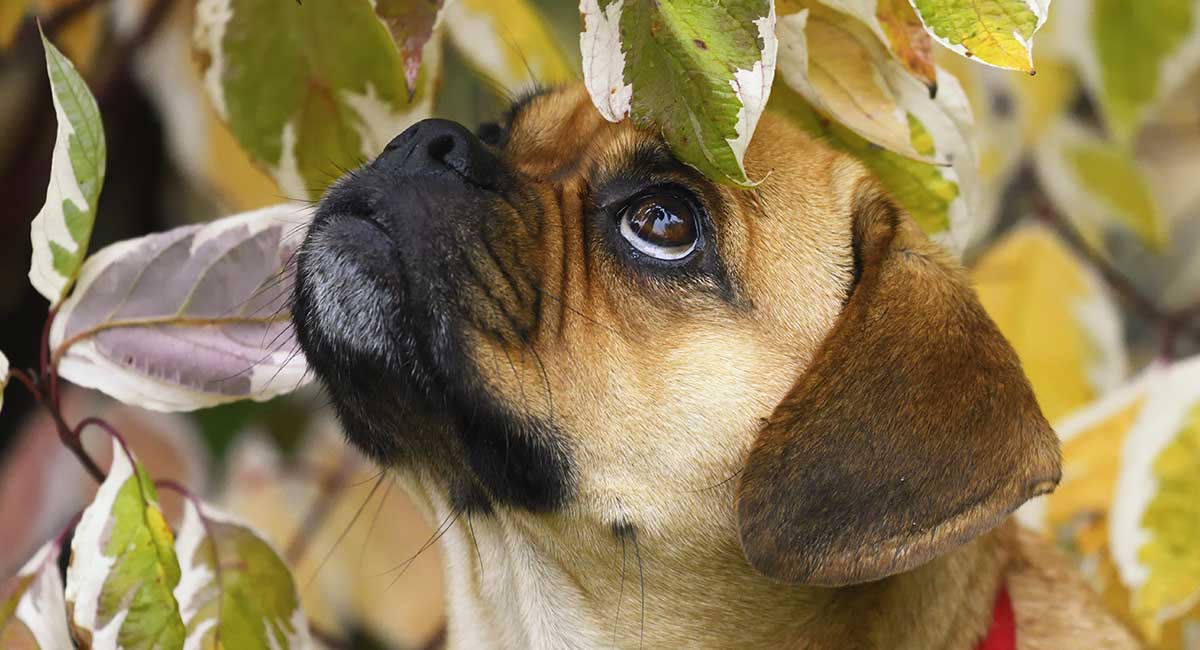 However, keep in mind that while most Puggle pictures depict a perfect cross between a Pug and a Beagle, your Puggle's physical look could vary depending on chance and genetics.
This crossbreed is extremely loving, mixing an affectionate nature with an energetic drive.
Much like the Bugg, the Puggle makes for a wonderful family pet and does very well with children and other household pets.
However, due to the Beagle's hunting past, your Puggle may have a high prey drive and should always be on a leash whenever he is with you outside of the home.
No 4: The Pug Poodle Mix
Looking for smart Pug mixes? Then the Pugapoo is right up your alley!
Known for his loyalty and cleverness, this cross between a Poodle and a Pug will turn heads!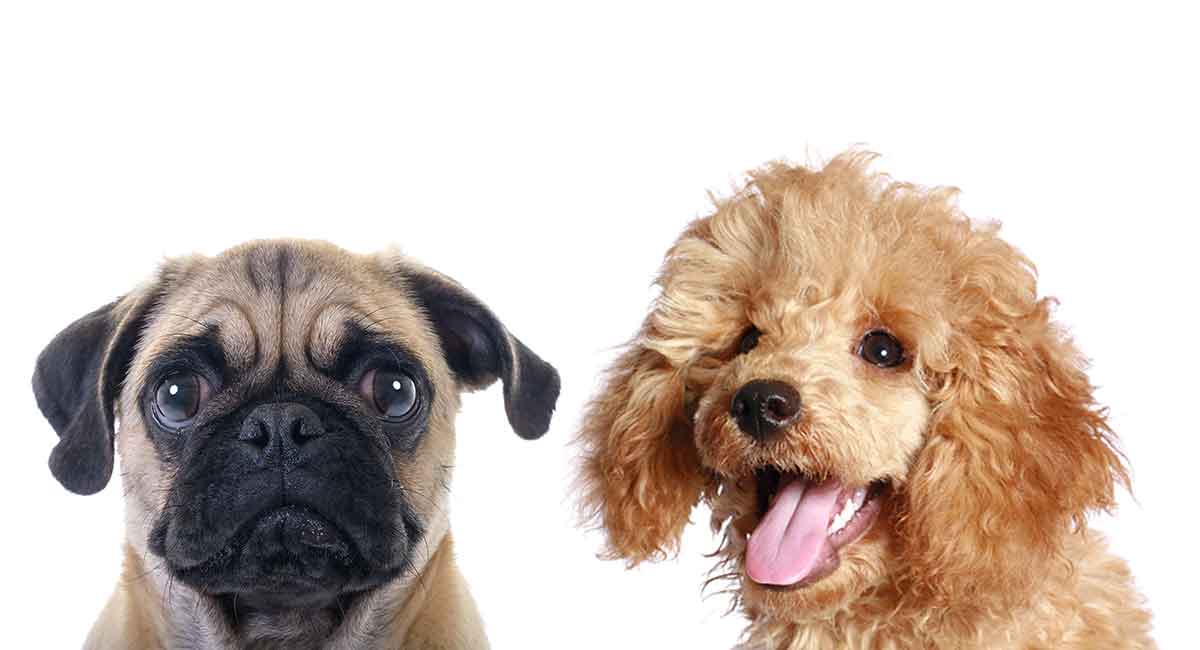 He is a unique looking crossbreed with a wide variety of coat color and texture options.
However, if you are looking for a hypoallergenic crossbreed, the Pugapoo may not be the best choice.
Truth be told, there is no such thing as a truly hypoallergenic dog.
Still, Poodles do shed much less than many other breeds.
However, the purebred Pug is not hypoallergenic, meaning it could be a toss-up as to whether or not your Pugapoo is good for those allergy sufferers in your life or not.
Either way, you should know that the Pugapoo is friendly, outgoing, and very intelligent.
He will be easy to train and is a great match for families with youngsters and other household pets.
No 5: The Pug Schnauzer Mix
All Pug mixes can suffer from separation anxiety, especially since the purebred Pug is famous for becoming very bonded with his human.
However, when you cross the Pug with a Schnauzer to create the Schnug, you may wind up with a dog who wants to behave like his human's shadow.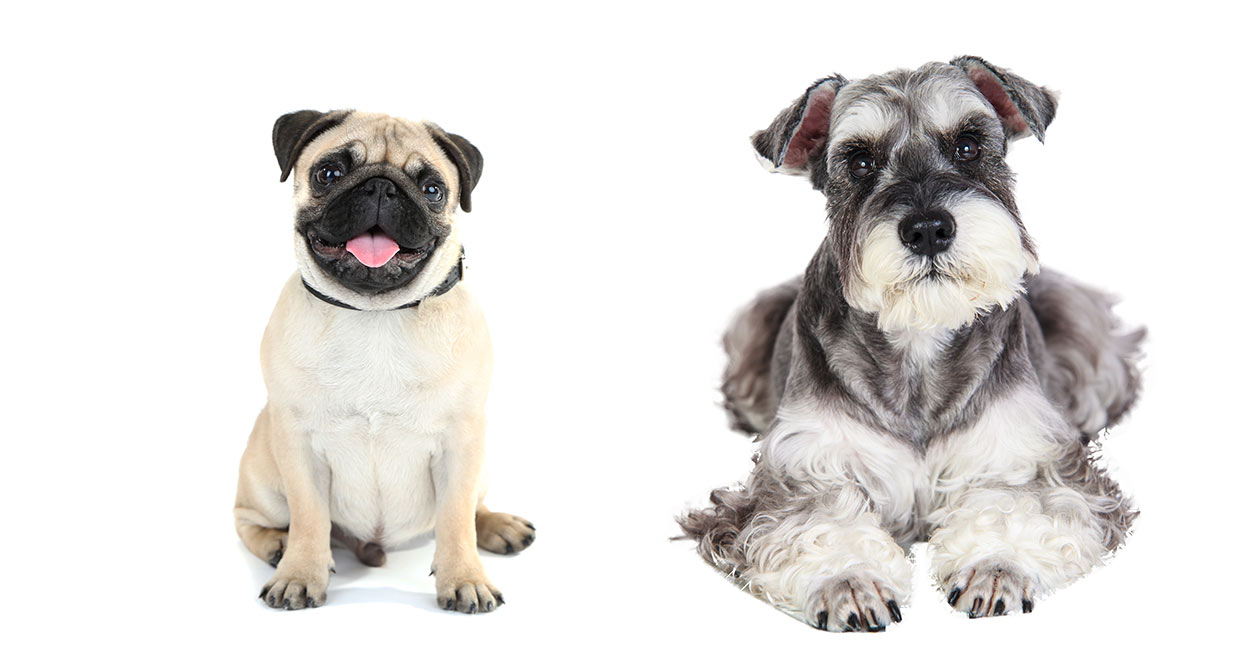 Affectionate, adorable, and oh-so-sociable, the Schnug is an active little lap dog who wants nothing more than to be with his person regardless of where his person is.
While this is another of our Pug mixes who does very well with families of all ages, this is probably not the best crossbreed for those with a super busy schedule.
No 6: The Pug Shih Tzu Mix
The offspring of the Pug and the Shih Tzu, the Pug Zu is small, playful, and mild-mannered.
This hybrid is a good choice for families with older children or younger children who are gentle and respectful of the Pug Zu's smaller size.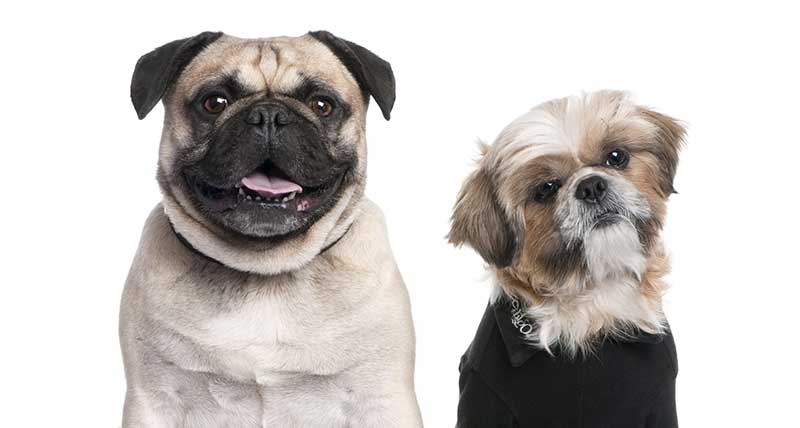 Keep in mind that all of our Pug mixes on this list can be prone to a number of health implications due to the overall unhealthy structure of the Pug.
However, the Pug Zu can be especially prone to a serious complication called Brachycephalic Airway Syndrome as well as Brachycephalic Ocular Syndrome.
Both of these ailments, unfortunately, affect his purebred parents.
No 7: The Basset Hound Pug Mix
Perhaps one of our most interesting and unpredictable Pug mixes on this list is the Bassug.
This funny little hybrid is a cross between the droopy-eyed Basset Hound and the bug-eyed Pug.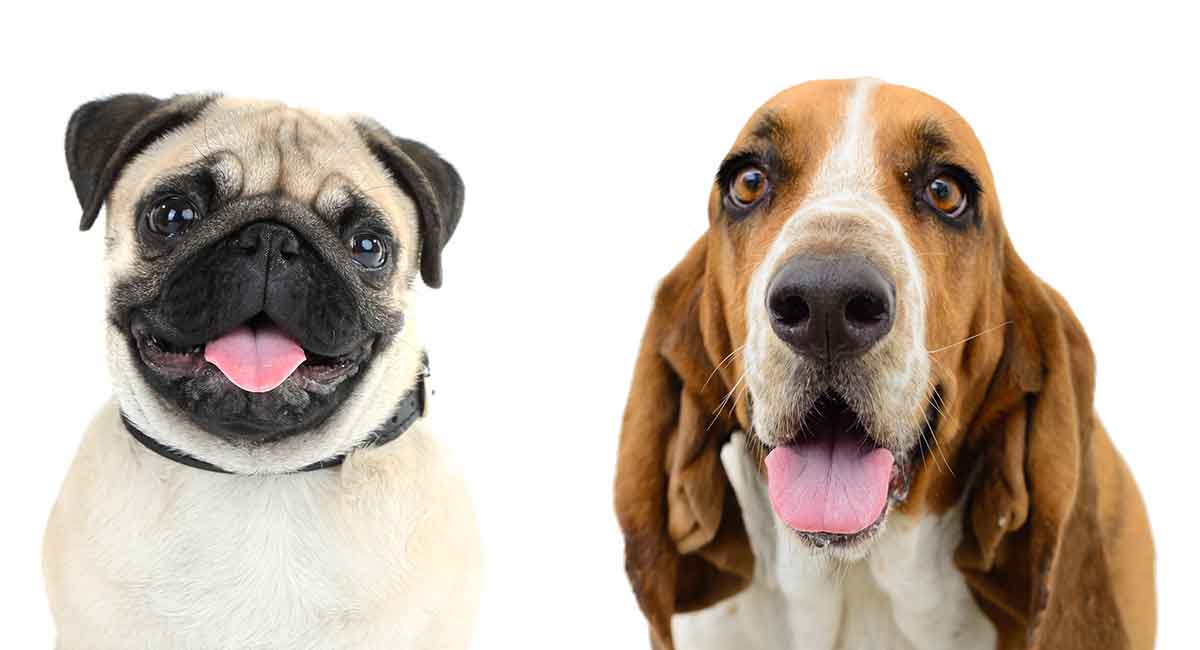 The results of crossing the two can vary quite a bit due to the fact that the Basset Hound and the Pug are so different looking.
Still, like most Pug mixes on this list, the Basset Hound Pug mix is said to get along well with families and enjoys being around his people.
No 8: The Cocker Spaniel Pug Mix
Just like their Pug counterparts, Cocker Spaniels are bred as family dogs.
They enjoy their people and want nothing more in this life than to be with those they love.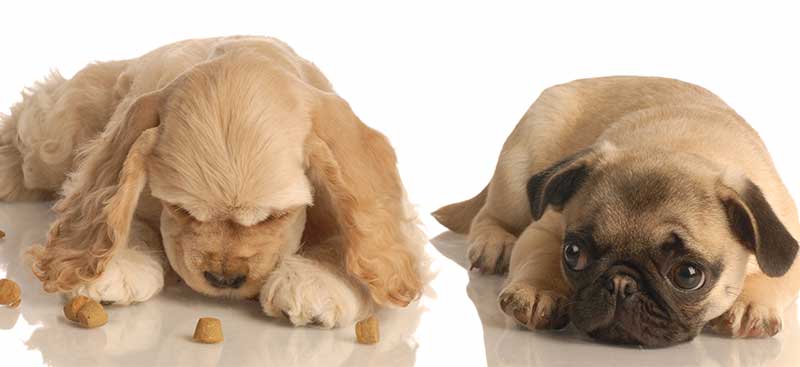 So, when it comes to Pug mixes who become closely bonded with their human families, the Cocker Spaniel Pug mix takes the cake.
Also called a Cocker Pug, this unique looking crossbreed will do very well with kids and other pets, and should be easy to train.
He has a mild, loving personality.
No 9: The French Bulldog Pug Mix
The French Bulldog combined with the Pug is bound to make a winning personalty.
But this is another of our Pug mixes that is going to be more prone to suffering from Brachycephalic Ocular Syndrome as well as Brachycephalic Airway Syndrome.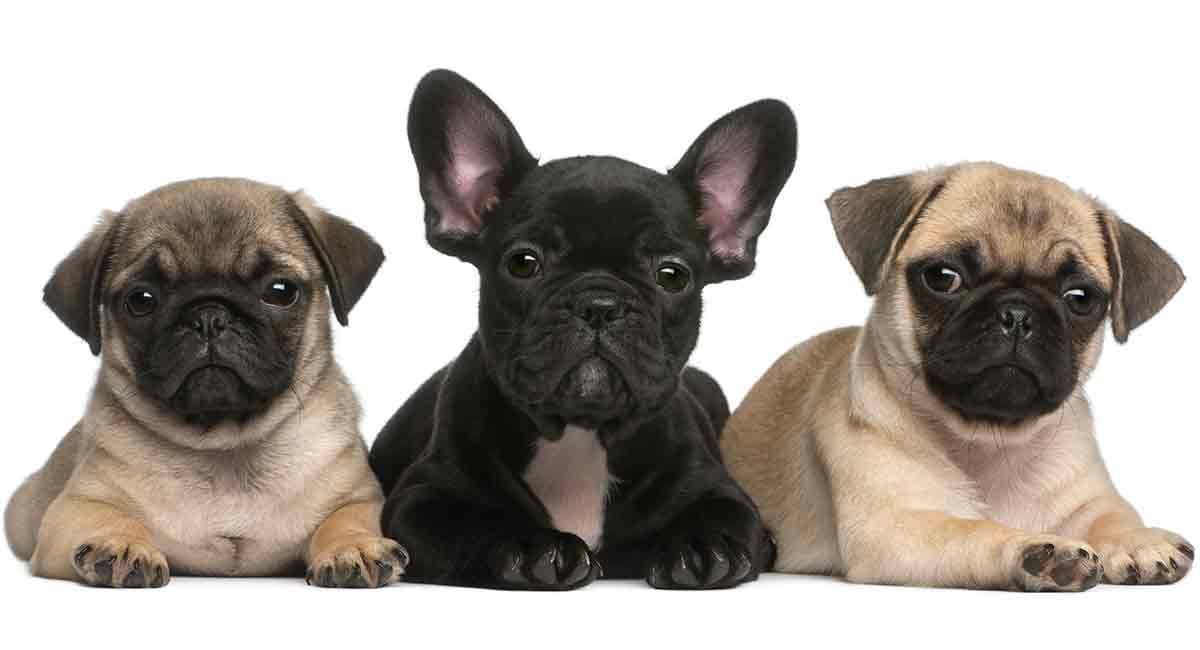 The Frenchie Pug is super adorable with a winning temperament, but unfortunately, both of his parent breeds are susceptible to the above-listed ailments.
In spite of his health issues, the Frenchie Pug is a family favorite with lots of love to give.
No 10: The Pug Dachshund Mix
Last but not least on our list of Pug mixes is the Pug Dachshund mix.
Also called the Daug, the Pug Dachshund mix is a feisty little crossbreed with unique characteristics and a family-oriented personality.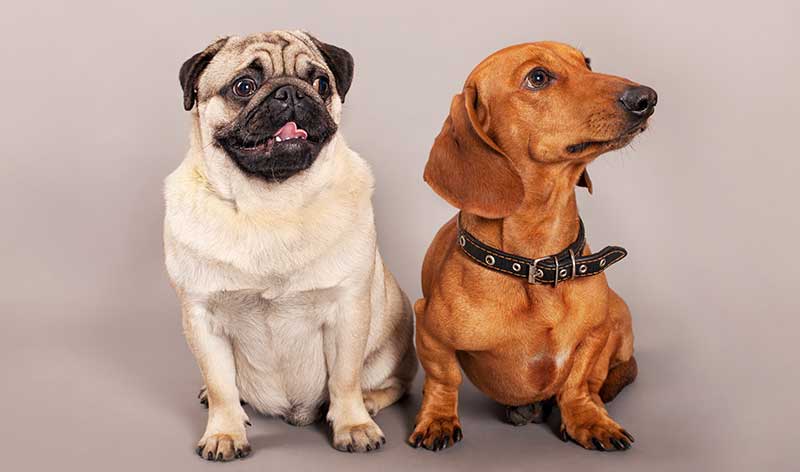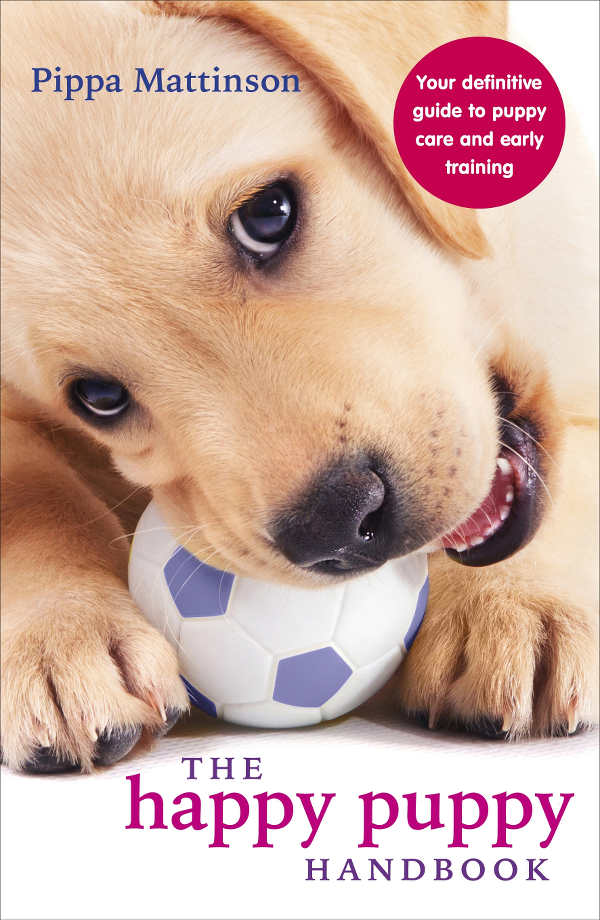 This Pug mix is a true family dog and is easy to train, although he will need adequate exercise in order to ensure he does not become obese.
Unfortunately Dachshunds have a long set of their own health problems, relating to their back.
Luckily, the Daug is a smaller Pug mix.
Playtime with his people in the backyard or going on a brisk walk should be enough to keep him in good shape.
Why Are Pug Mixes Considered Unhealthy?
Many people love Pugs.
Unfortunately, one of the things we may love most about them is one of the things that makes them most vulnerable.
Due to the structure of their short skull, Pugs suffer from Brachycephalic Airway Syndrome.
This is a serious respiratory disorder that causes difficulty breathing, pain, snoring, and a number of other complications.
Furthermore, owing to the Pug's characteristically bulging eyes, he may suffer from Brachycephalic Ocular Syndrome. 
This can lead to eye injuries, eye infections, ulcers of the eyes, and more.
Pugs also have tight, curly tails, which is another aspect of their physical appearance most well-meaning Pug lovers find endearing.
However, a tight, curly tail can cause serious spinal problems.
This issue in Pugs and many Pug mix breeds is known as screw tail and Hemivertebrae.
Is a Pug mix healthier?
Due to the number of health issues facing Pugs and Pug mixes, anyone considering buying Pug mix puppies should do plenty of research before making the commitment.
It is possible that crossing them with a dog with a fuller snout will result in healthier puppies.
But this is not guaranteed.
References