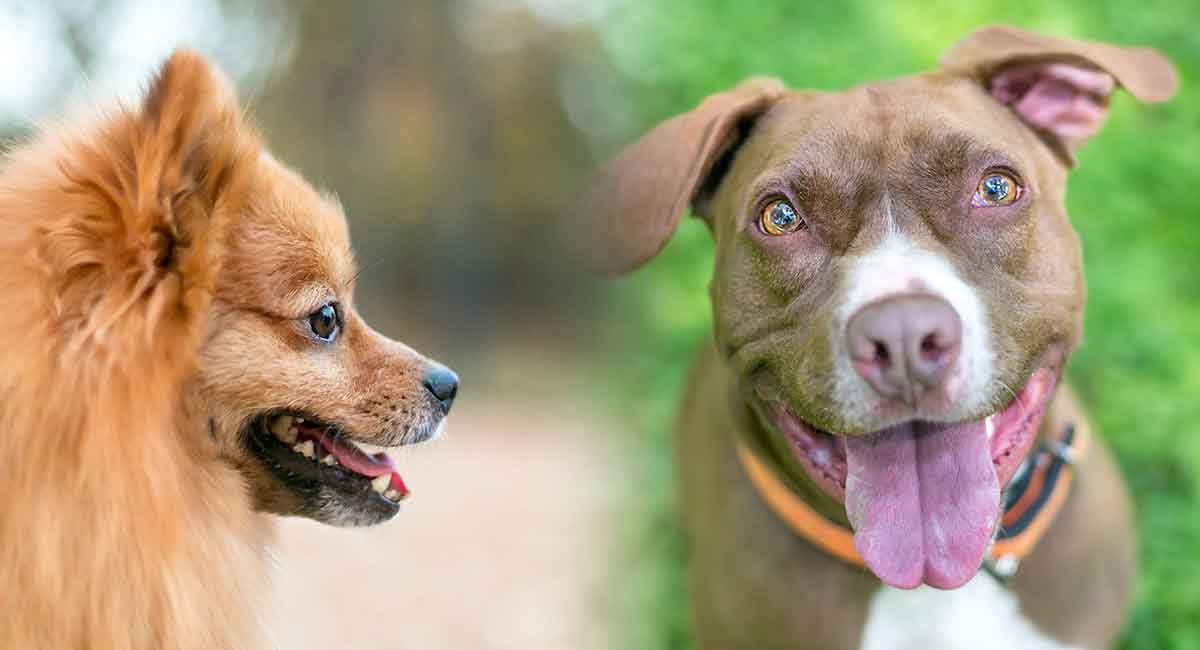 The fluffy, pint-sized Pomeranian and the proud, muscular Pitbull seem like the odd couple of the dog world, but can create the Pomeranian Pitbull mix!
Interested in the idea of this unique mixed breed dog? In this article, we'll look at the Pomeranian, Pitbull, and mix so you can decide if this dog is the right pet for you.
First up, a little history!
Where does the Pomeranian Pitbull Mix come From?
The Pomeranian comes from larger, Spitz-type dogs from cold northern climates. The earliest Poms were bred down from these larger dogs in the region of Europe once known as Pomerania.
Early Pomeranians were in the 30-50-pound range, but smaller sized dogs became very popular, especially among British fanciers in the late 1800s. Today's Poms are very small toy dogs in the 3 to 7-pound range.
The history of the Pitbull is not as simple as the Pomeranian, because many different dogs types are labeled (and mislabeled) as Pitbulls.
The Pitbull came from English dogs used hundreds of years ago in the sport of bull baiting.
More about Pitbulls:
Several modern breeds have the distinctive Pitbull look, such as the American Staffordshire Terrier and the English Bull Terrier.
What about the Pomeranian Pitbull mix?
Although random cross breedings could occur at any time, the planned crossbreeding of two different purebred dogs to make a designer mixed breed is a recent trend.
Mixed breed dogs are popular, and many fans believe they are healthier than purebred dogs.
We'll look at health later, but for now, it's important to remember that the health of any mixed breed dog depends on how healthy the genes of both parents are.
Fun Facts about the Pomeranian Pitbull Mix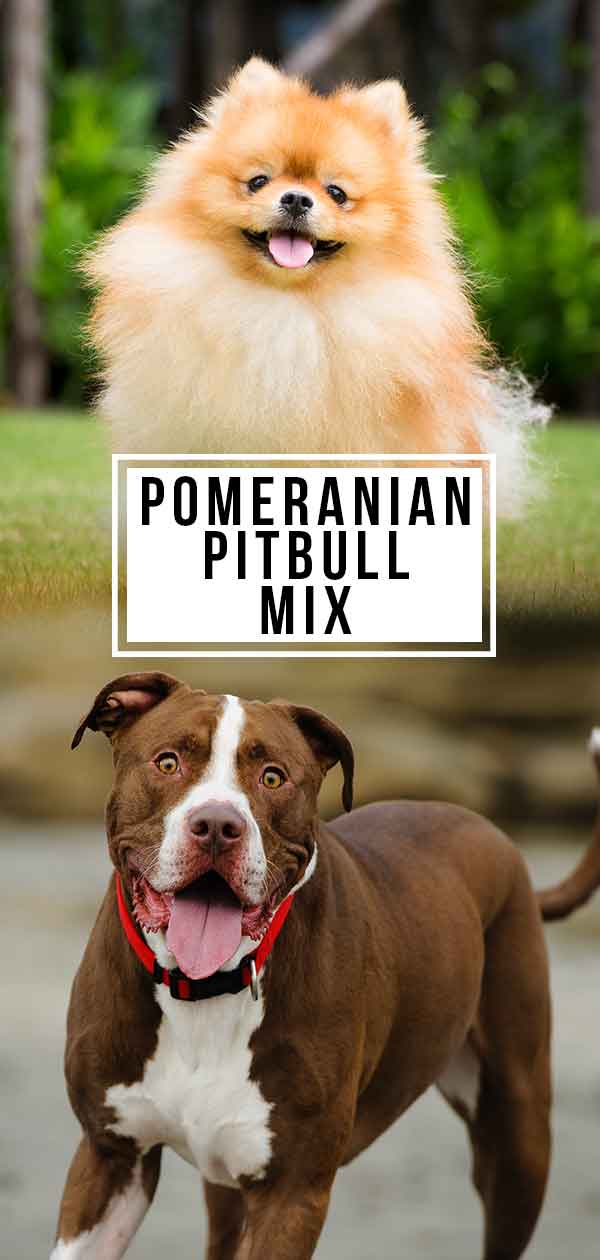 While we don't know of any famous Pomeranian Pitbull mixes yet, the two breeds have long and interesting histories.
Did you know that two Pomeranians survived the Titanic sinking in 1912? While there have been many famous Pom owners, including Queen Victoria, Mozart, and Michelangelo.
The Pitbull was a beloved family pet in America for many years, long before some careless owners began using it as a guard dog or to fight.
Petey, the companion of the kids in the Little Rascals series, was a Pitbull. Real life Pitbulls have been the pets of such famous people as Helen Keller, Teddy Roosevelt, and John Steinbeck.
Pomeranian Pitbull Mix Appearance
What does a Pomeranian Pitbull mix look like, since the parent breeds are so different? Let's look at the parent breeds first.
As we mentioned, the Pomeranian is a toy dog. Its body type is compact but sturdy, while the head is tapered and fox-like.
Known for its thick coat, the Pom has a full ruff, leg feathering, and a plume-like tail. Its coat can come in any color or combination of colors and patterns include brindle, parti, piebald, and pointed.
The American Staffordshire Terrier is the most well-known Pitbull type breed. A strong, muscular, medium-sized dog the Am Staff stands between 17 and 19 inches at the shoulder.
It has a short, glossy coat that can come in any color or combination of colors, including solid, parti, and patched.
The Pomeranian Pitbull mix can come in a variety of sizes and coat types. Mixed breed dogs can fall anywhere on the size range of the parent breeds.
Pom Pitbull mixes tend to be small to medium sized dogs with sturdy, compact body types.
The shape of the head and face can favor one breed over the other, with some mixes looking more fox-like and others having a blunter muzzle.
The coat can come in any color and any pattern, just like the parent breeds. Expect the fur to be thick and medium length.
Your dog may inherit the Pom's double coat and require more grooming than the low maintenance Pitbull. We'll talk more about grooming in a bit.
Pomeranian Pitbull Mix Temperament
Temperament is a special concern for potential owners worried about the Pitbull's reputation for aggression.
While it's true that some irresponsible owners and breeders have encouraged aggression in Pitbulls for guarding and fighting, fans talk about their loving and loyal nature.
Studies of canine temperament have found that Pitbull type dogs rate better in temperament tests than several other breed groups, such as toy dogs and hounds.
The Pomeranian has often been described as a little dog that thinks it is a big dog. Poms have a lively, feisty, and strong-willed nature.
It could be argued in the Pomeranian Pitbull mix, that Pom feisty nature is softened by Pittie calm!
Keep in mind that any dog's temperament is due to many factors, including breeding, genetics, socialization, and training.
The importance of good training and socialization can't be overstated. Let's take a closer look at the best way to train your Pomeranian Pitbull mix.
Training Your Pomeranian Pitbull Mix
Dog behavior experts describe the Pom as an alert and intelligent dog that can pose some training challenges.
Poms can be stubborn, and many can bark often. Some can become very possessive of their favorite humans.
The key to a well-behaved Pom is consistent training and socialization from an early age.
Pitbulls also do best with early training and socialization, while trainable and eager to please, their physical strength requires a confident owner.
What about the mix? While Pom Pittie mixes can favor one parent breed's personality over the other, good training and socialization are still essential.
Crate and potty train your puppy from the beginning, especially if it inherits housebreaking issues from the Pomeranian side.
Also, consider enrolling your dog in organized puppy kindergarten classes as this can be a great way to get your puppy used to other dogs and people.
Use only positive reinforcement training techniques. Reward your dog's good behavior with praise, treats, and play sessions. Avoid any form of harsh punishment for bad behavior.
What about exercise? Both parent breeds can be active and exuberant, requiring regular exercise.
If your mix is small like a Pom, keep an eye on your dog around larger dogs to prevent accidents and injuries.
Both breeds enjoy walks and exercise sessions with their family members. Neither does well when left alone in the yard…and the same is true for the mix.
Pomeranian Pitbull Mix Health
Will your Pomeranian Pitbull mix be healthy?
Since most purebred dogs have some inherited health conditions, choosing a breeder who tests their dogs for health problems is key to ensuring that your dog is as healthy as possible.
The Pomeranian can suffer from health problems that are common to many small dog breeds.
Luxating patella is knee joint problem common to Poms and other small dogs. Many Poms can also suffer from hypothyroidism (low thyroid function). Other health issues seen in Pomeranians include hair loss, collapsing trachea, and idiopathic epilepsy.
The American Staffordshire Terrier can also suffer from some inherited health problems.
The most common are hip dysplasia, heart disease, thyroid problems, and a potentially serious inherited neurological disorder called cerebellar ataxia.
Your Pomeranian Pitbull mix can inherit health problems from one or both parent breeds. Your mix may be especially at risk for joint, thyroid, and neurological problems.
Fortunately, health tests are available for many of the most common diseases.
Health tests can come in the form of DNA testing or physical exams performed by veterinary specialists. The test results should be registered with a canine health clearinghouse such as the Orthopedic Foundation for Animals.
Your Pomeranian Pitbull mix will require regular care such as tooth brushing and nail trimming.
What about Grooming?
The long double coat of a purebred Pom will shed and does require frequent brushing. However, a Pom Pittie mix will likely have shorter hair and need less grooming.
A once or twice a week brushing should be all that is necessary. Dogs with undercoats will shed them seasonally and more brushing may be required at those times.
Do Pomeranian Pitbull Mixes make Good Family Dogs?
Both parent breeds can make excellent family pets. Small children should be taught to handle very small dogs like the Pom carefully to prevent injury.
Similarly, young children should also be taught how to safely interact with larger strong dogs like the Pitbull.
Your Pomeranian Pitbull mix may not be as tiny as a Pom or as muscular as a Pitbull. But it is always a good idea to supervise your dog around small children.
Rescuing a Pomeranian Pitbull Mix
Should you rescue your dog or find a breeder? Well, rescues can be a great option, especially if you are interested in adopting a homeless adult dog.
We'll talk about how to find a rescue Pom Pittie mix shortly. Here's how to find a good breeder if you have your heart set on a puppy!
Finding a Pomeranian Pitbull Mix Puppy
What is the best way to find a Pom Pitbull puppy?
Limit your search to responsible breeders and avoid pet stores and online ads, as these dogs often come from breeding operations known as puppy mills.
Avoid anyone who uses the terms teacup, micro, etc. to describe a Pom or Pom mix. Unusually small dogs can have serious health problems.
Choose a breeder who health tests their breeding stock for inherited health conditions. Responsible breeders will share all test results with you.
Good breeders will also invite you into their homes so that you can meet your puppy's parents and littermates. Take time to observe their health and living conditions.
Raising a Pomeranian Pitbull Mix Puppy
Once you bring your new puppy home, start training and socializing your dog right away. Set up regular grooming sessions and your first appointments with a veterinarian.
You may also want to "puppy-proof" your home and yard by removing dangerous objects and restricting access to certain areas.
Pomeranian Pitbull Mix products and Accessories
What about supplies?
Your new dog checklist should include basic items like
quality food and treats
food and water bowls
a collar
leashes
toys
bed
crate
and grooming supplies.
Grooming supplies can be particularly important if your dog inherits a fluffy double coat from the Pom side of the family!
If your dog favors the Pitbull side, having a good supply of quality chew toys is definitely a must!
Pros and Cons of getting a Pomeranian Pitbull Mix
Because your Pomeranian Pitbull mix can inherit the traits of one or both parent breeds, it's important to know what to expect.
If you have very young children, the Pom Pittie might not be the best choice for you. This mixed breed dog does best with adults and older children.
Also, Poms tend to bark and get very attached to particular people, while the strong Pitbull could be too much for inexperienced owners.
However, a well trained and socialized mix can combine the best traits of both breeds. These pups are often loving, friendly, and devoted companions.
Similar Pomeranian Pitbull Mixes and Breeds
What are some alternatives if you decide a Pom Pitbull mix is not the dog for you?
Other mixed breed dogs to consider include the Pomeranian mixed with a Husky or Standard Poodle if you're looking for a medium size dog.
Poms mixed with Yorkshire Terriers or Chihuahuas can be a good choice for small dog lovers.
Popular Pitbull mixes include the Pittie mixed with the Labrador Retriever, the Boxer, or the German Shepherd.
If you're not sure at all about this cross, you could try something completely new, like the German Shepherd Husky mix!
Pomeranian Pitbull Mix Rescues
Is it possible to find a Pom Pitbull mix through an animal shelter or rescue group?
Pitbulls and Pitbull mixes are over-represented in many animal shelters. So, call shelters and rescues in your area and tell them you are interested in a Pitbull mix.
Breed specific Pitbull and Pomeranian rescue organizations often have mixes available for adoption. Most official breed club websites will contain links to breed rescue organizations that they work with.
Is a Pomeranian Pitbull Mix right for Me?
So, what do you get when you combine a perky little fluffball Pom with a handsome and dignified Pittie?
If your answer is 'the perfect dog' then a Pomeranian Pitbull mix may be the pet for you!
While it's not the most common mixed breed dog, the Pom Pittie mix could be the ideal combination of each parent breed.
Have you got one of these special dogs of your own? Tell us about your best friend in the comments!
References and Resources
Driggers, C., Reimschiissel, K.D. The History of the Pomeranian. American Pomeranian Club.
Pitbulls: Everything You Need to Know. Best Friends Animal Society.
Beuchat, C. The Myth of Hybrid Vigor in Dogs…Is a Myth. The Institute of Canine Biology, 2014.
Pomeranian Standard. American Pomeranian Club, 2011.
Standard. Staffordshire Terrier Club of America, 1936.
Dowd, S.E. Assessment of Canine Temperament in Relation to Breed Groups. Matrix Canine Research Institute, 2006.
Patellar Luxation. Orthopedic Foundation for Animals.
Ward, E. Hypothyroidism in Dogs. VCA Hospitals, 2009.
Canine Hip Dysplasia. American College of Veterinary Surgeons.
Olby, N., Blot, S., Thibaud, J.L., et al. Cerebellar Cortical Degeneration in Adult American Staffordshire Terriers. Journal of Veterinary Internal Medicine, 2004.