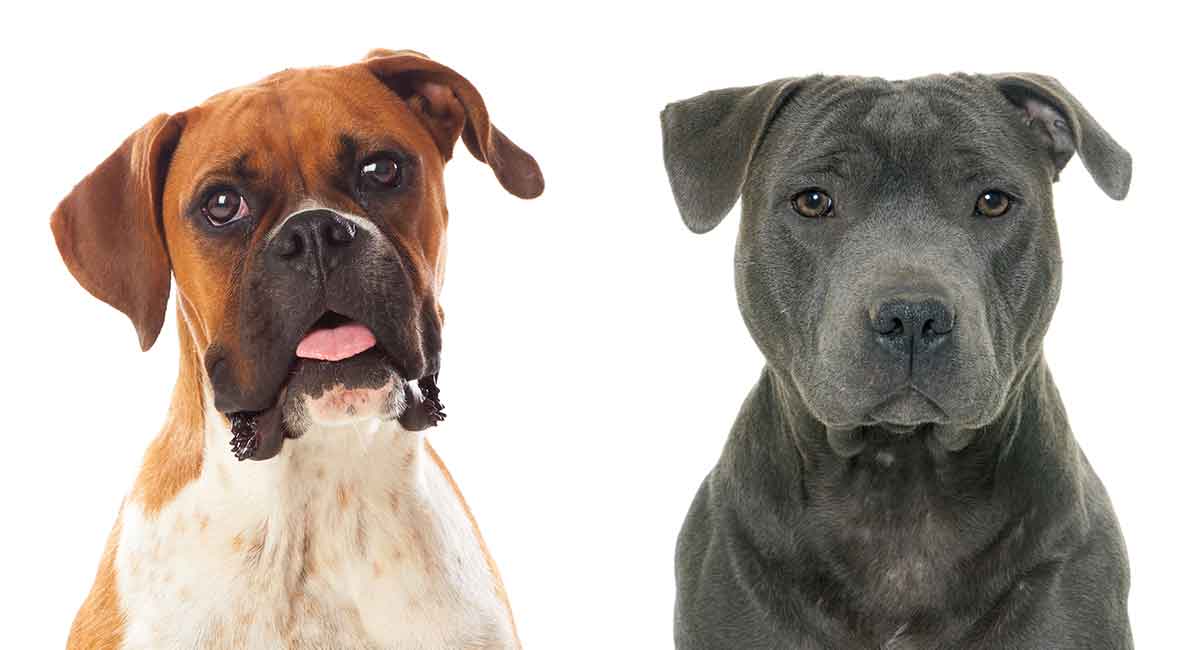 The Pitbull Boxer mix is one of a number of unique crossbreeds coming to light due to the rising trend in designer dogs, and it's easy to see why.
Loyal, playful, and cute to boot, this powerful pooch is certainly a head-turner.
But what kind of pet does he make, and would he fit into your lifestyle?
Let's take a look!
Introducing the Pitbull Boxer Mix!
Meet the Pitbull Boxer mix, also known as the Pitoxer, the Bullboxer, or even the Bullboxer Pit.
Considered a first-generation crossbreed, the Pitbull Boxer mix is the direct offspring of the American Pitbull Terrier and the Boxer.
And while this designer dog and a number of other designer dogs like him have tons of adoring fans, we should explain that not everyone is into the whole crossbreeding craze.
Why? Keep reading!
First Generation Crossbreeds – Why Some People Are Debating Designer Dogs
Crossbreeding is an ancient practice.
In fact, nearly every purebred dog in existence today was once refined and perfected through generations of crossbreeding.
So, what's the deal with first-generation crossbreeds?
Also called designer dogs or hybrids, first-gen crossbreeds are the direct offspring of two different purebred parents.
These dogs have not gone through the generations it takes to refine and improve characteristics.
So, why are crossbreeds called crossbreeds? Why aren't they just considered mutts?
One of the issues regarding first-gen crossbreeds is that not everyone can agree on what they are.
However, for the most part, supporters of crossbreeding insist there is a big difference between crossbreeds and mutts.
For example, whereas a mutt is an unintentionally mixed breed with a number of breeds in his bloodline, the crossbreed was designed on purpose and has only two specifically chosen purebred parents.
To learn more about how mutts and crossbreeds may differ, visit us here.
Now let's talk about the health aspect of crossbreed dogs vs purebreds.
As many dog enthusiasts are aware, purebred dogs are inherently prone to suffering from genetic diseases due to generations of overbreeding.
What happens when you overbreed a purebred dog?
The gene pool from which breeders have to select from shrinks.
Meaning litters may be more and more susceptible to inheriting genetic abnormalities like disease and deformity from their parents.
And although crossbreeding does widen the gene pool, there is still some debate as to whether or not crossbreeds are actually any healthier than purebreds.
Of course, you can always click there later and keep reading for now, because we are about to cover the topic that brought you here!
Let's learn more about the Pitbull Boxer mix!
Where Did the Pitbull Boxer Mix Come From?
A first-generation crossbreed such as the Pitbull Boxer mix is so new that his origin is still in the making.
So, how do you learn about his heritage? By taking a look at the histories of his parent breeds, of course!
Let's start with the Pitbull!
Origin of the America Pitbull Terrier
The American Pitbull Terrier is arguably the only true Pitbull breed, despite a number of breeds being referred to as Pits.
His story began in England during the 19th century, when Old English Terriers and Old English Bulldogs were crossbred to create a keen, strong, and athletic dog for blood sports, such as bullfighting.
More about Pitbulls:
These dogs made their way to the United States at the end of the 19th century and are believed to be the direct ancestors of the modern-day American Pitbull Terrier.
Illegal dogfighting
Although the practice of blood sports was outlawed in 1835 after the introduction of animal welfare laws, participants did not stop the cruel practice and turned to the underground sport of illegal dogfighting.
American and Britain dog fighters pitted their dogs against one another for years, paving way for what many Pit enthusiasts consider today to be breed discrimination.
And while it is true that the Pitbull was originally bred for fighting, his loyal demeanor and playful nature have made him an excellent companion pet, service animal, military and police dog, as well as a working dog throughout the years.
Sadly, despite the tireless work of law enforcement and activists alike, the American Pitbull Terrier remains the number one breed chosen to participate in illegal dog fighting throughout the United States.
Origin of the Boxer
Another breed with a history in fighting is the Boxer, although most novice dog enthusiasts wouldn't know it these days.
Perhaps that is because the Boxer, who ranks at number 10 out of 194 on the American Kennel Club's list of America's most popular dog breeds, is known for his sweet disposition, friendly nature, and childlike personality.
However, this wasn't always the case.
Back in 2,500 B.C., the Boxer's ancestors were the ancient Assyrian Empire's prized war dogs.
With roots to both England and Germany, the Boxer was perfected over centuries, bred down in size and refined until he became a more suitable companion dog.
The modern-day Boxer's fighting days are over
Today, the modern-day Boxer is a far cry from his fighting days and is famous for his family-friendly nature.
But this dog isn't all fun and no work. In fact, his resume includes work as a service dog as well as work in law enforcement, the military, and guarding.
So, how did the Boxer get his cute name?
It's exactly as you might expect! According to the American Kennel Club, the Boxer is somewhat of a boxer, using his front paws when he pounces and plays.
What is the Pitbull Boxer Mix Temperament Like?
Bullboxer reviews online paint this crossbreed as a popular and beloved pet, although it is a must that this hybrid is well socialized and properly trained.
Still, it is important to keep in mind that the Pitbull Boxer mix could inherit certain temperamental traits from each of his parent breeds. So pinpointing his exact temperament is going to be difficult.
But what about the Bullboxer kids mix? Do the two do well together? And what characteristics could your Bullboxer dog inherit from his parents?
To find out, we will need to take a closer look at the temperamental traits of the Pitbull and the Boxer.
Pitbull Temperament
Intelligent, loyal, and incredibly family-oriented, the Pitbull is one of those breeds who gets a bad rap due to his past.
And while we are not here to debate whether or not these assessments made for or against the Pitbull are accurate or fair, we are here to give an honest appraisal of this breed's personality.
By all accounts, a properly trained and socialized Pitbull does very well with children and other household pets.
Still, he can be stubborn and enjoys being an independent thinker.
This sensitive dog does not do well with harsh corrections or punishments and responds best to positive reinforcement and loving praise!
He is incredibly affectionate and will do best in homes with people who are able to be with him often, offering him lots of love as an extension of the family.
Due to his incredible loyalty and willingness to please his owners, the Pitbull makes for an excellent student.
Keep in mind that the Pitbull is fairly active and will, therefore, need a lot of care in terms of exercise and play.
But what about the Boxer?
Boxer Temperament
The Boxer is another breed who is said to make a wonderful family pet! With that being said, we should note that this breed may not get on well with other dogs of the same sex.
Powerful and muscular, the Boxer may once have been an ancient war dog, but these days he is much happier just loving his favorite people.
This is a playful, energetic, and somewhat "bouncy" breed, who needs lots of physical and mental stimulation to stay happy and keep from getting bored.
A potential Boxer or Boxer cross owner should also keep in mind that this breed is a jumper. He will need lots of patient training to help him learn when jumping is appropriate.
And while he does well with children and in family settings, this breed could be a bit rambunctious for very small kids or older seniors.
Also, just like the Pitbull, without training, exercise, and early socialization, the Boxer can become bored, destructive, and unhappy.
His Appearance – What Will the Pitbull Boxer Mix Look Like?
Any Bullboxer size chart or a Bullboxer size guide will show that the Pitbull Boxer mix is going to be somewhere around 17-25 inches tall and weigh between 30 and 80 pounds.
So, why the large variation?
The Pitbull Boxer mix is a crossbreed, meaning he could inherit any number of physical traits from his purebred parents. It is all going to be left up to genetics and chance.
To get a better idea of what your individual Pitbull Boxer mix could look like, we'll need to go over the defining characteristics of his parent breeds.
We will begin with the Pitbull.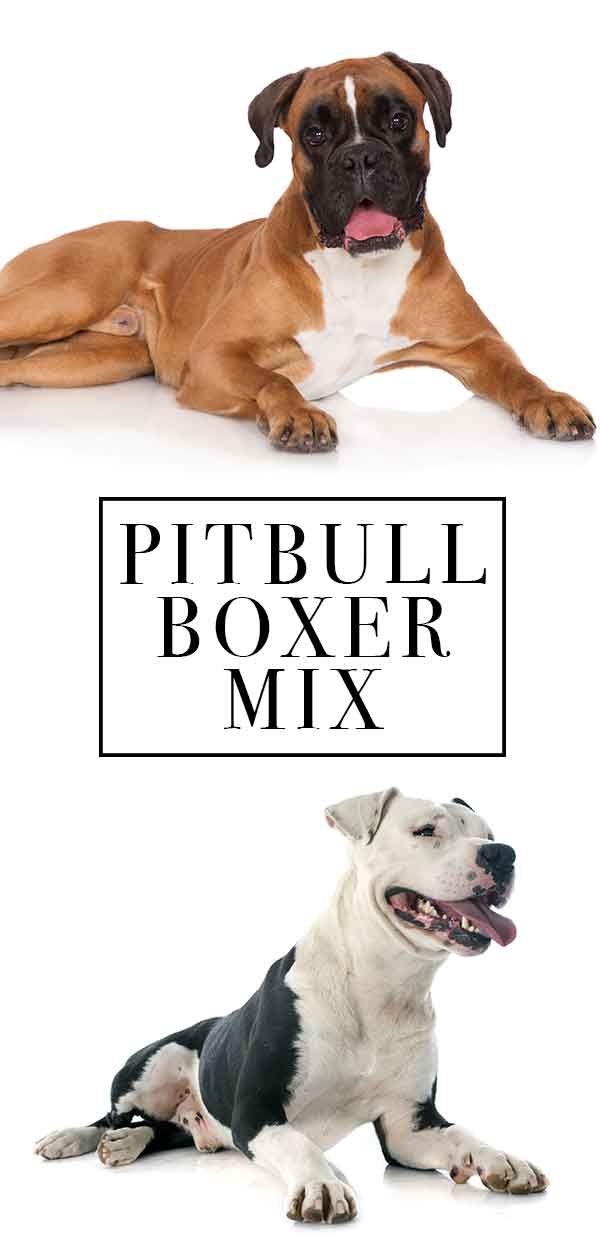 The Appearance of the Pitbull
Standing from 17-21 inches tall and weighing 30-60 pounds, the American Pitbull Terrier is a medium-sized, muscularly built dog with naturally floppy ears, a long tail, and a proportionate body.
Many owners opt to clip their Pitbull's ears, while others choose to keep them long.
The Pitbull is also famous for his smile, which gives him a happy, expressive look that many owners can't resist.
Pitbull dogs have a short, sleek coat that sheds moderately and comes in nine colors and color combinations, including:
• Black
• Red
• White
• Grey
• Brindle
• Blue
• Fawn
• Brown
• Tan
The Appearance of the Boxer
The Boxer dog has a short and sleek coat which comes in three colors:
• Brindle
• White
• Fawn
Standing 21.5-25 inches tall and weighing 65-80 pounds, the Boxer is a bit larger than the Pitbull, but he has a similar build.
He is muscular with long legs, a large head, floppy ears, long tail, and wrinkled nose forehead. Just like the Pitbull, some owners or breeders opt to clip their Boxer's ears.
With his short muzzle, hanging jowls, and wide, round eyes, the Boxer often looks irresistibly confused or curious.
Grooming and General Care for A Pitbull Boxer Mix
Grooming the Bullboxer breed should be pretty simple, considering his coat is short, sleek, and only sheds moderately.
Brushing once or twice a week will help to keep loose hair under control and an occasional bath with a high-quality dog shampoo will keep your Bullboxer dog looking dapper year around.
As with all dogs, you will want to be sure you check your Pitbull Boxer mix's ears regularly to keep them clear of debris and waxy buildup that could cause ear infections.
This active breed will also need his nails trimmed regularly to keep them from cracking or splitting.
What Is the Life Expectancy of a Pitbull Boxer Mix and Does He Have Health Issues?
Based on the life expectancies of his purebred parents, a potential Pitbull Boxer mix owner could expect his Bulloxer to live anywhere from 10-14 years on average.
Like all dogs, this crossbreed could be susceptible to any of the same ailments as his parent breeds.
And while early health screening could help you to better understand what your Pitbull Boxer mix may be up again as far as health in his future, we still suggest looking at the genetic health issues of his parents.
Pitbull Life Expectancy and Health Issues
The American Pitbull Terrier has an average lifespan of 12-14 years.
He is genetically predisposed to:
hip dysplasia,
knee issues,
thyroid disease,
mange,
allergies,
skin infections,
nerve disease,
ichthyosis,
cerebellar ataxia,
bladder stones,
blindness,
parvo,
babesiosis, and
cleft lip or cleft palate.
Boxer Life Expectancy and Health Issues
The Boxer can live about 10-12 years on average.
It is important to note that he can be extremely sensitive to weather conditions and should not be left outside too long in the heat or cold.
Along with weather sensitivities, the Boxer can also be prone to:
hip dysplasia,
aortic stenosis,
thyroid deficiency,
cardiomyopathy,
degenerative myelopathy, and
certain cancers.
The Training and Exercise Needs of a Pitbull Boxer Mix Dog
Both the Boxer and the Pitbull are high-energy, intelligent, and eager to please breeds.
This could mean a number of things for your Pitbull Boxer mix.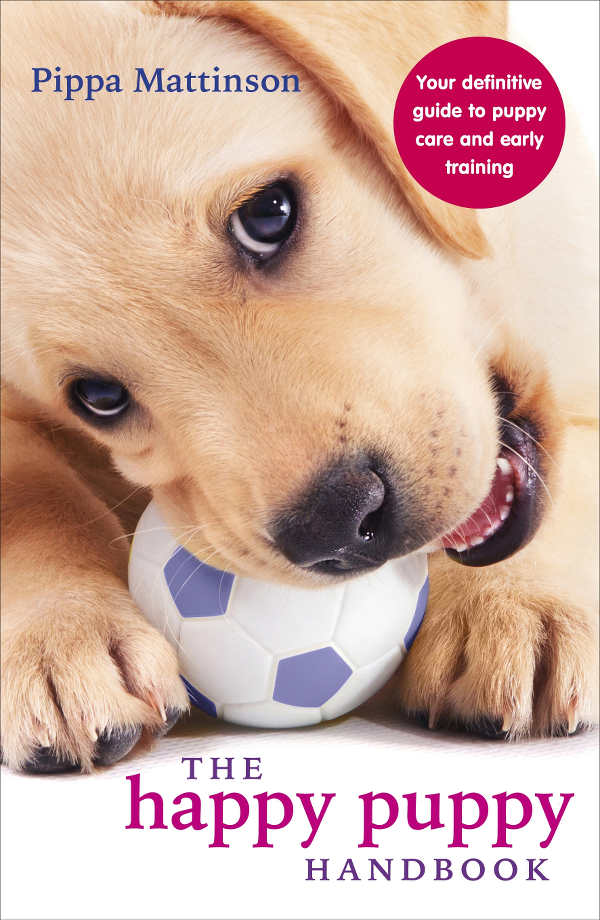 For starters, keep in mind that this crossbreed is going to need lots of exercise.
An hour or two a day of exercise and play should do the trick to keep him physically sound.
You may opt for long walks, hikes, or jogs, but also be sure to have a place where your Pitbull Boxer mix can run and play freely, like a securely fenced backyard.
Early socialization and obedience training in your Pitbull Boxer mix
Along with exercise, early socialization and obedience training beginning in puppyhood will help ensure he is a happy and well-adjusted dog.
Luckily, since both the Boxer and the Pitbull are intelligent and want nothing more than to make their human happy, you can expect training your Pitbull Boxer mix to be a breeze.
Should I Get a Pitbull Boxer Mix?
The Pitbull Boxer mix sounds like a great dog, but are you ready for all of his energy and special needs?
Also, before making the commitment to a Pitbull Boxer mix, make sure you understand your regions laws.
The Pitbull and many Pitbull crosses are still considered dangerous in certain areas, and it may be illegal for you to own one in your district.
Many Pitbull and Pitbull crossbreeds end up in shelters due to their owners being unaware that they were not allowed to have them, or due to owners disobeying the laws.
This results in a devastating situation for both the dog and the human.
Along with the legalities, you will want to consider how much room you have for your potential dog in your home and life.
This is a crossbreed who will do best with a large backyard where they can run and play safely and freely.
They will also do best in homes with owners who have enough time to train, socialize, and love them.
How to Find and Pick a Healthy Pitbull Boxer Mix Puppy!
If you think that a Pitbull Boxer mix puppy would be the perfect new addition to your household, we would love to help!
When considering resources to go through when looking for Bullboxer Pit puppies, make sure you do lots of research and make sure you are going through credible breeders or rescues.
Not all breeders understand the importance of safe and responsible breeding practices
For the most part, a Bullboxer puppy from a responsible breeder will typically be around $500 to over $1000. Furthermore, reputable breeders will have previously health screened their litters.
This means you should be able to ask to see proof that your Pitbull Boxer mix puppy is cleared of any serious health issues and is ready to go home with you.
On the other hand, if you are more interested in rescuing your Pitbull Boxer mix, you may want to consider local shelters in your area.
There are also a number of shelters specific to Pitbulls and Pitbull crossbreeds. One of the many great things about rescuing from a shelter is that the price is a fraction of what a breeder may charge.
Most adoption fees are typically $50 to $100, and many shelters will even take care of that first trip to the vet!
Are you the happy owner of a Pitbull Boxer mix? Want to share your experiences? We would love to hear from you in our comment section below!
Make sure you also check out our guide to the Pitbull Lab Mix
References