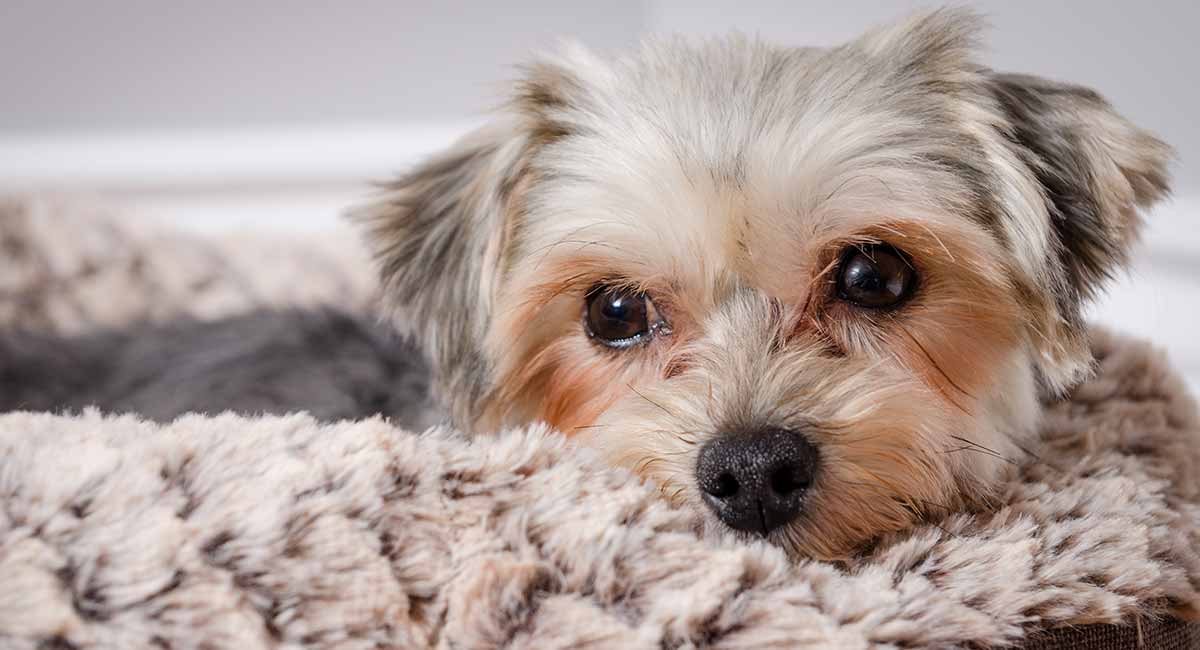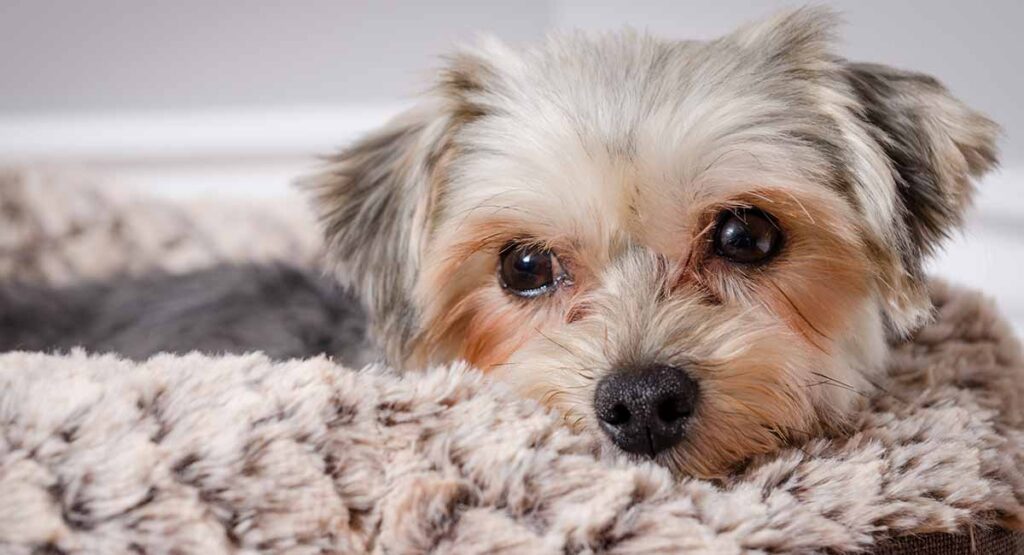 The Morkie temperament is generally friendly and affectionate. But these little dogs can be noisy and prone to separation anxiety.
As a mixed breed, your Morkie can take after either parent breed more than the other. So, each one will be unique.
The best way to predict what your Morkie puppy temperament might be like is to take a look at their parents.
Let's take a closer look at the Morkie personality.
Quick Links
You can click the links above to find out more about a specific part of the Morkie temperament.
But for now, let's take a closer look at what a Morkie dog actually is.
About the Morkie
The Morkie is a designer dog. It is the result of mixing a Maltese dog with a Yorkshire Terrier.
As a mixed breed, Morkies can differ a lot from one another. It will completely depend on the characteristics that puppies inherit from their parents.
Morkies are very small dogs, so they are generally popular with people who live in apartments, or who want a dog that requires less exercise.
But, the Morkie temperament won't suit every home. So, it's important to find out exactly what a Morkie could be like before you bring one home.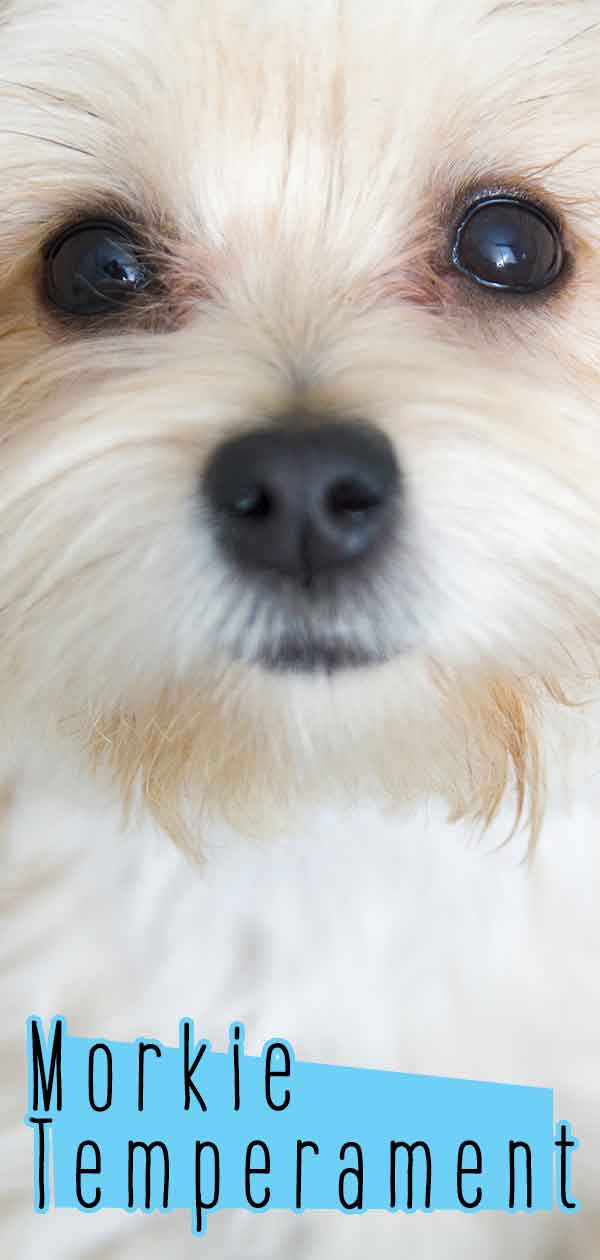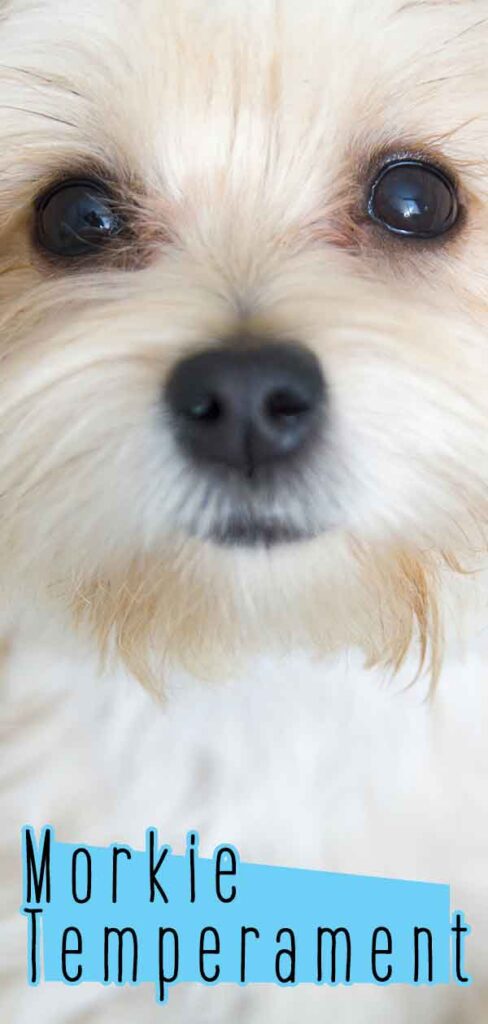 How Predictable is Morkie Temperament?
Because the Morkie is a mixed breed, its temperament, just like its appearance, can be quite unpredictable.
It will depend entirely on the traits it inherits from its parent breeds.
You may find that some Morkie temperaments are more like the Maltese parent, but others are more like Yorkshire Terriers.
You won't know what you're getting until you meet your puppy. So, you must be prepared for any variation.
Meeting a Morkie's parents can help you predict what your puppy will be like as it grows. But for now, let's take a look at different personality aspects you might experience.
Morkie Temperament – Friendliness and Affection
Morkies are generally known for being friendly and affectionate dogs, especially with their own families.
However, exactly how outgoing and confident they are can vary between individual dogs. Make sure you meet both your Morkie's parents to predict exactly how friendly your dog will be.
Morkies will form strong attachments with their families, so they will want plenty of attention and affection.
If you're looking for a small dog that you can spend lots of time cuddling and interacting with, the Morkie is a great shout.
Morkies are very social dogs, so will love to spend that time with you.
Morkie Temperament – Trainability
Both parent breeds for the Morkie are intelligent, so your mixed breed pup is likely to be intelligent too.
Intelligence is an important part of training, but so is finding what really motivates your dog to take part!
Your Morkie might be very food motivated, or they might find their favorite toy or game more rewarding.
Training should be consistent and patient. Don't try to intimidate your Morkie. They will respond best to positive reward training.
If you are consistent and patient with your training, you will get great results from your Morkie.
Easily Bored
There is an important note that you should remember about intelligent dogs. That is – they are easily bored.
If your Morkie doesn't have enough entertainment or mental stimulation, he is likely to show some destructive tendencies. This can include barking, digging, chewing things they shouldn't, and more.
You can keep your dog properly entertained with training and exercise. But, you might also want to invest in some interactive dog toys for those times that you can't interact with your dog yourself!
Morkie Temperament – Noisiness
If you're looking for a quiet dog, the Morkie temperament won't suit you. As we mentioned before, bored Morkies can be prone to barking.
But, this is a very vocal dog in general.
Both parent breeds – the Yorkie and the Maltese – are prone to barking. So it's pretty certain that a cross between them will too.
Morkies will be sure to alert you whenever anyone approaches the house, but they may also bark out of boredom, excitement, and frustration!
They can make great little vocal guard dogs. But, this can be problematic if you live in an apartment.
Dealing with Barking
If you live in an apartment, or just a situation where you need a quiet dog, don't despair. There are some steps you can take to reduce barking if you love Morkies.
Training can help to reduce noise from barking. But, it isn't a guarantee of complete silence all the time.
Take a closer look at this guide to training your dog not to bark.
Morkie Temperament – Activity Levels and Playfulness
Morkies are small dogs, so a lot of people consider them expecting that they won't need too much exercise and daily activity.
But, Morkies are surprisingly energetic, especially if they take after their Yorkie parent. They will need daily exercise, and plenty of playtime with you.
Dog sports such as agility and obedience are a great way to combine exercise and training.
This small mixed breed won't need as long walks or as much space at home as larger dogs, so they can suit people with smaller homes or apartments.
But, they will need at least a daily walk, and lots of games to play at home.
Morkie Temperament – Separation Anxiety
A lot of people love the Morkie breed because of its loyalty and the strong attachments it forms with its family members.
However, this comes with a trade off.
Morkies are very prone to separation anxiety if you leave them alone for too long, or too often.
These little dogs do best in homes where someone is around most, if not all, of the time.
Separation anxiety can cause a lot of stress for your puppy. So, make sure that you never leave your Morkie alone for too long.
Morkie Temperament – Aggression
Morkies are known for being friendly, affectionate dogs, especially with their families.
The Yorkshire Terrier parent was originally used as a rodent pest control dog. So, they are likely to have natural chase instincts for smaller animals. They may also display aggression towards bigger dogs and animals too.
The Maltese was bred to be a lapdog, but they can still show aggression to strangers, their owners, and animals.
Studies on Aggression
A 2014 study looked at aggression in the 30 most popular AKC breeds using the C-BARQ questionnaire.
It found that the Maltese and Yorkshire Terrier breeds scored higher than average for stranger-directed aggression, dog-directed aggression, owner-directed aggression, and dog rivalry.
In fact, the Maltese breed scored the highest for owner-directed aggression.
However, this doesn't mean that all Morkies will be aggressive. Read more about dog bite statistics in this guide.
Socialization
Even though Morkies are small dogs, it's important to do all we can to prevent aggression. Socialization as puppies is the best way to do this.
A lot of aggression is fear-based. Socialization will reduce this because it will help get your puppy used to new situations and experiences.
Numerous studies can be found that link early socialization to reduced aggression.
So we can't stress the importance of this enough to ensure Morkies grow up to be friendly and affectionate with everyone.
Are Morkies Good with Children?
Morkie temperament is useful to know if you have a household with small children.
These small mixed breeds tend to form strong bonds with their families. They can display aggression, but this chance is minimised if they are properly socialized.
The main problem concerning Morkies and small children is the size of this breed.
Morkies are really small dogs. So, they can be easily injured by young children who don't know the right way to play and interact with a little dog.
Because of this, Morkies will be best suited for families with older children who can handle the dog gently.
Are Morkies Good with Other Dogs?
If you have other dogs in your home, this is important to know before getting a Morkie.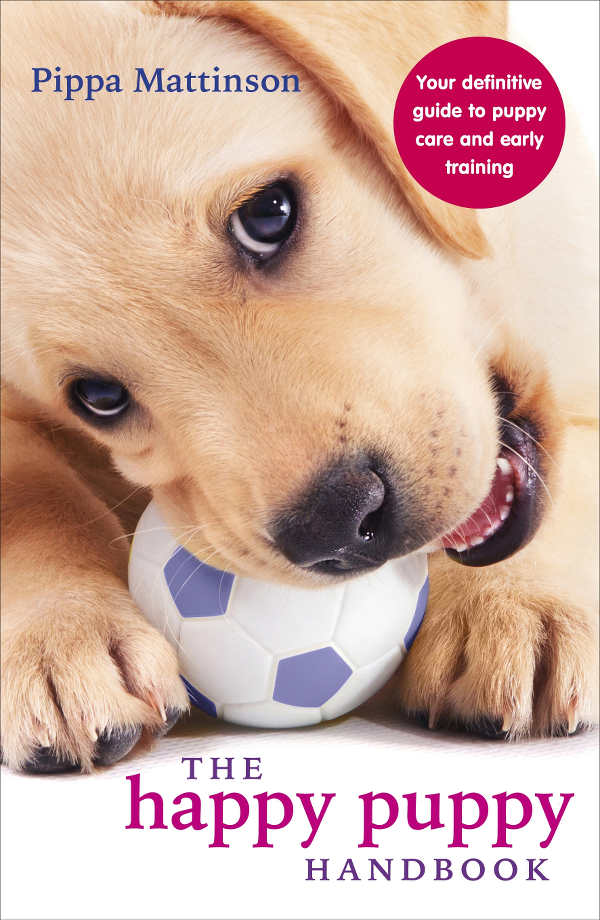 Morkies will often do well if they are raised with other dogs. However, there is still the issue of their size.
Morkies are delicate little dogs. So, big dogs can accidentally hurt them.
This mixed breed will also love spending plenty of time with its family. And another dog isn't a suitable substitution for this human interaction.
So, if you have other dogs already, raising a Morkie puppy alongside them may work out fine. But make sure you still dedicate plenty of time to your Morkie.
Are Morkies Good with Other Pets?
The main potential problem with Morkie temperaments and other pets is the natural chase and hunt instincts that could be inherited from the Yorkshire Terrier parent.
Morkie temperament is impossible to predict. So, some may be better with other pets than others.
If they do inherit this natural instinct, a Morkie may be prone to chasing other small animals in your home – including cats.
If raised alongside these other animals, you may be able to reduce this tendency. But it's not a guarantee.
So, generally, Morkies will do best in homes with no other small pets that roam around freely.
Morkie Temperament Summary
Overall, as a mixed breed, it's really hard to predict what individual Morkie temperaments will be like. The best method is to observe your Morkie's parents.
Morkies can be more like their Yorkie parent, or more like their Maltese parent. So, at least each one is wonderfully unique.
Generally, Morkies are happy, affectionate, loving dogs. But, they can be prone to aggression if they aren't socialized properly.
They can also be stubborn, so make sure to be patient and consistent when training.
Do you have a Morkie?
If you have a Morkie we would love to hear what their personality is like! Do they have that typical terrier stubbornness?
Or do they love to bark? Let us know!
References and Resources