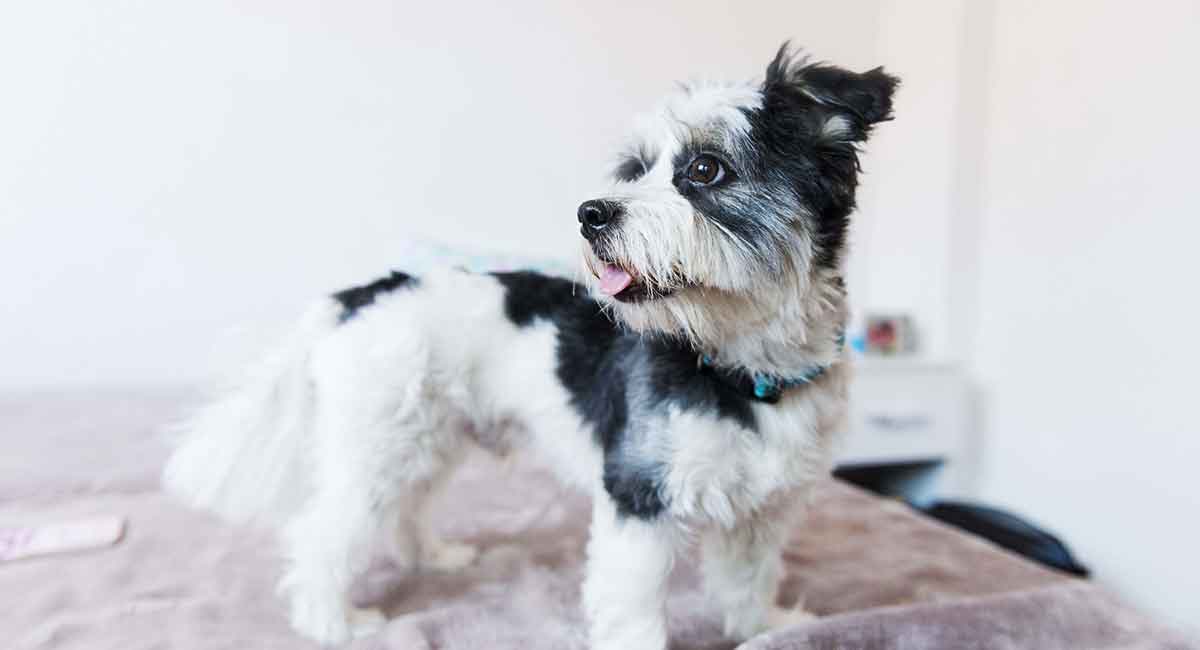 The Maltese Schnauzer mix, otherwise known as the Mauzer, is a cross between the Maltese and the Miniature Schnauzer.
A small dog, it typically weighs between 7-20 pounds. As the product of two friendly, smart parent breeds, you can expect your Mauzer dog to exhibit many of the same tendencies.
However, the exact appearance and temperament will vary, as it will with any designer breed.
What's In This Guide
Mauzer FAQs
Our readers' most popular and frequently asked questions about the Mauzer.
Mauzer: Breed At A Glance
Popularity: Schnauzers rank 19th and Maltese 37th out of 192 breeds
Purpose: Companion animal
Weight: 7-20 pounds
Mauzer Breed Review: Contents
History And Original Purpose Of The Mauzer
The Mauzer is an adorable combination of the playful Maltese and intelligent Miniature Schnauzer.
This hybrid is not a very common dog, but it's gaining popularity for a number of reasons.
It makes for an energetic, loving, and protective companion. It's a happy and intelligent breed, eager to spend as much time as possible with its owners.
A designer dog is a term for dogs that are intentionally cross-bred by humans to achieve a certain style or goal. The Mauzer is, by definition, a designer dog.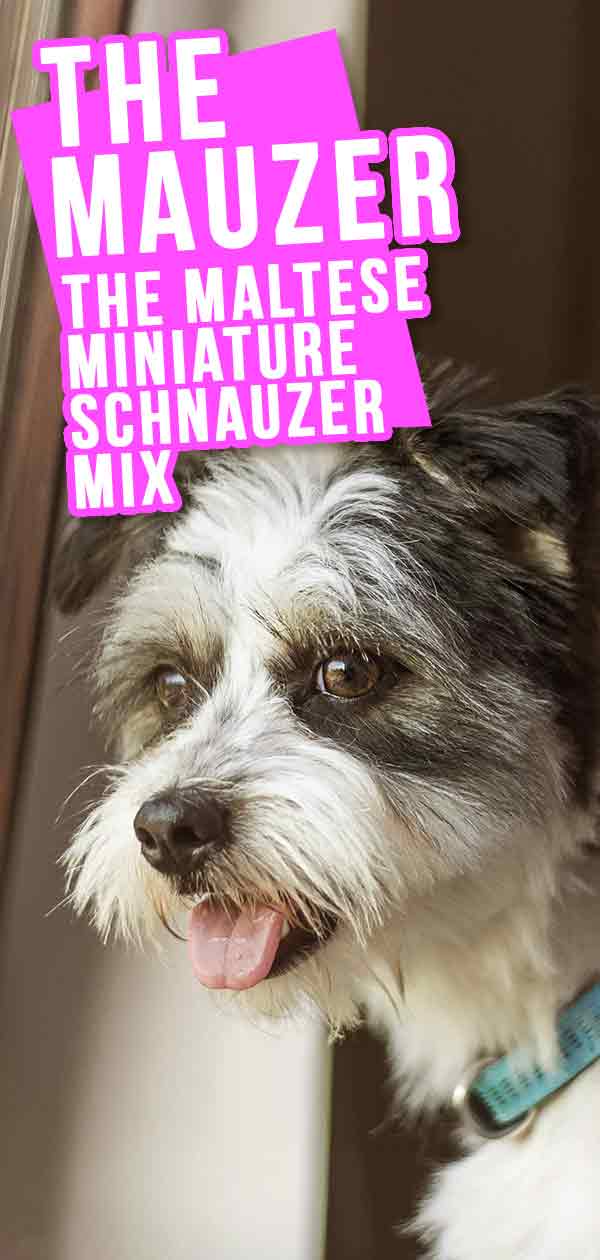 It is a first-generation cross breed thought to have originated in the United States. The exact date of origin is not clear.
This dog is a direct cross between the Miniature Schnauzer and the Maltese. We can look into the origin of each parent breed to gain more knowledge of the roots of this crossbreed.
Origins Of The Miniature Schnauzer
The Miniature Schnauzer was bred down from the Standard Schnauzer. The parent breeds of the Miniature Schnauzer are thought to be the Standard Schnauzer, Affenpinscher, and Poodle.
The Schnauzer originated in Europe in the 15th century. The breed was a farm dog, helping farmers protect livestock and remove pests.
German breeders created the Miniature Schnauzer to serve as a ratter, helping to catch small vermin in barns and farmyards.
Today, the Schnauzer's ratting days are all but over. But the breed remains a popular domestic companion.
Origins Of The Maltese
The Maltese is thought to have originated in Malta, an island nation off the southern coast of Italy.
However, some believe that the original Maltese may have been transported to Malta from its original birthplace of Greece, or perhaps Rome.
The breed's history dates back thousands of years. It was extremely popular among Roman and Greek aristocrats.
During the Dark Ages in Europe, Chinese traders brought the breed back to Asia, where it was crossed with native Toy breeds. Eventually, this resulted in the Maltese we know and love today.
Fun Facts About The Mauzer
Did you know that the Schnauzer parent got its name from a particular feature? That's right! "Schnauze" means muzzle or snout in German.
Schnauzers and Maltese are both popular with celebrities, with owners like actresses Katherine Heigl and Halle Berry being counted among their fans.
The name "Mauzer" is a portmanteau word, in that it takes parts of both names and melds them together. Portmanteau names are very popular for mixed breed dogs. They're helpful to indicate what breeds are involved in the mix. And they're also just really cute!
Maltese Schnauzer Mix Appearance
The Maltese Miniature Schnauzer mix is a small breed, typically weighing 7-20 pounds and measuring 8-14 inches tall. The bulk of Mauzers fall in the 10-15 pound range when full grown.
The characteristics and appearance of the Mauzer will vary, depending on which parent breed comes through stronger.
This means you could end up with a dog that looks more like a Schnauzer, with the signature human-like face and beard. Or it could look more like a Maltese, with the more delicate, refined look of the popular Toy variety.
It's important to understand that hybrid dogs like the Mauzer will always have some level of unpredictability. A lot depends on which genetics come through stronger, so you can never be certain of the characteristics your dog will inherit.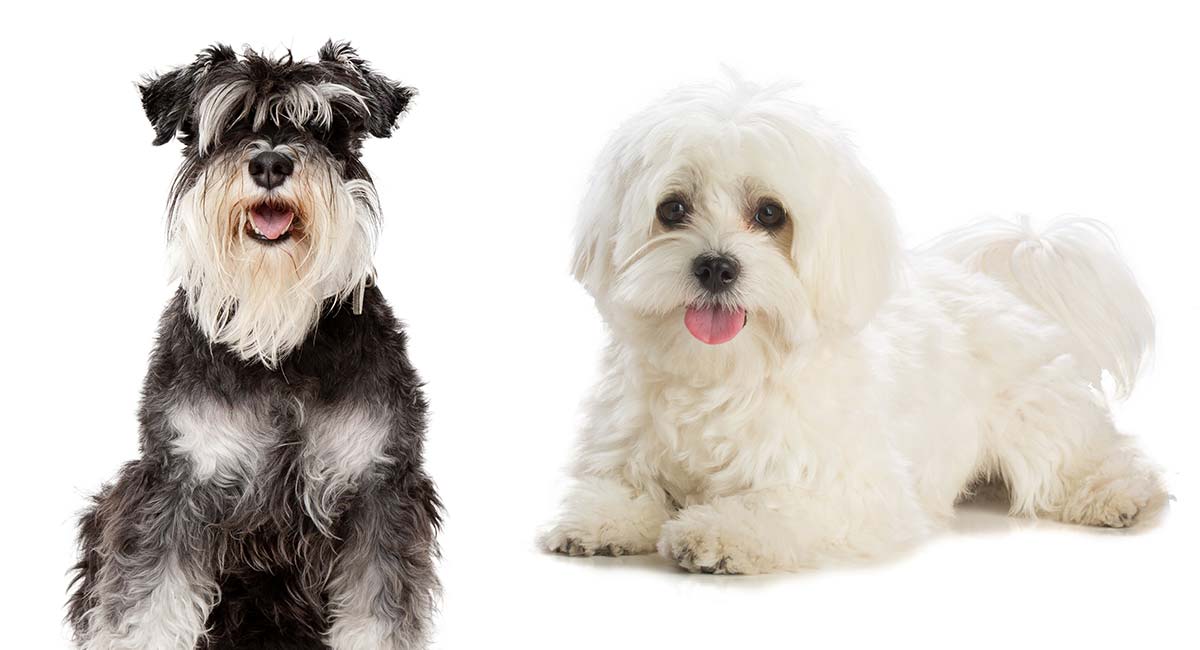 Generally speaking, Mauzers have short legs and a slender body. The Mauzer's coat also varies depending on the dominant genes.
Coat Type
The coat could be short and rough, reminiscent of the Miniature Schnauzer. Or it might be long and soft, akin to the Maltese. Or it could be anywhere in between! Coat coloring can also vary, although the most common colors are black, gray, or silver.
The Miniature Schnauzer Maltese mix will usually have longer facial hair, and may have a bearded look.
Mauzer Temperament
The Mauzer's temperament is a mix of its parent breeds.
Schnauzers bring a friendly, intelligent, and obedient personality. The Maltese offers a gentle, playful, and graceful temperament.
The resulting cross's temperament will depend on which breed comes through stronger. Regardless, they tend to be energetic and playful.
Mauzers are typically friendly, affectionate dogs. But they can definitely have a stubborn streak. They do well with older kids, but tend to nip. So younger children should be supervised at all times.
These dogs tend to bond closely with one person in the family, who they will gladly follow around the house.
One important thing to note is that this breed tends to bark frequently. They will yap at any disturbance outside, or when they hear other dogs barking.
With proper training and socialization, this can be a great dog to own. However, prospective owners should be aware of the downsides of this breed.
Training And Exercising Your Mauzer
The Maltese Schnauzer mix is a moderate energy breed. It will require at least one hour of exercise per day.
This mix enjoys frequent physical and mental exercise. It's an intelligent breed that likes to be challenged and have plenty of interesting toys to play with.
Some Mauzers enjoy entertaining themselves in an enclosed backyard. Others will want to be near their owners at all times.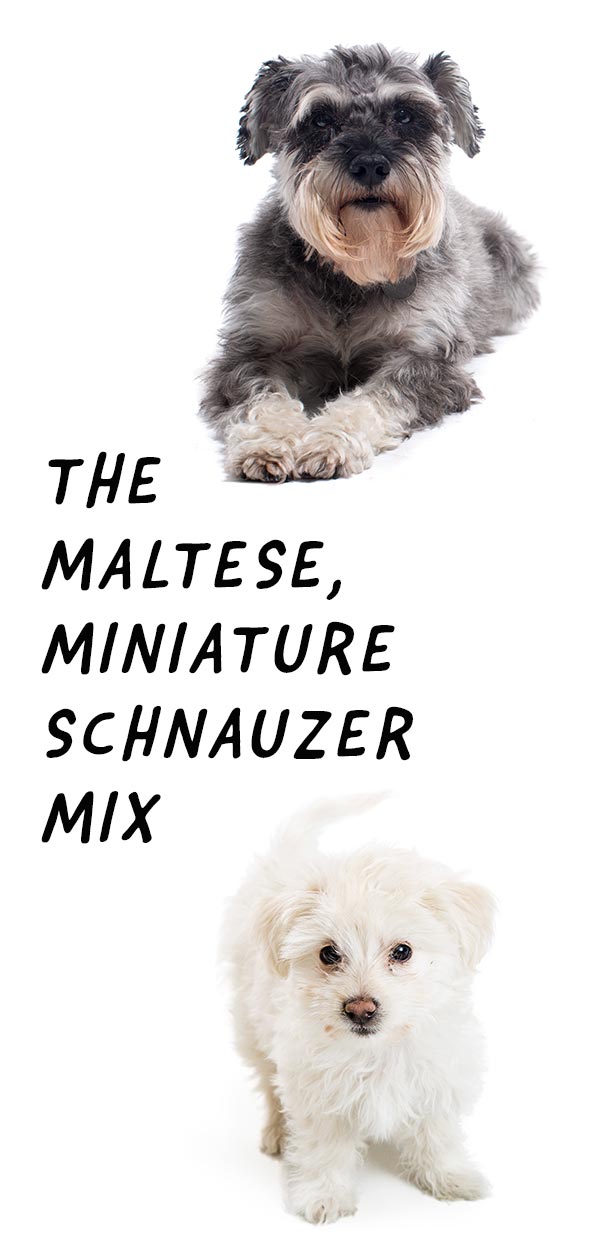 Socialization is important for all breeds. It can be very important for smaller breeds with a tendency to nip, such as the Mauzer dog.
For a few more helpful tips and guides, check out our extensive guides for potty training and crate training.
Mauzer Health And Care
The Maltese Schnauzer mix is typically a relatively healthy breed, with an expected lifespan of 12-15 years. This is due in a large part to the health of its parent breeds.
To get an idea of how long your Maltese Schnauzer mix will live, let's take a look at the life expectancy of the parent breeds, the Miniature Schnauzer and the Maltese.
Typically, Miniature Schnauzers live around 12 years. And Maltese tend to live around the same. With the addition of hybrid vigor, you can expect your Mauzer to live the same or possibly even longer.
Like any breed, however, it is more prone to certain health concerns. Common serious concerns for this breed include:
patellar luxation
cataracts
kidney stones
liver problems
Von Willebrand disease
congenital megaesophagus
eye problems
myotonia congenita
collapsed trachea
heart anomalies
pancreatitis.
Health and General Care
Dental health concerns are also common in Toy breeds. This is a serious concern for the Maltese parent, and may be passed down to the Mauzer. Be sure to brush your dog's teeth at least a few times a week, with a toothpaste specifically formulated for dogs.
There's no way to predict in advance what health concerns your pet may face. It's important to plan frequent veterinary visits to evaluate your dog's health on a regular basis. It's also vital to carry out any health tests that are available.
Maltese Schnauzer Mix Grooming Requirements
The grooming requirements of this breed will vary depending on the coat length. Typically, the longer the coat, the more grooming will be required.
Both parent breeds are very low shedders, so the Mauzer should be a good choice for owners with allergies.
But low shedding is not the same as no shedding.
Regardless, you should brush your Mauzer's coat at least once a week.
This breed tends to stay fairly clean, and will only need to be bathed occasionally. This breed's skin can be sensitive, so be sure to use a gentle shampoo.
Teeth should be brushed several times a week, and nails clipped at least once a month.
Do Mauzers Make Good Family Pets?
The Mauzer can make a great companion for seniors and adults. Parents of small children might think twice about this breed, due to their tendency to nip.
It does not require a lot of space, so this is a good choice for apartment life. However, keep their barking tendency in mind.
Mauzers sometimes get along well with other animals, but not always. They can have a jealous streak and like being the center of attention.
The ideal owner of a Maltese Schnauzer mix should be fully aware of the downsides of this breed. Most importantly are the Mauzer's tendencies to bark frequently and nip occasionally when excited or annoyed.
With excellent socialization from an early age, however, this mix can be a great dog for families with older children.
Rescuing A Mauzer
If you don't have your heart set on a puppy, do you have room in your heart for adopting a grown dog?
There are many dogs out there who are in need of a good home and a second chance.
Adopting a dog from a shelter or rescue can be much cheaper than buying a puppy from a breeder. And it can give you the chance to know what the dog's personality is like as an adult.
For links to rescue societies, read on to the end of the article. Or jump here.
Finding A Mauzer Puppy
Mixed breeds are ever growing in popularity. However, some mixes have yet to really "take off." So Mauzer puppies can be difficult to find, depending on your area.
Do some internet research to identify local breeders, or talk to dog clubs in your area for advice.
When you find a potential breeder, ensure they are reputable by looking into their background and experience. Reputable breeders should always conduct health tests on their breeding stock. And they should be willing to share those test results with potential adopters.
If the breeder you contact isn't willing to let you meet the puppy's parents, or see their home, and they don't ask you questions to make sure you're a good potential owner, it's wise not to buy from them.
It's definitely advised to avoid pet stores and puppy mills. These establishments care much more about the money they make from their animals than they do about the welfare of the dogs.
For more on finding a puppy, take a look at our puppy search guide.
Raising A Mauzer Puppy
If you get a Maltese Schnauzer puppy, make sure to handle it with care. As a Toy variety, Mauzer puppies are very small and delicate.
Puppies should also be socialized as early as possible, with a wide range of other dogs, animals, and humans.
Caring for a vulnerable Maltese Miniature Schnauzer mix puppy is a big responsibility. There are some great guides to help you with all aspects of puppy care and training. You'll find them listed on our Mauzer puppy page.
Mauzer Products And Accessories
Though there aren't a lot of Mauzer-specific products out there, there are certainly some that work perfectly for the parent breeds. And the odds are that your Mauzer will benefit from some of these products, too!
Puppy food recommendations
Pros And Cons of Getting A Mauzer
Cons:
Tends to bark
May tend to nip when excited
May not be best for a family with small children
Pros:
Comparing The Mauzer With Other Breeds
Do you wonder how the Mauzer might compare with another mixed breed, perhaps also involving either the Maltese or the Schnauzer?
One such breed which is increasing in popularity is the Lab Schnauzer mix.
This mix is quite different from the Mauzer in a lot of ways. For one thing, the Lab Schnauzer is generally crossed with a Standard Schnauzer, resulting in a much bigger dog than the Mauzer. For more details, check out our in-depth review, linked above.
Similar Breeds
Still not sure whether you want to opt for a Mauzer? Here are a few similar mixes to consider.
Mauzer Breed Rescues
There aren't any Mauzer-specific breed rescues that we were able to locate. But that absolutely does not mean that you should give up on finding one to adopt!
Here are some of the rescues for the parent breeds, focusing on the USA, the UK, Australia, and Canada.
Do you know of any other rescues that might feature the Mauzer? Please let us know in the comments!
References And Resources
Gough A, Thomas A, O'Neill D. 2018 Breed Predispositions to Disease In Dogs and Cats. Wiley Blackwell
O'Neill et al. 2013. Longevity and Mortality of Owned Dogs In England. The Veterinary Journal
Adams VJ, et al. 2010. Results of a Survey of UK Purebred Dogs. Journal of Small Animal Practice.
Schalamon et al. 2006. Analysis of Dog Bites In Children Who Are Younger Than 17 Years. Pediatrics
Duffy D et al. Breed differences in canine aggression. Applied Animal Behavior Science 2008
Strain G. Deafness prevalence and pigmentation and gender associations in dog breeds at risk. The Veterinary Journal 2004
Packer et al. 2015. Impact of Facial Conformation On Canine Health. PlosOne
Summary of Lifespan, The Kennel Club
Parshall, C. J., et al, Photoreceptor dysplasia: an inherited progressive retinal atrophy of miniature schnauzer dogs. Progress in Veterinary and Comparative Ophthalmology, 1991.
Gelatt, K. N., et al, Inheritance of congenital cataracts and microphthalmia in the Miniature Schnauzer. American journal of veterinary research, 1983
Roush, J. K. Canine patellar luxation. Veterinary Clinics of North America: small animal practice, 1993
Patterson, D. F., et al, Hereditary patent ductus arteriosus and its sequelae in the dog. Circulation research, 1971
This article has been extensively revised and updated for 2019.