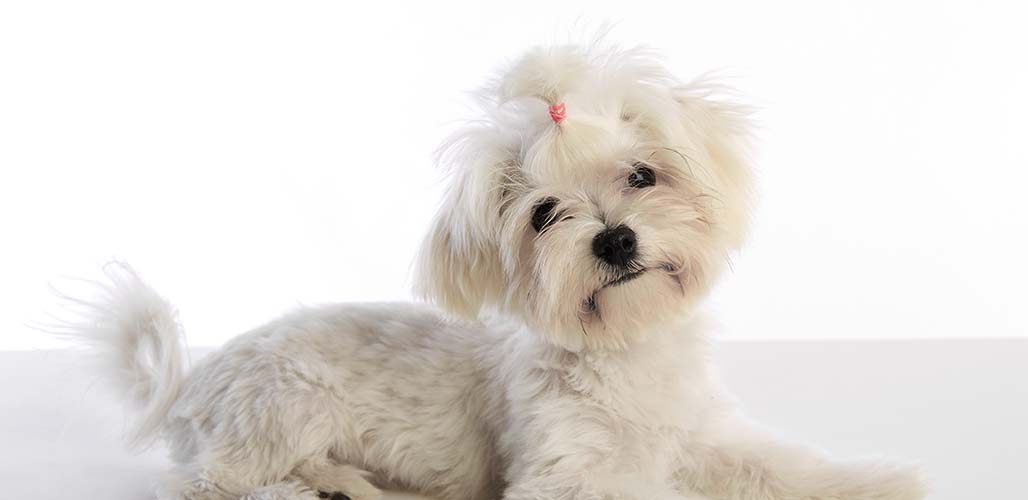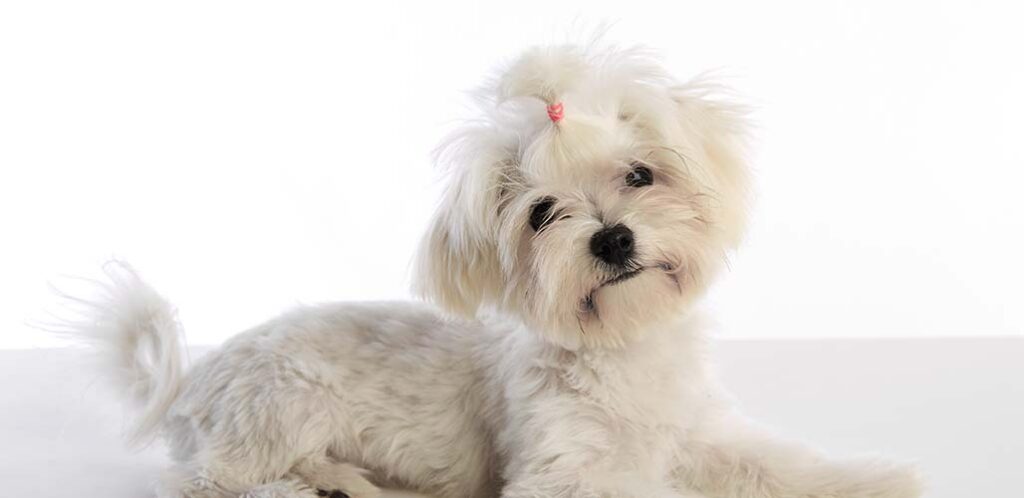 The Maltese Bichon Frise is a small, friendly dog with a soft white coat. This mixed breed will be highly affectionate towards their closest family members. And, if well socialized, they will get along well with children and other pets. But, there are some aspects of their personality and appearance that can be a little unpredictable, because they are a mix. Fortunately, their parent breeds are quite similar, but owners should still be prepared for a variety of potential traits in their puppies.
Maltese x Bichon Information
| | |
| --- | --- |
| Height: | 7 – 11.5 inches |
| Weight: | Under 18 lbs |
| Coat type: | Soft and velvety, can be curly or straight |
| Colors: | White or white with lemon, tan, apricot, buff or cream |
| Temperament: | Affectionate, alert, playful |
| Activity level: | Moderate to high |
| Grooming level: | High – daily grooming |
| Lifespan: | 12 – 13 years |
| Puppy price | $500 – $1500 |
Maltese Bichon Frise History
The Maltese Bichon Frise dog is a mixed breed. It's possible that these two purebred dogs have been accidentally bred in the past, but their intentional combination is a relatively recent move. Mixed breed dogs are growing in popularity. Breeders of the Maltese Bichon Frise mix hope to combine the best traits of both purebred dogs, resulting in a small, friendly, low shedding companion dog.
The two purebred parents have much longer histories, but both were primarily kept as lapdogs. Because of this, they each have a personality well suited to family life, and will love being in homes surrounded by people. The Maltese Bichon Frise mix is currently not accepted by the AKC, but as it grows in popularity, breeders will likely work to standardise the cross.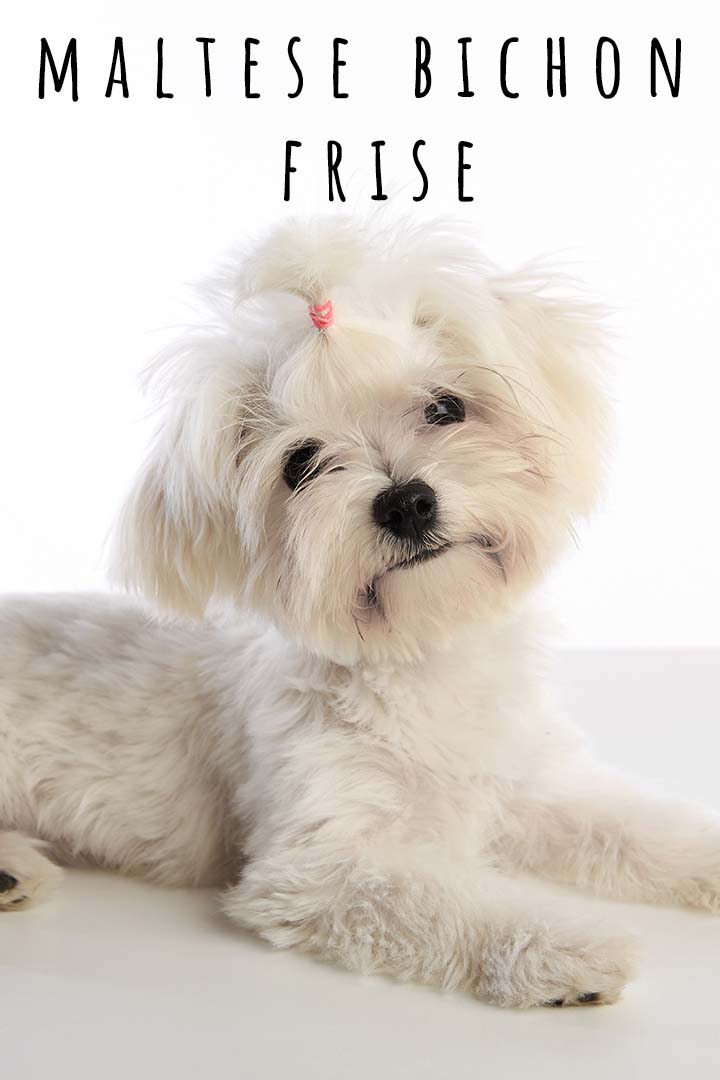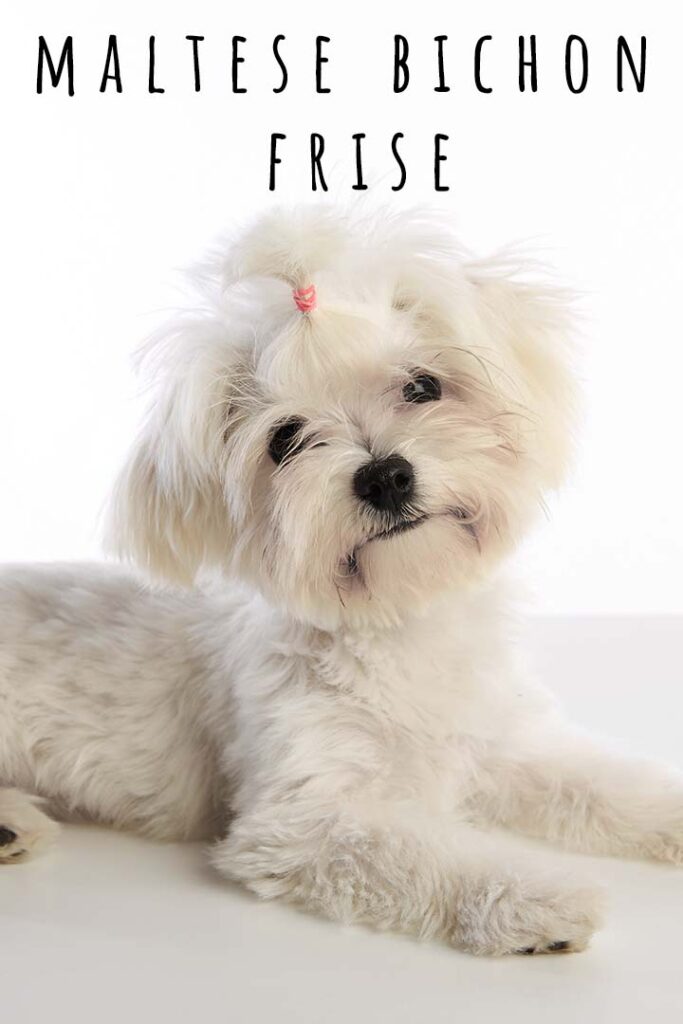 Maltese Bichon Frise Appearance
Like any mixed breed dog, the specific traits that a Maltese Bichon Frise mix inherits will vary. Fortunately, the Maltese and Bichon Frise parents are similar in many ways. But, there are a few traits that can be quite unpredictable.
In terms of size, the Bichon Frise is a small dog and the Maltese is a toy. Bichon Frise puppies grow to be between 9.5 inches and 11.5 inches tall as adults, weighing from 12 to 18 lbs. Maltese dogs are quite a bit smaller, measuring 7 – 9 inches and weighing under 7 lbs. Their mixed breed puppies can be anywhere between these general stats. But, in all, they will be small adult dogs.
The Maltese parent has straight, silky fur that can grow very long. Bichon Frise, in contrast, have a curly double coat, often labelled as hypoallergenic. So, puppies could have curly, straight, or wavy fur. It all depends on which parent they favor. Most puppies will have white fur. But, this white coloring can also be accompanied by patches of tan, lemon, apricot, buff, or cream fur. Some may even have black points, if their Maltese parent passes on this trait.
Maltese Bichon Frise Temperament
Appearance isn't the only thing that can vary in mixed breed dogs. Temperament can also be quite unpredictable. Both parent breeds are known for being friendly and affectionate, especially towards their close family. But, the Maltese can be less confident around children and other animals, possibly because of its small size. So, it's important to socialize your mixed puppy well, in order to minimize any risk of aggression. Even though they'll be a small dog, aggression can still have dire consequences.
Other than this, your mix is likely to be alert, curious and playful. They are intelligent dogs, so will enjoy the challenge that training presents. And, this will provide some much needed mental stimulation.
Maltese Bichon Mix Training and Exercise
Positive reward training is the best option for this little cross. It will build on the bond that you have with your dog, and can be started from the moment you bring them home.
In terms of exercise, this little dog usually has a surprising amount of energy for their small size. They will need less exercise than a larger breed, but will need some form of activity ever single day, whether this is a walk, some time in the dog park, or some energetic games in your yard.
Maltese Bichon Frise Health
A Bichon Frise and Maltese mix will be prone to any hereditary health issues common in its parent breeds. It may also be prone to health issues common in small and toy breed dogs. Generally, with good breeding, the risk of these problems can be reduced, but it's important for all owners to be aware of the most common issues and their symptoms. Here are some health conditions that may impact a Maltese Bichon mix:
Patellar Luxation
Arthritis
Hip dysplasia
Legg-Calves-Perthes
Heart problems
Cataracts and other eye issues
Maltese Bichon Frise Lifespan
Smaller dogs tend to live longer than very large dogs. On average, both the Bichon Frise and Maltese breeds live between 12 and 13 years. Mixed breed dogs also tend to live longer, on average, than purebred dogs! So, it's highly likely that a well-bred Bichon Maltese mix will live into its teens, when given great care. This breed isn't a short term commitment!
Maltese Bichon Frise Puppies and Rescue
As far as mixed breed dogs go, the Maltese and Bichon Frise combination isn't the most popular dog out there. This will have a variety of impacts on your search for a companion dog. You may struggle to find breeders near you. But, if you can find breeders, it's less likely you'll need to go on a waiting list for puppies, and it's less likely that you'll encounter puppy mills and backyard breeders, who tend to breed more popular and profitable mixes.
On average, these puppies will cost anywhere from $500 to $1500. Rescue dogs will likely be cheaper, but there is often no guarantee of their parentage and upbringing.
Ask your breeder lots of questions, and see evidence of health testing in person. Visit the puppies and dogs, make sure they're healthy and well-looked after. Be wary of any breeder selling 'hypoallergenic' puppies at a higher price. In reality, no dog breed is hypoallergenic. A Bichon Frise Maltese mix is low shedding, but the proteins that trigger allergy symptoms can be found in their saliva and dander, which you will encounter when grooming your dog.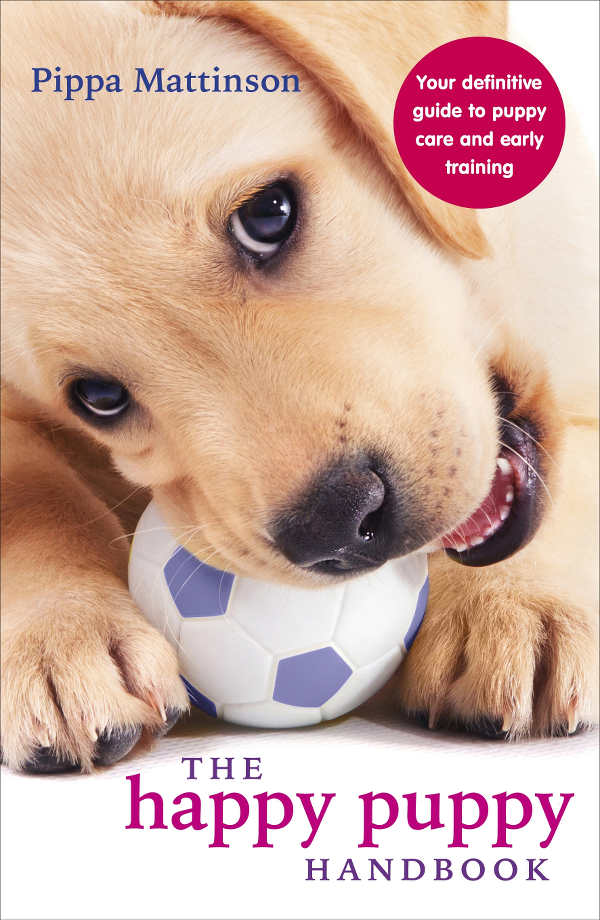 Similar Breeds
If you're considering this mix, you may also be interested in the following dogs:
Maltese Bichon Frise Mix – A Summary
Despite some uncertain traits, the Maltese and Bichon Frise dog is usually a small, friendly combination. They do best in homes where they get plenty of attention and don't do well being left alone for long periods. Train and socialize them from a young age to get a loving, happy companion that gets along with everyone!
Do you have a little Maltese Bichon mix at home? Or are you still searching for your dream puppy?
References and Resources