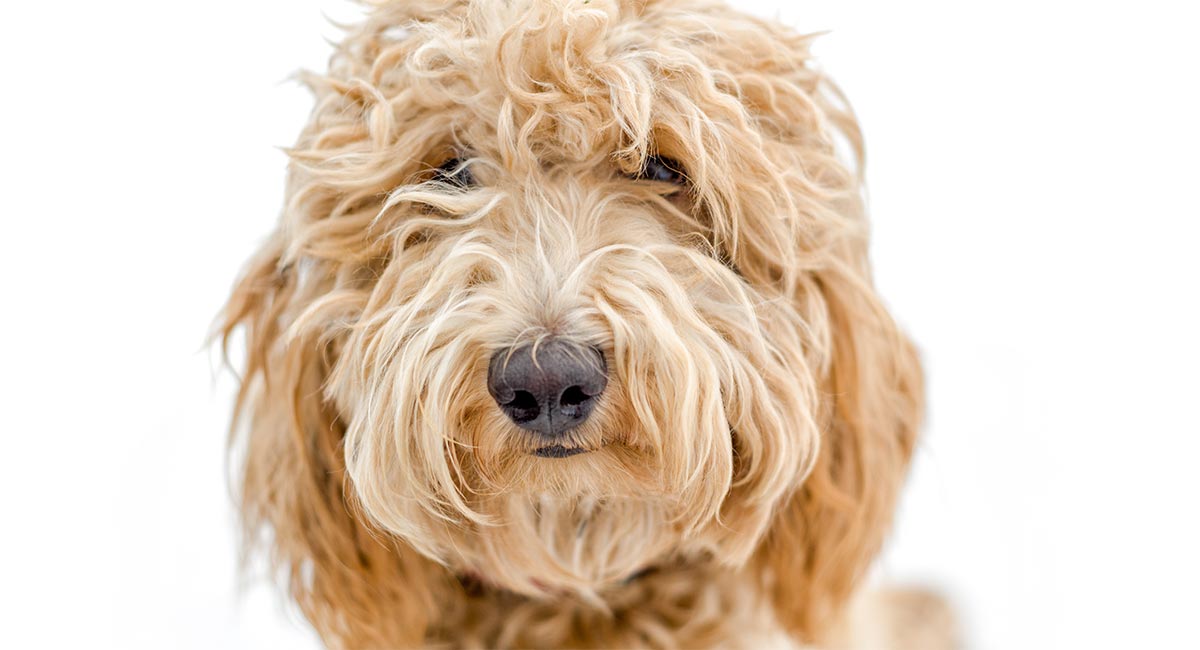 Choosing Labradoodle names for your precious pup can be a big challenge!
For starters, you just added the cutest dog in the world to your family – how will one name ever be enough?
Yet finding good Labradoodle names that stand out from the pack is well worth the time and energy it takes you, since you will be using your Labradoodle's new name for many happy years to come!
In this article, learn helpful tips for Labradoodle dog names and explore a wealth of creative naming ideas for your new precious pup!
Picking Labradoodle Names For Your New Puppy
Labradoodle names can be based on coat color, personality, breed history, sex, cuteness, canine celebrities, character, or some other inspirational idea!
Picking out the best Labradoodle names can also be a process of trial and error.
Don't be afraid to take a new name for a test drive before you make a big commitment to the new name.
After you have a shortlist of names, try sitting with your pup and calling each one and seeing which name seems to be a fit!
These Labradoodle naming tips may help guide your selection:
Avoid names that sound too much like common commands.
Ask friends or family before naming your pup after them!
Pick a name that is easy to say (or can be shortened into an easy nickname).
Select a name you enjoy saying in private and in public.
P.S. The Labradoodle is unique in the canine world for having parents that come from two different purebred dog breeds!
Check out these great Labrador names and Poodle names for extra naming inspiration!
Female Labradoodle Names
These Labradoodle names girl dogs will love combine girl power with the feminine mystique, giving your lady Labradoodle a name that is all her own!
Audrey
Val
Trudie
Isobel
Wynnie
Glory
Juno
Elli
Frida
Greta
Janie
Cleo
Indy
Aaliyah
Mystic
Jojo
Joy
Sunny
Sassy
Spirit
Liberty
Kira
Venus
Sarah
Star
Still need more inspiration?
We think you will love this extensive list of female dog names!
Male Labradoodle Names
Choose your pup's new name from this list of Labradoodle names boy dogs will be proud to answer to!
Zane
Oz
Kai
Abe
Gabe
Leo
Taurus
Pluto
Ryder
Wyatt
Rebel
Theo
Kendrick
Cory
Ajax
Gable
Griffin
Lance
Nash
Monty
Jed
Louie
Bubba
Cooper
Cruz
For more ideas of great male dog names head on over to this article!
Labradoodle Puppy Names
Puppyhood is such a brief time, and yet there is a part of you that will always think of your adult dog as a little pup!
The trick to choosing Labradoodle names during puppyhood is picking a name your dog can grow into well!
And if you pick a really grown-up name for your little pup, aim for a name you can shorten into a cute nickname during puppyhood!
Jelly
Buttercup
Jujubee
Darling
Basil
Babygirl (or Babyboy)
Sophie
ChooChoo
Elsie
Igor
Happy
PorkyPie
Thumper
Panda
Gigi
Chive
Chili
Honeybee
Chaser
Butterfly
Pumpkin
Hummer
Prince
Plumpie
Koala
Cool Labradoodle Names
For cool names Labradoodle dogs can carry off to a T, read through this list!
Marge
Captain Kangaroo
Crunchy
Marvel
Slinky
Mooch
Retro
Cora
Disco
Sequin
Twinkle
Socket
Gelato
Jeannie
Sonata
Superfly
Grande
Rex
Celie
Rally
Data
Boopster
Dreamsicle
London
Levi
For more cool dog names, check out this awesome list!
Cute Labradoodle Names
Choose your pup's new name from this list of cute Labradoodle names!
Curly Sue (or Joe)
Tulip
Ollie
Pixel
Wonder
Poppy
Gringo
Emry
Rosebud
Sadie
Dawson
Merry
Cupid
Wesley
Fern
Mimi
Gumdrop
Morry
Pepe
Marigold
Emmy
Buster
Maddy
Scooby
Calvin
Need even more cuteness for inspiration?
Head on over to read through this list of cute dog names!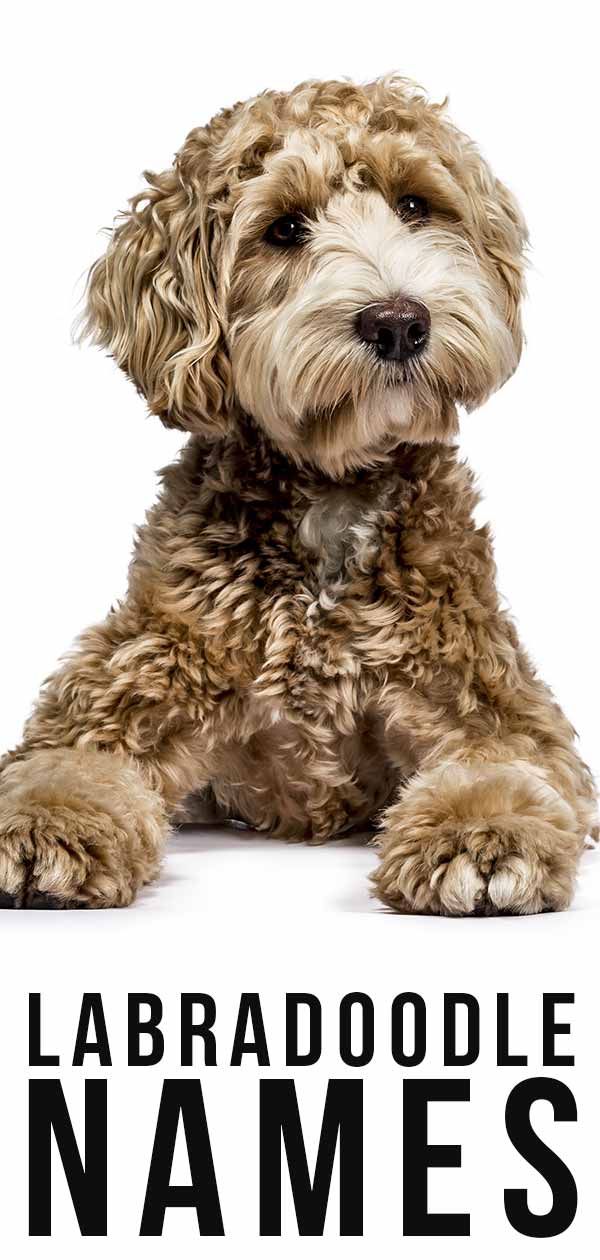 Unique Labradoodle Names
There is no doubt the Labradoodle is a dog breed like no other, and these unique Labradoodle names prove it!
Trixie
Varmint
Chipper
Bubble
Tigger
Wink
Purdy
Matzo
Loki
Lupe
Tortie
Burger
Hopper
Essie
Flossy
Cutie
Blue
Boa
Bonk
Pickle
Chips
Salsa
Dima
Dell
Rosette
For more unique dog names, we invite you to review this fab list!
Breed History Labradoodle Names
Did you know the Labradoodle hybrid dog breed was first created in Australia?
That is why sometimes these dogs are still called Australian Labradoodles, even though they live all over the world today!
Finding out more about your dog's breed history can provide great inspiration for Australian Labradoodle names to try on for size!
Alma
Clinton
Weston
Riana
Gretta
Bowen
Alvie
Byron
Allora
Eden
Kiandra
Evan
Alfred
Kylie
Jacinda
Henry
Nellie
Shane
Roper
Daly
Clancy
Murphy
Sybil
Adelaide
Opal
Labradoodle Coat Colors Names
Labradoodle dogs can display an astonishing range of coat colors.
The basic color range extends from solid to pattern coats and encompasses the full color spectrum from pale chalky white all the way to deep black.
These next two sections offer name ideas based on popular Labradoodle coat colors to give you extra inspiration!
Chocolate Labradoodle Names
The chocolate brown Labradoodle coat is one of the richest and most lovely coat colors, as these chocolate Labradoodle names evoke!
Godiva
Redwood
Mulch
Café Latte
Squirrel
Nutty
Hershey Kiss
Spicy
Sunset
Sepia
Rooster
Foxy
Bear
Beefy
Otter
Garlic
Cookie
Barbecue
Acorn
Pretzel
Bullwinkle
Chex
Charlie Brown
Dumpling
Guinness
Black Labradoodle Names
What is more visually stunning than a jet black Labradoodle?
Not much we can think of!
We hope these black Labradoodle names do your pup's singular coat justice!
Sooty
Smog
Cloudy
Greyboy
Blackish
Mr Midnight
Thunder
Hurricane
Smoky
Tornado
Obsidian
Meteor
Graphite
Asphalt
Domino
Batman
Black Widow
Tarantula
Solstice
Ash
Crow
Inky
Bruiser
Mirage
Posh
Labradoodle Names With Character
According to the official Labradoodle breed description, these pooches are known to be friendly, confident, smart, loyal, gentle, calm (once past puppyhood), eager to please, sociable, outgoing, and intuitive.
So basically you've just won the dog lottery when you bring home a Labradoodle, and we think these Labradoodle names with character might be a perfect fit for your perfect pup!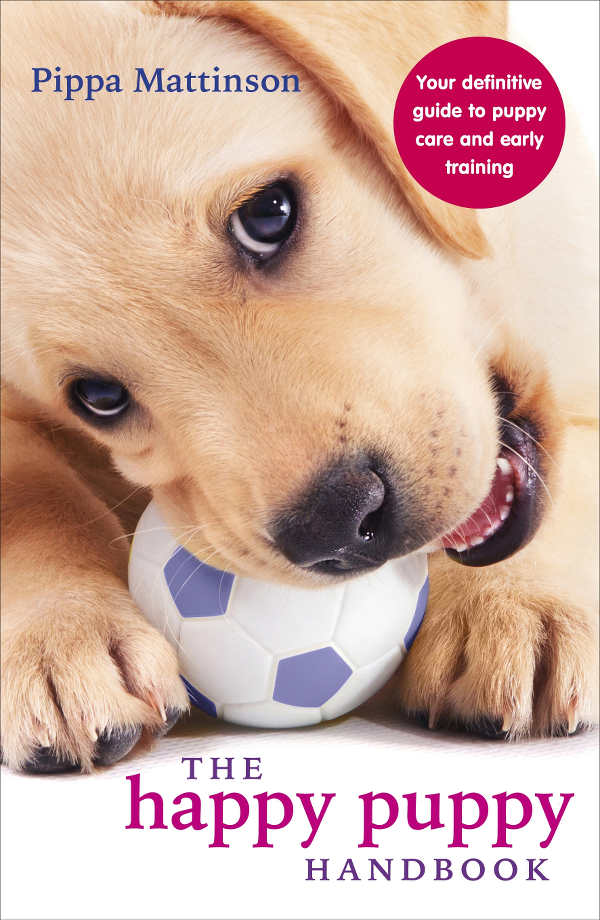 Fletcher
Alton
Cecil
Gibson
Chandler
Dakota
Elias
Memphis
Georgia
Paxton
Sydney
Judy
Tate
Sully
Jax
Art
Nasa
Barkley
Cardie
Roy
Wrigley
Libby
Mayo
Toppy
Penguin
Celebrity Labradoodle Names
Does your favorite celebrity own the same dog you do?
Why not give your posh pup a famous moniker like one of these!
Djinn Djinn (Barbara Eden)
Finn (David Baldacci)
Yogi (Tiger Woods)
Riley (Tiger Woods)
Brother (Joe Biden)
Maple Sugar (Christie Brinkley)
Milo (Dustin Brown)
Chloe (Pam Krueger)
Charlotte (Henry Winkler)
Crockett (Cheryl Ladd)
Reza (Stephen Curry)
Carl (Neil Young)
Soot (Hugh Panaro)
Calypso (Courtney Peldon)
Odysseus (Ashley Peldon)
Noodle (Oliver Platt)
Bella (Elle Macpherson)
Bailey (Ian Harding)
Mochi (Ian Harding)
Harper (Sabrina Soto)
What Labradoodle Name Did You Choose?
We hope these lists of Labradoodle names have helped you narrow down your search for the perfect name for your new fur baby!
When you do finally pick your Labradoodle's new name, don't forget to drop us a comment – we are eager to hear what name you chose!
For even more food for Labradoodle name thought, head on over to peruse this extensive list of dog names!
Learn everything you need to know to make sure your new puppy gets the very best start in life! If you love everything about Labradoodles, make sure to also take a look at the mini Labradoodle guide!
Related Articles
Resources
Bergman, R., "History of the Labradoodle," Australian Labradoodle Association, 2018.
Martel, R., "Labradoodle Versus Australian Labradoodle," Ohio Labradoodles Kennel, 2018.
Kershaw, S., "Good Dog, Smart Dog: Life as a Labradoodle," New York Times, 2009.
Gordy, J., "Smarter Than a Two-Year-Old: Just How Smart Are Dogs, Really?" Barksdale Labradoodles Kennel, 2015.