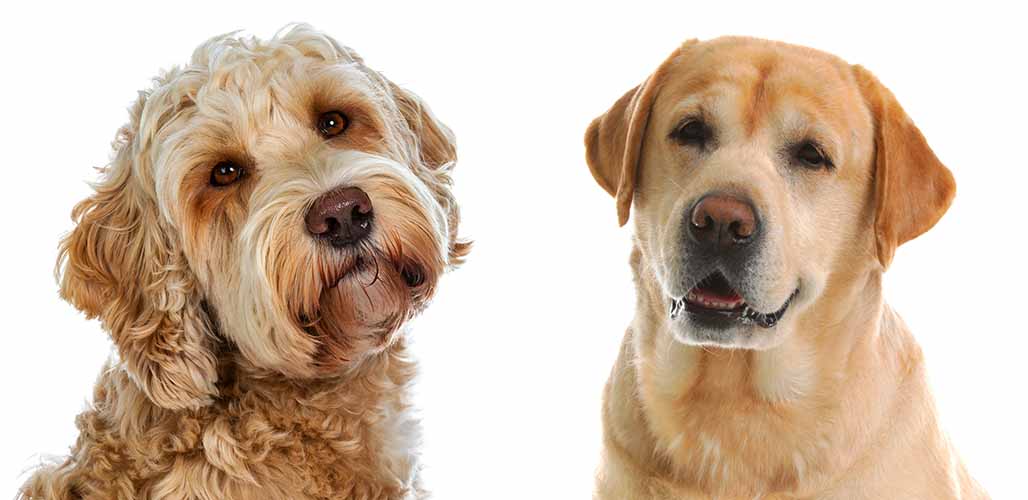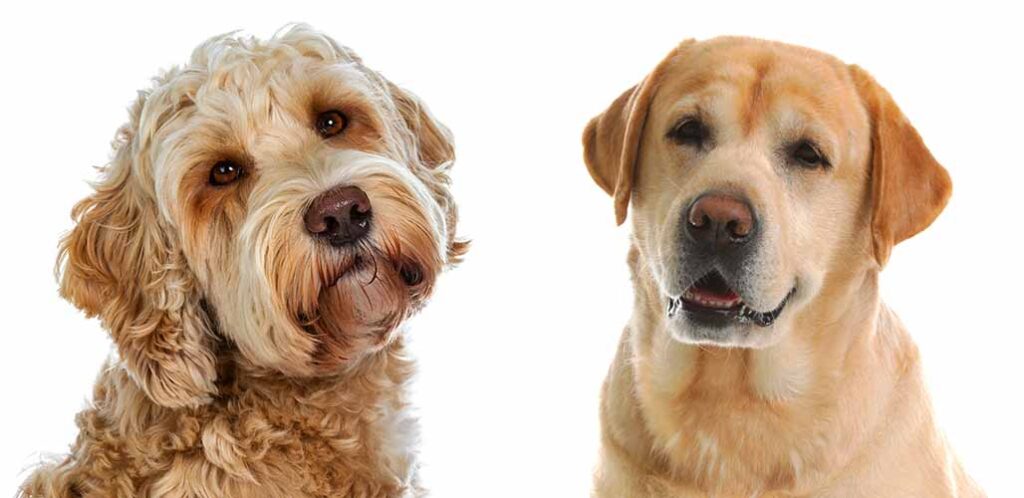 The Labradoodle Labrador mix is an energetic, intelligent and family oriented dog. But, this uncommon combination can be more prone to shedding than the traditional Labradoodle mix.
When most breeders backcross their Labradoodle with a purebred dog, they'll use a Poodle. But, occasionally, some may backcross a Labradoodle with a Labrador, to create the Labradoodle Lab mix! This mix will usually have a straight, double layered coat. They tend to be moderate shedders, but their fur can be less prone to tangles than a curlier Labradoodle mix.
About the Labradoodle Labrador Mix
The Labradoodle is a modern mixed breed that combines a purebred Labrador Retriever with a purebred Poodle. Some breeders will backcross Labradoodles, creating f1b or f2b mixes. In most of these cases, the breeder will backcross a Labradoodle to a purebred Poodle. But, it's entirely possible to come across a Labradoodle Labrador mix!
Most breeders will choose to backcross to a Poodle in the hopes of passing on the genes that cause curly, low shedding fur. Backcrossing to a Labrador increases the chances of a mix puppy having Labrador traits. But, the outcome of mixed breed dogs is always a little unpredictable. So, Labradoodle and Labrador mix puppies can still be quite unique!
Labradoodle Labrador Mix Appearance
The best way to predict a mixed breed dog's appearance is to take a look at their parents. A Labradoodle Labrador mix will usually be a medium to large dog. Their height will most often range between 18 and 24 inches, whilst their weight tends to be anywhere from 50 to 80 lbs. Labradoodles are usually smaller than Labradors, and puppies will most often fall between the sizes of their parents.
On top of this, females are usually smaller than males. So, if you're looking for a smaller mix, you might choose a female puppy. But, if you want a large dog, look for a male puppy.
Coat Type and Colors
Labradoodles are usually described as hypoallergenic, but no dog breed is truly hypoallergenic! And, studies have suggested that there is little difference between hypoallergenic and "non-hypoallergenic" breeds when it comes to finding allergens in your home. However, a Labradoodle with curly hair is less likely to shed as much around your home, thanks to the Poodle influence.
A Labradoodle Labrador cross will usually have a straight, double layered coat like their Lab parent. Their coat might be dense like a Lab, or slightly thinner. And, their fur may grow longer than a traditional Labrador, thanks to the Labradoodle's influence.
Colors can vary in this mix. Though Labradors come in three standard colors (black, yellow, and chocolate), Labradoodles have a very wide variety of colors. Take a look at the Labradoodle parent to see what your mix puppy might inherit!
Labradoodle Labrador Mix Temperament
Like appearance, temperament can vary in a mixed breed dog. But, there are plenty of traits that we can predict in a Labrador Labradoodle mix. Both parents are known to be energetic and people-oriented dogs. This mix is likely to get along with everyone, as long as you socialize them properly from a young age to new experiences, animals, and people. They are eager to please, and have plenty of energy to burn every day.
This mix is very intelligent. Given their intelligence and eagerness to please, they often take well to training. But, they can also become easily bored. And, a bored Labradoodle Labrador mix may display unwanted and undesirable behaviors like digging, chewing, barking, stealing things, and so on.
So, it's a great idea to invest in some fun, interactive toys for your mix. And, dedicate time every day to playing together.
Exercising a Labrador Labradoodle Mix
If there's one thing that's almost guaranteed in a Labradoodle and Labrador mix, it's that you'll be bringing home an energetic dog. This is a combination that has plenty of energy to burn, and will need at least an hour's exercise every day as an adult. Puppies will need slightly less than this, and owners should stick to slightly different types of exercise to take care of their very young dog's joints.
But, when your puppy is older, you can really get creative with the types of exercise you try. This mix will usually enjoy retrieving games, like fetch. But, they may also enjoy swimming, hiking, scent-work, running with you, rally, agility and more.
Ensuring your Labrador Labradoodle mix gets enough exercise each day will go a long way towards keeping them happy and healthy.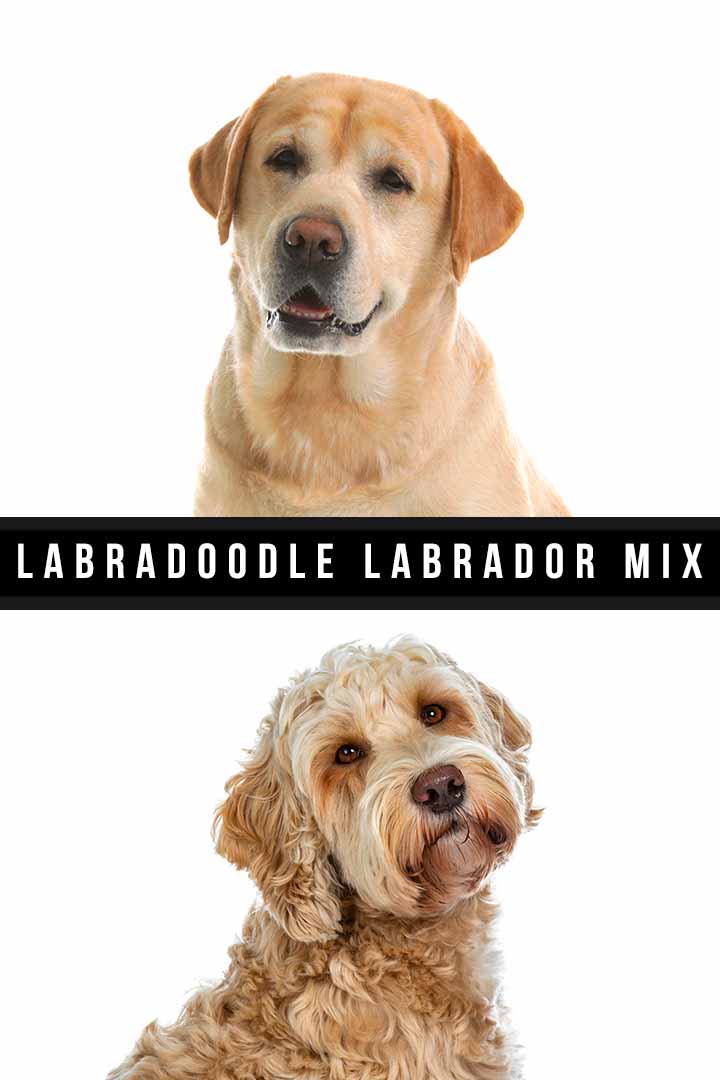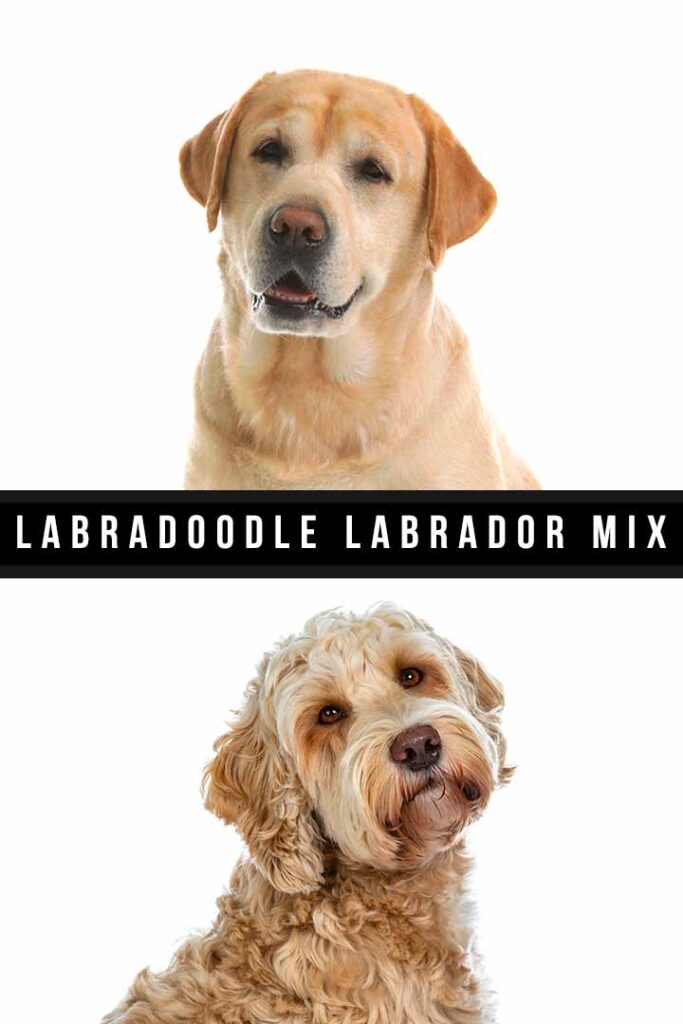 Training a Labradoodle Labrador Mix
Since this mix is eager to please and intelligent, they will usually pick up new cues quickly. Positive reward methods are a great way to train your dog, especially given the Labrador's love of food. A Labradoodle Lab mix will usually be very eager to work for training treats!
Keep your training sessions relatively short, and always consistent. If your pup isn't responding well to a particular session, take a break and try again later when they're hungrier. And, remember that every dog will be different, so some may take a little longer to grasp some cues than others!
As a medium to large dog breed, basic obedience is a must. So, from a young age, focus on commands like 'sit', 'heel', and your recall. It's also a great idea to teach your Labradoodle Labrador mix to sit when greeting people. This will prevent any jumping up at potentially fragile or nervous visitors!
Labradoodle Labrador Mix Grooming and Shedding
A Labrador Labradoodle mix will usually have straight fur. They often have double layered coats, but the density and length of their fur will vary from one dog to the next. Generally, this mix will shed moderately all year round, and slightly higher in summer months. Since their fur is straight, any shedding hairs will fall straight out, so you may have to clean them from your house more regularly than you would with a typical Labradoodle mix.
Regular grooming can help you keep on top of shedding. Brush through your mix's fur at least once a week. You may want to increase the frequency of this during heavy shedding periods. The best grooming methods will depend on the type of coat your mix inherits. And, if their coat grows quite long, like the Labradoodle's, you will need to give them regular haircuts. Many owners prefer going to a professional groomer for this!
Labradoodle Labrador Mix Health Concerns
A Labrador Labradoodle mix will often live into their teens. Studies have shown that mixed breeds live, on average, longer than purebred dogs. Labradors live an average of 12 years, so you can expect a healthy Labradoodle Labrador mix to live to around this age, if not longer.
However, a Labradoodle Labrador mix can still be prone to a number of health conditions, including those common in the parent breeds. Here are some of the major issues that this mix could be prone to:
Arthritis
Hip dysplasia
Elbow dysplasia
Exercise induced collapse
Cataracts
Progressive Retinal Atrophy
Gastric dilatation volvulus
Centronuclear myopathy
Health testing is available for a number of the above problems. So, when choosing a breeder, make sure you see evidence of health testing in person.
Finding Labradoodle Labrador Mix Puppies
When searching for a backcrossed Labradoodle, it's much more common to find puppies who have been backcrossed to a purebred Poodle. So, make sure you clarify what dogs are being bred when speaking to your breeder.
It's important to seek reputable breeders, instead of supporting puppy mills, pet stores, and backyard breeders. Puppies from reputable breeders will have proper health testing, and will be raised in a happy, safe family environment. Ask plenty of questions when searching for your breeder. And don't be surprised if they ask you lots of questions in return. If a breeder makes you feel uncomfortable, refuses to show you evidence of health testing, or refuses to let you see where the puppies and mom are kept, it's best to look elsewhere.
Since the Labrador Labradoodle backcross is less popular, these puppies may cost less on average than a traditional Labradoodle mix, or than one backcrossed with a Poodle. But, it's likely that you will still have to pay at least $1000 for a healthy puppy from a reputable breeder.
Labradoodle Labrador Mix – A Summary
The Labradoodle and Labrador mix is an energetic, intelligent combination. This mix can be a great companion in a family home. But, they need large amounts of exercise every day. Owners must be prepared to train and socialize them well from puppyhood, and to provide plenty of mental stimulation.
Are you preparing to bring home a Labrador Labradoodle mix puppy? Let us know your experiences with this uncommon cross in the comments!
Readers Also Liked
References and Resources
Ali, M. (et al), 'Genetic Analysis of the Modern Australian Labradoodle Dog Breed Reveals an Excess of the Poodle Genome', Plos Genetics (2020)
Vredegoor, D. (et al), 'Can f 1 Levels in Hair and Homes of Different Dog Breeds: Lack of Evidence to Describe Any Dog Breed as Hypoallergenic', Journal of Allergy and Clinical Immunology (2012)
Nicholas, C. (et al), 'Dog Allergen Levels in Homes with Hypoallergenic Compared with Nonhypoallergenic Dogs', American Journal of Rhinology & Allergy (2011)
Howell, T. (et al), 'Puppy Parties and Beyond: The Role of Early Age Socialization Practices on Adult Dog Behavior', Veterinary Medicine: Research and Reports (2015)
Adams, V. (et al), 'Methods and Mortality Results of a Health Survey of Purebred Dogs in the UK', Journal of Small Animal Practice (2010)
Urfer, S. (et al), 'Risk Factors Associated with Lifespan in Pet Dogs Evaluated in Primary Care Veterinary Hospitals', Journal of the American Animal Hospital Association (2019)
Keijser S. (et al), 'Quantification of the Health Status of the Dutch Labrador Retriever Population', Preventive Veterinary Medicine (2019)
The Canine Health Information Center