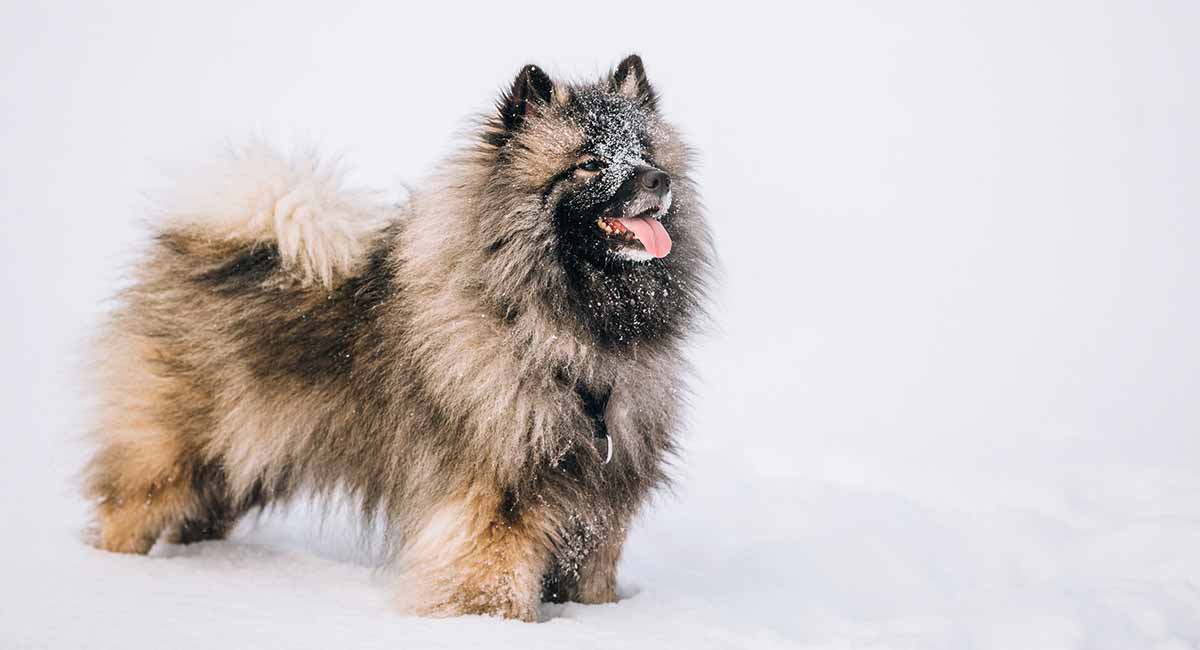 The Keeshond is a medium-sized dog belonging to the Spitz family.
At one time they were referred to as the Dutch Barge Dog when they lived on barges that traversed the canals and rivers of The Netherlands.
This breed is unique for distinctive markings around the eyes that make it look as though they're wearing cute little spectacles.
Friendly and affectionate, the Keeshond makes a lively companion, but this is a dog that demands attention and can suffer from separation anxiety.
Where Does the Keeshond Come From?
The Keeshond is closely related to other arctic Spitz breeds such as the Pomeranian, Samoyed, and Norwegian Elkhound.
In the 17th and 18th centuries, they were alert watchdogs and faithful companions on small vessels traveling along the Rhine River.
At a time of political unrest in Holland, they became the symbol of the patriot party and their popularity surged among working people.
Keeshond was named after party leader Cornelius de Gyselaer. His nickname was Kees.
When the patriot party was overthrown, the Keeshond almost disappeared.
Luckily, in 1920 Baroness van Hardenbroek took a liking to these dogs and began breeding them.
Today the Keeshond is considered the national dog of the Netherlands.
Fun Facts About the Keeshond
Keeshond is pronounced KAYZ-hawnd. And the plural is Keeshonden.
In addition to Dutch Barge Dog, they were also known as the Overweight Pomeranian. In fact, in 1870 they were exhibited at a dog show in England under that name.
They've also been called the Smiling Dutchman for the way they curl their mouth into a grin.
Keeshond Appearance
The male Keeshond typically stands 18 inches and the female 17 inches. Weight ranges from 35 to 45 pounds.
However, their abundant double coat can make them appear larger than they actually are.
They have a profuse mane that extends over the shoulders and an extravagantly plumed tail that's carried high over their backs.
The Keeshond's coat has a harsh texture that comes in an eye-catching mixture of black, gray, and cream.
They are square and sturdy, with an alert carriage. This is a handsome, well-balanced breed.
The distinctive eye markings on their foxy face appear to form a dark line. It slants from the outer edge of each eye toward their small pointed ears.
This gives them a unique "spectacles" appearance and draws attention to their intelligent expression.
Keeshond Temperament
They are alert, lively, outgoing, intelligent, and affectionate. The Keeshond is happiest when they're around people.
These friendly pups also get along with other dogs if they're raised together.
They'll bark when strangers approach. But they're too easy going to make much of a guard dog.
However, this inclination to bark can become a problem if they're left alone too much.
Timidity can sometimes affect the breed too.
Like all dogs, early socialization that exposes them to a variety of different people, animals, and environments is best. This ensures that they'll grow to be well-adjusted under any circumstances.
Keeshonden are people-lovers. They will expect lots of attention and need to be involved in any and all household activities.
They can make an excellent pet for families with children, provided little ones are taught how to treat them properly.
For the protection of both the dog and the child, they should never be left together unsupervised.
Training Your Keeshond
Intelligent and with a desire to please you, the Keeshond can learn quickly.
These dogs are sensitive and some can be quite independent and mischievous. Therefore, using positive reinforcement methods that incorporate praise and food as rewards will work best.
Barking can be an issue with this breed, so it's important to teach him a cue for quiet, especially if you live in an apartment.
Keeshonden can become bored easily, so keep training sessions short, fun, and interesting.
Exercising Your Keeshond
Keeshonden require only moderate exercise. A daily walk or time to run around in the yard are all the activity they need.
They tend to do well in dog sports such as rally, obedience, and agility.
However, due to their heavy coat, this is a breed that cannot tolerate hot, humid weather. Keep them inside, near a fan, or in air conditioning when temperatures rise,
Keeshond Health
The Keeshond is a generally healthy breed with an average lifespan of 12 to 15 years.
They're at risk for certain inherited conditions for which the parents should be health tested.
This includes x-rays to screen for hip and elbow dysplasia. These are skeletal conditions which can cause lameness and lead to arthritis.
The patellar luxation exam will check for this common orthopedic condition. It occurs when the kneecap is dislocated from the groove of the thigh bone.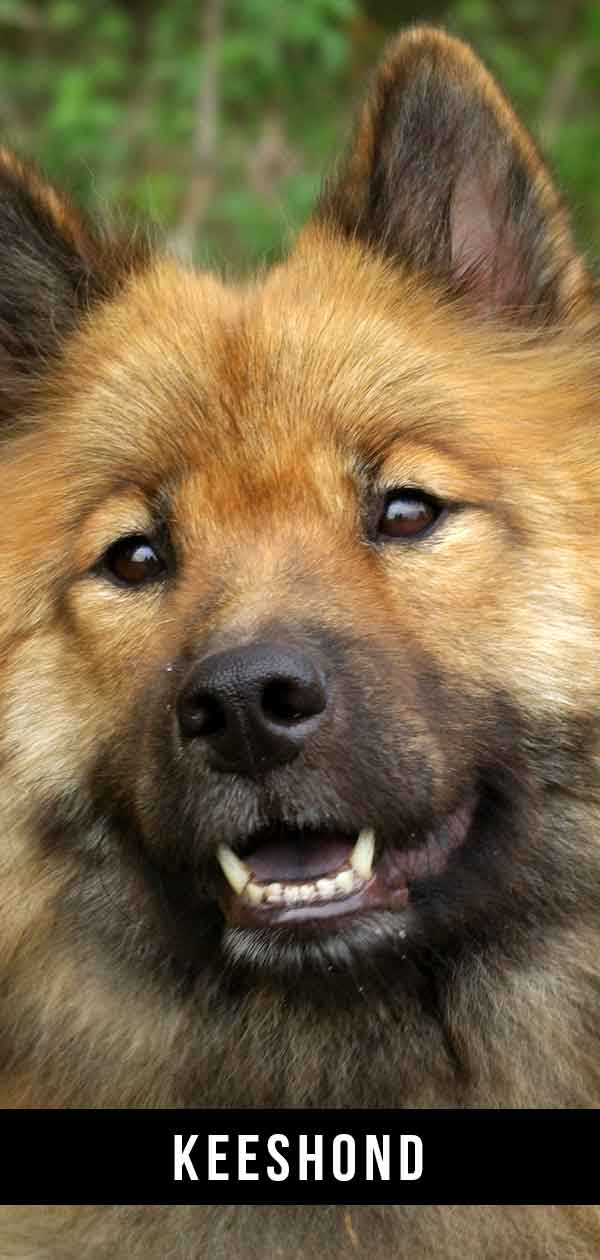 Keeshonden should also receive a CERF eye exam.
The breed is at risk for progressive retinal atrophy. This is a group of eye diseases which cause the retina to gradually deteriorate. It leads to the inability to see at night and eventual blindness.
Genetic screening for primary hyperparathyroidism should also be done. This condition results from excessive levels of parathyroid hormone causing increased blood calcium levels.
Diabetes, epilepsy, and allergies also affect the breed.
Addison's disease, also known as hypoadrenocorticism, is a serious disorder of the endocrine system. Its cause is insufficient production of adrenal hormones.
Keeshonden are also at risk for several types of heart disease and defects, including mitral valve disease and tetralogy of Fallot.
Keeshond Grooming
The Keeshond's profuse double coat requires less grooming than you may think.
However, they do shed and will need daily grooming during shedding season.
Going through their coat twice a week with a pin brush should help reduce matting throughout the rest of the year.
You should trim them only around the feet and hocks. And you should, under no circumstances, shave their coat.
You may think you're doing a dog who's unable to tolerate heat a favor by ridding them of excess fur in the summer. But their coat serves as insulation and actually keeps them cool and protects them from the sun's harsh UV rays.
Basic care such as nail trimming, checking their ears, and brushing their teeth, should be done regularly.
Keeshond Feeding
Keeshonden tend to adapt to their owner's activity level. As a result, their food requirements can vary quite a bit.
These dogs can have a weight problem. You may need to count calories if your dog is more sedentary.
Do Keeshonden Make Good Family Dogs?
The Keeshond was bred to be a companion. Therefore, they make wonderful family pets.
Just be prepared for the fact that this is a dog who needs to be involved in any and all family gatherings and activities.
They can become downright miserable if they feel left out and aren't getting enough petting and attention. This can lead to unwanted behavior like nuisance barking, digging up the backyard, and chewing on furniture.
These friendly, outgoing dogs are well-suited to families with children. other dogs, and pets. This is provided they are well socialized and trained.
Rescuing a Keeshond
Instead of buying a puppy, you can also choose to adopt a rescue dog from an animal shelter.
This is a wonderful way to bring a new pet into your life. And there are many loving dogs in need of a new forever home.
These dogs are not only less expensive than purchasing one from a breeder. You will also save time because they will often already be trained and vaccinated.
Finding a Keeshond Puppy
If your heart is set on a Keeshond puppy we can't blame you. After all, they are absolutely adorable
But purchasing your new little bundle of energy takes some careful consideration.
Pet stores are very often supplied by puppy mills. For this reason, we suggest avoiding them completely.
These dogs are bred in substandard conditions where they receive little attention, socialization, or veterinary care. And this can lead to health and behavioral problems.
It is best to find a reputable breeder who is in it for the love of the breed and not just purely for profit.
They will be able to prove that they've screened their breeding stock for any inherited health conditions to avoid passing along genetic diseases.
They'll also be happy to let you see the parents and siblings in their living environment.
In fact, good breeders know their dogs so well that they're often able to recommend the puppy that would suit you the best.
Our puppy search guide will lead you step-by-step in this process. It offers expert advice on how to find the dog of your dreams.
Raising a Keeshond Puppy
Choosing to raise a puppy is a big responsibility.
The first few months of his life are very important to ensure he grows up to be a healthy and well-adjusted adult dog.
Whether this is your first puppy or you're an experienced pet owner, check out our resources. Our puppy care and puppy training guides will help you navigate through daily routines and developmental milestones along the way.
Keeshond Products and Accessories
From beds to bowls, here are the top 10 puppy essentials you'll need to have on hand when you bring your new puppy home.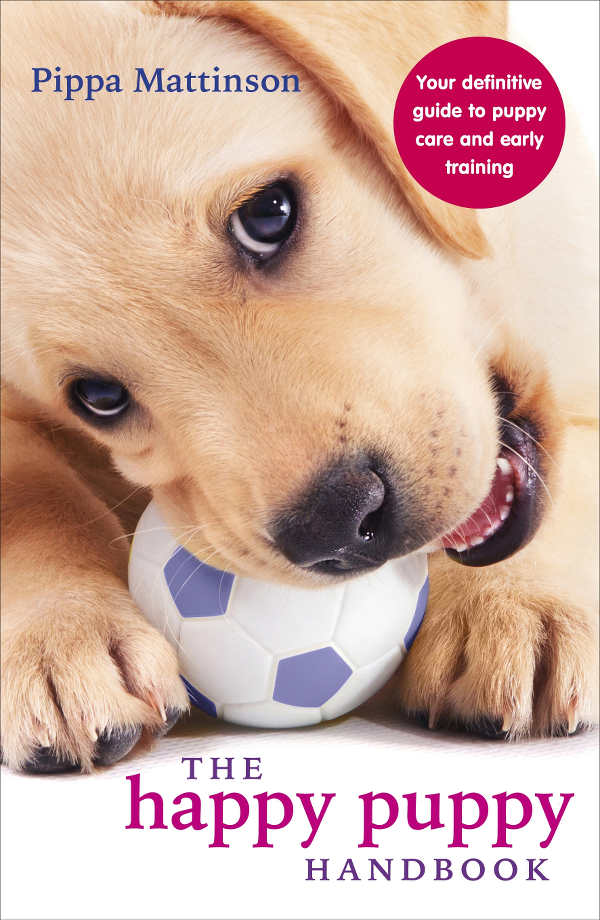 A cooling pad provides a great place for an overheated Keeshond to rest on a hot day.
Pros and Cons of Getting a Keeshond
If you're still trying to decide whether the Keeshond is the right dog for you, here's a quick summary of reasons for and against choosing this breed.
Cons:
Requires lots of attention to avoid suffering from separation anxiety
Can be prone to barking, especially if left alone
Heavy shedder
Pros:
Bred to be an excellent companion
Moderate exercise requirements
Generally healthy
Intelligent and trainable
Gets along with other pets
Similar Breeds:
According to the American Kennel Club (AKC), there are an estimated 50 to 70 different types of Spitz breeds.
Most of these dogs were bred in Arctic regions. And they are characterized by a thick, double coat, pointed ears and muzzles, and tails that extend over their back.
Here are some other Spitz breeds that may interest you.
Keeshond Rescues
If you've decided to go the adoption route, here are some shelters that specialize in the Keeshond as well as some that carry a variety of breeds.
US
Canada
UK
Australia
If you know of any other Keeshond rescues, let us know about them in the comments and we will add them to our list.
Is a Keeshond Right For Me?
The Keeshond makes a wonderful pet for just about any family provided they get enough attention.
This playful breed is perfect for homes with children and gets along with other pets.
They're amiable and adaptable enough to fit into just about any home or lifestyle.
The only thing they want is to be close to those they love as much as possible.
Are you bringing the Keeshond into your life? Let us know what you think about this breed in the comments.
References and Resources
Wilson, BJ, et al., "Selection against canine hip dysplasia: Success or failure?" Veterinary Journal, 2011
Harasen, G., "Patellar luxation," The Canadian Veterinary Journal, 2006
Skelly, BJ, et al., "Mutations in genes causing human familial isolated hyperparathyroidism do not account for hyperparathyroidism in Keeshond dogs," The Veterinary Journal, 2007
Kramer, JW, et al., "Inheritance of diabetes mellitus in Keeshond dogs," American Journal of Veterinary Research, 1988
Hall, S., et al., "Canine epilepsy: A genetic counselling programme for Keeshonds," The Veterinary Record, 1996
Lathan, P., et al., "Management of hypoadrenocorticism (Addison's disease) in dogs," Vet Med (Auckl). 2018
Patterson, DF, et al., "Hereditary defects of the conotruncal septum in keeshond dogs: Pathologic and genetic studies," The American Journal of Cardiology, 1974