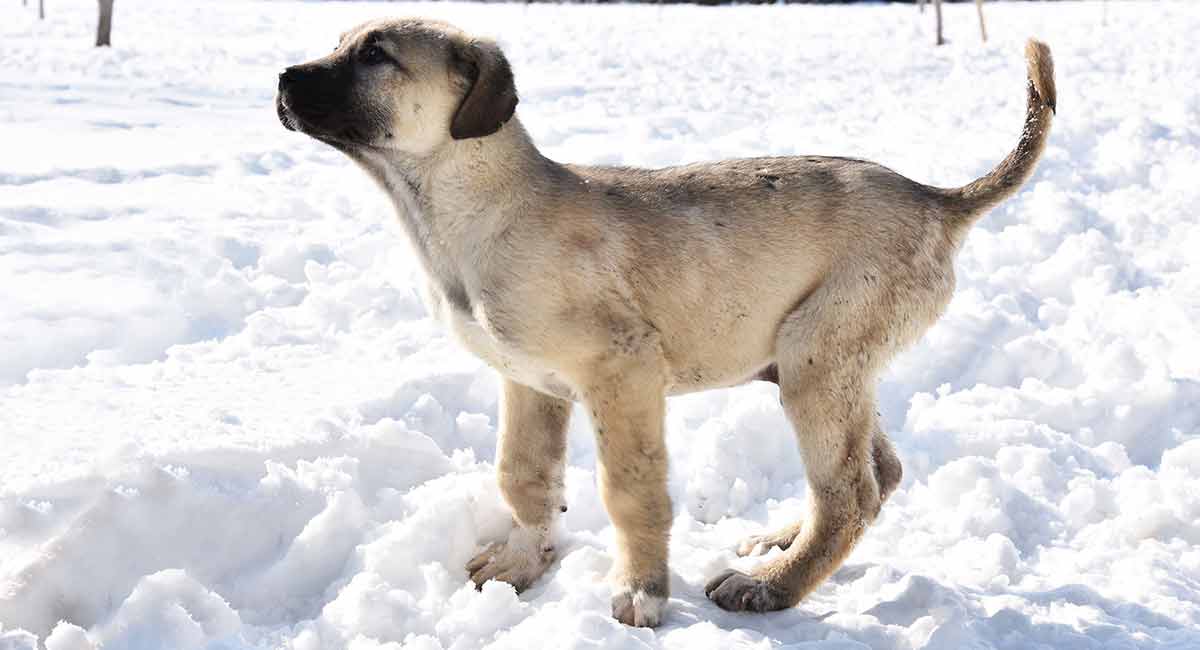 In Turkey the giant Kangal dog breed is considered both their national dog and a national treasure.
The powerful Kangal is also known as the Kangal Shepherd dog – which hints at his livestock guarding past.
Today Kangals are beloved pets in America, but endangered in their Turkish homeland.
Where Does the Kangal Dog Come From?
As an ancient livestock guarding breed, the Kangal dog is believed to be related to early mastiff-type dogs.
These powerful dogs were developed to guard flocks of sheep and goats from such predators as the wolf, bear, and jackal.
They get their name from the Kangal district of Sivas Province in Central Turkey where it's thought the breed originated.
The relative isolation of this region has kept the Kangal dog free of crossbreeding.
For this reason they're remarkably uniform in appearance, temperament, and behavior.
Fun Facts About the Kangal Dog
These dogs are celebrated at an annual Kangal Dog Festival that's held in the Kangal district of Sivas.
Dogs are brought from all over the county to be seen and compete in events.
The Kangal Dog has appeared on a Turkish postage stamp.
The first Kangal Dog was imported to the UK in 1965, but not until 1985 in the US.
In 1998 the breed was recognized by the United Kennel Club. But they remain unrecognized by the American Kennel Club.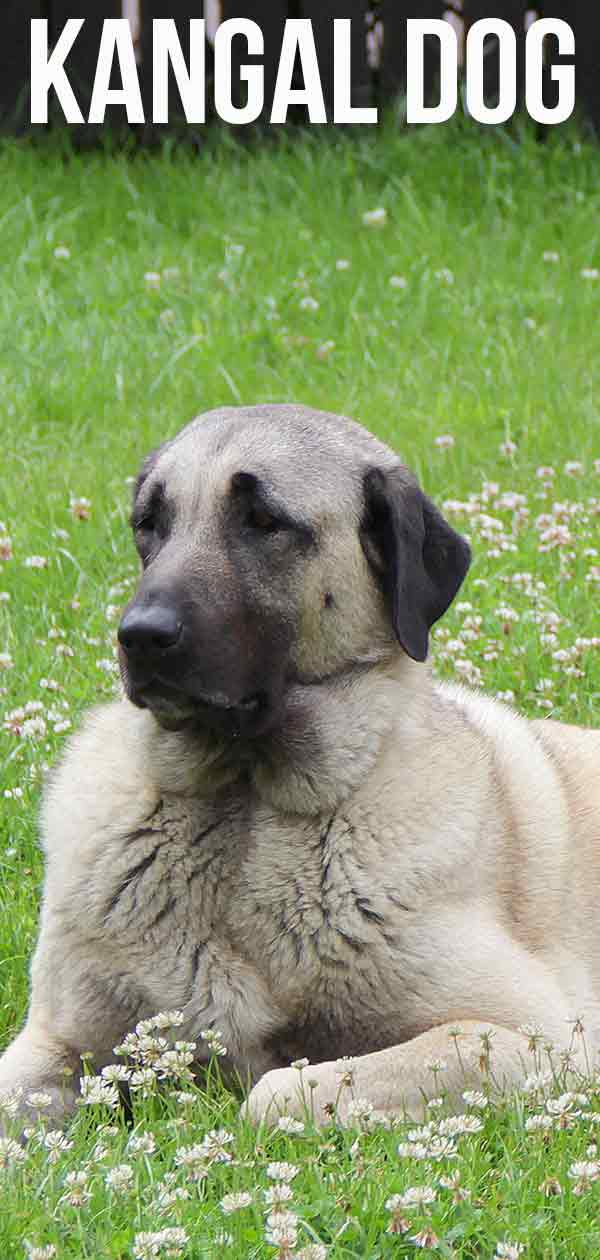 Kangal Dog Appearance
The Kangal Dog is a large, heavy-boned dog.
Males stand from 30 to 32 inches and females from 28 to 30 inches.
Weight ranges between 110 and 145 pounds for the male and from 90 to 120 pounds for the female.
Their powerful physique is slightly longer than tall.
Despite their size, these dogs are quick and agile.
The head is large, but in proportion to the size of the dog.
The Kangal Dog has a black mask and black velvety drop ears, which contrast with the rest of the body color, which ranges from light dun to steel gray.
Their double coat is moderately short and quite dense.
The tail is typically curled over the back.
Kangal Dog Temperament
Possessing the typical temperament of a stock guardian dog, the Kangal dog is alert, territorial, and defensive of their livestock or people.
These dogs are instinctually wary of strange dogs, reserved with strangers, but loyal, affectionate, and gentle with their family.
They tend to be more people-oriented than some of the other livestock breeds.
But they can be aggressive towards other dogs.
As a guardian breed, they prefer to intimidate predators, but will physically attack if necessary.
An adult Kangal is able to throw their shoulder against a wolf to knock it down.
Kangal dogs are known for being intelligent, independent, strong, speedy, courageous, and calm.
However, this study  found evidence of aggression in household dogs.
It's suggested this is a result of neglecting their nature as an active working dog, and not a genetic predisposition.
However, they are known to be aggressive towards intruders.
This giant breed grows slowly and won't fully mature until approximately two years of age.
They can be adorably silly puppies, but are powerful chewers and diggers.
Kangal behavior can be calm during the day, but at night these dogs become watchful and are prone to barking.
As a working dog, they need a job to keep them from becoming bored and destructive.
Training Your Kangal Dog
As you may have guessed by now, the Kangal dog is not your typical dog breed.
These dogs have been bred as livestock guardians for hundreds of years.
They're highly intelligent and very independent.
For these reasons, they may be unresponsive to traditional training methods.
By no means should they be treated harshly during training.
Praise and genuine affection will get you the best results. Consistency is also imperative.
Most importantly, Kangal dogs need to be socialized from a young age.
This means exposing them to a wide variety of animals, environments, smells, sounds, and people.
Needless to say, they instinctivelly make great guard dogs.
Exercising Your Kangal Dog
As a livestock guardian, these dogs are ideally suited to patrolling large properties to get steady, moderate exercise.
This type of activity allows their bones and muscles to develop properly.
It's important not to over-exercise a puppy.
Giant breeds are big-boned, grow slowly, and are subject to injury while they're developing.
A growing Kangal puppy will need regular walks and slow jogs on a natural surface if possible.
They require at least an hour a day of activity.
Preferably this time will not be on a lead.
Don't forget that Kangal dogs also need to exercise their clever minds.
Kangal Dog Health
The Kangal dog is generally very healthy with a lifespan of 12 to 15 years.
Luckily, these dogs do not have many inherited conditions.
Kangal Dog Grooming & Feeding
The Kangal Dog's short, dense coat sheds moderately and is fairly low maintenance, requiring a couple of brushings a week.
However, they are seasonal shedders.
When they "blow out" their coat they'll need to be brushed daily.
These dogs only need to be bathed when they start to get smelly; too often can damage the natural oils in their skin.
Regularly brushing their teeth, checking their ears for infection, and trimming their nails is also recommended.
Some Kangal Dogs in Turkey subsist on an almost entirely vegetarian diet throughout their life
Traditionally it's believed that if they eat too much meat, it can lead to an aggressive attitude. However there's no scientific backing for this!
This low protein, low calorie diet means that Turkish Kangal dogs grow slowly and are not as large as those found in North America.
Obesity in the breed is virtually non-existent in Turkish Kangal dogs.
If you're feeding a Kangal a commercial food, choose a high quality kibble designed for large breeds.
Do Kangal Dogs Make Good Family Dogs?
The Kangal dog is known to be loyal and loving with their family and even gentle with children.
These dogs are ideally suited to living on a farm or large rural acreage where they can roam freely in a fenced property.
They just aren't built for city life or being confined in small places.
Although the Kangal dog can be good with families, they do need early socialization and consistent training.
Bred to work, these dogs do best when they have a job to do.
Outdoors is where they want to be.
However, they are better suited to cooler climates and have a hard time tolerating heat.
Rescuing a Kangal Dog
Expect to have a hard time finding a Kangal dog in a shelter.
Although these dogs are now bred in other countries, their export from Turkey is strictly limited as they're on a list of endangered native breeds.
If you're lucky enough to find a Kangal Dog at a rescue, there are some advantages.
Adult dogs may already be trained and have their shots.
Dogs in shelters are also much less expensive than buying from a breeder.
Finding a Kangal Dog Puppy
The Kangal Dog Club of America has a list of breeders that are in good standing.
Of course, there are other breeders, but be sure to find one who's reputable.
Being able to visit where the puppies live is important.
It allows you to see how the animals have been cared for. It also gives you a chance to meet the puppy's parents.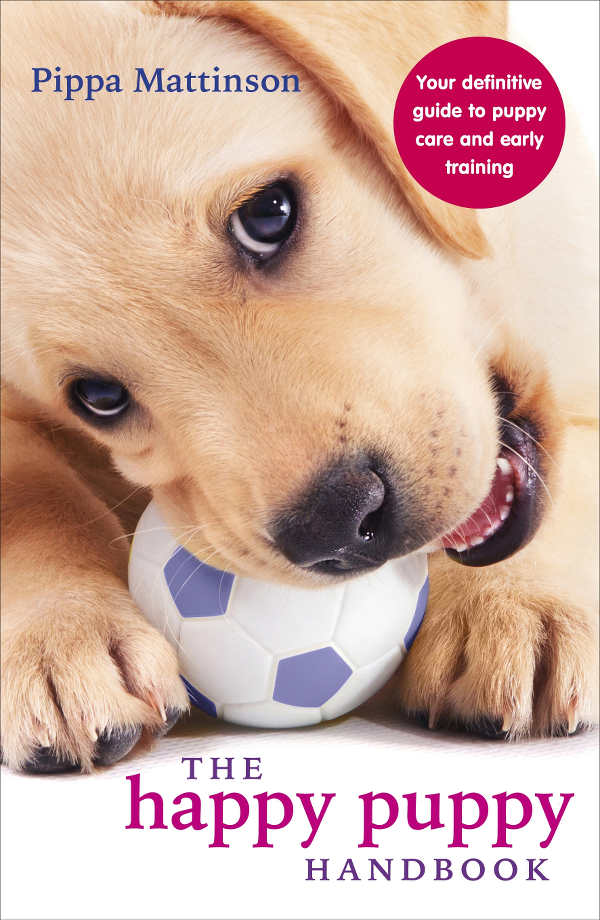 This is usually a good indication of what the puppy will be like in terms of appearance and temperament.
Avoid buying from pet stores as they're usually supplied by puppy mills.
Our puppy search guide  will give you a lot more information on how to find a puppy.
Raising a Kangal Dog Puppy
Raising a puppy is a time consuming, yet rewarding experience.
Be sure to visit our puppy care page for plenty of tips on feeding, grooming, and socializing your puppy.
Kangal Dog Products and Accessories
Here's a list of recommended supplies for a Kangal dog.
Pros and Cons of Getting a Kangal Dog
There are pros and cons to any breed.
Here's a summary of what you should consider before bringing a Kangal dog into your life.
Cons:
Their extra-large size makes them unsuitable for smaller homes and properties
May be aggressive towards other dogs
Can be territorial
Can be independent and difficult to train
Loud barking
Tendency to chew and dig.
Pros:
Excellent guard dog
Extremely large and powerful
Will easily intimidate intruders
Affectionate and loyal to their family
Known to be gentle with children
Intelligent and courageous.
Similar Breeds
Are you undecided about the Kangal dog or having trouble locating one?
Here are some similar breeds to consider
Kangal Dog Rescues
These are rescues where you might find a Kangal dog.
If you'd like to be added to this list of rescue organizations please post details in the comments box below.
Is a Kangal Dog Right For Me?
This loving and affectionate breed can be very protective of their family.
Due to their size and temperament, the Kangal dog needs plenty of room and is ideally suited to country living.
Although they can be gentle with children, they're just too big to be around young ones.
These definitely aren't the right dogs for first-time owners.
Even if this isn't your first dog, be honest about whether you're capable of handling a powerful breed that can weigh over 140 pounds.
Do you own a Kangal Dog? Drop us a line below, we'd love to hear your thoughts!
References and Resources
Dalgin, D., et al., "Risperidone as a Promising Treatment of Choice in Dog Owner Directed Aggression," Kafkas Univ Vet Fak Derg23, 2017
Linhard, SB, et al., "Komondor Guard Dogs Reduce Sheep Losses to Coyotes: A Preliminary Evaluation," Journal of Range Management, 1979
Biricik, HS, et al., "Oral Papillomatosis in a Dog and its Therapy with Taurolidine,"  ACTA VET. BRNO, 2008
Gulanber, EG, et al., "Use of distraction radiography in canine hipdysplasia: comparison of early and late resultswith two different distractors," Medycyna Wet., 2006
Erdikmen, DO, et al., "Surgical Correction of Ocular Dermoids in Dogs: 22 Cases," Journal of the Faculty of Veterinary Medicine, Kafkas University, 2013
Yilmaz, O., et al., "TURKISH KANGAL (KARABASH) SHEPHERD DOGS RAISED IN EUROPE," Canadian Journal of Pure and Applied Sciences, 2015
Rigg, R., "Livestock guarding dogs: their current use world wide," Department of Zoology, University of Aberdeen, 2001