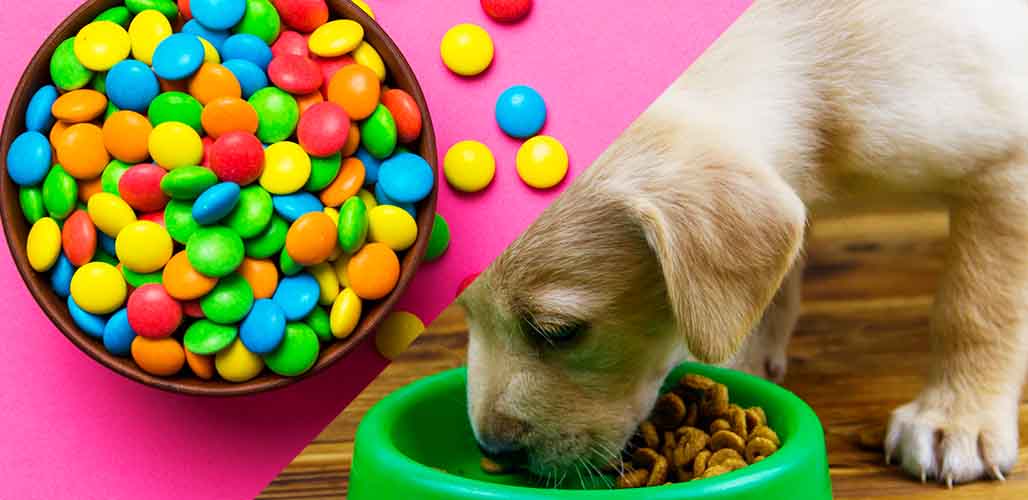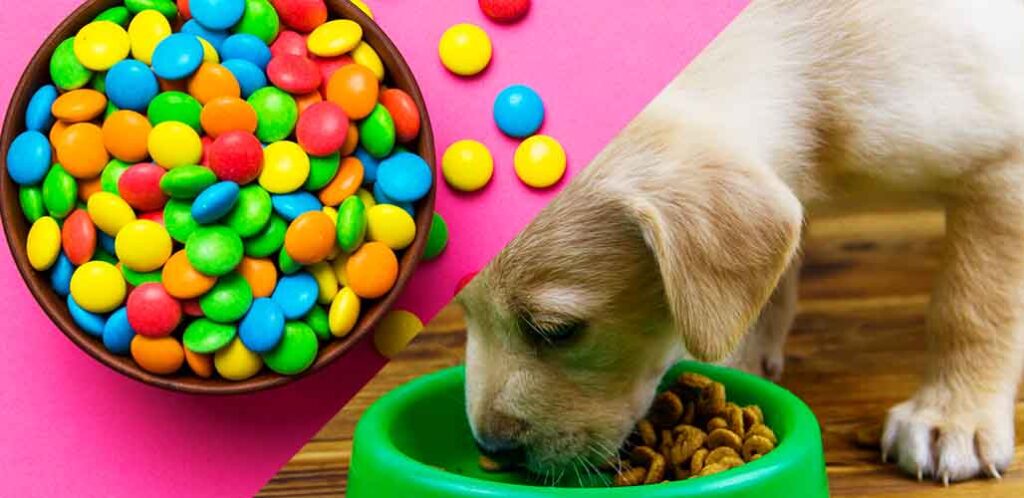 Is food coloring safe for dogs? It's a question I've often pondered when I'm baking in the kitchen and my dog is staring up at me with those big puppy eyes, hoping to get a taste! The most accurate answer is "it depends." Not all food coloring is safe for dogs to eat or wear or even come into contact with. As a responsible dog pawrent, of course you want to know when it is safe to use any kind of pet dyes or coloring with your dog. So, in this guide, I'll reveal the risks of putting this common ingredient on your dog, in their food, and whether it can ever be safe.
Contents
Is Food Coloring Safe For Dogs?
Finding accurate information about dyes used in dog food and dog hair dye can feel like an uphill battle. Why? Because not everyone agrees on what the word "safe" means! For example, if you read information published by pet companies that use colors in their pet products, you are likely to encounter reassuring messages that they are completely safe.
Similarly, official correspondence on approved dyes published by the Food and Drug Administration (FDA) also indicates that FDA-approved dyes (usually labeled FD&C) are "very safe when used properly". But then if you read information from independent websites or review independent research studies on coloring additives, you are likely to get a very different take on whether commonly used dyes are safe for dogs. So let's take a closer look at this issue now.
Is Red Dye In Dog Food Bad?
Out of the handful of FDA-approved artificial food dyes in use at the time of publication, two dyes dominate headlines: Red 3 (also called FD&C Red 3) and Red 40 (also called Allura Red AC or FD&C Red 40).
Red 40
Red 40 is currently banned in the UK and parts of the EU. This dye begins its life in the form of coal tar – petroleum distillate. It also contains benzidine, which is linked to cognitive and behavior change in children.
Red 3
Red 3 (also known as erythrosine) is a known cancer-causing agent that is also banned in the UK and in parts of the EU. Laboratory rats fed Red 3 developed tumors in the spleen, kidney, liver and bone marrow as well as other areas.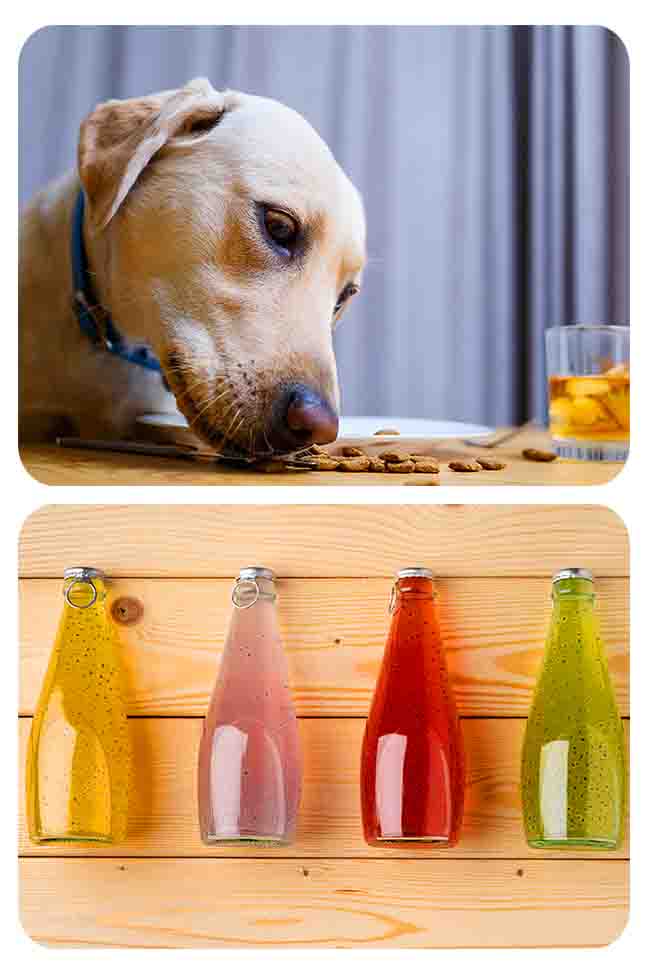 Carmine
Carmine is another controversial red dye. This so-called "natural" red dye is created by drying and then crushing tiny female parasites called cochineal insects. The resulting powder is mixed into acid to create red dye. The dye is associated with allergies and anaphylaxis.
Iron Oxides
Other red dyes are sometimes substituted for Red 40 or Red 3. Unfortunately, these dyes are largely derived from iron oxide – better known as rust. In addition to red dye, some yellow and black dyes used in pet foods are also derived from iron oxides.
These food coloring agents represent just a few of the dyes that are used widely in dog food, dog treats and dog products. If you are concerned about any coloring agent in your dog's world, it is smart to research that dye before allowing your dog to come into contact with it.
Why is There Food Coloring in Dog Food?
At this point, you might quite naturally be wondering why dogs' dinners even need dye? After all, dogs don't see bright vivid colors like humans do. Their vision, called dichromatic, is optimized to see in the blue and yellow spectrum. The number one reason there is coloring in dog chow and treats is because dyes can make them look more appealing to us!
Another common reason manufacturers use food dyes in dog food is to hide the fact that the dog food doesn't actually contain fresh natural ingredients. Still another reason brands use it is to color-code the food and make it easier to tell one dog food or treat food from another.
Finally, yet another reason brands add coloring to dog food is because artificial dyes often act like freshness extenders – preservatives, in essence – to help shelf-stable commercial options last longer. As you can see, none of these reasons for adding coloring to kibble or gravy options has anything to do with canine nutrition. In fact, food dyes do not add any nutritive value. And the esthetic value they add is highly questionable.
Can I Use Food Coloring On My Dog?
This is a smart question given the recent trend towards dying dog fur. Here, it is important to recognize that some owners dye their dog's fur to repel canine thieves, which is quite different from dying a dog's fur purely for entertainment value.
Yet if you do dye your dog's fur for any reason, you also want to know that the food coloring you are using is safe for dogs. Consider, for example, what might occur if your dog licks the dye. Or if the dye penetrates down to the skin level and gets absorbed into your dog's body. Diluted food coloring is a safer option than hair dye, but there are natural alternatives that can be even better. Natural options can provide just as good color intensity, too.
It is also important to remember that using dye on your dog's fur often requires advance prep such as lightening the fur color so the dye will show up well. Using these products improperly may cause allergic reactions, skin burns or worse.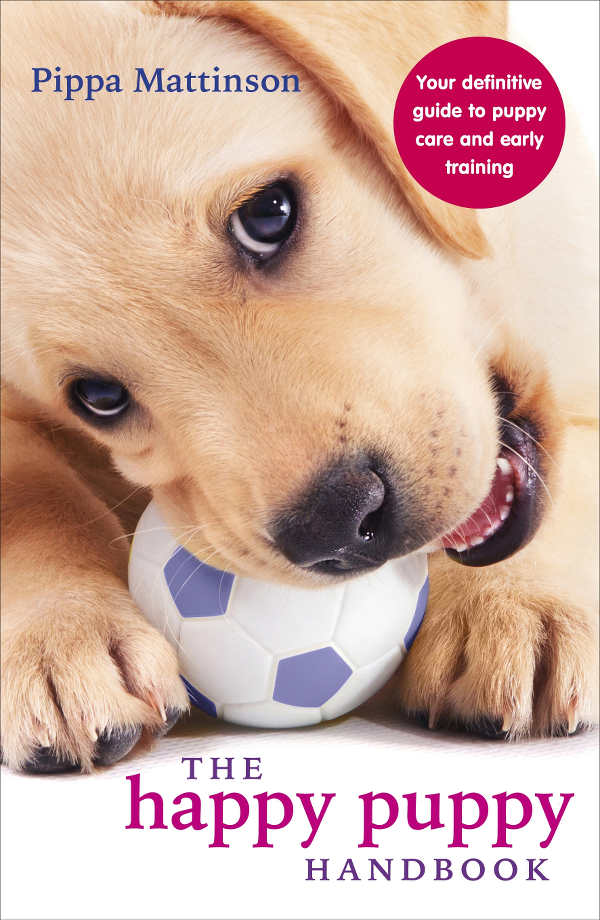 Natural Food Coloring Safe for Dogs
If all of this information on questionable food coloring for dogs is getting you down, not to worry. There are some natural coloring agents that most dogs tolerate quite well. Natural colors derived from:
Beets
Turmeric
Paprika
Berries
Grasses
Sweet potato
Carrots
And even egg yolk
are all considered generally safe for dogs to eat….or wear! But, always double check before using a natural coloring. If in doubt, your veterinarian is a safe source.
Is Food Coloring Safe For Dogs? Final Thoughts
There are many different ways to add color and variety to your dog's life. Generally, I try to avoid foods that contain unnecessary dyes, but that doesn't mean you can't have fun with color at all. Try out coloring derived from the natural alternatives I suggested above if you're keen to add some color to your pup's fur. And remember, your dog doesn't really care what color their food is!
More About Safety and Food
Are pine cones safe to play with?
References