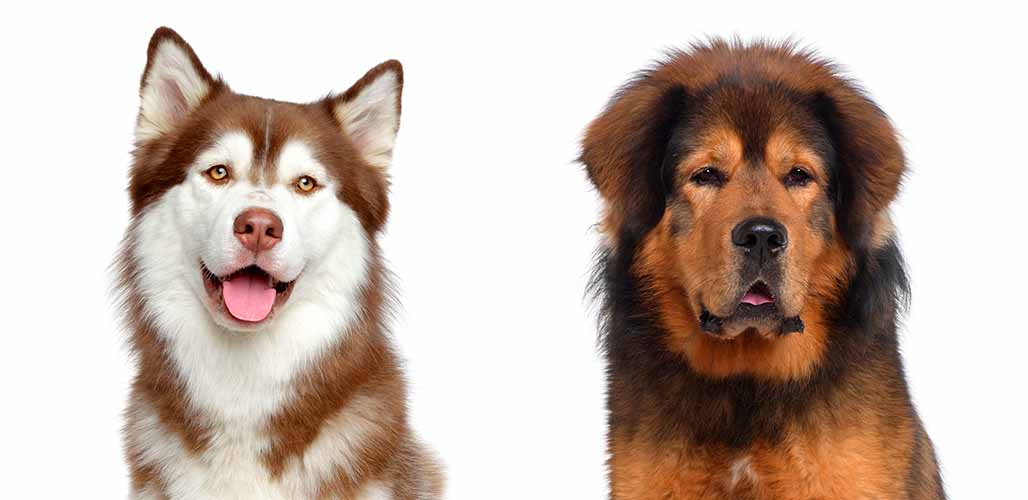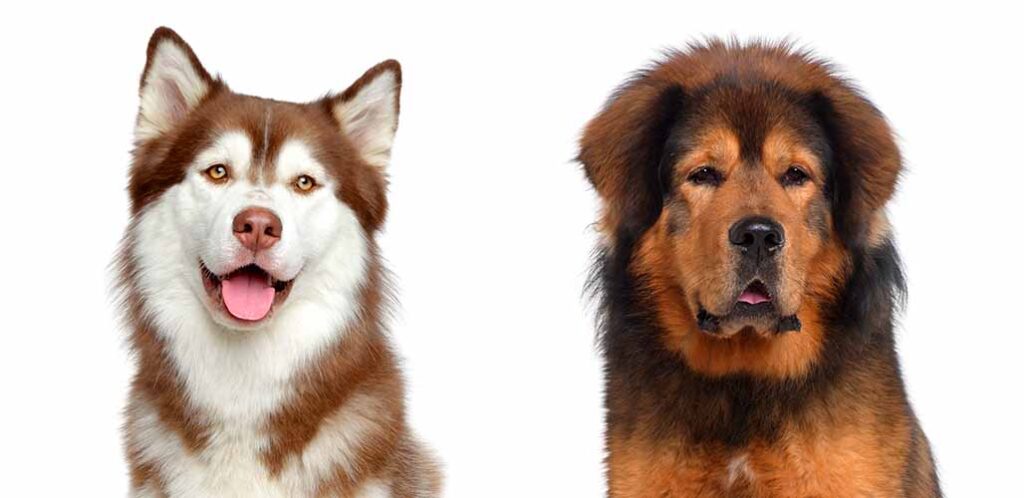 The Husky Tibetan Mastiff is one of a new breed of crossbred or hybrid dog breeds. A designer dog, they have one pedigree Siberian or Alaskan Husky parent and a purebred Tibetan Mastiff parent. Their coats tend to be fairly long, wavy and high shedding. Large dogs, Husky Mastiff mixes can weigh over 100lbs, and live into their teen years. These lively, energetic and outgoing canines are protective of their families. They make loyal watchdogs and guard dogs, and can be good with children that they know and were raised with, but less predictable with guests and family friends. Raised from working lines of far ranging sled dogs and hard headed livestock guardians, they are bold and tenacious. Today we'll see how well your family setup and lifestyle will match up to one of these large, confident companions. And help you to raise a sociable, confident Husky Tibetan Mastiff puppy.
Contents
Chances are good you landed here because you are thinking about adding a Husky Tibetan Mastiff mix puppy or rescue dog to your family. This article includes all the information you will need to make your decision with confidence.
What is a Husky Tibetan Mastiff?
A true Tibetan Mastiff Husky mix is a hybrid dog with one purebred Siberian Husky parent dog and one purebred Tibetan Mastiff parent dog. The Siberian Husky is an active, athletic dog that is strongly bonded to their family. The modern purebred Tibetan Mastiff is considered to be the original mastiff – the dog from which all other mastiff breeds originated.
When you are searching for your puppy, it can be important to know that many dogs look similar to these two purebred dogs and may even be generically called "huskies" or "mastiffs" yet do not qualify for pedigree registries. For both health and temperament reasons, be sure to ask for proof of pedigree for both parent dogs before making a commitment to a Husky Tibetan Mastiff mix puppy.
Husky Tibetan Mastiff Mix Size
A Tibetan Mastiff Husky can vary greatly in size depending on how each parent dog's genes influence your particular puppy. A fully grown Siberian Husky will typically weigh between 35 and 60 pounds with males out-weighing females by about 10 pounds. A Siberian Husky will stand between 20 and 23.5 inches tall.
A fully grown Tibetan Mastiff will typically weigh between 70 and 150 pounds with males outweighing females by 20 to 30 pounds. These dogs can easily stand 24 to 26 inches tall.
Husky Tibetan Mastiff Coats and Colors
Between the Siberian Husky and the Tibetan Mastiff, there are a truly astonishing number of possible coat colors and patterns that your Tibetan Mastiff Husky mix puppy might inherit. If your puppy takes after the Tibetan Mastiff breed line, you could expect to see coat colors featuring golds, browns and black and tan.
Puppies that favor their Siberian Husky purebred parent dog could feature white, gray, red, sable and agouti or piebald patterning.
Grooming and Shedding
Because both parent dogs are true working dog breeds, there is one uniform trait you can count on – a thick, medium length, double layer working dog coat that needs regular brushing and sheds both year-round and seasonally.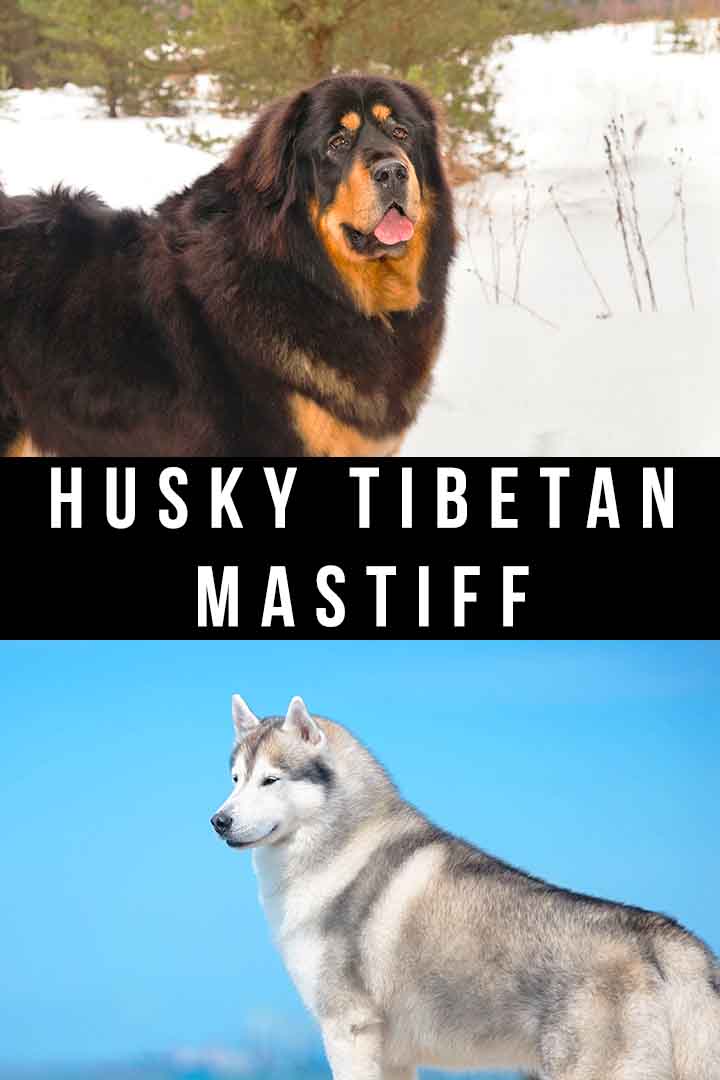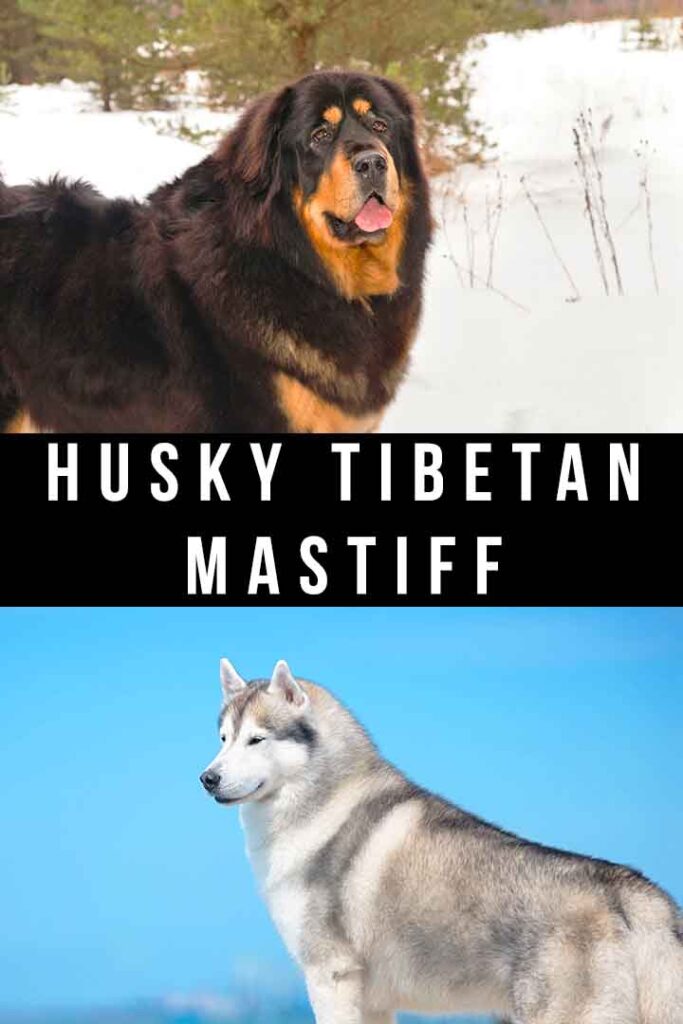 Husky Tibetan Mastiff Mix Personality
Hybrid dog breeds are interesting because even experienced breeders can't predict with absolute certainty how the genes of the two different parent dog breeds will influence a given puppy.
Siberian Huskies are known to be high energy dogs with a strong need to chase and run. They are generally friendly and people-focused but can be stubborn about learning in obedience classes. Tibetan Mastiffs are known to be medium to high energy dogs with a strong guarding and territorial instinct. They are reserved around strangers and inclined to be stubborn when it comes to obedience.
Are Husky Tibetan Mastiff Mixes Good With Kids?
Will your Tibetan Mastiff Husky mix puppy grow up to be good with kids? Raising your dog from puppyhood together with your kids will increase the chances that you raise a good family dog. But keep in mind that the Tibetan Mastiff breed is massive size-wise. And these dogs don't stay puppy-sized for long which means even a puppy could cause injury to a young child without meaning to.
Tibetan Mastiffs are also less tolerant of children who engage in rough play with dogs. So it will be very important to teach your kids how to gently interact with your puppy. Siberian Huskies are typically much more tolerant of children and more easygoing in general. So finding a Tibetan Mastiff Husky puppy with a stronger Siberian Husky temperament influence is a good idea if you have young kids in your family.
Husky Tibetan Mastiff Mix Training and Exercise
The Husky Tibetan Mastiff mix will need and crave both physical and intellectual activity and enrichment. Early and ongoing obedience training and socialization with strange people and animals will also be key to adult dog success.
Are Husky Tibetan Mastiff Mixes Healthy?
While hybrid vigor or heterosis – the theory that a wider gene pool can improve overall health – may play a part, it is also important to recognize that both the Siberian Husky and Tibetan Mastiff breeds have certain known genetic heritable health concerns.
The Canine Health Information Center (CHIC) database indicates the current major concerns for both parent dog breeds include hip dysplasia and eye issues. Elbow dysplasia and autoimmune thyroiditis can be an additional concern in Tibetan Mastiffs. Reputable dog breeders will pre-screen breeding pairs for these issues before allowing a mating.
Husky Mastiff Lifespan
You can expect your Tibetan Mastiff Husky dog to live between 10 and 14 years.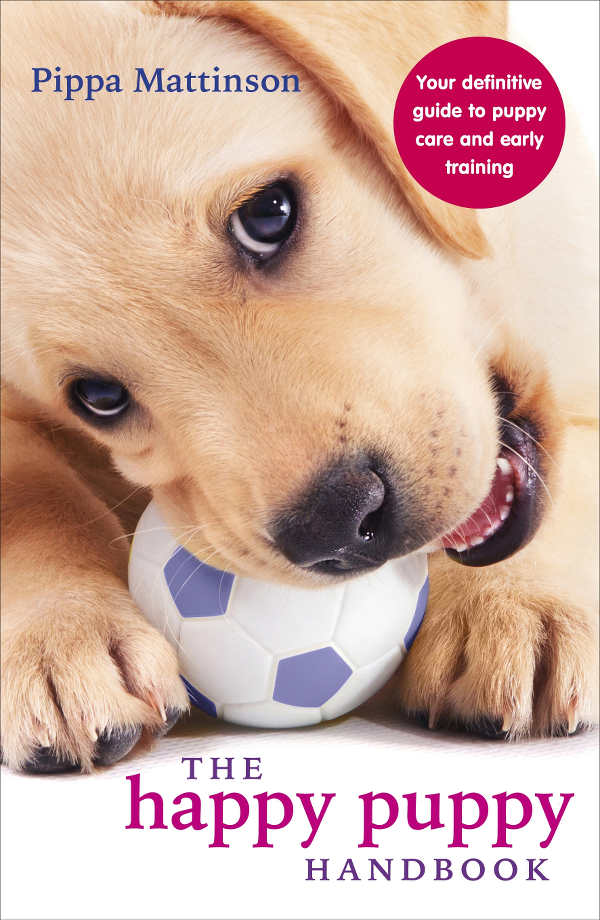 Are Husky Tibetan Mastiff Mixes Good Family Pets?
As we mentioned in the section about Tibetan Mastiff Husky dogs and children, there are two major factors that may influence whether this hybrid dog breed is the right pet dog for your family. New canine research data now indicates training and socialization may outweigh heritable breed traits when it comes to which dog breeds make the best family pets.
What does this mean for you with your Husky Tibetan Mastiff puppy? It means that the more effort you can make to train and socialize all family members of all ages to treat each other gently and with respect, the better everyone's relationship with your dog is likely to be.
Husky Tibetan Mastiff Puppies
Choosing a hybrid Husky and Tibetan Mastiff puppy can take some careful planning. This is especially important to know if you want specific temperament or appearance traits in your adult dog. Working with a later-stage or multi-generational Tibetan Mastiff Husky dog breeder will give you more control over every aspect we've discussed in this article.
Are you thinking about adding a Tibetan Mastiff Husky puppy or rescue dog to your family? Are you caring for one of these unusual dogs right now? Drop us a note in the comments to share your story.
Learn More About Huskies and Mastiffs
References