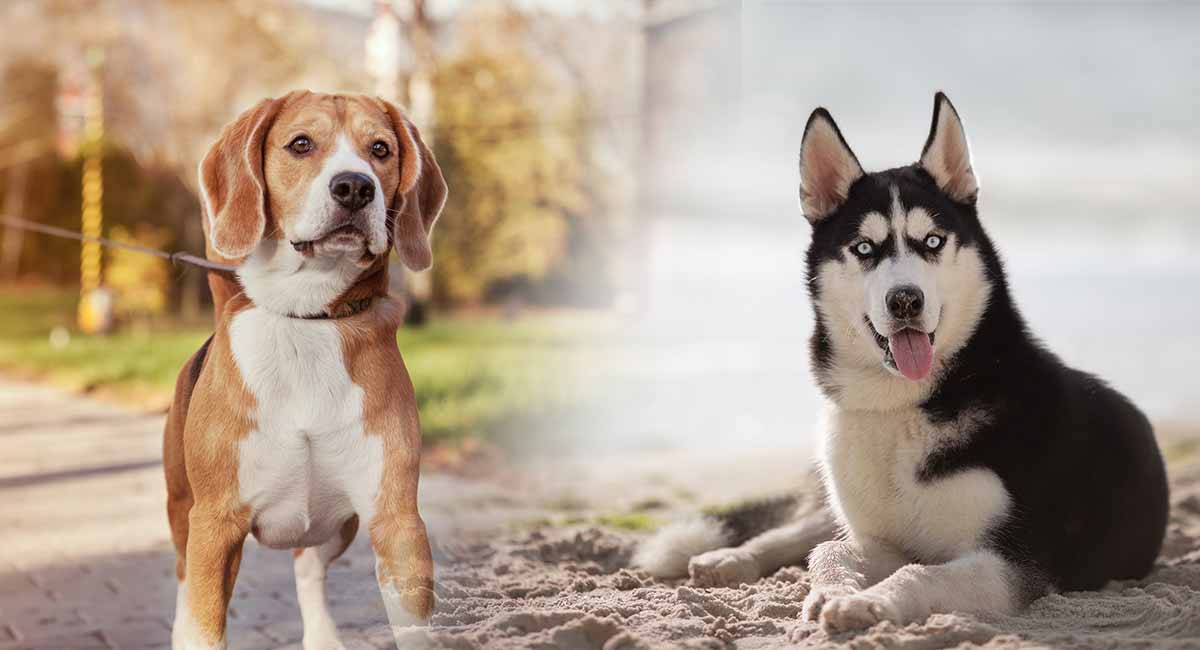 The Husky Beagle mix makes a pretty cute crossbreed, but what about this hybrid's temperament, overall health, and grooming maintenance?
Today's article is geared towards helping you find out!
Let's begin!
Where Do Husky Beagle Mixes Come From?
The Husky Beagle Mix is a cross between the Husky and the Beagle.
Both of his purebred parents are known for their energy and friendly nature, but they come from very different backgrounds.
Husky Origins
For example, the Husky originated in Siberia, where he played a significant role in the endurance of the Chukchi people.
Huskies were perfected to work.
They did a number of things for the Chukchi that helped them survive, including hauling loads for miles through harsh conditions, hunting, and providing companionship.
Beagle Origins
The Beagle was also bred to work, although there is some controversy about his early origin.
However, by the 1500s, it is said that most Englishmen owned packs of this breed for hunting purposes.
Beagles were easy to keep up with on foot and were especially favored by those who did not or could not own a horse, thus they were nicknamed the foothound.
The modern-day Beagle and Husky are both popular family pets, but what about their crossbreed offspring?
Crossbreeds
And what about the crossbreed controversy?
It's true that not everyone agrees with the practice of crossbreeding these days.
And while some experts find themselves bickering over what makes a crossbreed any different from a mutt, others want to know about health.
It's a touchy topic, for sure, especially when you consider the well-known fact that purebreds are more prone to suffer from genetic health problems.
In part due to the amount of overbreeding that has occurred.
But does that mean crossbreeds are healthier?
That is part of the debate.
For now, we'll let the experts hash it out.
Let's move on and learn some fun facts about the Husky Beagle mix!
Fun Facts About Husky Beagle Mixes
The Husky Beagle mix is a cross between two pretty popular purebred dogs.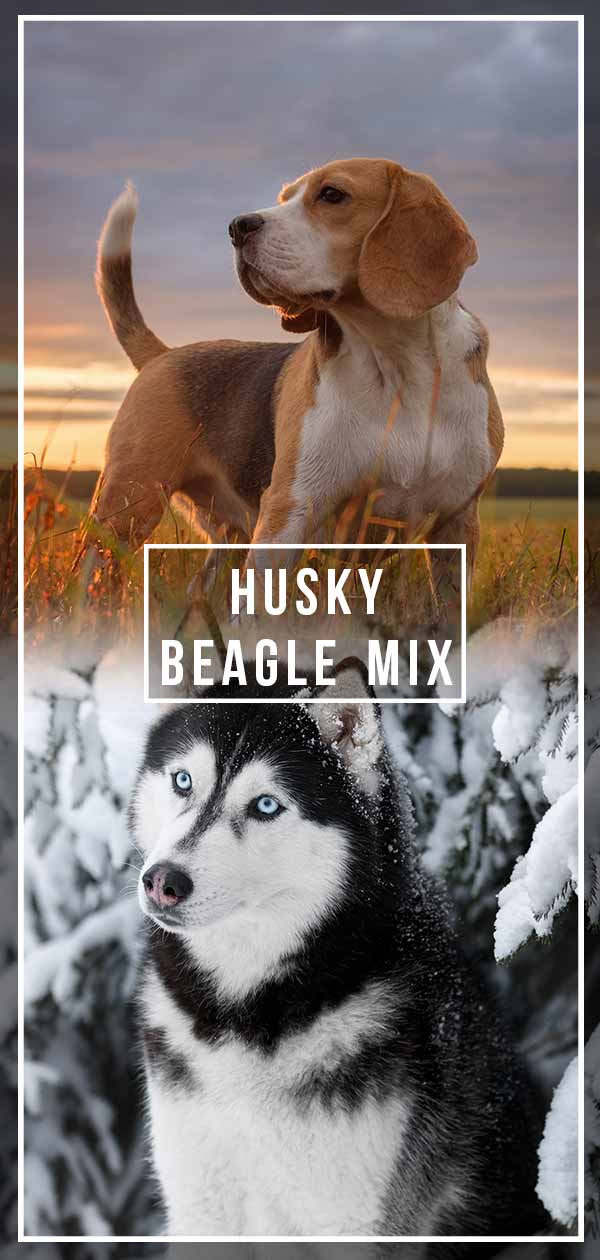 In fact, did you know a number of celebrities call themselves proud owners of both Huskies and Beagles?
Ben Stiller and Rita Ora are just two famous owners of the Husky breed, while celebs like Barry Manilow and Jake Gyllenhaal are the proud fur-parents to Beagle breeds.
Of course, these breeds have also found favor in Hollywood.
Movies like Shiloh and Underdog have starred Beagles, while films like Eight Below and Antarctica help shine the spotlight on Huskies!
Husky Beagle Mix Appearance
Because the Husky Beagle mix is a crossbreed, his appearance is going to be left up to genetics and chance.
This means he could take after either one of his parent breeds.
Husky Parent
If your Husky Beagle mix favors his Husky parent, you can expect him to be around 20–23.5 inches tall and weigh between 35–60 pounds.
His coat might be thick and double layered, and he could have erect ears.
Or a long, fluffy tail, and blue eyes, or brown eyes.
He could even have one blue eye and one brown eye at the same time!
His coat may be any of the following colors:
Copper
Splash
Agouti
Gray
Sable
Black
Red
Black and Tan
White
Brown
Black and White
Silver
Piebald
Beagle Parent
On the other hand, if your Husky Beagle mix takes after his Beagle parent, he could stand between 13–15 inches tall and weigh 20–30 pounds.
He may have long, floppy ears, a shorter, longer body, and a sleek coat that comes in several colors:
Tri-Color
Orange and White
Lemon and White
Brown and White
White and Tan
Red and White
Chocolate Tri-Color
Husky Beagle Mix Temperament
Just as your Husky Beagle Mix appearance could vary depending on chance and genetics, so could his temperament.
However, both the Husky and the Beagle are high-energy breeds, so you can expect your Husky Beagle mix to have lots of energy too.
Beagles are especially friendly and curious, and they get along well with people of all ages and even other dogs.
However, Beagles can have a rather high prey drive while the Husky simply loves to run.
For this reason, the Husky Beagle mix should always be kept on a leash when out on walks.
The Husky Beagle mix is also going to need early socialization and obedience training.
Training Your Husky Beagle Mix
All dogs require early socialization and obedience training, and the Husky Beagle mix is no exception.
This is going to be an intelligent and sensitive crossbreed who experts say will respond best to positive reinforcement training methods.
This means lots of treats and praise when he does something right, as opposed to punishments and scolding when he does something wrong.
Most dogs can be prone to destructive behaviors when bored, but the Husky is especially known to have a mischievous streak and likes to chew.
If he does not get enough exercise or mental stimulation, he may become bored and destructive.
But what is the right amount of exercise for a Husky Beagle mix?
Exercise
Due to this crossbreed's high level of energy, a good hour or two of exercise every day will be necessary in order to keep him healthy and happy.
This hybrid will also do best in homes with yards or with owners who have time to take him to a dog park where he can run freely and off leash for an hour or two.
Are you planning on getting your Husky Beagle mix when he is a puppy?
If so, we suggest you check out our article on puppy potty training.
And if you are a family who is going to be gone sometimes during the day and are worried about destructive behaviors when leaving your dog home alone, you may want to read up on crate training.
Husky Beagle Mix Health
Due to the lifespan of both the Husky and the Beagle, we can estimate that your Husky Beagle mix will live between 10–15 years.
A healthy diet of high-quality dog food that is specified for your Husky Beagle mix's age, weight, and activity level will help to keep your pup healthy
However, the health of your Husky Beagle mix will depend on the genetics he inherits from his purebred parents, too.
All dogs can be susceptible to genetic health issues, and for this reason, you may opt to have your Husky Beagle mix undergo early health screening.
Husky Health Issues
Some of the issues the Husky Beagle Mix may face include those that his Husky parent are susceptible to, including juvenile cataracts and hip dysplasia.
The National Breed Club recommends that Huskies undergo the following health tests:
Hip Evaluation
Ophthalmologist Evaluation
For more information on the health of the Husky purebred, click here.
Beagle Health Issues
Now let's talk about the Beagle, who can be most prone to suffering from hip dysplasia, hypothyroidism, luxating patella, epilepsy, and eye issues.
The Beagle should undergo the following tests, according to the National Breed Club:
Hip Evaluation
Ophthalmologist Evaluation
MLS DNA Test
Click here to read more on the health of the purebred Beagle.
General Care
Now let's talk grooming and general care for your Husky Beagle mix.
Both the Beagle and the Husky have double layered coats that shed and quite profusely during the two annual shedding seasons.
However, contrary to popular belief, the Husky is actually easier to maintain than the Beagle, as he is a naturally clean breed.
Still, a good brushing one or two times a week should be enough to keep your Husky Beagle mix looking his best and his skin healthy and coat shiny.
A Husky Beagle mix, being such an active crossbreed, is also going to need his nails trimmed down regularly to keep them from breaking, which could lead to infection.
He will also need his ears checked and kept free of waxy buildup, moisture, and debris, which if left unattended could cause ear infections.
Do Husky Beagle Mixes Make Good Family Dogs?
By all accounts, the Husky Beagle mix should make a lovely family dog.
He gets along well with children and is patient, outgoing, and full of energy!
This is a breed who would do best in active families who don't mind having their dog around as an active member of the unit.
A Husky Beagle mix is going to become quite bonded to his family and will not be happy being left alone all day long.
The Husky especially can be prone to separation anxiety, and your Husky Beagle mix could inherit this trait.
However, due to the Husky Beagle mix's high energy level, he may not be the best pet for families who have very busy schedules or for families with very young children who could be overwhelmed by this crossbreed's vigor.
Rescuing a Husky Beagle Mix
Are you thinking of rescuing a Husky Beagle mix?
Rescues are a great way to welcome a dog into your home who has been health screened and is up to date on all of his vaccinations, as shelters will typically cover these costs.
Furthermore, rescue prices are much less than breeder prices, with adoption fees usually being around $50 to $100 at most.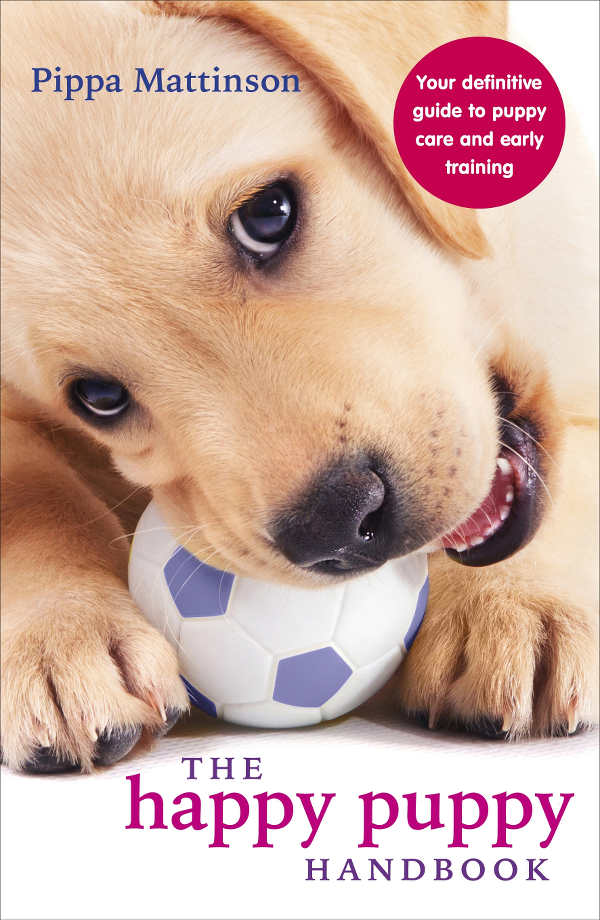 If you are interested in learning more about rescuing a Husky Beagle mix, visit us here.
Finding a Husky Beagle Mix Puppy
Irresponsible breeding practices are some of the main culprits of temperament and health issues in dogs, so to avoid any future problems in your puppy, you should always avoid pet stores and puppy mills.
If you plan to get your Husky Beagle mix through a reputable breeder, expect to pay anywhere from $500 to over $1000.
Luckily, most breeders will have had their litters health screened and will be able to prove they are healthy with paperwork.
Before you get your puppy, make sure you do your research and trust your sources.
For help and a step-by-step guide on finding a healthy puppy, visit us here.
Raising a Husky Beagle Mix Puppy
Your Husky Beagle mix puppy is going to require lots of love and attention.
Raising a Husky Beagle mix puppy will also mean you must have him socialized at an early age, vaccinated, and trained.
All of these things are vital in raising a well-adjusted puppy, whether purebred or crossbred.
It also helps to be prepared.
For a full checklist of what you might need for your new four-legged addition, click here.
Pros and Cons of Getting a Husky Beagle Mix
Cons:
Unpredictable health issues
High prey drive
Lots of shedding
Escape artist
Pros:
Super cute
Intelligent
Energetic
Great with kids
Similar Breed Mixes and Breeds
Samoyed Beagle Mix
Basset Hound Alaskan Malamute Mix
Harrier
Alaskan Malamute
Husky Beagle Mix Rescues
Are you interested in rescuing a Husky Beagle Mix in your area?
Check out this list of rescue shelters available in Australia, the UK, and also the US.
Do you have a favorite rescue?
Please share it with us in the comments section!
Is a Husky Beagle Mix Right for Me?
If you're an active individual or if you have an energetic, adventurous family who has the time to train and exercise this incredibly lively mix, then he just might be the right pet for you!
Just make sure you don't mind dog hair and lots of dog walks and dog park time!
Best of luck!
References and Resources