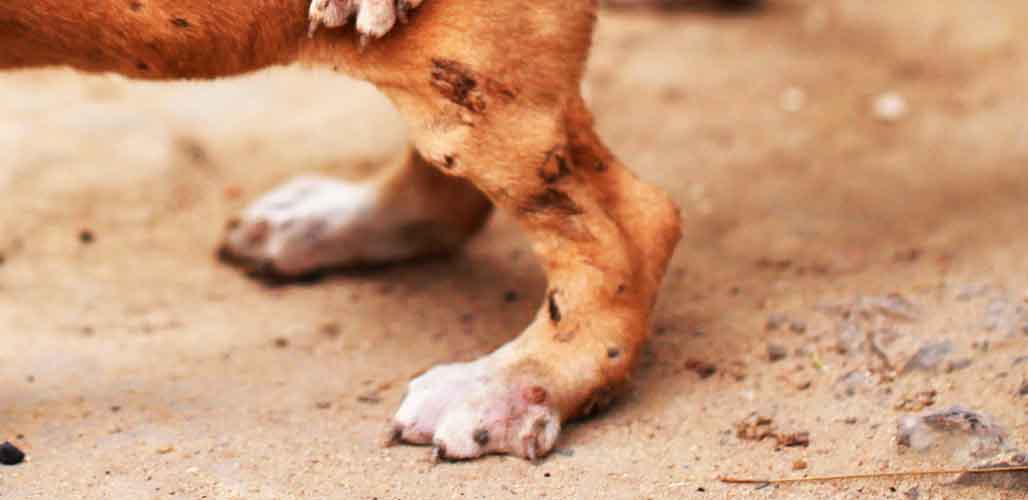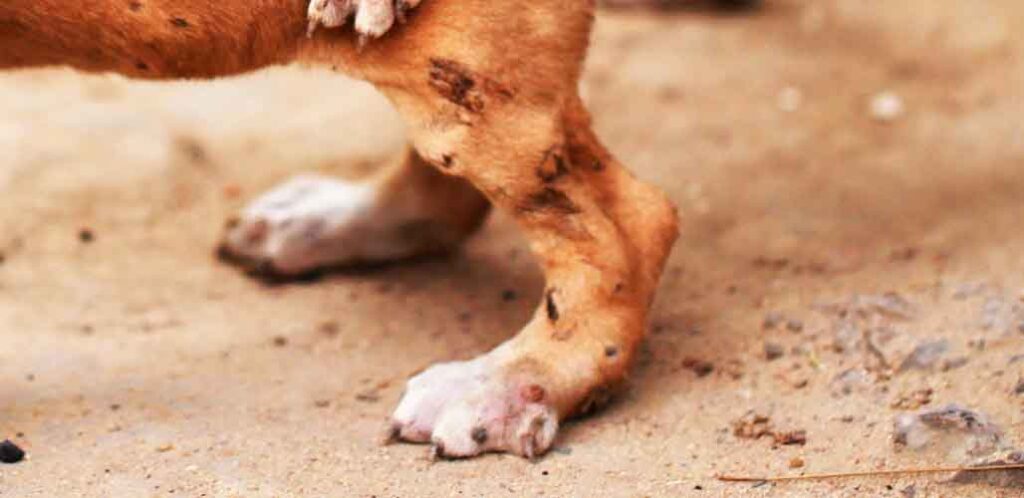 How do dogs get mango worms? When I first got my dog, I had no idea mango worms could infect them. But, some owners will be experienced with this issue. Mango worms are the larvae of mango flies. Dogs can get infected when their skin comes into contact with hatched mango larvae. Usually, this happens when dogs dig or lie down in soil that contains feces or urine, both of which mango flies find appealing. Mango worms, like any other parasite, can be dangerous for our dogs. So, in this guide, I'll explain exactly what mango worms are, what can put your dog at risk of infection, and how to get rid of these pests.
Contents
What Exactly Are Mango Worms?
These insects are the larvae of the Cordylobia anthropophagi. In more common terms, this bug is known as the "human-eater" mango fly. But these worms don't just infect people. Mango worms can infect animals as well. They can choose from a variety of mammals, including dogs.
Mango worms are most often found in hot, moist climates. They originate in Central and Eastern Africa, but rare cases have seen them transported elsewhere in the world. These worms live under their host's skin, where they remain, eating the inner layers of skin for as long as a few weeks.
Once they are older and ready to change into adults, they will burst from their host's skin and change from a larva into an adult mango fly. Between one hundred and three hundred eggs are laid by adult mango flies at once, ensuring the continuation of the species.
How Do Dogs Get Mango Worms?
Mango worms are something no dog owner wants to experience. So, it's a good idea to learn how to avoid them. Your chances of getting mango worms aren't equal all over the world. These parasites are most common in tropical regions, particularly eastern and central parts of the African continent. But, they are found elsewhere in the world in some cases.
Mango worms mainly enter a dog's skin through contaminated soil containing feces or urine. However, if your dog's bed is outside, you should be extra careful. They can also infest that.
Digging
Most of the time, a dog gets a mango worm infection by digging in the ground outside in tropical regions. The egg and the larvae of mango flies are laid on the ground. Both are sticky, making it easy for them to connect to your dog.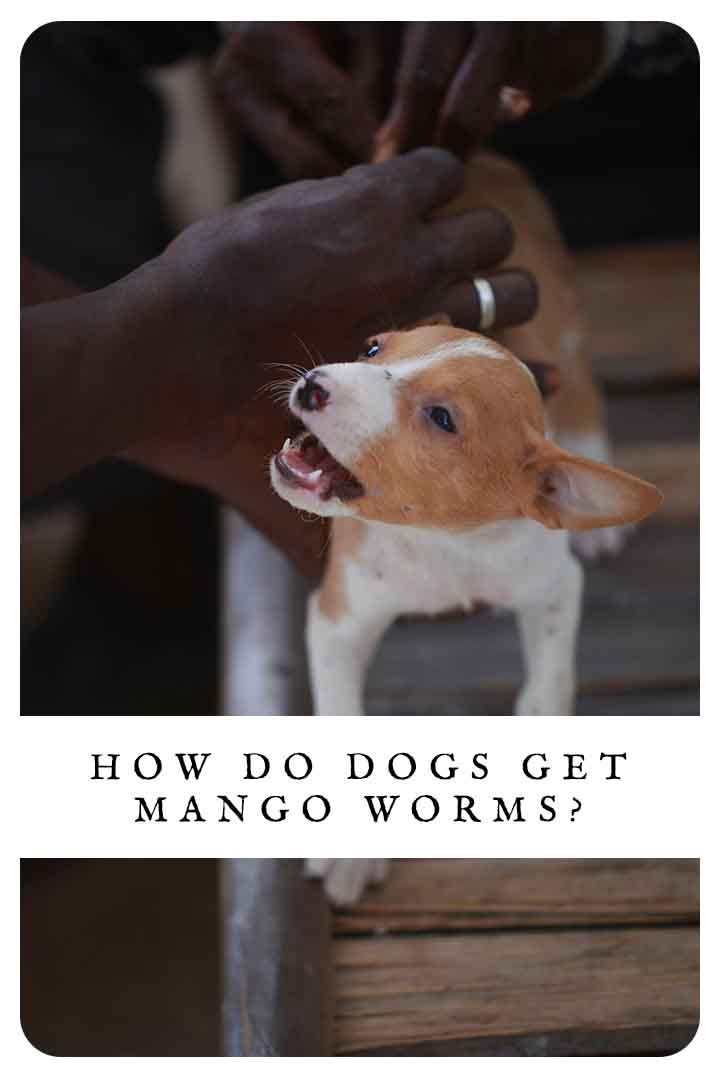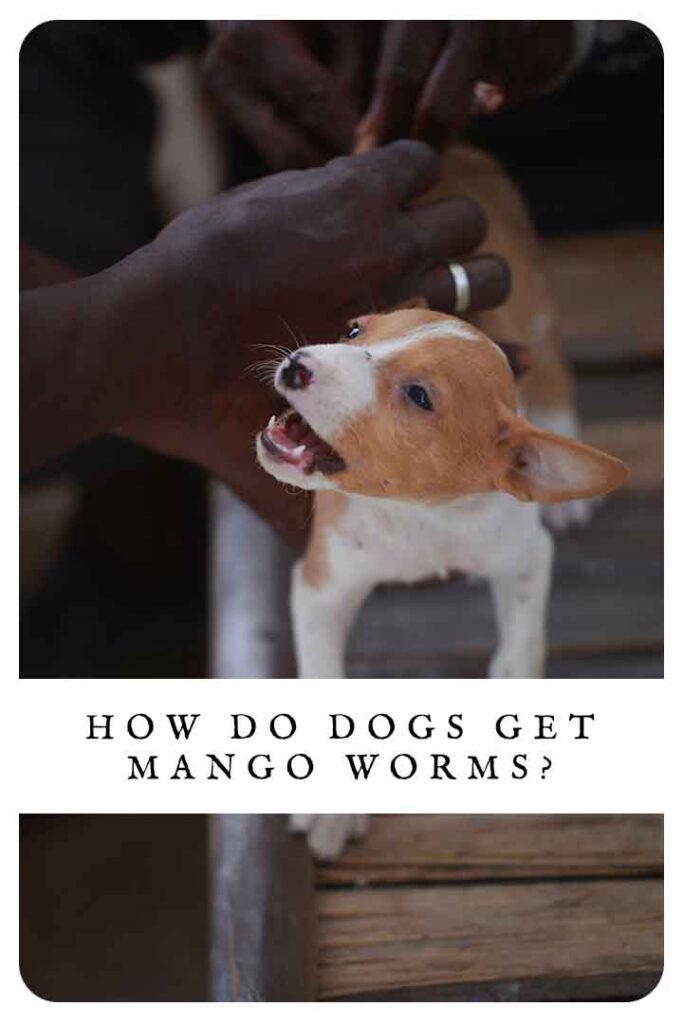 Laying On Ground
Mango flies usually lay their eggs just below the soil's surface. If your dog lies down outside, it could end up lying on the eggs. This threat increases in the hot summer months when the larvae are more mobile.
Flystrike
Flystrikes are one of the less common ways dogs are infected with this parasite. Adult mango flies lay eggs straight on a dog's skin in this case. Dogs with injuries like open wounds are more vulnerable to this process, since it's easier for flies to penetrate their skin.
Damp Bedding
Another common way for your dog to get mango flies is if you let it sleep on wet, dirty bedding. The female fly may lay eggs in your dog's bedding, causing an infection.
Fortunately, there is a simple solution to the problem. Hang damp clothing out to dry. Remember that if you wash your dog's bedding, you should never give it back to your dog if it's still damp.
Does My Dog Have Mango Worms?
If your dog has mango worms, it may get boils or pimples on its body. Mango worms usually cause small red bumps on the skin that go away before a more significant boil forms. These boils are red and hard and may have a small hole in the middle from which liquid may leak out. Your dog will most likely scratch and bite at the infected areas. If there are a lot of worms in a small area, the whole place could get sore and swollen.
It can be difficult to tell if your dog has mango worms at first because there are rarely any signs. Symptoms usually do not appear until the mango worm larvae under the skin begin to emerge, which takes place as the larvae grow. If your dog is suffering from mango worms, he will almost certainly show signs of general distress. Some of these signs could include the following:
Irritability
Trouble falling or staying asleep
Fever
Persistent scratching
Skin symptoms: skin redness, blisters, or boils
How to Treat Mango Worms
If your dog has mango worms, it is best to get help from your vet. Your vet should decide how to treat the infection and tell you what to do. The most effective way to eliminate mango worms is to remove them from the body. There are several options for achieving this.
The vet might try to suffocate the worms by putting petroleum jelly or wax on the boils. The worms won't be able to breathe because of this treatment, so they will have to wriggle. The other option is to squeeze the worms out, which is especially effective in the later stages of infestation. The worm can be forced out by pinching the sides of the boil as if you were busting a pimple. Some vets will use a smaller tool like tweezers. But, if any part of the worm remains in the skin, it can rot and cause additional problems.
After the worms are gone, keeping the areas where they were cleaned and sanitized is important. It would help if you used antibiotics to clean the boils. Your veterinarian may also prescribe an oral antibiotic for your dog.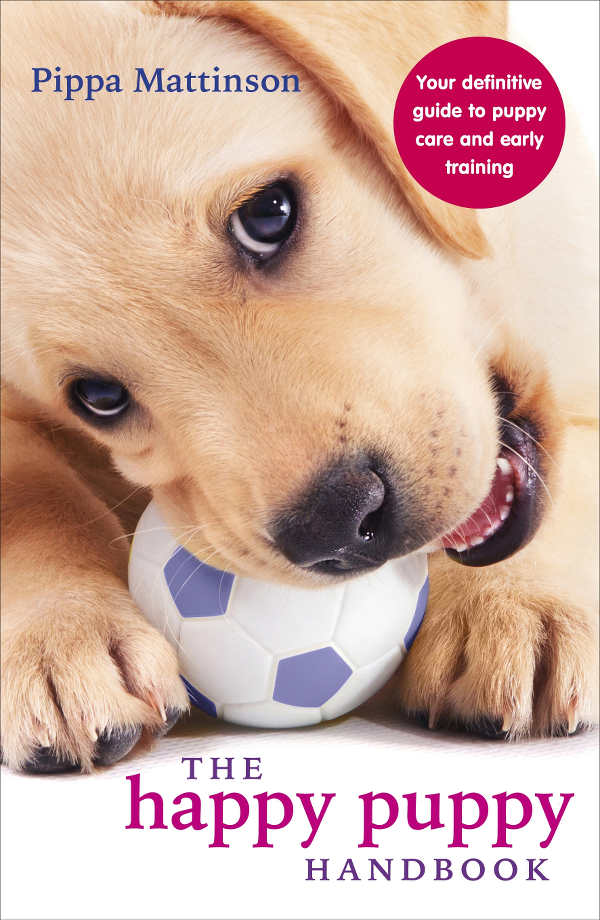 Mango Worm Prevention for Dogs
To stop an infestation of these parasites, it's important to remember where they come from, mainly the soil. Try not to let your pet run around on the wet ground or anywhere else risky. And don't ever let your dog dig in soil that might be contaminated.
Another way to prevent infestations is by using an effective fly repellent and washing your dog's bedding often. Keep an eye on your dog's coat and give it good grooming regularly.
How Do Dogs Get Mango Worms? Final Thoughts
Mango worms come mostly from infested soil. Most dogs get mango worms by playing in the soil. If you live in an area where mango worms are common, you should be extra careful and remember the prevention rules I discussed. If you think your dog might have mango worms, you should take it to the veterinarian immediately. Mango worm infections can be very painful, so you need to treat them early.
Other Health Concerns in Dogs
Is my dog too cold?
Can Gabapentin prevent seizures in dogs?
References