Puppies come in a wonderful variety of shapes and sizes, with a fabulous range of coat colours, textures and lengths.
The breed of puppy you decide to bring home will have a big impact on the amount of grooming you will need to do with them as they grow. But it is worth remembering that even the lowest maintenance coat will need some attention at least once in a while.
Grooming your puppy should therefore be a routine part of your week together, whatever their hair is like. If you get this established in a positive way from the word go, then when you do need to groom them as adults it will be a pleasant bonding experience and not a battle of wills!
Everybody needs a groom
If your new puppy has a long coat, or will as an adult, then you will have probably accepted that he will need regular grooming.
However, short haired and rough haired coats do need attention to. They are still likely to require grooming during moulting season for example. When you will need to help them get rid of the loose matted hairs.
Even dogs like Labradors with normally short, manageable fur need a lot of attention when summer comes around.
In addition to this, you will find that any dog can get mud, muck and unmentionable nasties stuck on them during a walk. You may well need to bathe them and use a comb to extract grubs every so often.
This is why it's very important for you to establish grooming as a normal and happy part of life, from the word go.
Little and Often
The best way to introduce your puppy to the brush is to do so little and often.
Regularity will help it become an established and normal part of the day, but only doing it for short periods of time will prevent them becoming frustrated or irritated by the experience.
Introduce brushing to them as a part of your cuddle time. Which there will be a lot of in the early days of your puppy joining your home.
Keep a brush handy near your sofa, so that you can pick it up as and when the opportunities arise.
How to groom your new puppy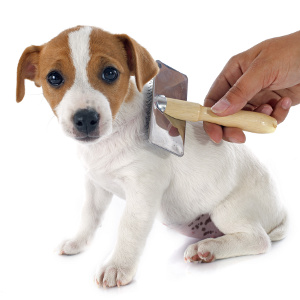 To begin with your puppy probably won't need grooming to stay neat and tidy, so it will hopefully be fairly easy to get a soft brush through his coat.
Wait until he has settled on your lap or at your feet, and then gently stroke the brush along his coat a couple of times, just like you would with your hand.
Put it back down again and wait for a couple of minutes before doing so again.
Do this at random intervals throughout the day, making sure that your puppy is relaxed and happy at all times.
Make it pleasant
You can help your puppy to find the experience even more rewarding, by offering him something he derives pleasure from at the same time.
Giving the occasional treat, lots of praise and his preferred method of attention (scratching behind his ears works well for a lot of pups) during a grooming session is a great way to build positive associations up.
Make sure that you only give him treats whilst the brush is in contact with his coat and he seems happy with it, to make sure that you are reinforcing the right action.
Other benefits of early start grooming
Not only will getting your puppy used to being groomed from an early age make it easier for you to brush him when you need to, it will help your bonding.
Not all dogs are very keen on being petted a lot. If you have used your time grooming to teach him that this is a rewarding activity, you will find that he is a lot more likely as an adult to appreciate being handled.
Summary
There are many benefits to grooming your puppy from an early age, and no real downsides! It takes very little time each day, and as well as being a practical and sensible forward planning action, it could help you and your puppy to share an even stronger bond too.
So what are you waiting for? Get grooming today!