The Goldendoodle German Shepherd mix is half German Shepherd, one quarter Poodle and one quarter Golden Retriever. This is an intelligent, affectionate, medium to large dog, weighing up to 65lbs when full grown. We'll be looking at what you can expect if you rescue a GSD Doodle mix dog or are lucky enough to bring home a Goldendoodle Shepherd mix puppy, and giving you some great tips for choosing and raising your doodle dog.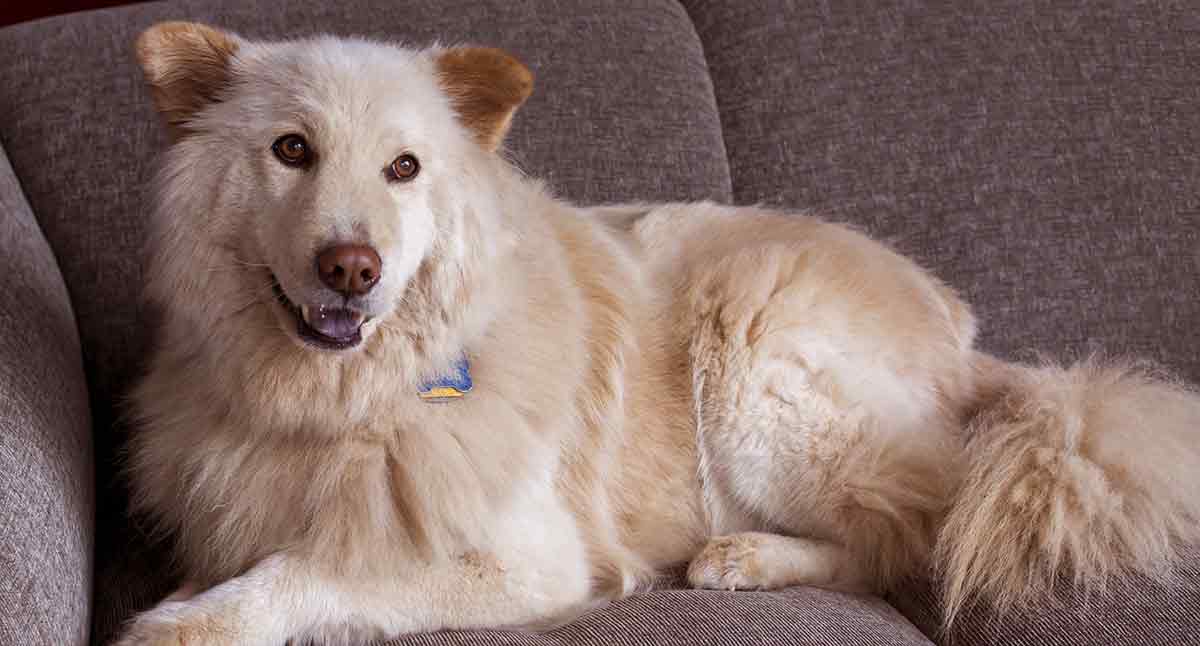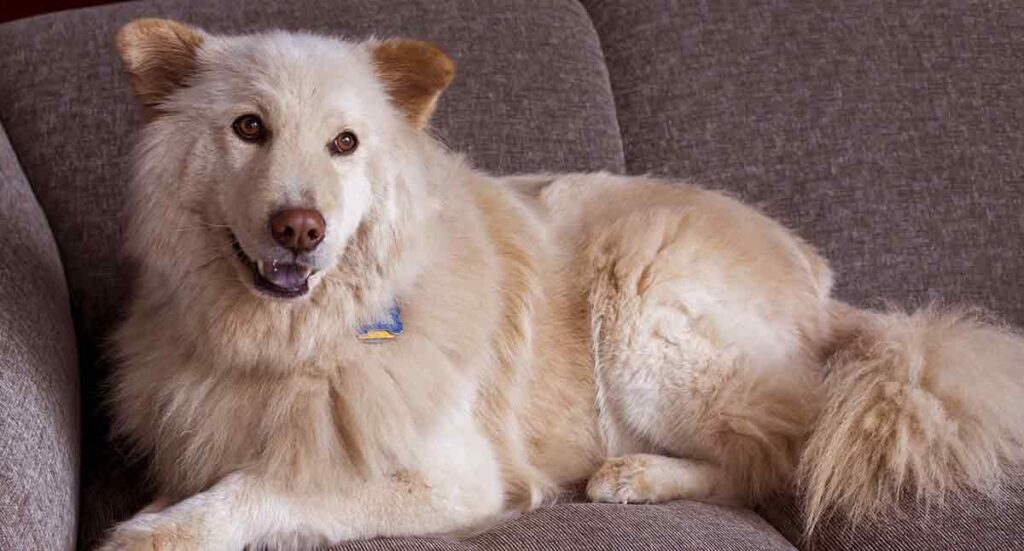 Contents
Shepherd Poodle Dog Sizes
Just how tall and heavy the Golden Shepadoodle gets will depend partly on the size of their Poodle grandparent. That can vary a lot as Poodles come in three different sizes – toy, miniature and standard. The Goldendoodle is usually a Golden Retriever X Standard Poodle, so your puppy will likely grow up to be a fairly big dog.
Three Breeds In The Mix
If the Poodle grandparent was one of the small varieties, then you may find your puppy referred to as a Mini Shepadoodle or Mini Golden Shepadoodle. Either way, there are three breeds in this mix:
The Poodle
The Golden Retriever
The German Shepherd Dog
And we need to consider each of them. We'll look at appearance, temperament, training and care. And give you some tips on finding a healthy puppy.
What do German Shepherd Goldendoodle mix puppies look like?
Doodles are usually a first generation cross between a purebred Poodle, and a different purebred dog breed.These first generation Doodles inherit their character and appearance from both their parents and often inherit some of the poodle's curl.
It's always difficult with a mix breed dog to predict the exact appearance and temperament of the puppies. This is especially true when one of the parents of your puppy is also a mix. The German Shepherd Goldendoodle mix will likely have a medium length coat with some wave but it's unlikely to be a very curly coated dog like a Poodle. And your dog's ears may well tip over rather than point up like a German Shepherd.
Both golden retrievers and German Shepherds have long thick tails that are carried lower than their back, but when these breeds are mixed with other breeds, a somewhat curlier or partly raised tail is often the result.
Coat color can vary too, and will depend to some extent on the color of the Poodle grandparent, but a golden coat with darker areas of fur on the back and head, are quite likely.
German Shepherd Vs Goldendoodle temperament
Golden Retrievers in general ( there are always exceptions of course) are very good natured and friendly dogs. Poodles can be more aloof and wary of strangers, but Goldendoodles are unlikely to have strong guarding tendencies. German Shepherds, on the other hand often have very strong guarding instincts and that may be reflected in the temperament of a Goldendoodle mixed with German Shepherd. What all these breeds have in common is a powerful loyalty to their families and a deep intelligence that makes them very responsive to training.
German Shepherd Goldendoodle mix origins
Most people are aware that German Shepherds are herding dogs, and that Golden Retrievers were originally bred as hunting companions, to retrieve shot game gently to hand. But many are not aware that the Poodle has similar origins and were also once trained to retrieve too.
Both herding and retrieving are occupations that require a very strong degree of teamwork between the dog and their human partner, and this tendency to 'co-operate' is important in producing a dog that is highly trainable. In short, training your puppy will be a lot of fun
Training A Golden Shepadoodle
Training your Doodle puppy starts from the day you bring your puppy home. Modern dog training is great fun and we teach puppies through play. Early puppy games will teach your puppy self restraint, focus and attention. Learning to listen to your human partner is a puppy's first and most important lesson.
While intelligent and trainable, these are high energy dogs, and it's important to have a good foundation for more formal training in place before your puppy becomes a large and bouncy teenager. If you are not sure how to go about training your pup, do head over to Dogsnet and take a look at our training courses.
Are Goldendoodle and German Shepherd mixes hypoallergenic?
If you suffer from allergies and are looking for a dog that won't have you coughing and sneezing all day, this mix might not be the one for you. The annoying protein that causes allergies to dog hair is carried on the 'dander' or skin cells shed by a dog each day, and on the shed hairs that float about your home.
People with allergies may find Poodles easier to live with, not because they don't have this protein, but because the hairs that come loose in their fur remain trapped among the curls rather than spread about on your sofa. So it's likely to be the tightness of the curl that influences a dog's tendency to be less allergenic, and the Goldendoodle German Shepherd mix does not usually have a very tightly curled coat.
Do Golden Shepadoodles shed?
In addition to the lack of curl, Golden Retrievers and German Shepherd dogs are both breeds that shed quite heavily. So you are going to need a robust vacuum cleaner and a regular grooming schedule!
Regular grooming helps to reduce the amount of shed hair in your home, and reduce 'doggy odors'
If your Doodle is still a puppy, now is a great time to get into a good grooming routine. Even though their puppy coat is still manageable, the habit of standing still to be groomed is easier to learn at an early ages. You'll need a sturdy rake type grooming tool
Is my dog a Goldendoodle Shepherd mix?
Many people don't set out to buy a mix breed dog, they often adopt a puppy or an older dog from a rescue center or animal shelter, and may not be certain what the ancestry of that puppy is.
If you have a few dollars to spare it can be fun to get a gene test done to find out what different breeds of dog are among your best friend's ancestors. There can be quite a few surprises!
Choosing A ​​Golden Shepadoodle Puppy
Another common route to owning a Goldendoodle and German Shepherd mix dog is to purchase a puppy from a friend or acquaintance that has had litter. There are pros and cons to doing this.
German Shepherd Poodle mix puppies that are first crosses may be from a deliberate mating or the litter might be an accident. If the litter was an accident then there are unlikely to have been any health tests carried out on the parents.
On the other hand, studies have shown that a well cared for mix-breed puppy may have a better expectation of long life and good health than many of our pedigree dog breeds. The important point is that you need to take care to find a puppy that has been raised with love and care.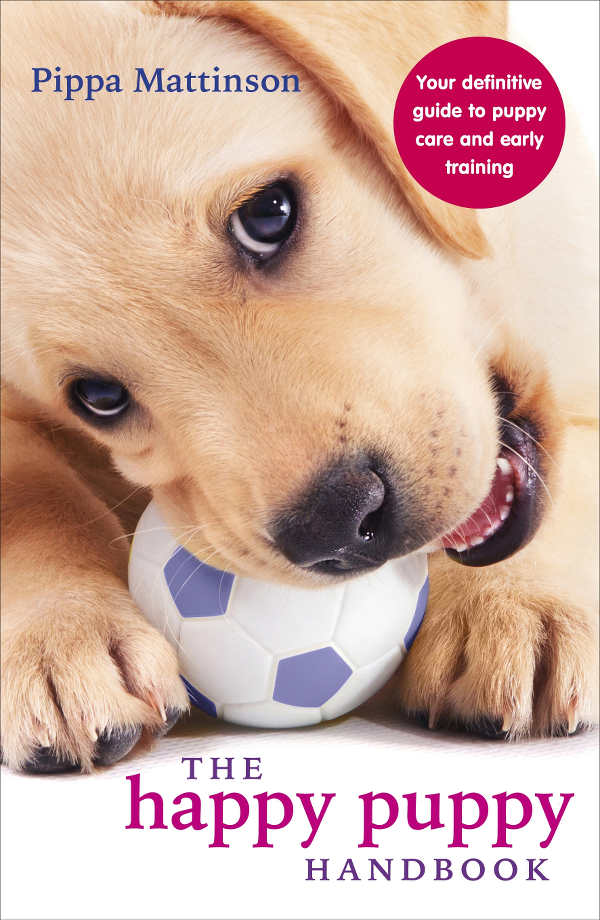 Shepherd Doodle breeders
If you have decided that this is the type of dog you want, perhaps because you had a German Shepherd Goldendoodle mix in the past, and if you don't know anyone that has recently had a litter, finding a breeder can be a challenge.
Not all the breeders of these puppies have the puppy's best interests at heart. It's important to avoid buying a puppy from a breeder that is producing puppies purely for money. Multiple litters each year, mother dogs that don't live in the home with the family and multiple different breeds of dog on the premises are signs of a puppy farm. The female dogs used for breeding on puppy farms have a miserable life with little human contact, and the puppies are often unhealthy.
Always ask for breathing space to make a decision after visiting a litter of puppies and walk away if you have any doubts. You can find lots of information on finding and choosing a healthy puppy in our puppy search section.
Pros & Cons of the GSD Doodle mix
The Goldendoodle German Shepherd Mix is a high energy, intelligent and trainable mix breed dog. These are large, affectionate, energetic dogs that need 1-2 hours of exercise every day and thorough socialisation and training during puppyhood.
If you have the time and energy to devote to a Golden Shepadoodle, they will give you many years of love and companionship in return
Related Articles
Dog Temperament – Choosing A Friendly Puppy
German Shepherd Golden Retriever Mix – Discover the Golden Shepherd
Goldendoodle: A Guide to the Golden Retriever Poodle Mix
German Shepherd Poodle Mix Breed – A Guide To The Shepadoodle