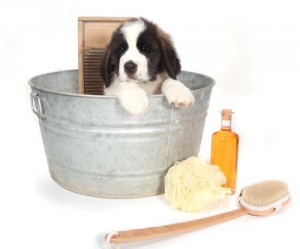 People often ask us "When should I give my puppy a bath?"
And "How often should I bath my puppy?"
The short answer to both questions is "Only when he needs bathing."
Let's take a closer look
With a few exception, most puppies have thick fur coats.  The soft  puppy coat is replaced by a typical adult coat during the first few months of life.
Between six and twelve months old, most puppies will have grown their adult fur.
Adult Fur
One of the characteristics of adult fur in many dogs, is that it is fairly waterproof.
Part of this waterproofing is due to the natural oils or grease in the coat.
This is what makes the smears you'll see on a white wall if your dog regularly sleeps up against it.
If you keep bathing your puppy then these oils will be washed out of the coat.
This means that when your puppy goes outside in the rain, or swims, he'll get much wetter than he should, and he'll get cold.
So, by all means bath your puppy if he is really grubby or has rolled in something smelly, but don't overdo it.
For small mishaps, or muddy paws, wet wipes are often all that you'll need.
Shampoo
Don't be tempted to use human shampoo as it will make your puppy's eyes sting.
It will also do him no good if he swallows it.
We have used baby shampoo on puppies, but a purpose made puppy shampoo is ideal, as well as being nice and gentle on his coat.  You can find a collection of our favorite dog shampoos here.
Where to bath him
Some puppies may panic if plunged into a giant white bath tub.
Which if you think about it, is hardly surprising.
Try and bathe him somewhere that is familiar and where he feels safe.
The simplest place is often the kitchen sink.  Smaller puppies will probably even fit in a standard plastic washing up bowl on the kitchen floor!
It's bath time
Make sure you have everything ready.
If you don't have a hand held shower spray, you'll need an enamel or plastic cup for rinsing.
Set this out within reach of the bath, along with the puppy shampoo and two good sized towels.
Many puppies will also appreciate some tasty treats, so have a pot of these to hand too. You want to make bath time the best fun so that he is happy to have a repeat performance next time it's needed.
It is also a really great idea to have a helper with you the first time you bath him, as controlling a wet wriggling puppy is not the easiest of tasks.
Washing your pup
Wet the puppy a little before you apply shampoo, but don't be surprised if this is a little difficult!
Most puppies have quite water repellent coats.   Spread a little slick of shampoo down the puppy's spine,  then with very wet hands start to work it into his coat.  Do each leg in turn and then his tummy and bottom.
Don't shampoo the puppy's face unless absolutely essential, and keep the shampoo away from his eyes.
Keep adding a little more water to spread it around and overcome the water resistance of the coat.  Rinse thoroughly with your plastic cup or (shower spray), and change the water before repeating.
The second shampoo will be much more successful and you should be able to work up a nice lather. It is very difficult to thoroughly wet most dogs.
Give the puppy a little treat at frequent intervals.  You may need to use an entire meal up this way the first time, to keep him happy.
When he's done
When your puppy has been thoroughly rinsed off, lay a towel over your lap and scoop him up in the other.
Pop your pup into your lap and give him a good rub down. Most puppies will find this rather fun and exciting, so be prepared for playful nipping and grabbing at the towel.
If you have someone helping you, it can be easier for one person to gently hold onto the puppy whilst the other dries him off.
Don't Forget To Add Your Dog!

When you put him down, however well you have dried him he will shake.
You can leave him to air-dry in a warm room. Give him a towel to scoot around on if he wants, as this will speed up his drying and keep the damp away from some of the rest of your house.
You can dry your puppy with a hairdryer, if he doesn't mind the noise. If he seems unsure, then don't use it. If he seems happy then put it on a low, warm setting and focus the dryer through your fingers so you can make sure the temperature isn't too hot on his skin.
In Summary
However you choose to wash and dry your pup, just remember to make it as enjoyable and fun an experience for him as possible.
And remember, there is no such thing as 'too many towels', when you have a wet dog in the room!