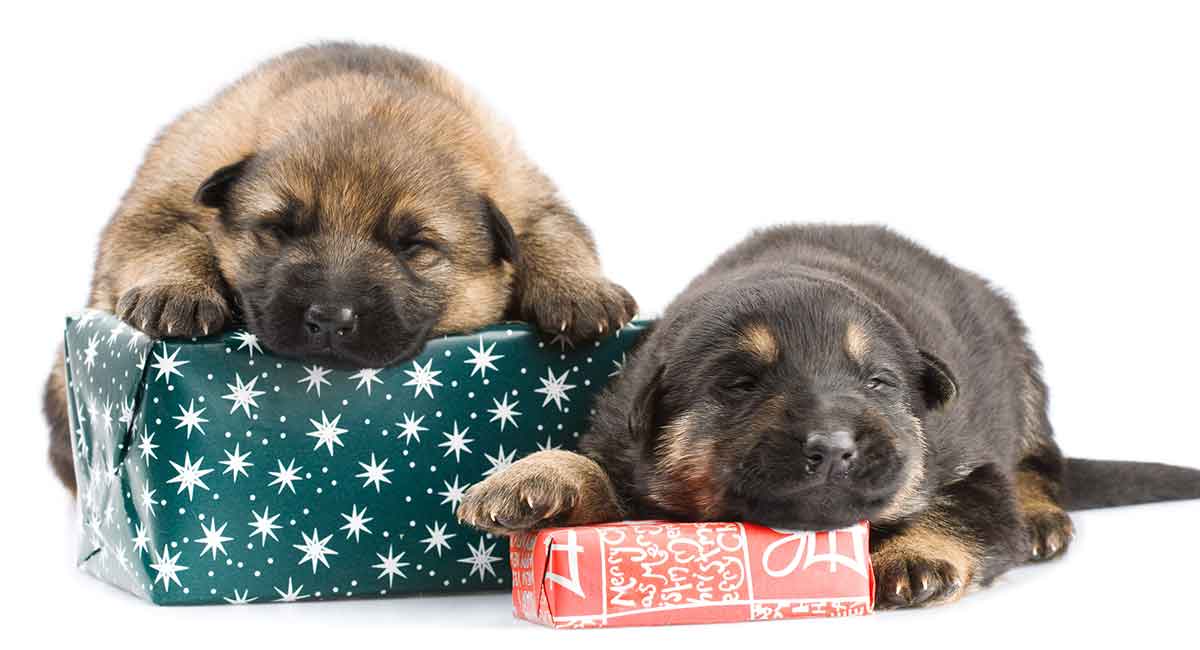 Welcome to our article on German Shepherd gifts — for GSDs and the people who love them!
The German Shepherd is the second most popular companion canine in America and the eighth most popular pet dog in the UK.
If you love German Shepherd dogs or know someone who does, you are in very good company. All over the world, there are dog owners who can't imagine life with any other dog breed!
If you are looking for a gift for someone who loves GSDs, a gift featuring their favorite pup is sure to be a hit.
We hope you will find lots of great gift ideas in this carefully curated list of German Shepherd gifts!
Gifts For German Shepherd Lovers
You don't have to own a GSD to love them. These gifts are perfect for aspiring as well as current German Shepherd owners!
Want others to understand why the German Shepherd is the only dog for you? You can show them with this unique "Anatomy of a German Shepherd" t-shirt.

It's a visual aid that highlights each of the GSD's precious gifts! The t-shirt comes in men's or womens' in several sizes and five colors.
Wow! More than two feet of lifelike German Shepherd with a sturdy interior frame and plush exterior.

The only thing better than this gift is the real thing! This can make an especially fun gift for an aspiring young German Shepherd owner.
This Cuddle Toys Long General German Shepherd Plush Toy is great!
If space is at a premium, this lovely little German Shepherd plush toy is a handy stand-in for the lifelike stuffed GSD doll above!
The young – and young-at-heart – will appreciate this cute little vinyl German Shepherd action figure.
The figure measures 3.75" and is free-standing. Funko POP collectors will especially love this gift.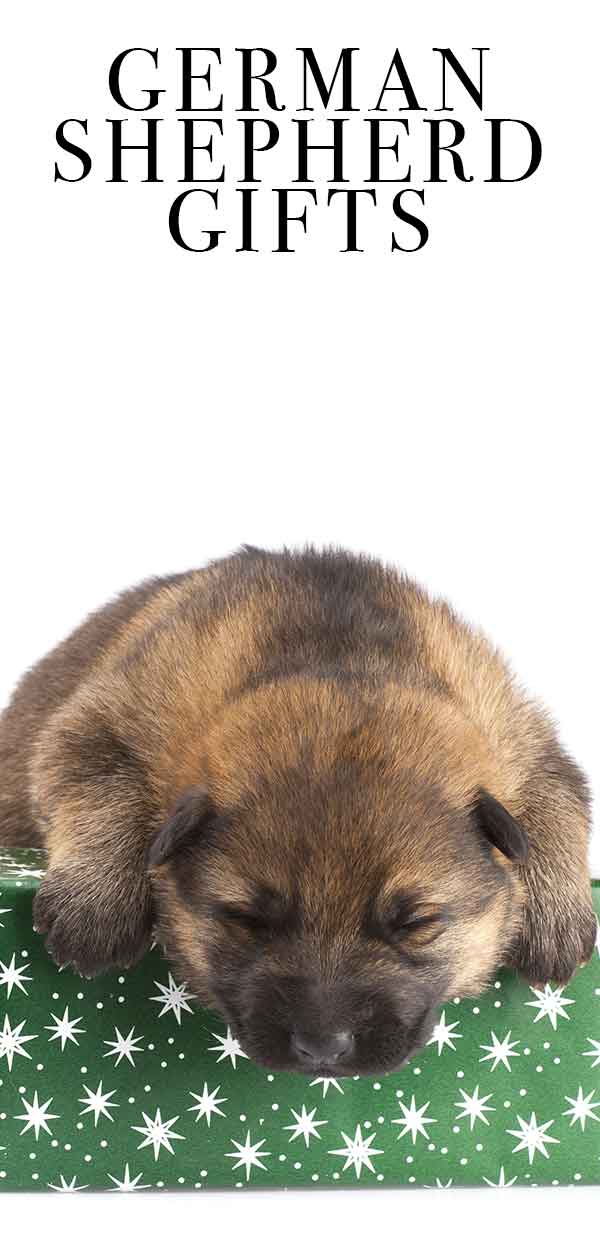 German Shepherd Gifts And Collectibles
Many dog owners love to collect art and curios featuring their favorite breed. For the German Shepherd collector in your life, you won't find more unique, fun collectibles than these!
This 10" x 15" wood wall sign features a distinguished and regal German Shepherd and a steaming mug of coffee with the words "Be Alert As a German Shepherd."
The birchwood sign can be placed in a corner freestanding or wall-mounted.
This petite GSD figurine is hand-painted right down to the soulful eyes and watchful, alert ears of your favorite pup.
The figurine is made from stone resin and measures 7"L x 3.5"W x 3.75"H.
This lovely collectible jewelry box with bangle bracelet features three charms: a paw pad, a dog bone and a German Shepherd dog. The bracelet measures 9"L x 2.75"W.
The material is long-lasting silver alloy metal. The box is navy blue and comes wrapped and ready to give as a gift.
This absolutely adorable dishwasher magnet measures 3".
It flips to let family members know if the dishes are clean or dirty.
Gifts For German Shepherd Owners
These gifts for German Shepherd owners are snuggly, cozy, comforting and wonderful for those special at-home moments with your pup!
All we can say about this gorgeous, colorful and unique GSD throw blanket is WOW. It features German Shepherd's eager face outlined with the words "All you need is love and a dog."
It's sure to be a hit with any German Shepherd dog lover. And probably with their pup – you might want to buy two! The machine-washable blanket is soft polyester fleece.
This gorgeous throw pillow cover makes the perfect accent. The material is premium cotton/linen.
The front side features a German Shepherd head. The cover measures 18" x 18" and has a hidden interior zipper.
These USA-made comfy and stretchy German Shepherd socks are sized to fit ladies 9 to 11.
Non-slip, foam-footed, polyester plush German Shepherd dog slippers make a great gift!.
They really do look like a pair of GSD puppies as you walk along! The slippers have full foot coverage.
German Shepherd Themed Gifts
Do you know a German Shepherd owner or lover who enjoys throwing parties? Well, these awesome German Shepherd themed gifts can add flair to any festivities!
German Shepherd got your wine?
Good luck getting it back, especially once your loved one sees this unique centerpiece wine holder featuring their favorite breed!
You might need a gift to go with your wine holder (and your wine).
This laser-etched, dishwasher-safe German Shepherd wine glass is perfect.
If your gift recipient favors beer or another beverage, this 16-ounce etched, dishwasher-safe pint glass featuring a German Shepherd will be very warmly received.
This wonderful free-standing distressed-wood box sign measures 6″L x 2.50″W and features the words "All you need is love and a German Shepherd."
The sides are dotted with decorative paw prints.
Practical German Shepherd Gifts
There is nothing like having your dog treats and eating them too, as these practical German Shepherd gifts handily illustrate!
Everyone needs a keychain, right?
This thoroughly artful stainless steel industrial rendering of a German Shepherd is 100 percent handmade.
It makes good practical sense to let others know when your German Shepherd is traveling with you.
This 6"W x 9"H clear vinyl decal can do just that when placed in your car window. The material is durable, UV-resistant vinyl.
German Shepherds don't have a reputation as one of the world's premier K-9 breeds for no reason!
This fun and functional sign advertises that your home is guarded by a German Shepherd.
You can be sure you will stand out on the golf course with these special themed golf club covers!
Each plush cover will fit up to a 460cc driver and comes with a lifetime manufacturer warranty.
Fun German Shepherd Gifts
Fun with German Shepherds is real! These fun German Shepherd gifts will add fun and good memories to any special occasion!
What could be more fun on a special occasion than a board game that celebrates the German Shepherd?
We can't think of anything!
Don't make the neighbors wonder who the top dog is in your life.
This petite and lifelike German Shepherd lawn ornament spinner will let everyone know a GSD lives here.
This pretty white 11-ounce ceramic beverage mug is made in the USA.
It features paw prints with the words "German Shepherd Mom" on the outside. Also get a matching "German Shepherd Dad."
For dog biscuits or people biscuits, this 5" tin plated steel German Shepherd cookie cutter is perfect!
The cookie cutter is durable, dishwasher safe and food safe.
Other Dog Gifts
If you've loved these gift ideas and want to see even more, check out our other gift guides!
German Shepherd Gifts
Have you picked out the perfect gift for the German Shepherd dog lover in your life? Please drop us a comment to share what you chose!
References and Resources
Szymczak, G., et al, "The History of the German Shepherd Breed," German Shepherd Dog Club of America, 2018.
Cohick, B., MWDTSA, "German Shepherd Dogs in the Military: A Brief Historical Overview," Military Working Dog Team Support Association, 2019.
Uzunova, K., et al, "Study on the Behaviour of Puppies With Regard to Their Socialization," Trakia Journal of Sciences, 2007.
Mackenzie, S.A., et al, "Heritability estimate for temperament scores in German shepherd dogs and its genetic correlation with hip dysplasia," Behavior Genetics, 1985.
Hall, G., "Is a GSD Right for You?" Serendipity German Shepherd Dog Rescue, 2019.