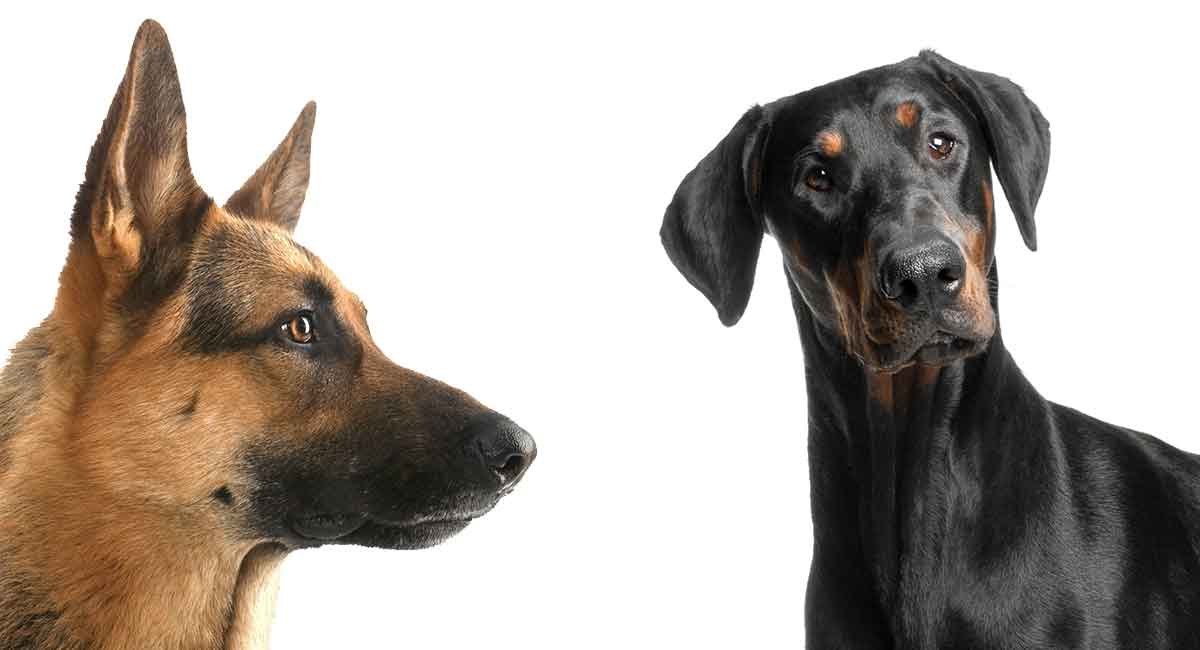 German Shepherd Doberman mix dogs are intelligent, protective and loyal. They have strong watchdog and guard dog traits. German Shepherd Doberman mix puppies are confident, independent and smart. Short coated, dark in color and high shedders, this is a large dog with a big attitude. Today we'll look at whether their pros and cons are a match for your family, lifestyle kids and other pets.
The German Shepherd Doberman mix breed encompasses what makes both the German Shepherd and Doberman so popular. They have characteristics that make them unique in their own right and have a distinctive appearance, temperament and history.
Where Does the German Shepherd Doberman Mix Come From?
The German Shepherd and Doberman are somewhat similar dogs. They're both athletic and employed for similar purposes. Both are used as guard dogs. And they are both confident, eager-to-please animals. Picking between them can be difficult, so many dog owners don't pick at all and instead choose to adopt a German Shepherd Doberman mix.
German Shepherds and Doberman both have rich working histories. The German Shepherd's primary purpose at this time was to herd sheep. Shepherds would regularly breed dogs together based on their intelligence, speed, strength, and sense of smell. Today they are used as working guard dogs, police dogs and detection dogs around the world.
The Doberman is also from Germany, but it was bred souly as a protection dog. The Doberman was created from numerous dog breeds. No one knows the exact ratios or breeds used to develop the Doberman. But the Beauceron, German Pinscher, Rottweiler, and Weimaraner are all thought to have a place in the Doberman's ancestry. Doberman Pinschers are still used as guard dogs today.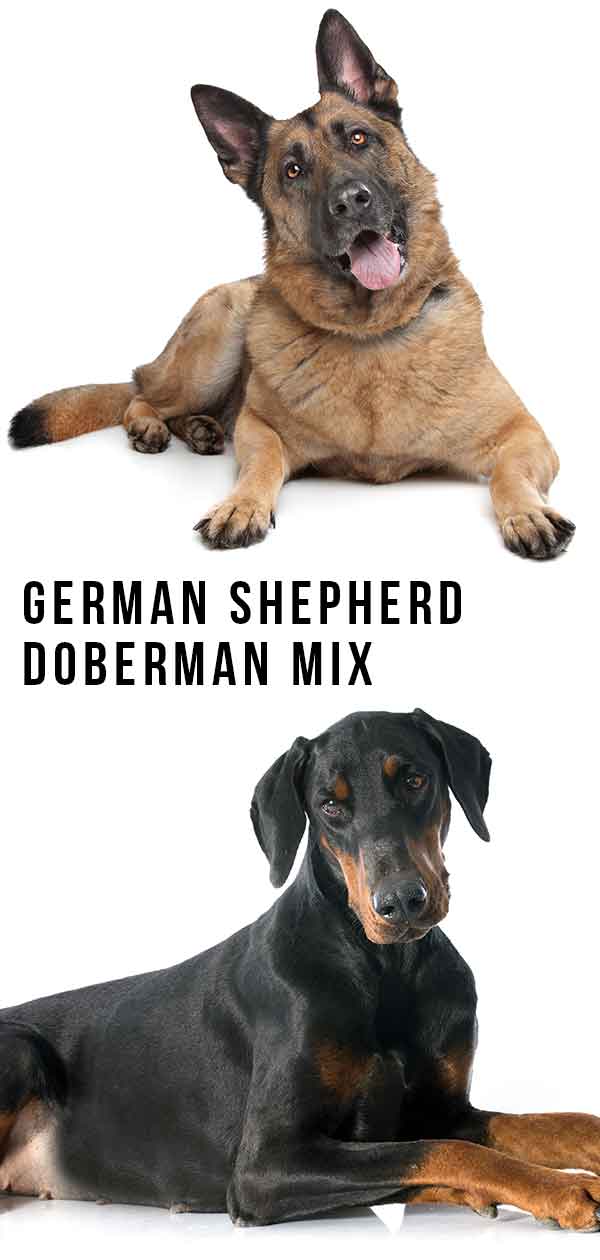 Fun Facts About the German Shepherd Doberman Mix
German Shepherds are extremely intelligent.
Many consider them to be the 3rd most intelligent breed in the world.
They are also the 2nd most popular dog in the USA.
Dobermans are one of the youngest breeds in the world.
As far as dog breeds go, they are pretty new to the scene.
Dobermans are extremely athletic and intelligent.
These traits have caused them to take up many jobs in the past, including police work, scent tracking, coursing, diving, search and rescue, therapy, and guiding the blind.
Kurt the Doberman was the first canine casualty of WWII.
He went ahead of the troops and warned them of approaching enemy soldiers.
He is currently buried in the United States Marine Corps War Dog Cemetery.
German Shepherd Doberman Mix Appearance
This will be a big, powerful dog with a slim body and dark colors. However, mixing two dog breeds is a game of chance. You never really know what you're going to get. The puppies inherit random traits from both parents, which can be very unpredictable. We cannot precisely say what a German Shepherd Doberman mix will look or act like. However, we can make an educated guess based on both parents' traits.
How big is a German Shepherd Doberman Mix?
This dog will be quite large. This mix will likely weigh between 90–110 pounds and stand between 22–26 inches. They will be muscular and athletic. Both parent breeds are built for working. So it is likely their puppies will be as well.
Coat Colors and Grooming
Their fur will be soft but short. It is likely that they will shed quite a bit. You'll need to brush them at least one a week, with a deshedding tool during the shedding season.
While a variety of colors are possible, most likely the puppies will be either black, brown, or tan. They can have the markings of either their German Shepherd or Doberman parent.
German Shepherd Doberman Mix Temperament
These dogs were made to work. Their intelligence allows them to catch onto commands very quickly. They are incredibly loyal to their human companions and make excellent guard dogs. However, these guarding tendencies also make them untrusting with strangers.
They need to be socialized at an early age and taught that strangers are okay.
The German Shepherd has been reported to be aggressive, likely because of these guarding instincts. Though they are knowledgeable, they can also be stubborn.
It takes a steady hand and regular training to keep these dogs behaving as they should. They can become very attached to their family members. Sometimes, they can even suffer from separation anxiety.
Training Your German Shepherd Doberman Mix
These dogs are brilliant and can pick up on commands very quickly. But they can also be stubborn. Training should begin early with these mixed dogs and should continue regularly for the rest of their life.
We recommend beginning with the basics, such as potty training and crate training.
Socialization is essential. You should introduce these dogs to a variety of people from a young age and continue doing so for the rest of their life. Meeting new people is extremely important to prevent aggressive tendencies.
Because these dogs get rather large, it is essential to teach them how to walk on a leash early. It is better to train them to not pull early instead of dealing with it when they're bigger and stronger.
Doberman German Shepherd Mix Exercise
These dogs are quite active. People bred them for long days of work. We recommend at least two walks daily and regular outside time to run around and play. You should expect to commit at least 90 minutes a day exercising these dogs.
German Shepherd Doberman Mix Health
While these dogs are healthier than many purebred dogs, they are still prone to a few health problems. The most common one is elbow dysplasia. This disorder is the dislocation of a dog's elbow and is common amongst most larger dogs.
Cardiomyopathy is also somewhat common. This disease is also common among larger-sized dogs.
Much like elbow dysplasia, hip dysplasia can also occur. This disease is also inherited.
Mixed Breed Health
The German Shepherd Doberman mix is a hybrid between these two breeds. This breed's exact history is unknown. But it is likely that the German Shepherd and Doberman have crossbred many times due to their proximity.
There is some controversy on breeding hybrid dogs together, however. Some claim that mixed breed dogs do not make excellent family pets due to their unpredictability and lack of a registration. But there are a few good things about mixed breeds. Perhaps most importantly, they are often healthier than their purebred counterparts. This is due to a process known as hybrid vigor.
Many purebred dogs come from tiny gene pools. This small gene pool makes them more prone to genetic disorders and rare diseases. However, mixed breed dogs have a much larger gene pool. And they are not as prone to genetic disorders as purebred dogs.
Do German Shepherd Doberman Mixes Make Good Family Dogs?
German Shepherd Doberman mixes can make excellent family dogs. They are loyal and easily trainable. But they do get quite large.
They require a lot of space and exercise time. They also need to be trained regularly and often. These needs can take up quite a bit of time. If you have the time to commit though, these dogs can be the perfect addition to adult families.
Rescuing a German Shepherd Doberman Mix
Because both the German Shepherd and Doberman are decently popular, it isn't that difficult to find this hybrid. But you should plan on spending at least a little bit of time searching for this canine.
We recommend contacting local shelters and rescues and letting them know what sort of dog you're looking for. Because these dogs are somewhat untrusting of strangers, it can take them a while to settle into your home.
Patience is important. You should begin exercise and training as soon as possible. These dogs require both physical and mental stimulation to be happy and healthy. Providing for these needs can help them settle in easier to your home.
Finding a German Shepherd Doberman Mix Puppy
Because this is not a purebred, it can be difficult to find breeders who specialize in this hybrid. However, that does not mean that it is impossible.
We highly suggest that you adopt a puppy from a breeder instead of a pet store or puppy mill. While it might be easier to find a hybrid at these places, they often do not follow ethical breeding guidelines. This practice leads to unhealthy puppies.
For a step-by-step guide, you might want to view our puppy search guide.
It is full of tips and tricks that can help you find the best puppy for you.
Raising a German Shepherd Doberman Mix Puppy
You should raise a German Shepherd Doberman mix puppy similarly to any other puppy.
Your puppy should eat based on correct feeding guidelines.
You should bathe your puppy regularly.
And don't forget to brush to prevent unnecessary shedding.
For more care tips, we have a complete section on caring for puppies.
German Shepherd Doberman Mix Products and Accessories
These dogs are both smart and active. So they require a mixture of toys that stimulate them physically and mentally. Puzzle toys are always a good choice. You might also want to look at our selections for best squeaky toys.
A leash is also going to be important. These dogs need regular walks. A durable leash will help keep everyone safe and comfortable while walking.
Since feeding your puppy is also important, we recommend checking out our article on Doberman puppy food. While not everything will apply to this mixed breed, you will learn a few pointers for picking out your own puppy's food.
Pros and Cons of Getting a German Shepherd Doberman Mix
These dogs take quite a bit of work. They must be trained, exercised, and socialized regularly. They can be aggressive if not socialized at a young age. Their guarding instincts mean that they are untrusting of strangers and will try to protect you if they feel threatened. But when you invite friends over, this is not what you want you canine to do.
With that said, they do make good guard dogs if that's what you're looking for. If trained and socialized properly, they can also make excellent family dogs.
Similar Breed Mixes and Breeds
If you want a purebred dog instead of a mixed breed, we recommend looking at the German Shepherd and Doberman. Or something more unusual like the Keeshond!
Other dogs in the herding and working groups are also going to be similar.
Numerous shepherds look and act like a German Shepherd but with subtle differences.
For a friendlier dog that doesn't require as much socialization, a King Shepherd might be what you're looking for.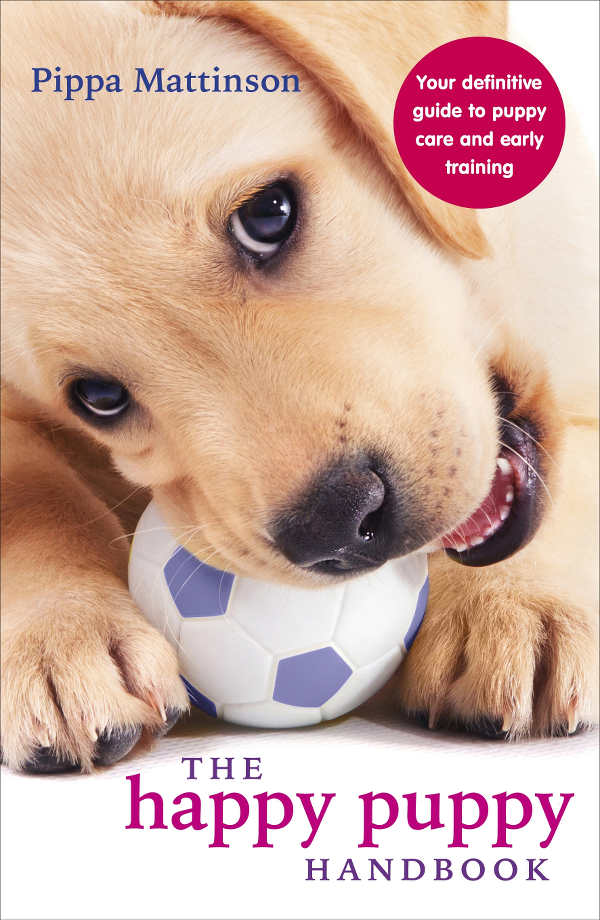 But there are plenty of other mixed breeds you might find perfect. Such as the German Shepherd Husky mix.
German Shepherd Doberman Mix Rescues
There are a few rescues dedicated to German Shepherds or Dobermans.
It is possible that you could find a mixed breed with them.
If you want to be added to this list, leave a comment below.
Is a German Shepherd Doberman Mix Right for Me?
If you do not have time to continually train, socialize, and exercise these dogs, then you should not adopt this dog.
But for those with a lot of time on their hand who want a faithful companion, this dog can be perfect.
References and Resources
Blackshaw, Judith. "An overview of types of aggressive behavior in dogs and methods of treatment." Applied Animal Behavior Science. 1991.
Nicholas, Frank. "Hybrid vigour in dogs?" The Veterinary Journal. 2016.
Janutta. "Genetic analysis of three different classification protocols for the evaluation of elbow dysplasia in German Shepherd Dogs." Journal of Small Animal Practice. 2006.
Borgarelli, Michele. "Comparison of primary mitral valve disease in German Shepherd Dogs and in small breeds." Journal of Veterinary Cardiology. 2004.
Hedhammar. "Canine hip dysplasia: study of heritability in 401 litters of German Shepherd Dogs." Journal of the American Veterinary Medical Association. 1979.
Misseghers. "Clinical observations of the treatment of canine perianal fistulas with topical tacrolimus in 10 dogs." The Canadian Veterinary Journal. 2000.