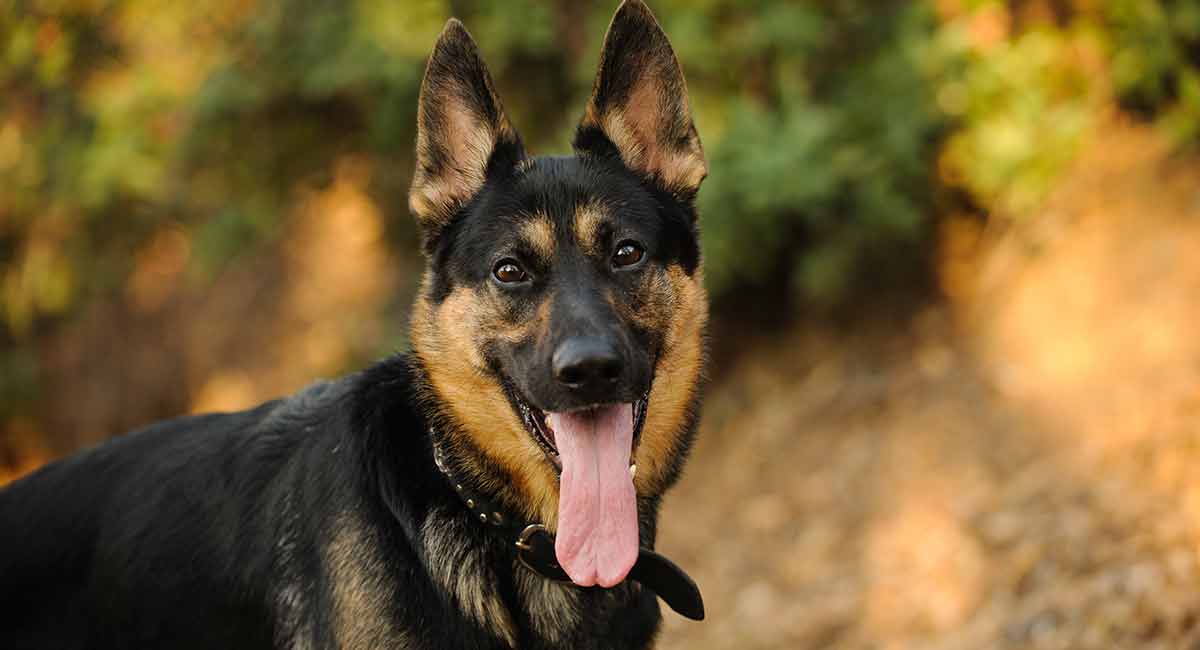 German Shepherd colors include more than just the popular black and tan. Officially and unofficially there are over a dozen colors to choose from! Most German Shepherd dogs have a black face mask and a black body. Their body will either have a small saddle of black, or a large blanket that covers most of their back and torso. Around those colors you'll find loads of shades including grey, red, silver, liver/brown, blue and sable. You can even find all black or all white German Shepherd colors too! Today we'll look at what German Shepherd colors there are, which are official AKC colors, and what impact those colors and patterns have on your dog's traits. We'll share top tips on finding the right color German Shepherd for your lifestyle, hopes and dreams!
Contents
The German Shepherd dog is the second most popular companion canine in the United States. In the UK, the German Shepherd is the eighth most popular pet dog. Interestingly, there are fans of individual German Shepherd colors, just as there are of the breed itself! Although originally German Shepherds had noticeable color variations, today there are many more. Here, we take a close look at these colors. We'll discuss whether there's any connection between coat color and temperament, health, or working ability.
History of the German Shepherd Colors
The very first German Shepherd dogs were bred to be working K-9 dogs, not show dogs. Parent dogs were deliberately chosen for temperament and talent rather than coat color. For this reason, the original German Shepherd colors naturally varied from all dark, to a dark and light alternating pattern, to all white.
Some may persist in labeling one coat color as "softer" in temperament than others. However, no research-based evidence has yet been found to support this. Rather, the modern science of genetic health testing contributes most to the continuation of a healthy purebred GSD breed line.
For example, for a time, breeders believed the white coat color on a GSD meant a weaker dog health-wise, with a softer temperament unsuitable for a working German Shepherd. Today, studies have firmly disproved that theory from nearly every angle. Sadly, the white German Shepherd is still disqualified from competing in American Kennel Club (AKC) shows. However, the United Kennel Club in the UK permits pale-coated and white GSDs to compete.
Original German Shepherd Colors
The original German Shepherd color included color genes for both dark and white coat colors. In German Shepherd colors sable, also called agouti, is the dominant color today.
Some purists regard sable as a German Shepherd color pattern rather than a color. On a sable GSD, each hair has multiple colors. This means no two sable German Shepherd dogs will ever look exactly alike!
Official German Shepherd Colors
The American Kennel Club is the oldest and largest purebred breed registry in the United States. It maintains a copy of the most current breed standard for all recognized and registered purebred dog breeds in the country. The AKC German Shepherd colors listed on the breed standard include:
black
black and cream
bi-color
black and red
black and silver
blue
black and tan
gray
liver
sable
white.
Then the breed standard fine print goes into further detail. It specifies that pale coat colors, washed-out (dilute) coat colors, blue, and liver are each considered to be "serious faults" in the show ring. Presentation of white in the show ring means automatic disqualification for that dog.
Rare German Shepherd Colors
Rare or unique German Shepherd colors can mean different things to different people. For responsible, health-focused working breeders, coat color will always be secondary. The primary consideration is breeding working K-9 dogs with the athleticism and temperament to serve alongside people.
For serious competition-minded show breeders, German Shepherd colors are weighed more heavily, with distinct preference given to traditional colors such as sable and black and tan. Here, so-called rare German Shepherd colors are avoided:
pale
dilute
blue
liver
white.
For backyard breeders, puppy mills, and hobbyist breeders, rare German Shepherd colors may fetch a pretty price tag from uninformed aspiring puppy owners who fall prey to advertisements about "unique German Shepherd colors."
As well, deliberately breeding for less common or unusual German Shepherd colors may be a handy marketing ploy to turn a quick profit. But this approach seldom enhances the overall health and vitality of the breed long-term.
In some cases, with less reputable breeders or puppy mills, unusual German Shepherd colors may also indicate potential crossbreeding. However, only DNA tests can verify whether the dog in question is a purebred GSD.
German Shepherd Color Changes
One especially interesting characteristic with German Shepherd colors is that puppies are often born wearing a completely different coat color than the color they will grow into as adults! Let's take a look at some examples.
Sable German Shepherd Color Changes
All sable German Shepherd puppies are born with a tan spectrum coat color. With sable GSD puppies, the coat color may change at six months, again at 18 months and then yet again between years two and three. The full sable German Shepherd color change can take up to three years to complete!
Black and Tan German Shepherd Color Changes
The same holds true for black and tan. Puppies usually start out with black coats. Often you won't see any of the tan color until the puppy is at least six months old. Then the tan will start to pop up as the puppy coat is shed and the adult coat grows in.
Black Sable German Shepherd Color Changes
Any sable German Shepherd puppy will naturally grow in a darker coat as the puppy grows up. This sometimes continues throughout life. This is especially true for black sable German Shepherd color changes. The sable coloration may shift and change periodically. The overall coat color will darken as your puppy becomes an adult.
German Shepherd Colors Overview
In this section we'll review the AKC German Shepherd colors one by one.
Sable German Shepherd Colors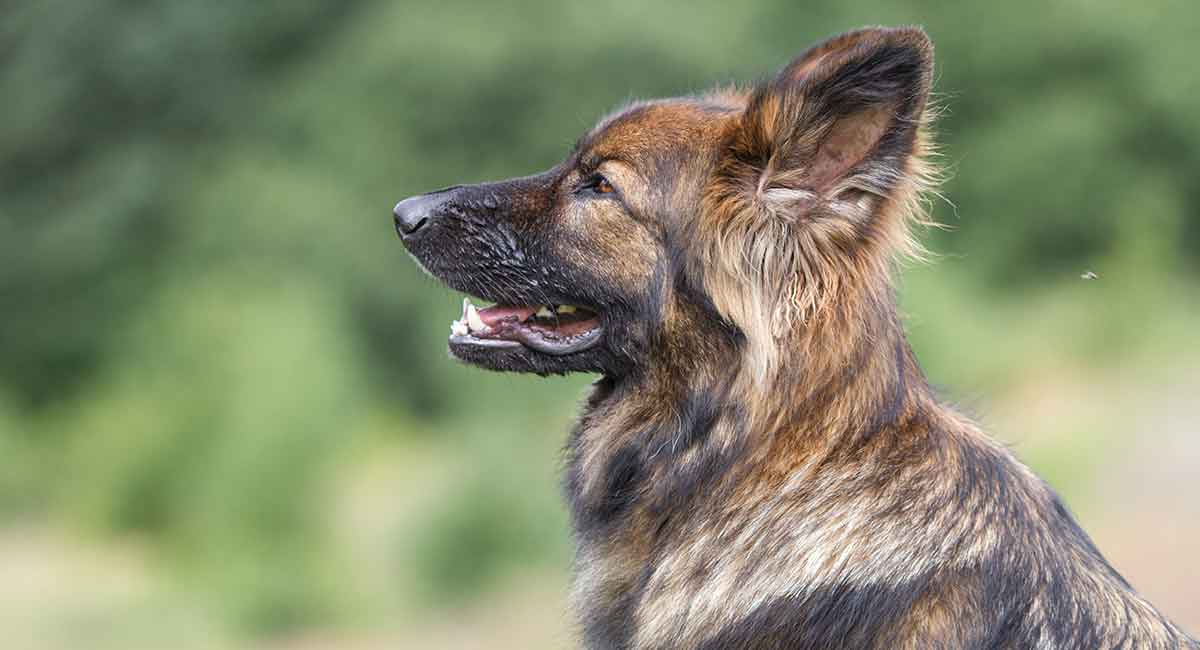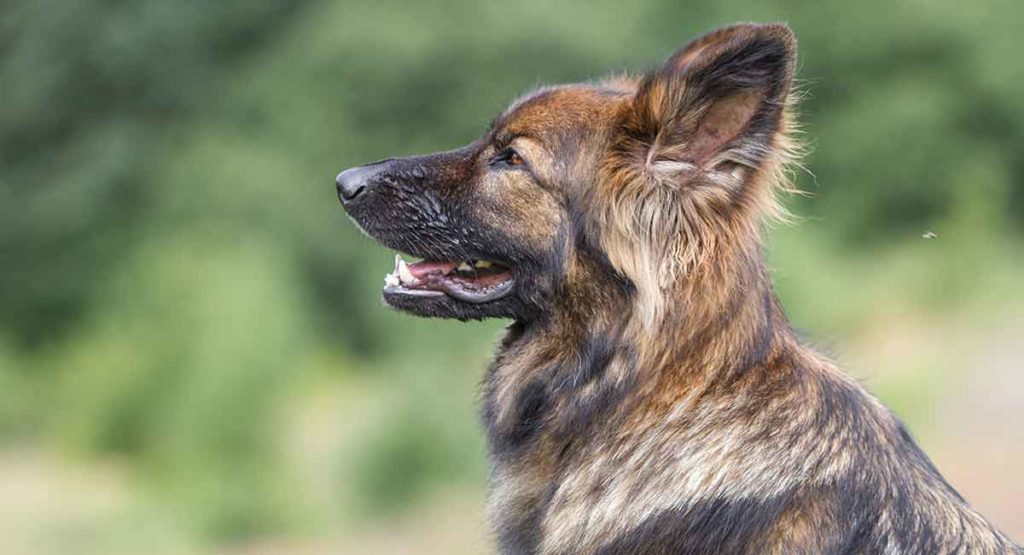 Sable, sometimes called agouti, is the dominant (most common) color/pattern throughout all purebred German Shepherd dogs. Each hair is multi-colored and this can result in an ever-shifting coat pattern throughout life. Also, no two sable GSDs will ever look completely alike.
White German Shepherds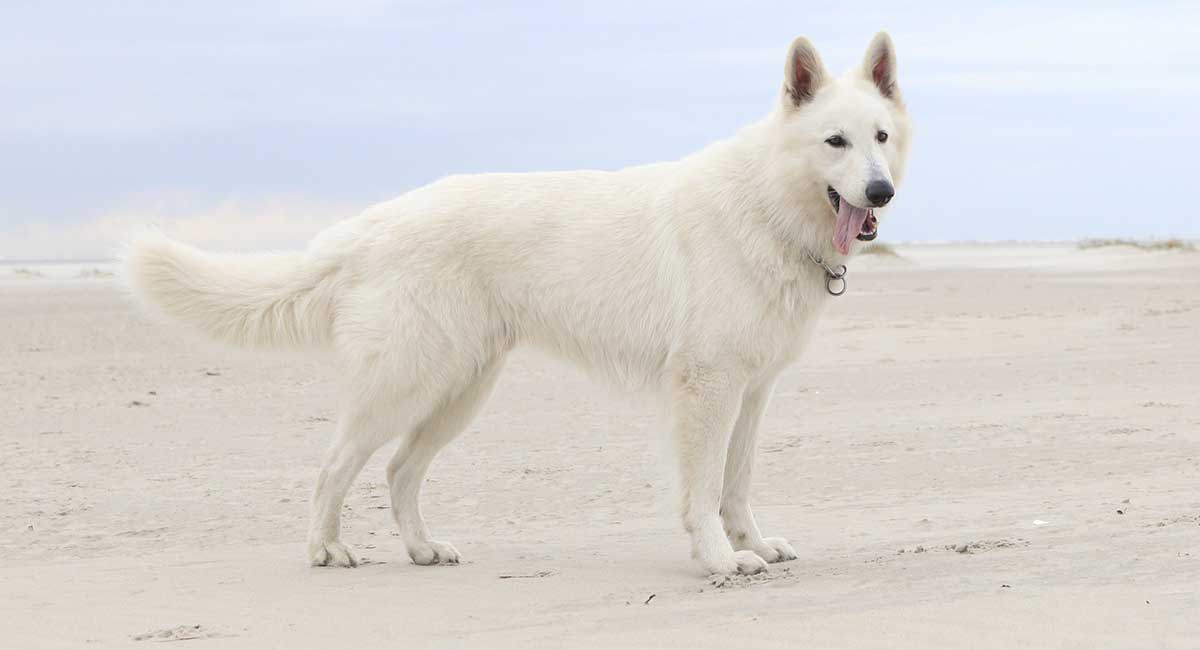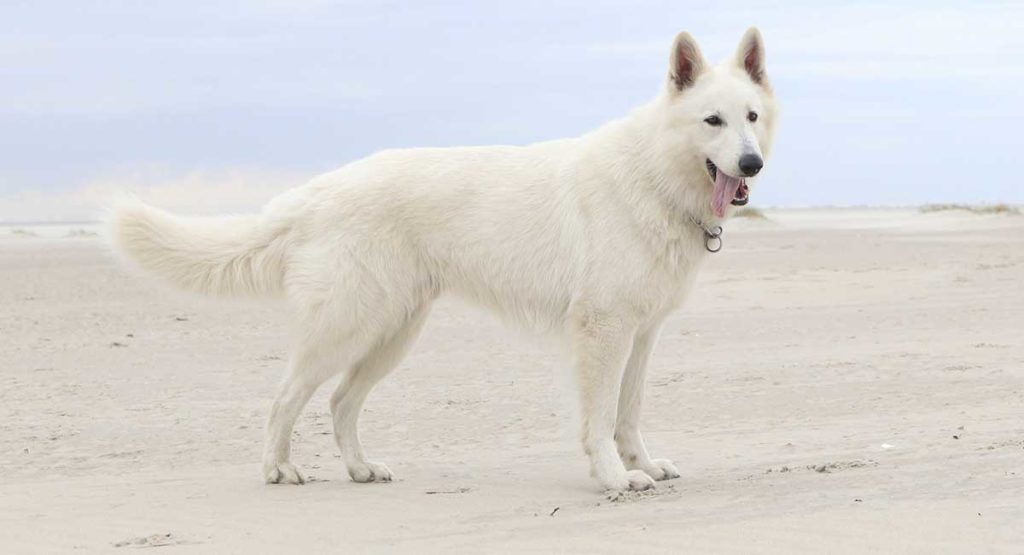 The pure white German Shepherd can also have more of an ivory or cream coat color and still be considered white. Once considered a genetic impurity or cause for concern, research has largely resolved this issue in favor of the overall health and sturdiness of white German Shepherd dogs.
In fact, through modern genetics we have learned white is not a color at all, but an inhibiting gene that represses the expression of all other coat colors, causing the coat to appear white. White has been in the purebred German Shepherd genetic pool since the beginning as a result of strategic out-crossings conducted by breed founder Max von Stephanitz.
Black & Tan German Shepherd Colors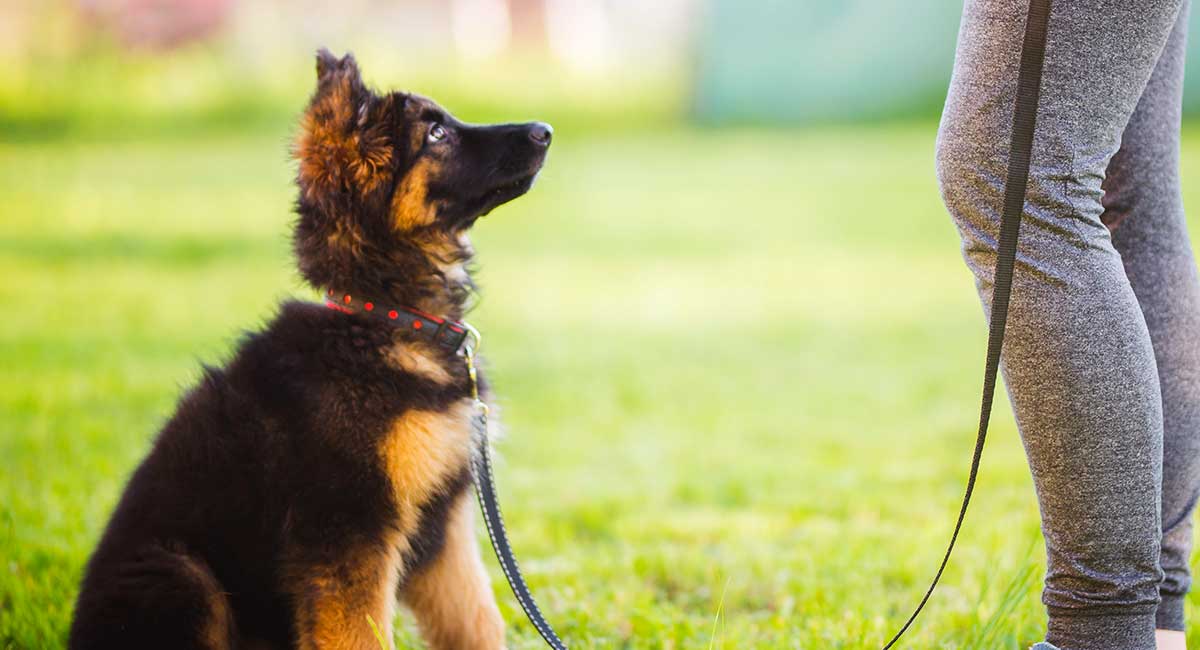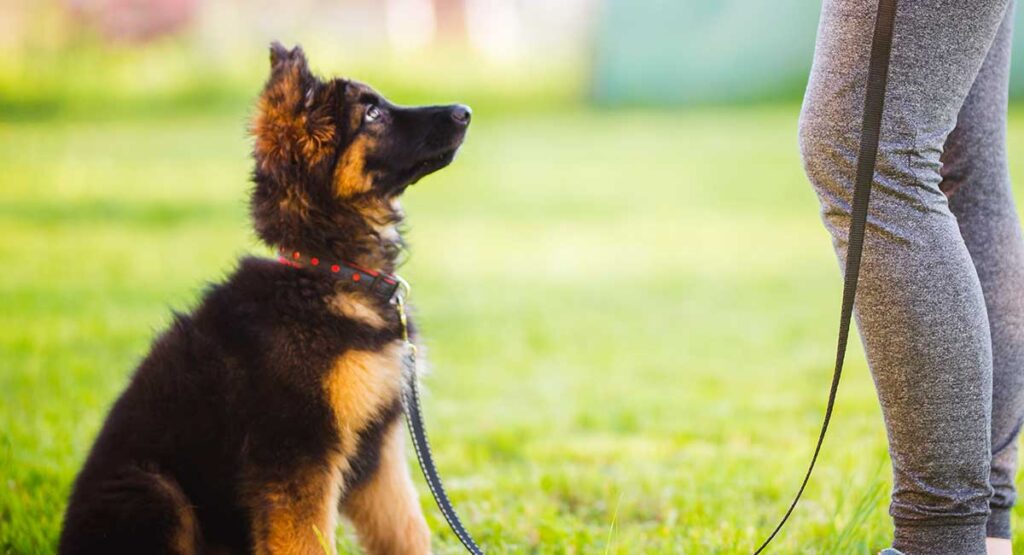 While the sable coat color is the most common, it is black and tan that most people think of when they think of German Shepherds. In some cases, this is exacerbated because some black and tan patterns can look remarkably close to sable patterns. This is especially so as the puppy coat is being shed and the black and tan coat is just coming in.
Black & Silver German Shepherds
These uniquely beautiful colors are not as well known, but they are always eye-catching! The silver portion is likely because of a recessive (dilute) gene of black or brown. The silver usually appears as a "saddle" across the dog's back, which is why these German Shepherds are sometimes called a "black saddle silver."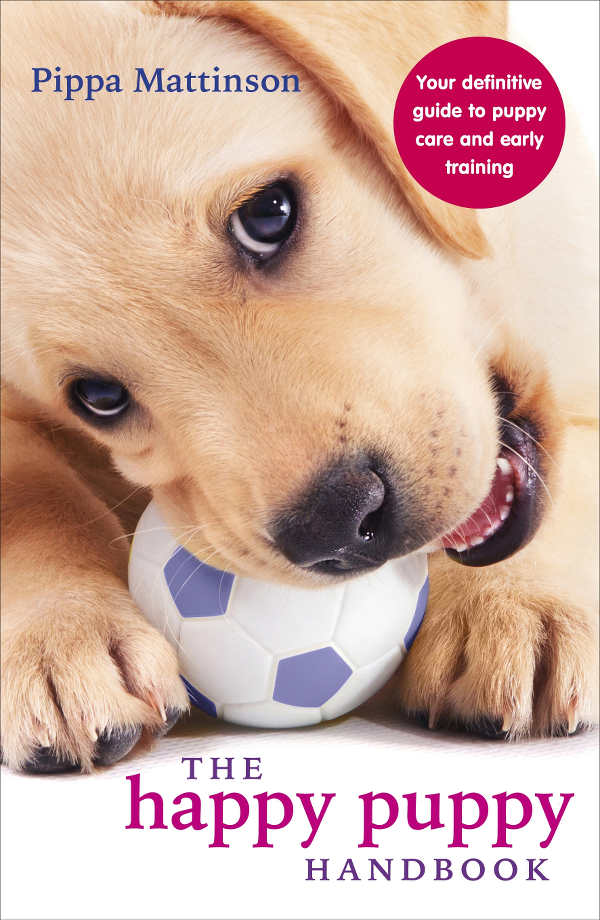 Red & Black German Shepherds
The red color on a German Shepherd dog sometimes looks more muted, like a brown or tan. The spectrum of red can vary quite a bit from one dog to the next. The red and black coat pattern typically displays with black on the tail, muzzle, ears, and back, or saddle.
Black German Shepherds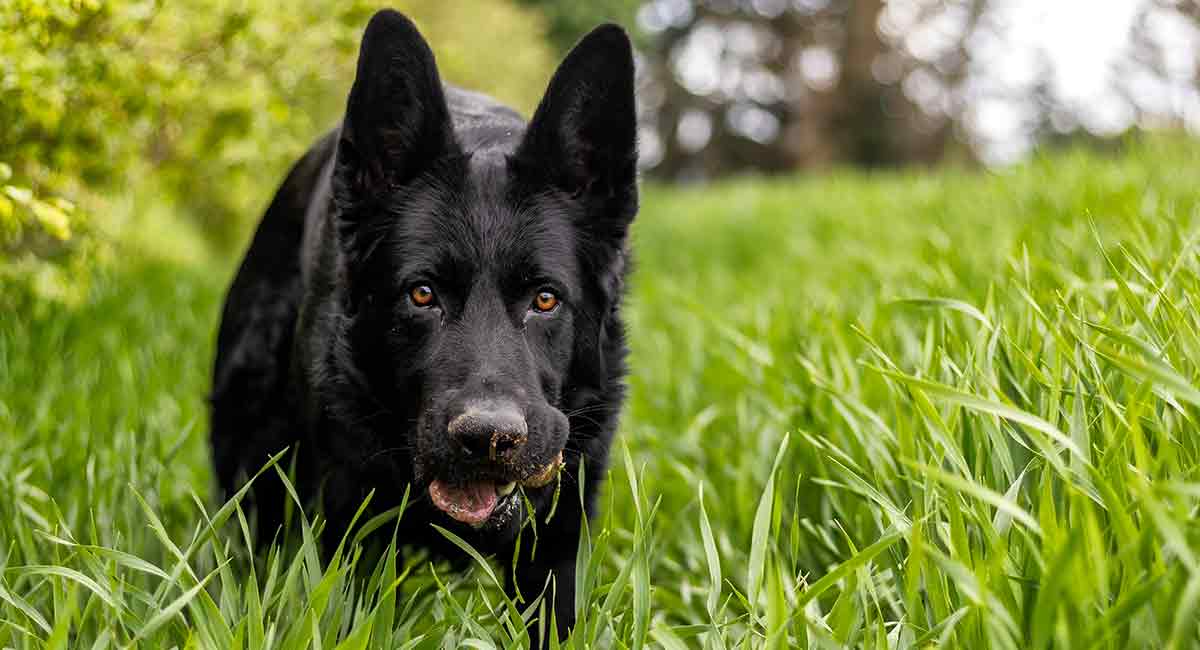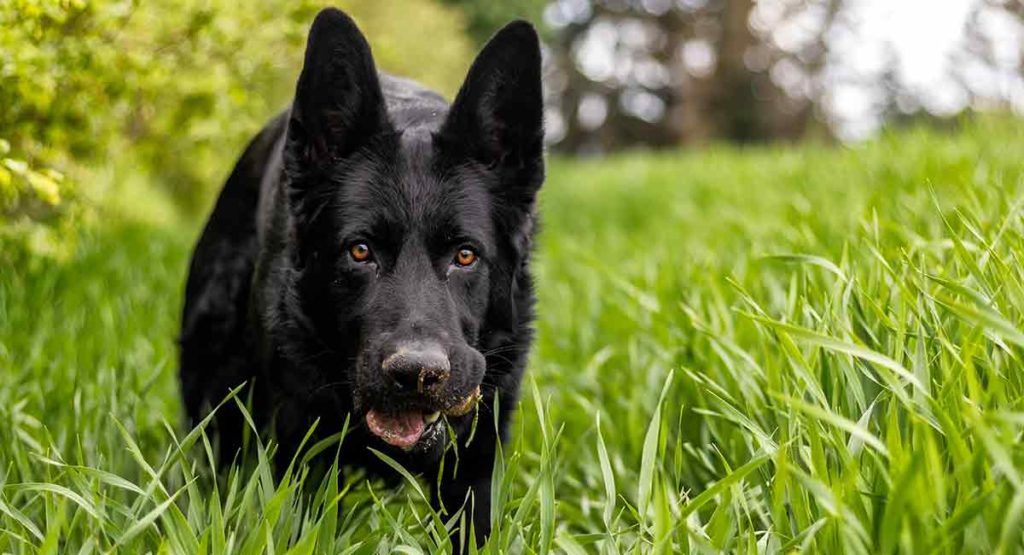 Black is a dominant gene that is linked to the sable (agouti) gene. All black German shepherd colors are visually stunning.
Gray German Shepherds
It is not common to find gray (solid) in a puppy. More typically, you will see gray as an accent color in a pattern with silver, sable, or blue. The dilute (D locus) gene acts on black, brown, or blue to produce gray.
Blue German Shepherd Dogs
Like gray, blue is born from the influence of the dilute (D locus) gene acting to mute or lighten the dominant black pigment to a blue spectrum color.
German Shepherd Colors
There's quite a range of colors among German Shepherds, as you can see. Though they're all beautiful, individual colors and patterns enhance each dog in a unique way.
Do you have a favorite among the many German Shepherd colors you learned about here? Please drop us a comment to share your thoughts and your favorite GSD colors!
References