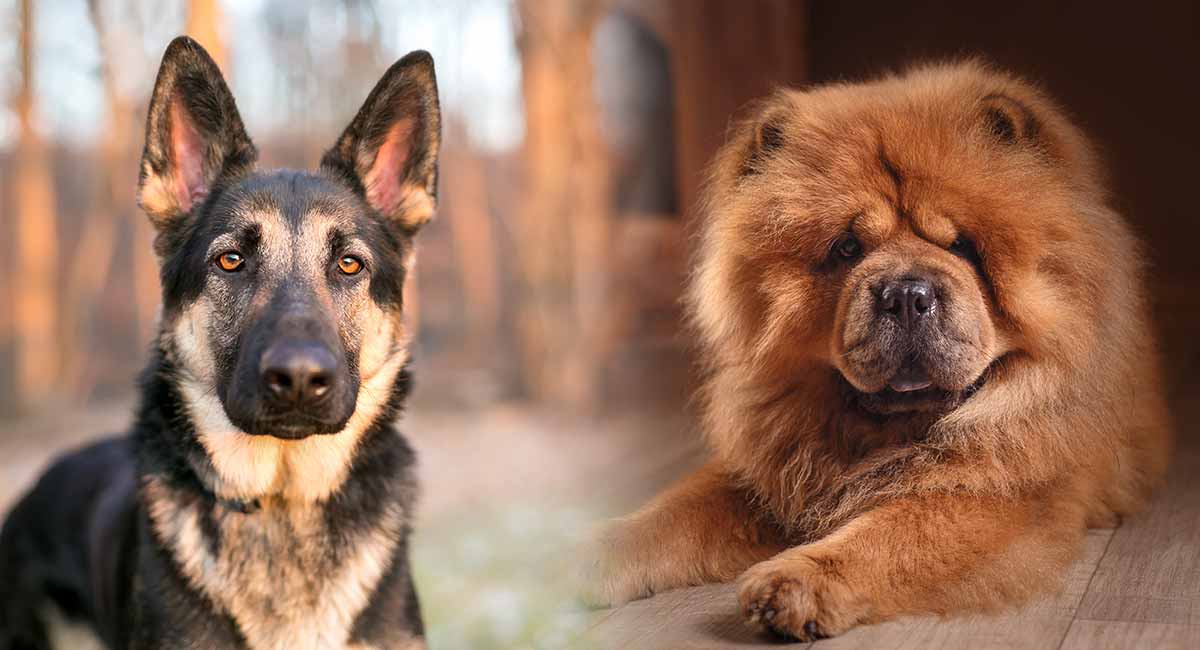 The German Shepherd Chow mix, or Chow Shepherd, is a playful dog that requires time, space, and attention.
He weighs 40 – 95 pounds and stands up to 26 inches tall at the shoulder.
But since he comes from two of world's best-known guard dogs, it's important to make sure his great size is matched with great manners.
Where Does the German Shepherd Chow Mix come From?
The German Shepherd Chow mix is a crossbreed between a German Shepherd and a Chow Chow.
They aren't purebred dogs, because they aren't recognized by the American Kennel Club.
While we don't know how this particular mix came to be, we do know about the parent breeds and their histories.
German Shepherds were bred in Germany as working dogs. Their job was to herd and protect livestock.
They were also bred for their appearance, as the creator of the breed thought the German Shepherd perfectly encapsulated the way he thought a working dog should look.
There is some debate as to how old Chow Chows are, but they are definitely over 2,000 years old. Some believe they were one of the first dog breeds.
Chow Chows were kept as working dogs. They lived with emperors in the Tang Dynasty, and their work included hunting, herding, and guarding.
Fun Facts about the German Shepherd Chow Mix
German Shepherds work hard, but they're also fabulous! Rin Tin Tin was a German Shepherd rescued from a battlefield in World War II who then went on to act in silent films in the 1920s.
Chow Chows have some history of fame themselves. Queen Victoria loved her Chow Chow so much she carried it everywhere. Her court disapproved of this, and a stuffed Chow Chow was made for her to carry instead—this is said to be the first ever teddy bear!
Chow Chows are also one of the few dog breeds with a blue tongue.
German Shepherd Chow Mix Appearance
When looking at mixed breeds, we have to keep in mind that they could receive any of the parents' traits, making them more unpredictable than purebreds.
Typically, a German Shepherd Chow mix is 18-26 inches tall and weighs 40-95 pounds.
They have a thick, fluffy coat that comes in many colors, including blue, red, brown, black, tan and white. They can also be a combination of these colors.
Often, Chow Shepherds take their German Shepherd parent's head shape, including their long snout. They inherit an upright tail from the Chow Chow side of the family and have floppy triangular ears.
Of course, these features can vary, but they give us an idea of what to expect.
German Shepherd Chow Mix Temperament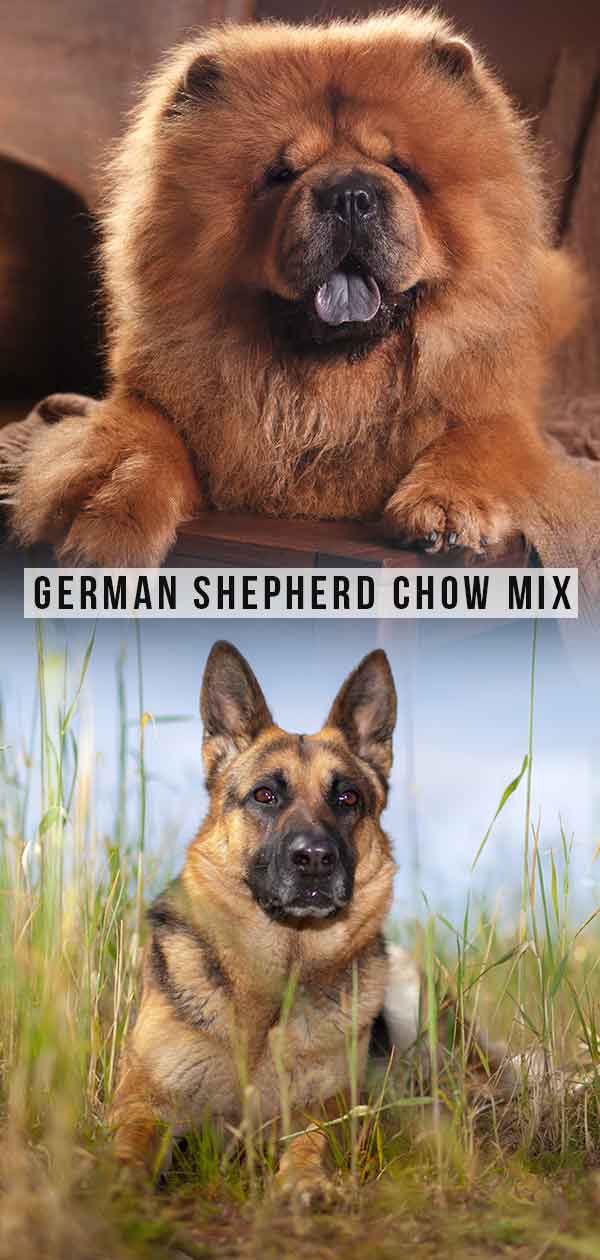 Mixed breeds combine traits from their parent breeds. To find out how your Chow Shepherd will act, you first need to understand their genetics.
German Shepherds have always been working dogs. First on the farm, and now often working as a modern-day service dog, these pups are always on the go.
These dogs are fearless and confident. They are also incredibly smart and loyal, but might take some time to warm up to new people.
Because they are so smart, they need mental stimulation to stay happy and well-behaved. Dogs who don't get enough activity may resort to destructive behavior, like digging, chewing, or barking.
How easy is it to Train a German Shepherd Chow Mix?
German Shepherds are easy to train because they are eager to learn.
They can be prone to anxiety, especially if they do not get the right amount of exercise or mental stimulation.
Chow Chows are, in many aspects, the complete opposite of German Shepherds. They are known for being aloof, stubborn, and difficult to train. They can also be aggressive.
Proper training and socialization are extremely important when raising a Chow Chow. This will prevent some of these bad traits and ensure they don't grow to be aggressive.
Inside their own homes, Chow Chows are peaceful and independent. They need daily exercise, but a simple walk will keep them healthy and happy.
When we put these opposites together, we can get a variety of temperaments.
A Chow Shepherd is bound to be super smart and full of energy. They will likely be wary of strangers but tend to be less standoffish than Chows. Like German Shepherds, they are prone to separation anxiety.
German Shepherd Chow mixes should be socialized from a young age to prevent distrust of strangers and aggressive guarding behavior.
Since they typically inherit their energy levels and brain power from their German Shepherd parents, you'll need to exercise a Chow Shepherd frequently and keep their mind occupied. Toys and training can help stimulate your pup's brain so that they don't get bored.
These dogs also need a large yard, as they're big dogs that need plenty of space to play.
Training Your German Shepherd Chow Mix
A German Shepherd Chow mix may be difficult for a first-time dog owner. This will be especially true if they take after their Chow Chow parent.
We have many training guides that will help you get training right—which is particularly important with this mix.
Positive reinforcement is the best way to train any dog but especially works for more stubborn breeds.
You'll likely have an easy time potty training, due to both parent breeds learning quickly in this department. You can also check out our crate training guide if you plan to crate train your dog.
Lastly, you'll want to socialize Chow Shepherds as young as possible. Both parent breeds can display guarding tendencies, and some Chows are known for aggression.
Socializing your German Shepherd Chow Mix
Meeting different kinds of people and interacting with other dogs will help them learn not to distrust strangers.
Do be careful with small dogs or young children. Don't leave children and dogs together unsupervised, and be sure both know how to interact appropriately with one another.
When it comes to exercise, your Chow Shepherd will need a lot of it. A big yard to play in, daily walks or jogs, and additional playtime are all recommended for these energetic pups.
You'll want to keep an eye on them while exercising, as both Chows and German Shepherds have a number of joint issues.
If your mix inherited their Chow parent's shorter snout, you'll want to be especially careful and limit exercise in hot weather. Shorter snouts cause breathing and overheating issues.
German Shepherd Chow mixes also need mental stimulation, from daily training, puzzle toys, or preferably a combination of these things.
You should constantly introduce new activities and puzzles for them to solve, as they can grow bored of the same things.
German Shepherd Chow Mix Health
German Shepherd Chow mixes can suffer from several health problems. Here are some common ones to keep in mind:
Hip Dysplasia – hip socket not formed correctly
Elbow Dysplasia – elbow socket not formed correctly
Luxating Patella – dislocated kneecap
Colitis – inflammation in the colon
Bloat – stomach full of gas, food, or fluid
Autoimmune Diseases – including perianal fistula, sebaceous adenitis, lupus, pemphigus, and nail bed disease
Heart Diseases
Eye problems
Skin Diseases and Infection
Allergies
Hypothyroidism
Bloat
If your pup inherits their Chow parent's snout, they will have difficulties breathing and be prone to overheating. Luckily, most Chow Shepherds seem to inherit the longer snout of their German Shepherd parent.
German Shepherd Chow Mix Genetics
The best way to prevent many diseases, if adopting from a breeder, is to ensure the parents are healthy and health problems don't run in the family.
While many health conditions are genetic, some are not. You'll also want to keep your dog well fed and exercised, in a good environment for their ultimate health. Take them to the vet regularly.
Also, keep an eye out for some health conditions that just can't be prevented. It often helps to catch problems early on.
Chow Shepherds typically live to be 9-13 years old. They should be fed a proper diet, split into two or more meals throughout the day.
Due to their thick, fluffy coats, German Shepherd Chow mixes will need to be brushed daily. This will prevent mats and reduce shedding.
These dogs do shed a lot!
Do German Shepherd Chow Mixes Make Good Family Dogs?
German Shepherd Chow mixes make good dogs for an active family. They are fun and almost always ready to play!
However, they should be properly trained to prevent aggression, and watched around young children. Dogs and children shouldn't be left unattended, and children should be taught to properly handle dogs.
Rescuing a German Shepherd Chow Mix
Rescuing a dog is always a great option to look into.
Your local shelters or rescues may have a German Shepherd Chow mix waiting for you.
If not, you can look into breed-specific rescues. A German Shepherd rescue or Chow Chow rescue group may also take in mixed breeds.
Finding a German Shepherd Chow Mix puppy
The most important thing you can do when looking for a German Shepherd Chow mix puppy is to avoid puppy mills. This also means avoiding pet stores.
You want to look for a breeder who is open about both the breed generally, and their dogs specifically.
They should be more than happy to talk about the health problems of the breed, and should never claim there aren't any.
A good breeder will also show you where the puppies are being raised, the parent dogs, and health records. The parents should be healthy and up to date on all vaccines, as should the puppies.
The environment should be clean and well-suited to the dog breed. The dogs should have a big yard with space to run and play, accessible water, etc.
If you need more help finding your new puppy, check out our puppy search guide.
Raising A German Shepherd Chow Mix Puppy
Raising a German Shepherd Chow mix puppy might seem overwhelming. There's lots to remember, and you already know the importance of getting things right with this mix.
We're here to help with our puppy care and puppy training guides!
German Shepherd Chow Mix Products and Accessories
Here are some products for your German Shepherd Chow mix that you'll love:
Pros and Cons of Getting A German Shepherd Chow Mix
German Shepherd Chow Mix Pros
These lovable pups will love spending time with their family. They are almost always up for playtime!
They're incredible dogs for active people or families who want a dog to join them.
Chow Shepherds are also incredibly smart, adorable, and make great watchdogs.
German Shepherd Chow Mix Cons
Chow Shepherds can be a handful! If you or your family aren't very active, these are not the dogs for you.
They also need a big yard and aren't at all suited for apartment life.
They will need lots of training. They're so smart that they will never tire of learning new things! This can be a time commitment not everyone can handle.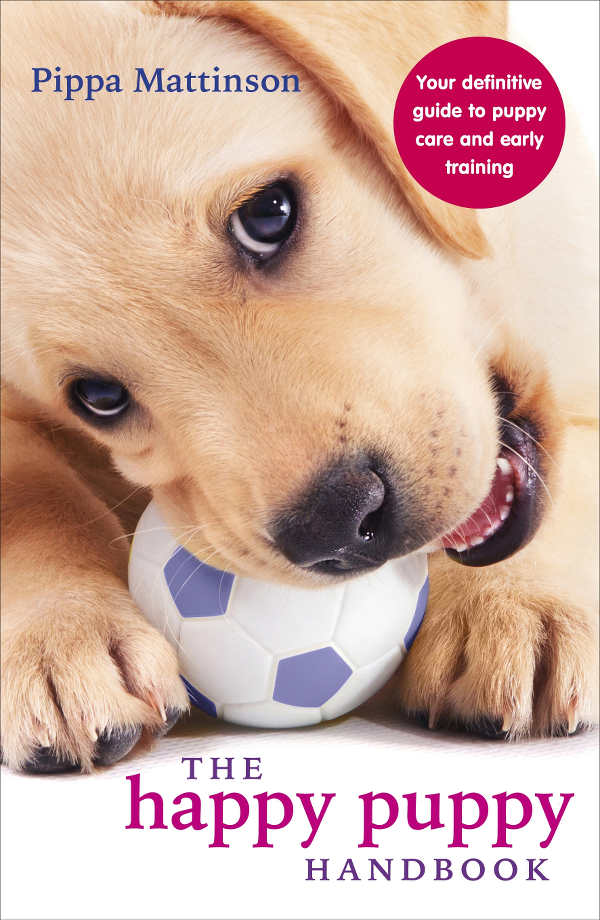 Similar German Shepherd Chow Mixes and Breeds
If you love German Shepherd Chow mixes, here are some other breeds you may want to look into:
Golden Shepherd (Golden Retriever/German Shepherd)
Labrashepherd (Labrador/German Shepherd)
Siberian Shepherd (Siberian Husky/German Shepherd)
German Shepherd Chow Mix Rescues
The following are some rescues where you may find a German Shepherd Chow mix. If you know of any rescues not on this list, let us know in the comments.
German Shepherd Chow Mix Rescues USA
Sedona Shepherd Sanctuary
German Shepherd Rescue & Adoptions
BrightStar German Shepherd Rescue
Mid Atlantic German Shepherd Rescue
Chow Chow Rescue of Central New York, Inc.
Houston Chow Chow Connection
German Shepherd Chow Mix Rescues Canada
German Shepherd Rescue of BC
Toronto German Shepherd Rescue
Shepherds Country Haven and Rescue
Merlin's Hope Rescue
German Shepherd Chow Mix Rescues UK
German Shepherd Dog Rescue
GS Rescue Elite
UK German Shepherd Rescue
German Shepherd Chow Mix Rescues Australia
German Shepherd Rescue Victoria
Is A German Shepherd Chow Mix Right For Me?
If you are an active person with lots of time and a big backyard, you'll love having a German Shepherd Chow mix around. They can keep you company on jogs and are almost always ready to play.
However, if you enjoy a less active lifestyle, or live in an apartment, this mix is not for you.
If you have small children, you should think twice about getting a Chow-Shepherd. Be sure that the child knows how to properly behave around dogs, and that you can train your new pup appropriately.
References and Resources
Corcoran et al. Primary glaucoma in the Chow Chow. Elsevier Science. 1995.
Jokinen et al. MHC class II risk haplotype associated with Canine chronic superficial keratitis in German Shepherd dogs. Veterinary Immunology and Immunopathology. 2007.
Kirberger et al. Incidence of canine elbow dysplasia in South Africa. Journal of the South African Veterinary Association. 2007.
Mele, E. Epidemiology of osteoarthritis. Veterinary Focus. 2007.
Oliveira et al. Retrospective Review of Congenital Heart Disease in 976 Dogs. Journal of Veterinary Internal Medicine. 2011.