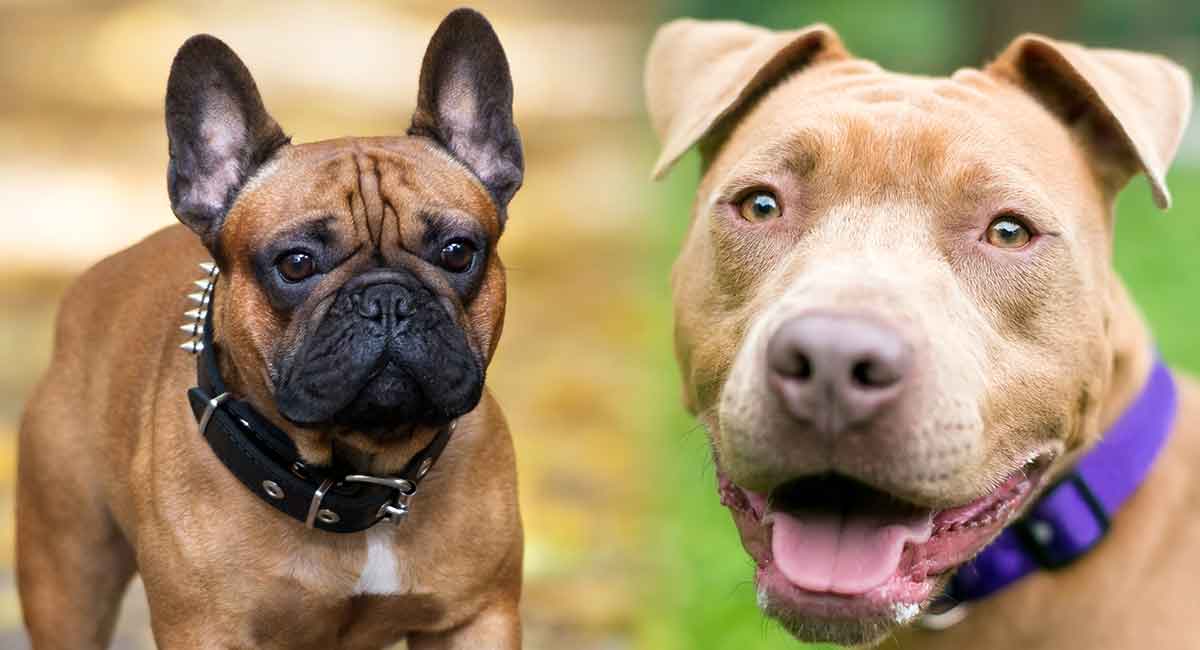 The French Bulldog Pitbull mix unites two smart and good natured breeds, namely the French Bulldog  and the American Pitbull Terrier, also known as the American Staffordshire Terrier.
But what can you expect from this mixed breed dog?
Will they have issues with aggression? Are they healthy?
Keep reading and we'll answer these questions and more.
Where Does the French Bulldog Pitbull Mix Come From?
Crossing two different purebred dogs like the French Bulldog and the Pitbull creates what's commonly referred to as a "designer dog."
These hybrid pooches have caused quite a commotion in the canine world. Some will say that breeders are simply cashing in on a trend.
However, designer dogs have been around since at least the early 1990s. Their ever-increasing popularity suggests they're around for the long haul.
When you combine two different dogs it's a flip of the coin as to which parent's appearance, temperament, and size will be reflected in the puppies.
Controversy
Purebred proponents stress that they know which health tests to give their dogs to reduce the chances of genetic health problems. They also claim that hybrid dogs taint the bloodline of a breed.
However, there is an argument that expanding the gene pool is the best way to eliminate a dog suffering from inherited diseases and deformities.
This is known as hybrid vigor.
We don't know exactly when the French Bulldog and the Pitbull were first crossed, but looking more closely at each of the parents will tell us about more the offspring.
French Bulldog Origins
Originally it was a toy-sized Bulldog who gained popularity among the lace workers in Nottingham, England.
When the industry relocated to northern France, they brought their petite pups along with them.
Over time, the toy Bulldog was crossed with other breeds, most likely Terriers and Pugs.
This is when their iconic bat ears were developed.
When they eventually made their way to Paris, they became extremely popular and were closely associated with the city's café lifestyle.
They first appeared in America at the end of the 19th century.
Pitbull Origins
Although the Pitbull also originated in England, their history is much less pleasant.
These dogs were created by crossing Terriers and Bulldogs for the purpose of fighting staked bulls.
Thankfully, blood sports were banned in 1835.
These dogs appeared in the U.S. in the mid-1800s.
American breeders developed a larger dog than the English version that was used as a working farm dog.
However, even today the Pitbull is plagued by its reputation as a tough, and even violent breed.
Fun Facts About the French Bulldog Pitbull Mix
The French Bulldog's most famous feature is their distinctive "bat ears". Originally, their ears were "rose-shaped," more closely resembling those of the English Bulldog.
During the era known as the "belle époque," the French Bulldog was the favored companion of Parisian "belles de nuit," or ladies of the evening.
Pitbulls appeared on the cover of Life magazine 3 times; more than any other dog breed.
Although their jaws are very strong, the Pitbull does not have "locking jaws."

French Bulldog Pitbull Mix Appearance
French Bulldog Pitbull mix puppies can look like one parent more than the other or be a mixture of the two.
These dogs have a few similar physical traits. As a result you can expect their offspring to have a compact, muscular physique, a large head, and a short coat.
The French Bulldog comes in white, cream or fawn whereas the Pitbull is seen in all colors and patterns.
The French Bulldog stands from 11 to 13 inches and weighs under 28 pounds.
American Staffordshire Terriers are considerably larger, standing 17 to 19 inches and weighing between 40 and 70 pounds.
The Frenchie resembles a miniature version of the English Bulldog, but with the signature erect "bat ears." Like their larger cousin, they have an oversized square head and an extremely short muzzle, which signifies being a brachycephalic dog.
This causes some severe health problems, which we'll look into shortly.
The Pitbull has a well-defined jaw and cheekbones and wide set dark eyes. Although extremely muscular, he's very agile and graceful in his movements.
French Bulldog Pitbull Mix Temperament
To find out the type of behavior you can expect from your French Bulldog Pitbull mix, we'll look to both parents.
Since French Bulldogs were bred to be lap-dogs, they're usually, loyal, playful, and loving. They love people in general and enjoy being the center of attention.
However, there are some Frenchies who can be stubborn.
Despite a violent past and much censure, the Pitbull is often found to show no more aggression than other breeds.
In fact, this dog wasn't bred to be antagonistic towards people; only other dogs.
Early socialization and training is important for any dog, but for one who will be as strong and powerful as the French Bulldog Pitbull mix, it's crucial.
Unless they're raised together, bringing them into a home with other pets could potentially pose a problem.
Due to the natural instincts, it's important to never leave them alone with other dogs.
Training Your French Bulldog Pitbull Mix
When it comes to training, both parents are smart dogs who love to please, but can have a stubborn streak. This means training could go either way depending on the individual animal.
Like all dogs, they'll respond best to positive reinforcement training. This means plenty of praise or treats when they perform properly.
Early socialization will accustom them to a wide variety of people, pets, and environments. This is the best way to ensure they'll grow to be calm and well-adjusted.
The Pitbull can be prone to chewing and digging, especially if left on their own too much.
Exercise
Exercise requirements vary quite a bit between these two breeds. A short daily walk or outdoor play session is enough for the Frenchie. Their flat face means they often have serious breathing issues.
For this reason, they cannot be over-exercised and shouldn't be outside at all when it's hot and humid. The right exercise regimen for your Frenchie will depend on his conformation.
On the other hand, the Pitbull is much more athletic. They require a lot of exercise and since they're so people-oriented it should include long play sessions with their owner.
These smart dogs will often do well in canine sports.
French Bulldog Pitbull Mix Health
Unfortunately, the poor French Bulldog has more than his fair share of health concerns and many of them are a result of how they look.
As mentioned, being brachycephalic makes breathing difficult, but it also brings about other health concerns, including eye disorders like corneal ulcers, and dental problems.
French Bulldogs also have chondrodystrophy, a form of dwarfism defined by their short legs.
This puts them at a high risk for intervertebral disc disease, which can cause pain, nerve damage, and in severe cases paralysis.
That little corkscrew tail that looks so cute is known as screw tail and it can also cause severe back problems in the breed.
In terms of health, the Pitbull fares much better, but is still predisposed to certain conditions.
Breeders should have health tested their breeding stock for hip dysplasia, cardiac disease, autoimmune thyroiditis, eye diseases, and cerebellar ataxia.
The lifespan for the French Bulldog is 10 to 12 years and for the Pitbull it's from 12 to 16 years.
Grooming and Feeding Your French Bulldog Pitbull Mix
Grooming your French Bulldog Pitbull mix is as low maintenance as it gets.
Their very short coat will only require weekly brushing to remove dead hair and to distribute natural oils that keep their coat healthy.
If your puppy has the facial folds of the Frenchie they should be kept clean and dry to avoid infections.
As with all breeds the French Bulldog Pitbull mix requires a good quality food that's appropriate to their age.
Both these breeds are prone to obesity, so be careful with calories, including treats when training.
Extra pounds will put this dog at a higher risk for the aforementioned conformational problems.
Do French Bulldog Pitbull Mixes Make Good Family Dogs?
While the French Bulldog Pitbull mix is sure to have many endearing qualities, the French Bulldog parent has many potential health problems to consider.
Buying from breeders who selectively breed for extreme brachycephaly is of course detrimental to the dog.
So, if you feel this is the dog for you, think about rescuing an older French Bulldog Pitbull mix.
Rescuing a French Bulldog Pitbull Mix
There are many reasons to adopt an older dog.
Not only will you get to see exactly what the dog will look like, you'll also get a look at their personality.
Some may already be house-trained and they're almost guaranteed to be less expensive than buying a puppy.
Dogs end up at rescues for all sorts of reasons and some of them are very sad.
Rescuing a dog means you're giving a deserving animal a second chance with a new family.
Finding a French Bulldog Pitbull Mix Puppy
If a French Bulldog Pitbull mix is your heart's desire, then seek out a responsible breeder.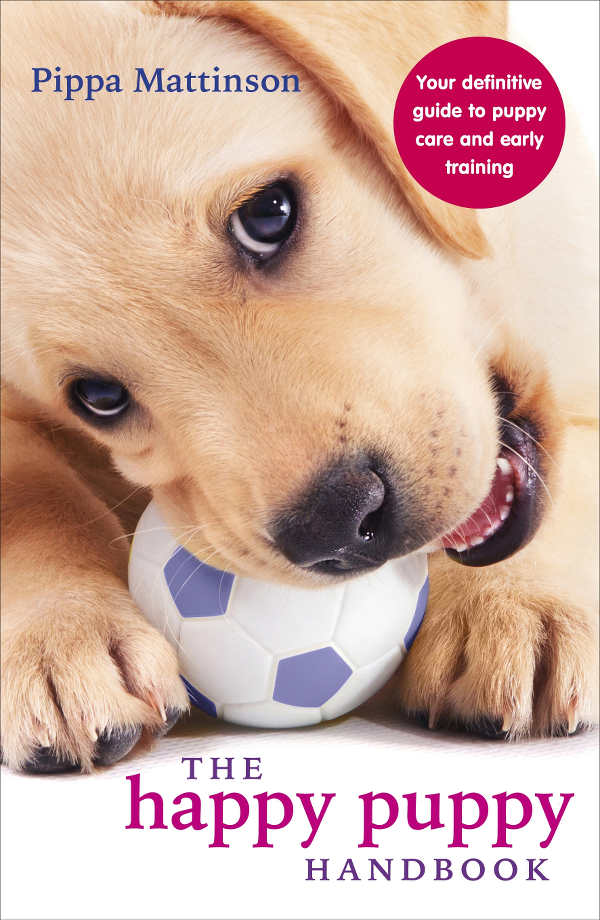 As mixed breeds of all types are increasingly popular, you may have more choice than you think.
Avoid buying a puppy from pet stores as they are almost always stocked with dogs from puppy farms.
These dogs often receive inhumane treatment and have a greater chance of health and behavior problems.
This guide will give you more information about finding a puppy.
Raising a French Bulldog Pitbull Mix Puppy
Raising a dog is extremely rewarding, but it also requires a lot of work.
Puppy training guides offer detailed dog training lessons and exercises with easy-to-follow instructions that work well for dogs of all ages.
This puppy care guide covers all of the development and growth stages and can help with everything from potty training to biting issues.
French Bulldog Pitbull Mix Products and Accessories
A French Bulldog harness puts less pressure on their neck and reduces the risk of injury. It also serves as an excellent training tool.
These extra durable toys were designed with Pitbulls in mind.
From pajamas to chew toys, there are great Pitbull gifts for your Pitty.
The best dog food for Frenchies will help your mix if it has a shorter muzzle.
Pros and Cons of Getting a French Bulldog Pitbull Mix
Here's a brief summary of the joys and trials of owning a French Bulldog Pitbull mix.
Cons:
Serious conformational health issues
May show aggression towards other dogs
Pros:
A loyal, friendly, and playful companion
Easy to groom
Similar French Bulldog Pitbull Mixes and Breeds
Here are some similar, but healthier Pitbull mixes to consider:
French Bulldog Pitbull Mix Rescues
These are rescues where you may be able to locate a French Bulldog Pitbull mix. If you know of similar rescue organizations, please post details in the comments box below.
Is a French Bulldog Pitbull Mix Right For Me?
The French Bulldog Pitbull mix combines two very smart, playful, and lovable dogs.
By all accounts this should be a dog suitable for many families as long as there isn't another dog in the home.
Unfortunately, the French Bulldog simply has too many structural problems to recommend his progeny.
What are your feelings about the French Bulldog Pitbull mix? Let us know in the comments below.
Related Articles
References and Resources
Nicholas, FW, et al., "Hybrid vigour in dogs?," The Veterinary Journal, 2016
Schalke, E., et al., "Assessment of a Bull Terrier bloodline regarding possible hypertrophic aggressive behavior in situations of dog-dog-contact of the temperament test of Lower Saxony," Berliner und Munchener Tierarztliche Wochenschrift, 2010
Liu, N., et al., Characterisation of Brachycephalic Obstructive Airway Syndrome in French Bulldogs Using Whole-Body Barometric Plethysmography," PLOS One, 2015
Packer, RMA, et al., "Impact of Facial Conformation on Canine Health: Corneal Ulceration," PLOS One, 2015
Brown, EA, et al., "FGF4 retrogene on CFA12 is responsible for chondrodystrophy and intervertebral disc disease in dogs," Proceedings of the National Academy of Sciences of the United States of America, 2017
Rusbridge, C., "Canine chondrodystrophic intervertebral disc disease (Hansen type I disc disease)," BMC Musculoskeletal Disorders, 2015
Gutierrez‐Quintana, R., et al., "A PROPOSED RADIOGRAPHIC CLASSIFICATION SCHEME FOR CONGENITAL THORACIC VERTEBRAL MALFORMATIONS IN BRACHYCEPHALIC "SCREW‐TAILED" DOG BREEDS," Veterinary Radiology & Ultrasound, 2014
Olby, N., et al., "Cerebellar Cortical Degeneration in Adult American Staffordshire Terriers," Journal of Veterinary Internal Medicine, 2008
Oliveira, P., et al., "Retrospective Review of Congenital Heart Disease in 976 Dogs," Journal of Veterinary Internal Medicine, 2011