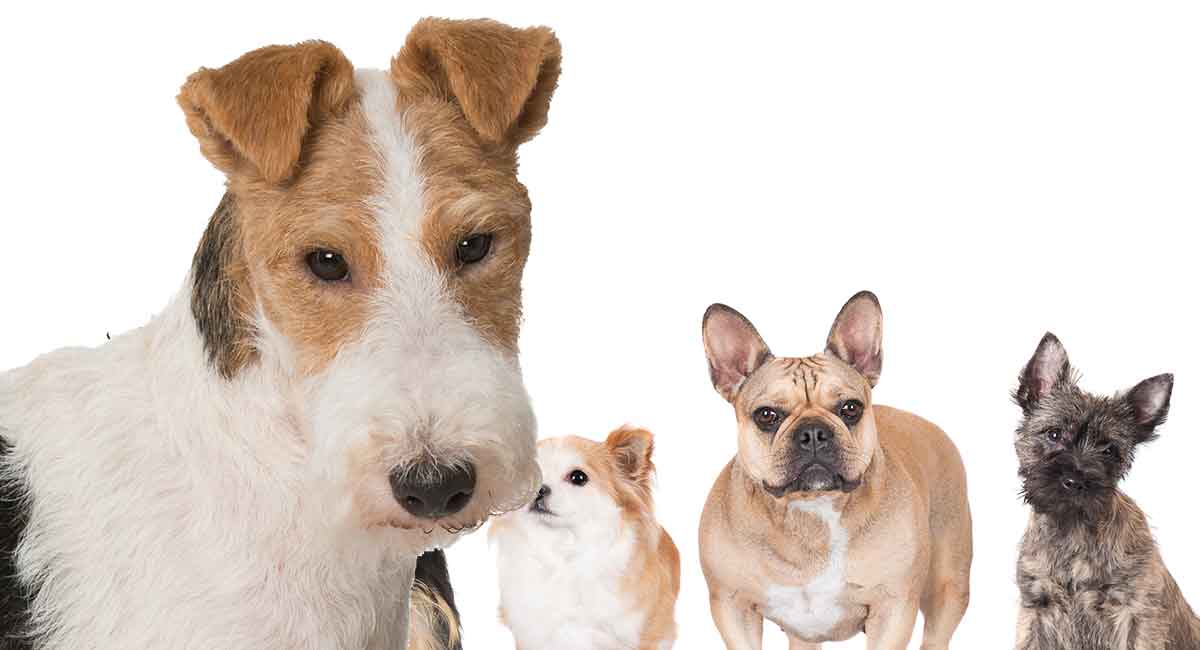 Fox Terrier Mixes can be found in all shapes and sizes. Fox Terriers themselves, are gorgeous dogs that are loved for and distinguished by their long, pointed faces, among other things!
Their unique appearance is one reason people have started experimenting with Fox Terrier Mixes.
Mixes are a great way to get the best parts of different breeds into a single dog!
So let's look at some of the different Fox Terrier mixes you can get!
The Fox Terrier
Before we look at the mixes though, let's look at the Fox Terrier itself.
This will just be a brief overview. If you want a more in-depth description of the Fox Terrier, you'll find everything you need to know here!
Fox Terriers actually come in two different breeds – the Wire Fox Terrier and the Smooth Fox Terrier.
They were recognized as separate breeds by the AKC in 1985, although a lot earlier in Britain.
Fox terriers have been around since the 1700s, and were used in British fox hunts!
They would chase the foxes out into the open, where people could follow them on horses.
Both Smooth and Wire Fox Terriers love exercise – whether it's going for walks, or playing long games of fetch.
However, their natural chase instinct means they shouldn't be allowed to run off the lead or in an unenclosed area
Training
Even the best trained Fox Terrier can have trouble resisting the urge to chase smaller animals!
Training can take a little patience, as Fox Terriers have an independent streak, and their intelligence means they can get bored easily.
Training for any Fox Terrier mix should start as young as possible to ensure best results – the same goes for socialization!
Size, Weight & Coat
Wire Fox terriers generally grow up to 15 and a half inches at their shoulder, and will weigh between 15 and 18 pounds when fully grown.
They have a life expectancy of up to 15 years when healthy!
The main difference between the Wire and Smooth Fox Terriers is in their fur.
The Smooth Fox Terrier has a short, hard coat that needs weekly grooming and monthly bathing – unless it gets extremely dirty in between of course!
Wire Fox Terriers have a much more wiry coat, that is longer especially around its legs, neck and muzzle.
Grooming
The grooming needs of the Wire Fox Terrier vary depending on its role.
People that use their Wire Fox Terriers in events and shows have to hand strip their dog's coat regularly.
The regular Wire Fox Terrier will need to be brushed at least once a week, to prevent its fur from getting tangled.
Both breeds need their nails trimmed monthly and ears checked weekly for debris and wax.
Health Concerns
Unfortunately, there are some health conditions that both the Wire Fox Terrier and the Smooth Fox Terrier are prone to.
These include: cataracts, myasthenia gravis, primary lens luxation, glaucoma, luxating patellas, elbow and hip dysplasia, ataxia, and cardiac disease.
Fox Terriers also come in a Toy breed, which are very similar to the Smooth Fox Terrier, but much smaller!
Unfortunately, this little breed is prone to additional health issues, such as obesity.
Fox Terrier Mixes
It is important to remember the characteristics of Smooth and Wire Fox Terriers, as any mix you get could display any of these characteristics depending on which one you breed from.
This includes health conditions, so it is really important to ensure puppies are screened for any major conditions
You should also ask to see the health records of both parent dogs.
So why might someone want to get a Fox Terrier mix?
The lovable characteristics of a Fox Terrier can be made even more adorable when mixed with other dog breeds!
Just remember you can't guarantee the characteristics your mixed breed will inherit – it could be any from either of its parent breeds!
Let's dive in and find out all about the types of Fox Terrier mixes!
Fox Terrier Types
Let's take a look at some of the most popular Fox Terrier Mixes.
We will also briefly look at the second breed used, and the characteristics the mix could inherit from this parent breed.
Wire Fox Beagle
This mix is a cross between a Wire Fox Terrier and Beagle! The Wire Fox Beagle is a medium sized breed that can live well into its teens!
The Beagle breed has a smooth, thick double coat that sheds all year round.
Unfortunately, you can't guarantee the coat your mix will get – it could be any combination of its parent breeds!
Either way, weekly brushing will help remove any shedding fur.
Beagles are just as active as Wire Fox Terriers, so your Wire Fox Beagle will be a bundle of energy! Make sure to give it at least an hours exercise every day. Mixing up exercise will guarantee a happy Wire Fox Beagle
The Wire Fox Beagle is likely to have strong hunting instincts, so be sure to keep it on a leash when walking it outside, and keep it in an enclosed area if it's left outside.
This mix should take well to training and can be extremely outgoing and friendly if properly socialized!
Some of the health breeds this mix will be prone to include: hip dysplasia, hypothyroidism, epilepsy, luxating patella and eye problems.
Smooth Pom Terrier
The Smooth Pom Terrier is a mix between a Smooth Fox Terrier and a Pomeranian.
This is a small to medium sized mix that can live to around 16 years old!
If your Smooth Pom Terrier inherits the Pomeranian double coat, it will need frequent brushing to stay looking its best!
The Pomeranian coat does shed seasonally too – which your Smooth Pom Terrier could inherit!
Make sure your Smooth Pom Terrier gets plenty of exercise
However, it may inherit the Pomeranian tendency to also love a relaxing cuddle
Training and socialization should be started as young as possible. This cross can do really well in dog sports like agility, rally and obedience!
It can be prone to health conditions such as: luxating patellas, hypothyroidism, collapsing tracheas, congestive heart failure, and seizures.
Wire Foxy Russell
This medium sized breed is a cross between the Wire Fox Terrier and a Jack Russell
A Jack Russell Terrier can have a rough, broken, or smooth coat, which your Wire Foxy Terrier could inherit! No matter what coat your mix inherits, you should groom it at least once a week.
Does the dog in your life have a cat in theirs? Don't miss out on the perfect companion to life with a purrfect friend.

The Happy Cat Handbook - A unique guide to understanding and enjoying your cat!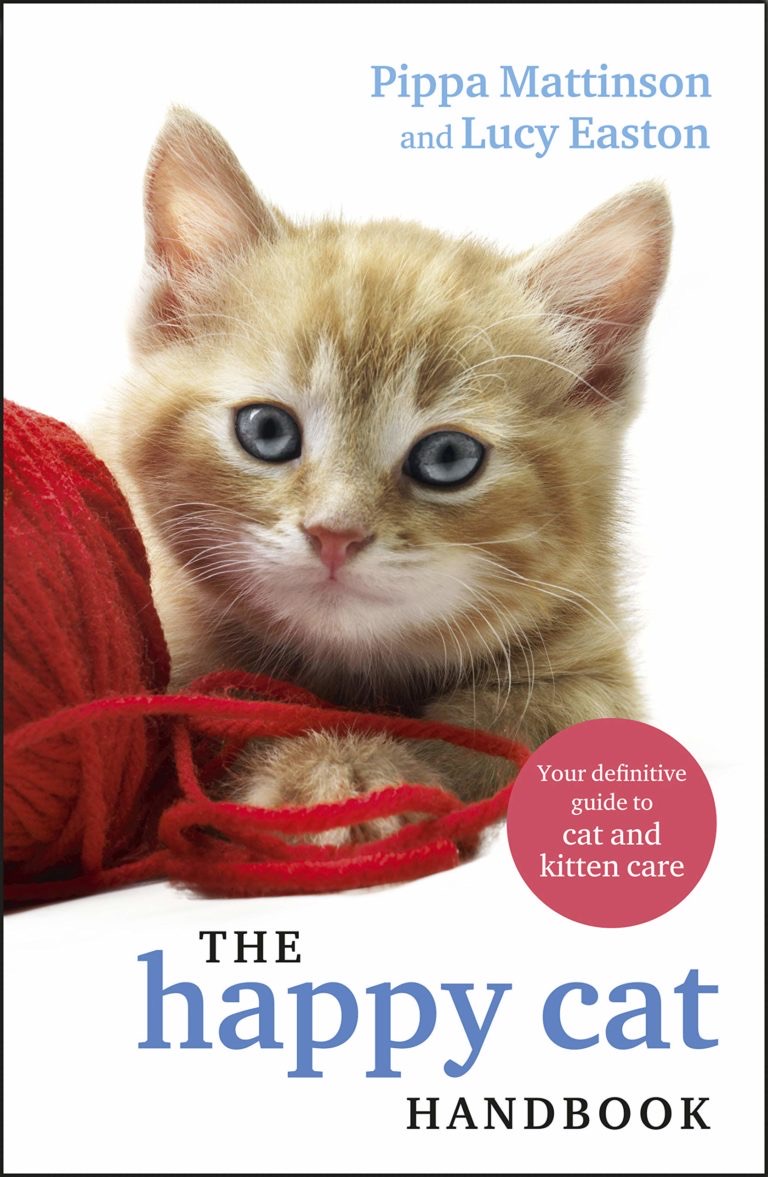 The Jack Russell Terrier is just as energetic as the Wire Fox Terrier.
So, your Wire Foxy Terrier will need daily outdoor exercise. This cross breed is best for families that are very active.
However, this mix of terriers does have a strong prey drive, so should be socialized and trained as early as possible to ensure you have complete control over your pup.
This mix is intelligent, and will love problem solving and playing fun games with you
The Wire Foxy Terrier is likely to get bored easily, but with dedication and fun training, they'll love learning all sorts of tricks to entertain people. This cross is great if you're keen on teaching sports like agility, obedience and rally.
Some of the health conditions the Wire Foxy Terrier could inherit are: patellar luxation, deafness, ataxia, and eye problems, as well as those the Fox Terrier is prone to.
Smooth Torkie
Here we have a mix between a Smooth Fox Terrier and a Yorkshire Terrier.
This is a small to medium sized mix that is likely to have a beautiful coat, whether it inherits the Fox Terriers smooth short fur, or the Yorkshire Terrier's glossy, flowing fur!
Yorkshire Terriers have a hypoallergenic coat, however, this isn't a guaranteed trait in the Smooth Torkie cross.
If your Smooth Torkie does inherit the Yorkshire Terrier's fur, it needs to be groomed at least once a day, and should be trimmed around the eyes. It should also be bathed weekly.
This cross will require moderate to high levels of exercise, depending on its size. Daily walks are a must, as well as fun, energetic games like fetch!
This cross will be an intelligent dog that loves pleasing its owners and responds well to reward-based training
This mix may inherit the Yorkie's stubborn streak, so start training and socialization as early as possible for best results.
Some health conditions to be aware of include: eye anomalies, luxating patella, and dislocated kneecaps.
Wire Fox Pinscher
This is a mix between the Wire Fox Terrier and a Miniature Pinscher.
This is another small to medium sized cross that can live well into its teens.
If they inherit the Miniature Pinscher's coat the Wire Fox Pinscher will have a short, firm coat that's easy to maintain, and will only need grooming and bathing occasionally.
This cross loves exercise and should have at least a couple of walks a day to make sure it's healthy and happy! But, they are also going to love cuddling up on the sofa with you at the end of the day!
Your Wire Fox Pinscher may inherit the Miniature Pinscher's independent streak, which can make training challenging
Start training and socialization as early as possible for best results. You might want to try obedience training or puppy classes to control this stubborn streak!
Some health conditions you should be aware of include patellar luxation, cervical disc, Legg-Calve-Perthes disease, epilepsy, heart conditions and eye problems.
Jafox
The Jafox is a cross between the Toy Fox Terrier and the Japanese Chin. If you love small dogs, you'll love the Jafox cross!
If your Jafox inherits the longer, silky coat of the Japanese Chin, it will need at least weekly brushing and monthly bathing.
This cross may be small, but it's full of energy, and needs regular exercise, in the form of daily walks, or time playing in an enclosed outdoor area.
However, this cross can still suit people who live in apartments as long as they get this daily exercise!
Early socialization is the best way to ensure they are happy and confident when fully grown.
This breed can seem challenging to train, so start as early as possible and keep things interesting to hold your Jafox's attention!
Some of the health conditions the Jafox is prone to includes: luxating patellas, cataracts, epilepsy, and heart murmurs.
Wire-Poo
This is the cross between a Wire Fox Terrier and a Poodle. This will be a medium sized cross that can live into the late teens!
Poodle crosses are popular because of the breed's unique coat. They're known for their curly, hypoallergenic coat, that comes in black, white, or apricot. Just remember you can't guarantee this coat in your Wire-Poo cross!
If your Wire-Poo does get a Poodle coat, you might be best taking it to a groomer. Poodle coats can be really difficult to manage, and professional groomers know exactly how to stop it from matting.
Your Wire-Poo is going to need lots of exercise every day as both the Fox Terrier and Poodle are very active breeds.
You can try all kinds of different exercises to amuse your Wire-Poo – they're great for active families and love playing games like fetch that satisfies their natural retrieving instincts!
This will be an extremely intelligent cross, so start training early to ensure your Wire-Poo only learns good behaviors!
This mix will love dog sports like agility, obedience and tracking. This cross loves people, it's a great family pet!
However, be careful of health conditions like hip dysplasia, eye disorders, epilepsy, von Willebrand's disease, luxating patella, Legg-Calve-Perthes, and bloat.
Is a Fox Terrier Mix Right For Me?
There are a huge variety of Fox Terrier mixes, so there's bound to be something for everyone, whether you're looking for an active new member for a big family, or want a small companion to keep you company!
This list doesn't include every single Fox Terrier mix, so if you know of another great one, be sure to tell us more about it in the comments!
If you've had one of these mixes, tell us what they were like in the comments!
References and Resources
L. M. Miller (et al), 'Inheritance of Congenital Myasthenia Gravis in Smooth Fox Terrier Dogs', Journal of Heredity, 75:3 (1984)
David Sargan (et al), 'Mapping the Mutation Causing Lens Luxation in Several Terrier Breeds', Journal of Heredity, 98:5 (2007)
C. Rohdin (et al), 'New Aspects of Hereditary Ataxia in Smooth-Haired Fox Terriers', Veterinary Record, (2010)
K. C. Barnett, 'Glaucoma in the Dog', Journal of Small Animal Practice, 11:2 (1970)
H. Gredal (et al), 'Progressive Myoclonus Epilepsy in a Beagle', Journal of Small Animal Practice, 44:11 (2006)
S. E. Gibbons (Et al), 'Patellar Luxation in 70 Large Breed Dogs', Journal of Small Animal Practice, 47:1 (2006)
Greg Harasen, 'Patellar Luxation', The Canadian Veterinary Journal, 47:8 (2006)
Justin D. Payne (et al), 'Tracheal Collapse', Compendium Vet, (2006)
Thomas Famula (et al), 'Heritability and Complex Segregation Analysis of Deafness in Jack Russell Terriers', BMC Veterinary Research, 3:31 (2007)
B. Comito (et al), 'Congenital Deafness in Jack Russell Terriers: Prevalence and Association with Phenotype', The Veterinary Journal, 193:2 (2012)
Kirk N. Gelatt and Edward O. MacKay, 'Prevalence of Primary Breed-Related Cataracts in the Dog in North America', Veterinary Ophthalmology, 8:2 (2005)
Kari Ekenstedt and Anita Oberbauer, 'Inherited Epilepsy in Dogs', Topics in Companion Animal Medicine, 28:2 (2013)
R. Robinson, 'Legg-Calve-Perthes Disease in Dogs: Genetic Aetiology', Journal of Small Animal Practice, 33:6 (1992)