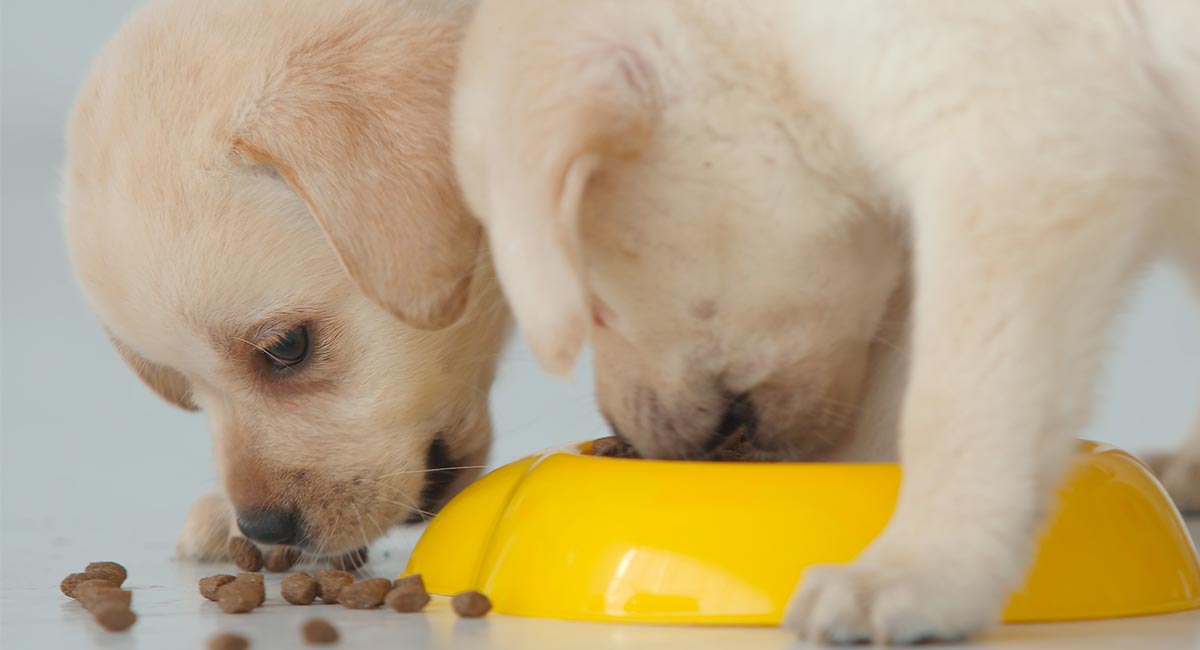 Feeding a Labrador puppy the right kinds of food—in the right quantity and appropriate intervals—sets them up for steady, healthy growth.
New dog owners can choose between feeding a Labrador Retriever puppy wet or dry commercial diets.
Or, they can choose to prepare raw or cooked meals from scratch at home.
In this article, we help you decide which is the right choice for you and your puppy.
Products included in this article were carefully and independently selected by the Happy Puppy Site team. If you decide to make a purchase from one of the links marked by an asterisk, we may earn a small commission on that sale. This is at no extra cost to you.
Feeding a Labrador Puppy
Labrador Retrievers are hugely popular dogs: Check out our guide to this beloved breed.
Bringing a Labrador Retriever puppy home is an exciting time, and there's lots to think about.
Here, we look at feeding your new four-legged friend.
A balanced diet is essential in keeping your Labrador Retriever puppy happy and healthy.
With so many options available, however, choosing the right food can seem daunting.
Happily, choosing the best food doesn't have to be difficult.
Read on to learn about your puppy's dietary requirements and different types of foods available.
Also, find out how often and how much you should feed your pup.
Check out this article to find out what to do if your dog eats plastic.
Swapping Puppy Food Brands
When your puppy comes home, provide the same food given by the breeder, even if ultimately you'll switch.
Jumping quickly from one food to another can cause digestive upset.
Give your puppy about a month before transitioning to new food, so that he can settle into his new home.
Be patient when introducing new food. Aim to gradually phase out the old food over the course of about a week.
Add a little of the new food to each meal. Gradually increase the portion of new food until it makes up 100 percent of meals.
Monitor your puppy carefully to ensure he's accepting the new food.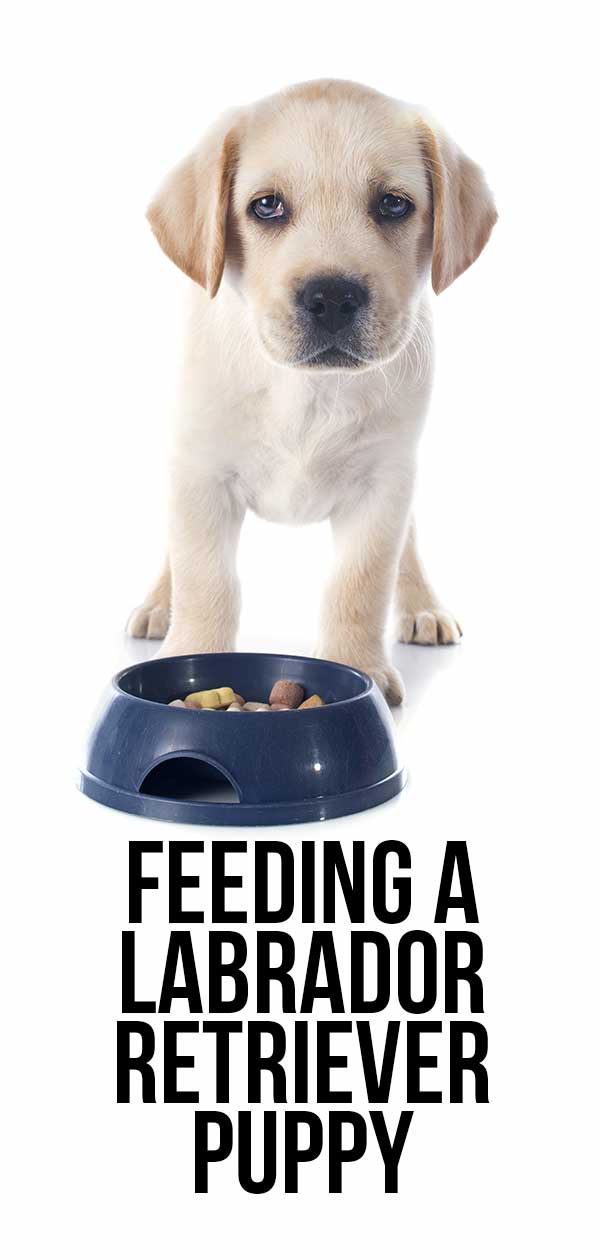 Labrador Puppy Diets
With so many types of dog food available, how do you know what's best for your puppy?
A basic understanding of pet nutrition helps, as well as talking to your veterinarian.
What Do Puppies Need to Eat?
Canine diets are made up of several essential components:
Amino acids from proteins
Fats and fatty acids
Carbohydrates
Vitamins
Minerals
Water
High-quality protein sources provide amino acids, which dogs cannot produce themselves.
Amino acids are the building blocks of proteins within the body.
They are vital for many functions, including hormone regulation and cell repair.
Healthy Fats, Carbs and More for Feeding a Labrador Puppy
Fats provide the most concentrated energy source in your pup's diet.
Fatty acids are important in cell structure and function. Fatty acids also help keep your puppy's skin and coat healthy.
Dogs can get some energy from carbohydrates, which include sugars, starches and dietary fibers.
The major source of carbohydrates in most dog foods come from cereals, legumes and other plants.
Protein, fats and carbohydrates provide the energy dogs need for daily activities.
Canine energy requirements vary depending on build, activity level and life stage.
Vitamins Needed for Feeding a Labrador Puppy
Vitamins and minerals are nutrients your dog cannot produce himself.
Vitamins are essential in many body functions, including:
metabolism
nervous system function
hormone regulation
immune response.
There are 12 minerals classed as essential for dogs.
Calcium and phosphorus, for example, are important for strong bones and teeth.
Magnesium, potassium and sodium are needed for nerve impulse transmission, muscle contraction and cell signaling.
Deficiencies in essential vitamins and minerals can lead to serious health conditions.
For example, insufficient calcium can lead to secondary hyperparathyroidism.
This is a condition resulting in major bone loss, skeletal abnormalities and pathological fractures.
Conversely, an excess of vitamins and minerals can also lead to health problems.
Too much calcium, for example, can lead to skeletal abnormalities, particularly in large breeds like the Labrador Retriever.
High-quality foods provide a balance of these essential dietary components.
Look for foods with the nutritional guarantee statement of the Association of American Feed Control Officials (AAFCO).
This states that the food is complete and balanced.
How Feeding Changes as a Labrador Retriever Puppy Gets Older
Choose food specifically formulated for large-breed puppies.
Large breeds like the Labrador Retriever require less dietary calcium than small breeds due to the risk of hip dysplasia.
Puppies expend more energy than older dogs, as they undergo rapid physiological changes and explore the world.
Therefore, they require twice the calories per pound of body weight than adult dogs.
As dogs age, they require fewer daily calories. Senior dogs on average need around 20 percent fewer calories than adult dogs.
In addition, puppies need more protein, fat and amino acids than adult dogs.
Adult and senior dogs should eat two meals daily, but puppies need three meals.
Also make sure your puppy has fresh water at all times.
It's a good idea to talk to your veterinarian about your puppy's diet. They will be able to give you expert advice and suggestions.
How Long Is a Labrador Considered a Puppy?
The age at which veterinarians agree a puppy can be considered an adult dog varies according to the size of the breed.
Small breeds are considered adults as young as nine months old.
But large or giant breeds are considered mature later, at between 15 months and 2 years old.
Labrador Retrievers are classed as a large dog breed. Therefore, they are considered adult dogs at around 15-18 months old.
Consequently your pup may grow significantly in his first year.
And it's important to continue to provide food specifically formulated for puppies until this point of maturity.
Feeding a Labrador Puppy Kibble
Kibble is a popular choice for many puppy owners.
Wellness Complete Health Natural Dry Puppy Food, Chicken, Salmon & Oatmeal* is formulated for large breeds like the Labrador Retriever.
It boasts essential omega-6 fatty acids from chicken fat; natural fiber and protein from peas; and B vitamins, minerals and fiber from oats.
Blue Buffalo Wilderness Puppy Large Breed* also boasts chicken as its primary ingredient.
It incorporates a blend of antioxidants, vitamins and minerals selected by animal nutritionists.
These support immune system health, life stage requirements and a healthy oxidative balance.
Dry Kibble Storage Tips
Dried foods such as these are convenient. It can be bought in bulk and has a relatively long shelf life when stored correctly.
It can also be left out in a pet's dish for longer than other types of food. In addition, kibble is less expensive than other food types.
However, it's important to take precautions when storing kibble to prevent spoiling.
Store kibble in sealed, airtight containers, in a cool place away from heat sources.
Also, kibble can be more calorie-dense than other foods.
Hence, it's important to monitor the amount given to prevent your puppy from becoming overweight.
Establishing set meal times and removing uneaten food after a certain time period helps.
Feeding a Labrador Puppy Wet Food
Wet food is very palatable, so it can be appealing for pups who are picky eaters.
It has a higher moisture content than dried food, which can be beneficial for dogs with health concerns such as kidney problems.
Wet food comes in sealed, airtight cans, which reduces the risk of contamination and rancidity. Cans have a long shelf life.
However, wet food can be more expensive than dried food.
Wet Food Storage Tips
In addition, once cans are opened, wet food will need to be refrigerated and consumed within two to three days.
Moreover, wet food should not be left for long periods of time in your puppy's bowl, as it can spoil.
If your puppy has not eaten their wet food within 15 minutes or so, it's best to remove the bowl and refrigerate it until the next meal time.
Eukanuba Wet Food Puppy Mixed Grill Chicken & Beef Dinner In Gravy Canned Dog Food* is suitable for large breeds like the Labrador Retriever.
It contains above-average protein from chicken meat and beef protein.
CANIDAE Grain Free Pure Dog Wet Food* has chicken simmered in broth as its primary ingredient.
This makes it gentle on digestion and a good option for pups with sensitive stomachs.
Feeding a Labrador Puppy Raw (BARF)
In recent years, raw food diets have become increasingly popular.
Feeding diets comprised primarily of raw meat, bones and vegetables have long been common practice among racing greyhounds and sled dogs.
In 1993, Australian veterinarian Ian Billinghurst suggested extending this to family dogs.
He coined the term for BARF—bones and raw food, or biologically appropriate raw food.
Raw Food Diet List
Raw food diets typically consist of the following elements:
muscle meat, often on the bone
bones (whole or ground)
organ meats
raw eggs
vegetables such as spinach or broccoli
apples or other fruits
small amounts of yogurt.
Proponents of BARF suggest that this diet is closer to what dogs ate before domestication.
They argue that raw diets give shinier coats, healthier skin, and higher energy levels.
At this time, however, there are few scientific studies on BARF diets.
Are Raw Food Diets Risky for Feeding a Labrador Puppy?
Critics suggest raw diets are risky, pointing out that raw meats can contain bacteria dangerous to both dogs and humans.
They also highlight the danger of bones as choking hazards.
Without careful attention, it's easy for a raw diet to be unbalanced and, therefore, nutritionally inadequate.
Buying raw food ingredients can be expensive. Careful planning is required to ensure nutritional balance, which can be time-consuming.
In addition, raw food cannot be left in a puppy's bowl for long periods of time, at the risk of bacterial contamination.
BARF Storage Tips
Uneaten food must be refrigerated after 15 minutes.
Many commercial dog food companies, however, have started to produce raw food products by utilizing a flash-freezing process.
This can make raw food more convenient, easier to store and less time consuming.
Stella & Chewy's Freeze-Dried Raw Stella's Super Dinner* is one such example and boasts over 1,900 five star reviews on Amazon.
These freeze-dried raw patties are free of added hormones, antibiotics, gluten or fillers.
They have chia seed for a healthy coat and New Zealand Green Mussel for joint support.
As with any diet, if you are considering a raw diet for your puppy, it's best to consult your veterinarian for advice.
Feeding a Labrador Puppy a Homemade Diet
Although there are similarities between the two, homemade diets differ in several significant ways from raw food diets.
Like some raw food diets, homemade diets involve giving your pup a selection of ingredients you have prepared.
Homemade meals aim to provide balanced nutrition, and include protein sources, fats and carbohydrates.
Foods typically provided include:
meat
seafood
poultry
dairy sources such as yogurt
grains
vegetables
oatmeal
calcium sources (ex. egg shells).
Unlike raw food diets, in homemade diets, foods are cooked.
Proponents of homemade diets argue that it is preferable to know exactly what is going into their pet's meals.
Critics point out that it can be easy for such diets to become unbalanced.
As we have learned, deficiencies of particular nutrients and/or excesses of others can have detrimental effects upon your puppy's health.
As with raw food diets, it is best to consult a veterinarian for expert advice if you are planning on making homemade food for your puppy.
How Much Should I Feed My Labrador Puppy?
The amount of food your puppy requires is dependent upon his build and energy expenditure.
Labrador Retriever puppies grow into large dogs, and so require more food than smaller breeds.
However, it's important not to overfeed your pup to prevent him becoming overweight.
Consult the recommended portion size for your chosen food: It can vary between brands.
Divide the recommended daily amount into thirds and spread over three meals.
Establish regular feeding times to ease your pup into a routine.
If you plan on feeding a raw or homemade diet, consult your veterinarian fo how much you should feed your pup daily.
Any treats should be counted as part of the day's total food allowance, making up no more than 10 percent of your pup's total intake.
In addition, ensure your puppy has fresh water at all times.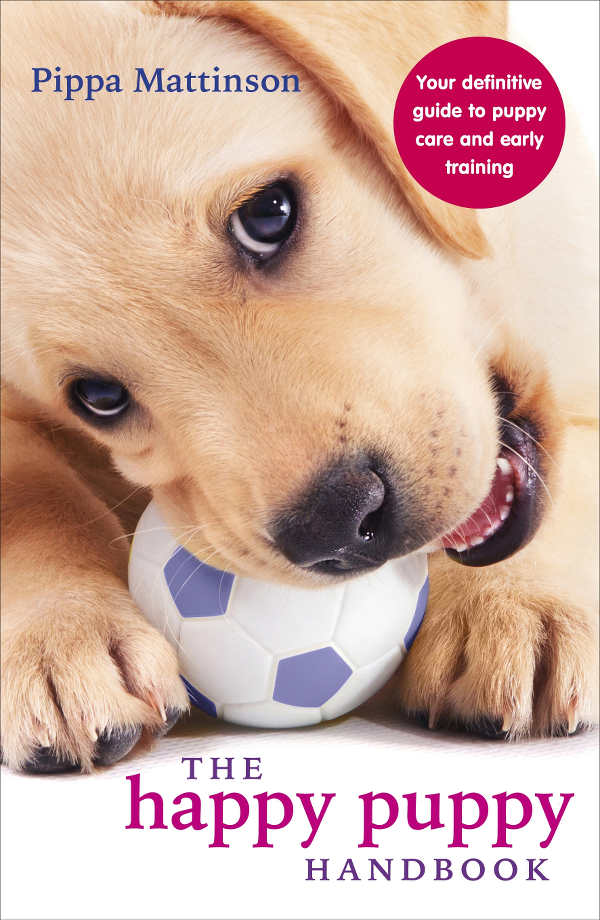 Is My Labrador Puppy the Right Weight?
Your veterinarian will check your puppy's weight, but between visits, you can carry out a simple assessment at home.
Clearly visible ribs, vertebrae and/or pelvic bones are a sign your pup is underweight.
Being underweight can stunt growth and make puppies more susceptible to parasites and infections.
Your pooch may be overweight if you cannot do the following:
Feel your pup's ribs
Observe fat deposits along his back and above his tail
Distinguish a "waist" behind his ribs when looking down from above
One in four dogs in Western societies are obese. Obesity can lead to a range of health problems, including diabetes and osteoarthritis.
Limiting treats and providing plenty of opportunities for play and exercise can help prevent your pup from becoming overweight.
Being a healthy weight can actually help Labradors live longer.
When your puppy is a healthy weight, you can view an abdominal tuck when viewing him from the side.
My Labrador Puppy Is Still Hungry
Labrador Retrievers can be greedy.
A recent study found a quarter of the dogs assessed had a gene that made it harder for them to feel full.
Consequently, your puppy may need help to eat more slowly to avoid discomfort and/or weight gain.
Treat dispensers (ex. Wobbler Kong*, slow feeding bowls, interactive feeders*) ensure your pup can only access two or three pieces of food at a time.
Be aware that Labrador Retrievers can be good at feigning hunger even when they've eaten sufficient portions already.
Stick to a feeding routine, and monitor the amount of food and treats given daily.
You'll soon learn to spot whether your pup is really hungry or simply a little greedy.
My Labrador Puppy Won't Eat
Just like humans, puppies have "off-days" when they might not eat as much as usual.
There can be various reasons for this, including disruption to routine caused by moving house or travel.
Recent vaccinations may also lead to a brief loss of appetite. However, not eating can signal illness or dental disease.
It is best to check with your veterinarian if your puppy stops eating for more than a day.
Puppies, like people, are all different. The food they prefer can vary.
With knowledge of dietary requirements and types of diets, however, you can choose a food that suits you and your four-legged friend.
Don't hesitate to contact your veterinarian for advice on feeding your puppy.
For more information on puppy feeding, check our comprehensive guides.
Plus, make sure to learn about bathing your puppy here.
Affiliate link disclosure: Links in this article marked with an * are affiliate links, and we may receive a small commission if you purchase these products. However, we selected them for inclusion independently, and all of the views expressed in this article are our own.
References and Further Reading:
"Nutrient Requirements of Dogs and Cats," 2006, National Research Council
Raffan, E., et al., 2016, "A Deletion in the Canine POMC Gene Is Associated with Weight and Appetite in Obesity-Prone Labrador Retriever Dogs," Cell Metabolism
Schlesinger, D.P. and Joffe, D.J., 2011, "Raw Food Diets in Companion Animals: A Critical Review," The Canadian Veterinary Journal
Vandendriessche, V.L., et al., 2017, "First Detailed Nutritional Survey In a Referral Companion Animal Population," Journal of Animal Physiology and Animal Nutrition
Wambacq, W., 2017, "Alternatives and New Trends in Pet Food," Ghent University, Laboratory of Animal Nutrition
"What Pet Food Should I Feed?" Cornell University, College of Veterinary Medicine
"Your Dog's Nutritional Needs: A Science-Based Guide for Pet Owners," 2006, National Research Council of the National Academies