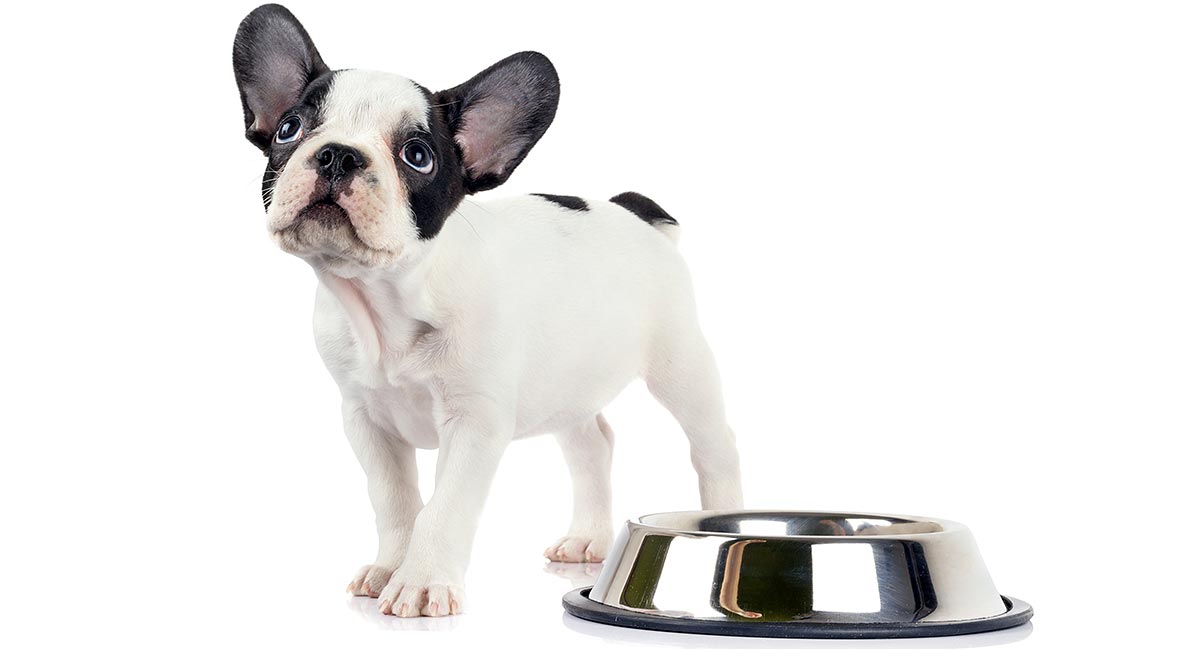 Feeding a French Bulldog puppy a high fat, high protein, low filler diet will set them up well for the future. Their unique faces also mean you'll need to pick a brand that is easy for them to chew and swallow, all the while promoting good dental health. They will need to be fed little and often, even into adulthood, with care taken to support their sensitive stomaches.
Contents
Changing A New Puppy's Food
You may find that when you bring home a new puppy, you don't want to feed them what the breeder, shelter, or rescue fed them. Perhaps you have other pups and want them to eat the same food for convenience, or there's just another brand you prefer!
Regardless, it is best to feed your puppy their old food for at least two weeks if you can. They're already adjusting to a new home and lifestyle, so changing their food might be overwhelming.
Once you've waited, the best way to swap your French Bulldog's food brand is to do so gradually. For a few days, you'll want to mix ¼ of the new food in with ¾ of the old food. You can estimate as the numbers don't need to be precise.
Then, you want to swap the proportions. Feed them ¼ old food, ¾ new food. After a few days, you can give your puppy only the new food.
Of course, during this time you'll want to keep an eye out for any problems. The most common is diarrhea. It might be worth a trip to the vet if your pup starts throwing up their meals, refuses to eat, or has allergic reactions to the new food.
French Bulldog Puppy Diets
French Bulldog puppy diets may consist of kibble, wet food, raw food, or homemade food. Each of these has pros and cons. However, most pet owners opt for dry food as it's simple and cheap. Wet food is the next most popular, as it's still simple to feed but is a bit more costly.
Some pet owners go all in and make their own dog foods. This can get complex, as, with raw or homemade food, you have to be sure to give your dog all the nutrients they need to stay healthy. It is also typically more expensive than prepared meals (kibble or wet food).
However, the benefits might be important if done correctly. You know exactly what your dog is eating, no questions asked.
When looking at food labels or preparing your own puppy food, you'll want to make sure all the essential ingredients are there and also what's not there.
Frenchies often have allergies and sensitive tummies. So you should avoid foods with too much protein (but make sure meat is still the first ingredient!) Also avoid or limit grains, soy, and wheat, as these are common allergens.
The number of calories your puppy needs will depend on their age, weight, and exercise levels. Different types of food will also have different calorie levels.
For example, they will generally need to eat more wet food than kibble for a balanced meal, because canned food has fewer calories.
How Much To Feed A French Bulldog Puppy
If you choose a Frenchie puppy specific diet you can trust the guidelines on the packet initially for your dog's daily rations. At the start of the day, weigh out the right amount on some scales and divide it between five bowls.
Four of these will make up regular meals spread throughout the day, the final bowl is for you to put aside to use as training treats or to reward good behavior. This will help you to resist the temptation to use higher carb training treats.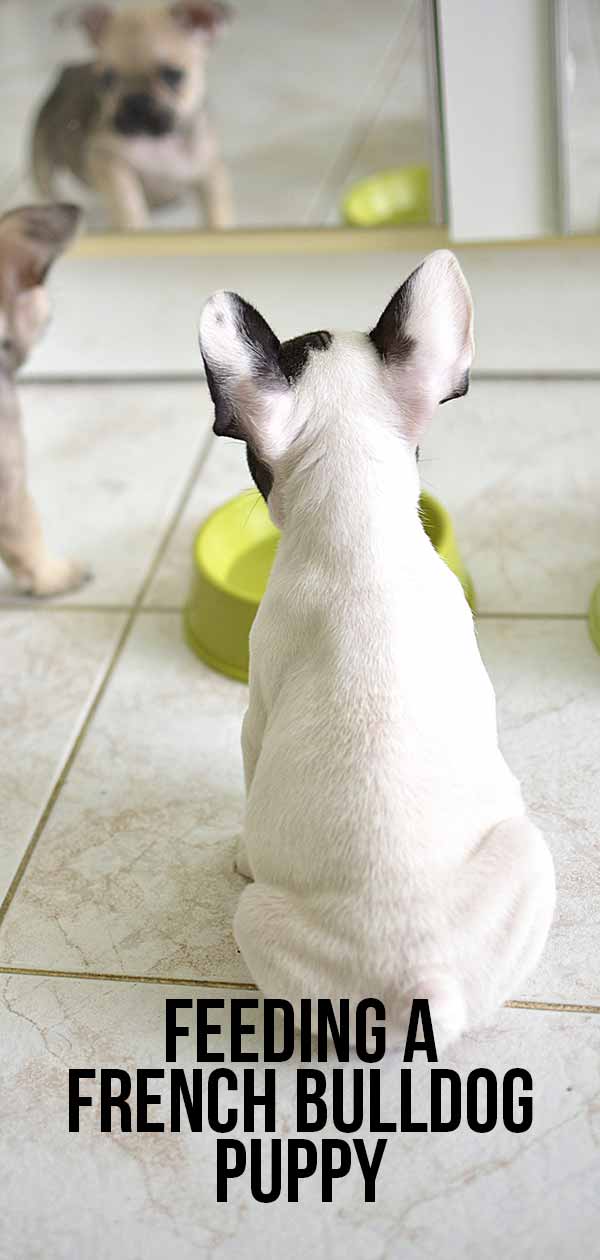 Feeding a French Bulldog Puppy Kibble
The most affordable option, when considering both your time and money, is kibble. The most time-consuming and expensive are raw and homemade diets.
The biggest pro of feeding your French kibble is that it's easy! You can find it easily at the store, and your only prep time will be to open it and pour it into a bowl. It's also the cheapest option.
The biggest con is that there are some low-quality brands of kibble out there. As in any business, some are just in it for the money.
However, these disadvantages can be overcome by choosing a high-quality brand. Look out for formulas specifically tailored for French Bulldogs.
This isn't just a matter of ingredients – extremely brachycephalic dogs can have difficulty picking pieces of kibble out of the bowl. Specialized recipes are carefully shaped to help them out.
Feeding a French Bulldog Puppy Puppy Wet Food
Wet food has much the same pros and cons as kibble. It's easy to prepare, but you do not have complete control over your pup's diet.
Another good thing about wet food is that it keeps your dog hydrated. However, due to the water in wet food, it has fewer calories. Your pup will need to eat more wet food than dry food, making it the more expensive of the two.
Wet food is also messier than dry, especially if your pup is a messy eater.
Raw or BARF Feeding
Though they're expensive and take some research, raw and homemade diets give you the benefit of knowing exactly what's in your dog's food. This gives peace of mind that's worth the cost and energy to some pet owners!
However, there can be some serious cons if you don't know what you're doing. Your dog could get sick from eating raw meat if it's not healthy and well-sourced.
The key to avoiding this it to do your research and know exactly what your dog needs so they don't miss out on key nutrients.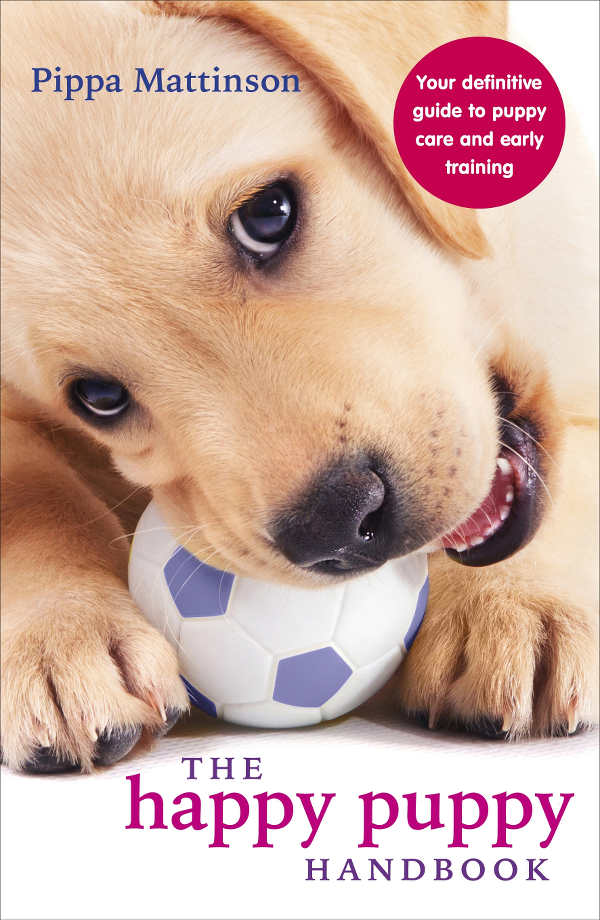 It also takes time to prepare as you will need to buy the ingredients individually, and prepare the meals. If you do go this route, you also want to be sure to consult your veterinarian as they can help ensure nothing essential is missing from your Frenchie's diet.
Raw food also requires more clean-up time than any other food. You'll want to be sure to sanitize the area you've prepared the food to avoid you and your family getting sick.
Feeding a French Bulldog Puppy a Homemade Diet
Feeding a puppy a homemade diet has many of the same pros and cons of feeding raw. You choose exactly what goes into the meal—but if you don't know what you're doing, this can end badly.
Homemade food with properly cooked meats is less risky than a raw diet.
If you speak with your veterinarian and ensure that you're making your French Bulldog puppy a well-balanced meal, this could be the best option for your dog.
It will still be costly and time-intensive though.