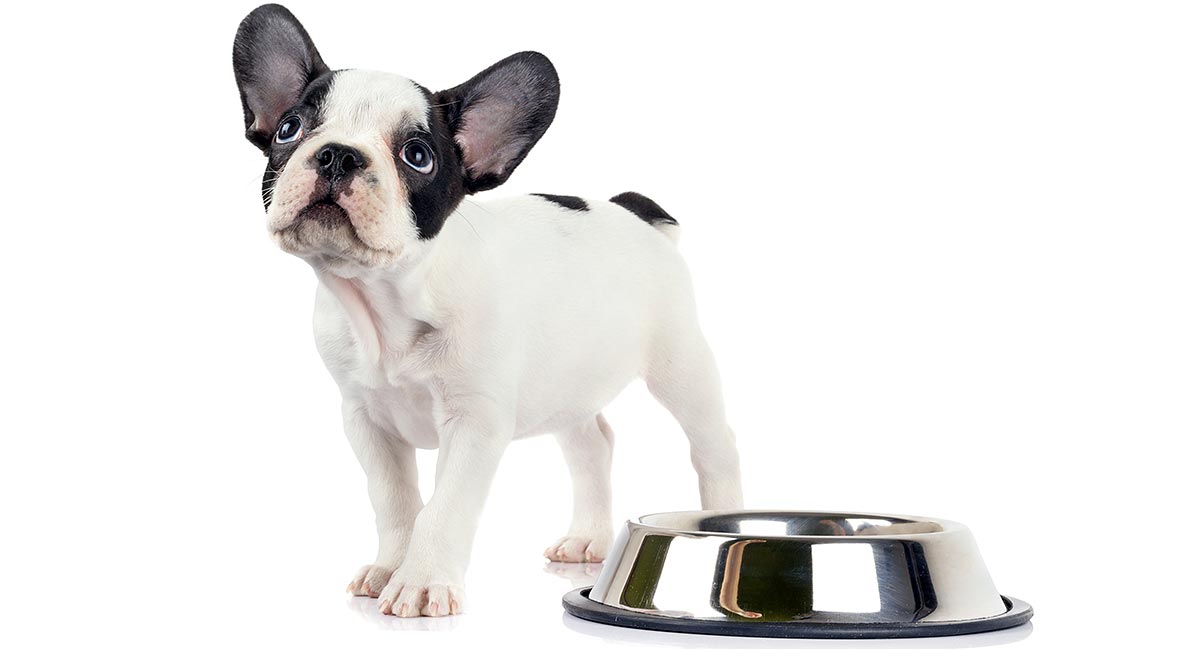 Feeding a French Bulldog puppy starts with decisions about the type of diet best suited to your dog and lifestyle.
Frenchie owners can choose between kibble, wet food, raw food and home cooked diets.
The best food supports healthy growth and takes account of a Frenchie puppy's special shape.
To find out what your adult Frenchie should be eating, take a look at this article.
Feeding a French Bulldog Puppy
If you're here, you're probably thinking of adopting a French Bulldog. Or maybe you already have one and are looking to change their diet.
Either way, we're here to help!
Today we'll look into your options for feeding your French Bulldog puppy. We'll discuss the pros and cons of wet, raw, and homemade dog foods. We'll also talk about kibble.
In addition, we'll talk about how much to feed your French Bulldog puppy, how to tell if they're getting the right amount of food, and at what age a puppy is all grown up and ready to swap to adult dog food.
Swapping Puppy Food Brands
You may find that when you bring home a new puppy, you don't want to feed them what the breeder, shelter, or rescue fed them.
Perhaps you have other pups and want them to eat the same food for convenience, or there's just another brand you prefer!
Regardless, it is best to feed your puppy their old food for at least two weeks if you can. They're already adjusting to a new home and lifestyle, so changing their food might be overwhelming.
Once you've waited, the best way to swap your French Bulldog's food brand is to do so gradually.
For a few days, you'll want to mix ¼ of the new food in with ¾ of the old food. You can estimate as the numbers don't need to be precise.
Then, you want to swap the proportions. Feed them ¼ old food, ¾ new food.
After a few days, you can give your puppy only the new food.
Of course, during this time you'll want to keep an eye out for any problems. The most common is diarrhea. It might be worth a trip to the vet if your pup starts throwing up their meals, refuses to eat, or has allergic reactions to the new food.
If in doubt, go back to their old food, at least until you figure out what the problem is.
If you want to make the transition easier, and you don't have a specific brand in mind, you can try to find food with similar ingredients to your puppy's old variety.
This also works if you have to switch foods abruptly for some reason, like if their old food was recalled.
French Bulldog Puppy Diets
French Bulldog puppy diets may consist of kibble, wet food, raw food, or homemade food. Each of these has pros and cons. However, most pet owners opt for dry food as it's simple and cheap.
Wet food is the next most popular, as it's still simple to feed but is a bit more costly.
Some pet owners go all in and make their own dog foods. This can get complex, as, with raw or homemade food, you have to be sure to give your dog all the nutrients they need to stay healthy. It is also typically more expensive than prepared meals (kibble or wet food).
However, the benefits might be important if done correctly. You know exactly what your dog is eating, no questions asked.
When looking at food labels or preparing your own puppy food, you'll want to make sure all the essential ingredients are there and also what's not there.
Frenchies often have allergies and sensitive tummies. So you should avoid foods with too much protein (but make sure meat is still the first ingredient!) Also avoid or limit grains, soy, and wheat, as these are common allergens.
The number of calories your puppy needs will depend on their age, weight, and exercise levels. Different types of food will also have different calorie levels.
For example, they will generally need to eat more wet food than kibble for a balanced meal, because canned food has fewer calories.
If you're unsure how much to feed your French Bulldog puppy, it's best to consult with a veterinarian.
How Feeding Changes as a French Bulldog Puppy Ages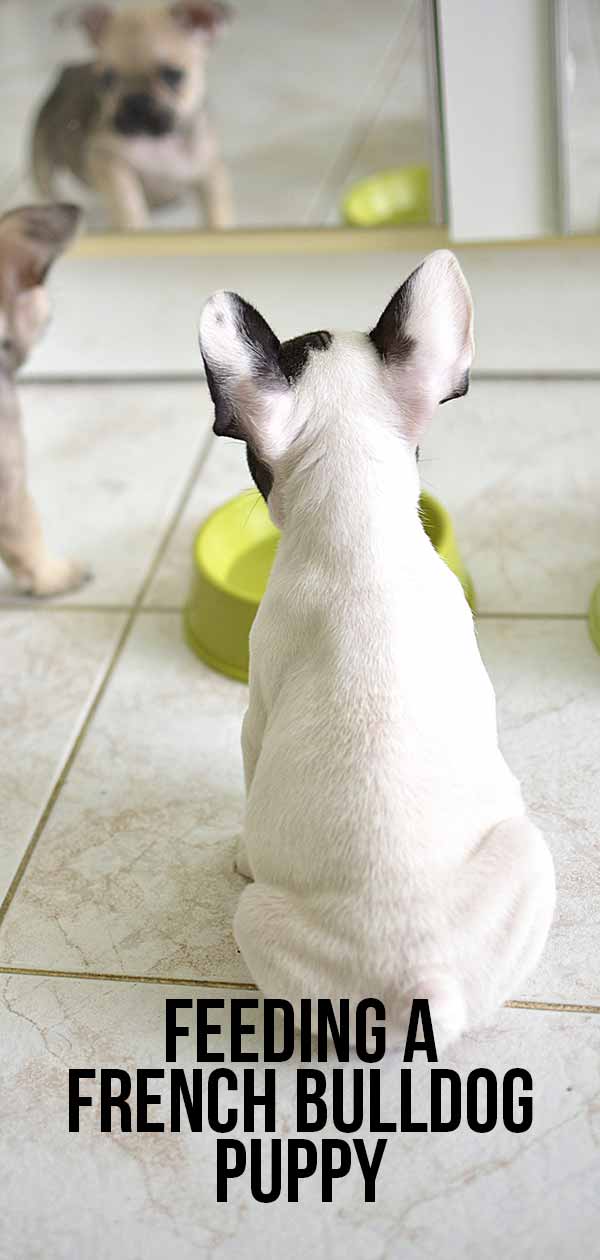 As puppies get older and bigger, they will need more calories to stay healthy. As you can imagine, the amount of food a four-week-old Frenchie eats will not be enough for a full-grown pup!
French Bulldogs are considered adults after one year. If you're switching from puppy to adult food, you would begin to swap foods around this time.
As we discussed earlier, when swapping foods you'll want to give your pup ¼ new food and ¾ old food for the first few days. Then, ¼ old food and ¾ new food for another few days, before giving them just their new food.
This avoids giving them tummy problems. It also gives you time to watch your dog. If they vomit, stop eating, or show allergic reactions or other symptoms, consult your veterinarian.
Keeping a dog's adult food similar in ingredients to their puppy food will lessen these problems and make the transition easier.
What Do you need to know about Feeding a French Bulldog Puppy?
In short, what to feed a French Bulldog puppy depends on your preferences.
The most affordable option, when considering both your time and money, is kibble. The most time-consuming and expensive are raw and homemade diets.
Though they're expensive and take some research, raw and homemade diets give you the benefit of knowing exactly what's in your dog's food. This gives peace of mind that's worth the cost and energy to some pet owners!
None of these options are wrong, so long as they're done correctly and contain the right ingredients.
You will likely find that no matter what you choose to feed your French Bulldog pup, they'll enjoy mealtime!
Feeding a French Bulldog Puppy Kibble
The biggest pro of feeding your French kibble is that it's easy! You can find it easily at the store, and your only prep time will be to open it and pour it into a bowl. It's also the cheapest option.
The biggest con is that there are some low-quality brands of kibble out there. As in any business, some are just in it for the money.
However, these disadvantages can be overcome by choosing a high-quality brand. Look out for formulas specifically tailored for French Bulldogs.
This isn't just a matter of ingredients – extremely brachycephalic dogs can have difficulty picking pieces of kibble out of the bowl.
Specialized recipes are carefully shaped to help them out.
Feeding a French Bulldog Puppy Puppy Wet Food
Wet food has much the same pros and cons as kibble. It's easy to prepare, but you do not have complete control over your pup's diet.
Another good thing about wet food is that it keeps your dog hydrated. However, due to the water in wet food, it has fewer calories. Your pup will need to eat more wet food than dry food, making it the more expensive of the two.
Wet food is also messier than dry, especially if your pup is a messy eater.
Feeding a French Bulldog Puppy Raw (BARF)
The best thing about feeding your puppy raw is that you get to control their diet completely. Alongside that, you're feeding them as they'd eat naturally. Some experts argue it's the best way to go!
However, there can be some serious cons if you don't know what you're doing. Your dog could get sick from eating raw meat if it's not healthy and well-sourced.
The key to avoiding this it to do your research and know exactly what your dog needs so they don't miss out on key nutrients.
It also takes time to prepare as you will need to buy the ingredients individually, and prepare the meals. If you do go this route, you also want to be sure to consult your veterinarian as they can help ensure nothing essential is missing from your Frenchie's diet.
Raw food also requires more clean-up time than any other food. You'll want to be sure to sanitize the area you've prepared the food to avoid you and your family getting sick.
Feeding a French Bulldog Puppy a Homemade Diet
Feeding a puppy a homemade diet has many of the same pros and cons of feeding raw. You choose exactly what goes into the meal—but if you don't know what you're doing, this can end badly.
Homemade food with properly cooked meats is less risky than a raw diet.
If you speak with your veterinarian and ensure that you're making your French Bulldog puppy a well-balanced meal, this could be the best option for your dog.
It will still be costly and time-intensive though.
How Much should I Feed my French Bulldog Puppy?
As we spoke about earlier, each puppy and each type of dog food are different.
Once you've chosen what to feed your puppy, your veterinarian can consult you on how much of it to feed them.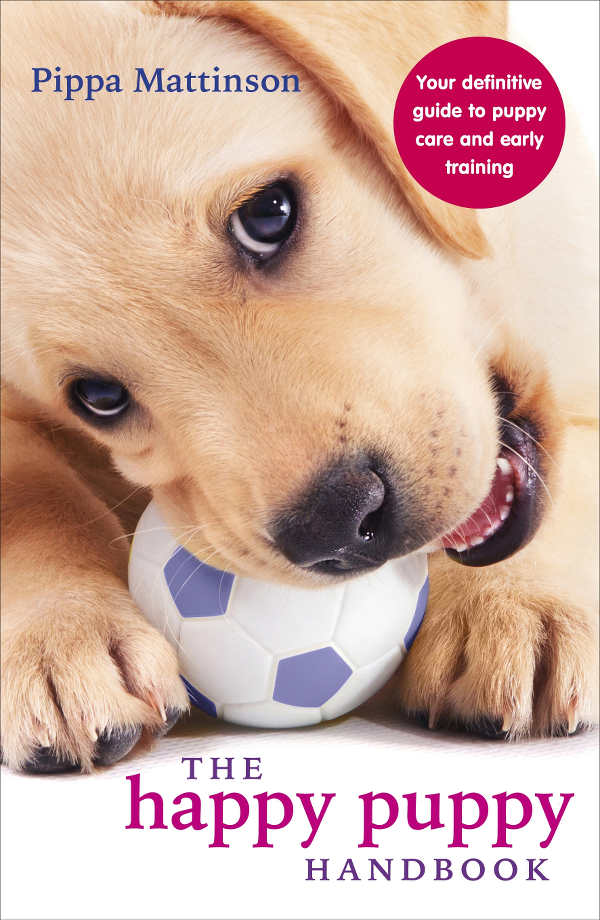 Is My Puppy the Right Weight?
It's important that your Frenchie be the right weight for them. There are health risks when a dog is too skinny, or too fat.
Especially due to French Bulldog's short snout, they can have issues breathing that can become worse if they're overweight.
However, there are no set rules for how much a French Bulldog puppy should weigh. It's best to compare them to themselves, keeping track of their growth.
Usually, you can tell by the way a dog looks whether they're the right size. If you're unsure, consult with your veterinarian at your dog's next checkup.
My French Bulldog Puppy is Still Hungry
If your puppy still seems hungry after mealtime, first make sure you're feeding them the right amount of food.
If you're sure they're getting enough to eat, you might want to add something else to make mealtime fun, like enrichment bowls or toys. These turn mealtimes into a game and keep your pup busy eating a bit longer.
You also want to make sure you're spacing out meals appropriately. Don't give your Frenchie all their food in the morning and make them wait until the next day to eat.
Instead, split that food into two or more meals throughout the day.
My Puppy Won't Eat
Sometimes puppies get stressed and stop eating, especially if they've just been through a major change (like being adopted by you!).
This isn't a big deal so long as it doesn't last. If your Frenchie stops eating for more than a day, it's time to see a veterinarian and figure out what the problem is.
A lot of puppies like to explore the world with their mouth, so it's important to keep unsafe items away from them. Find out what to do if your puppy eats plastic here.
And now we've sorted feeding, make sure you also take a look at our guide to puppy baths!
Related Articles
References and Resources
Collins et al., Inherited Defects in Pedigree Dogs. The Veterinary Journal. 2009.
Fasanella et al., Brachycephalic airway obstructive syndrome in dogs: 90 cases (1991–2008). Journal of the American Veterinary Medical Association. 2010.