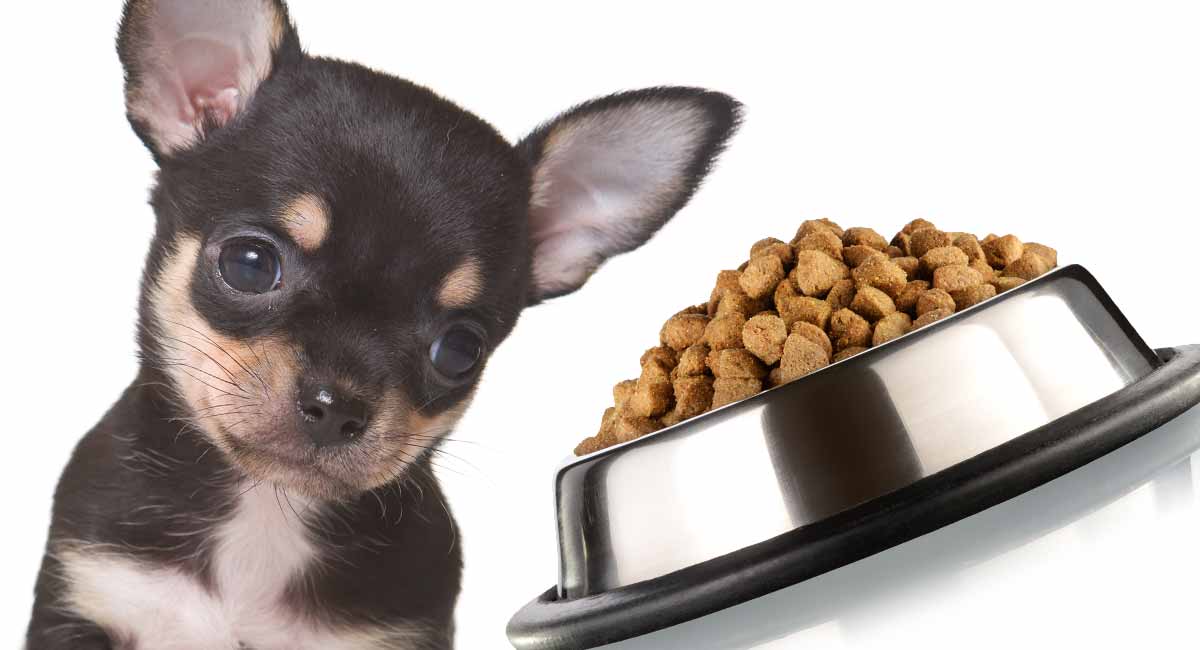 Feeding a Chihuahua puppy the right diet in the correct quantity is the foundation of good health. New puppies benefit from several meals a day, little and often being key. Their ideal food is high in protein and fat, but low in carb heavy fillers. They also do well with brands that come in small pieces that are easy to chew and swallow.
Contents
How Much To Feed A Chihuahua Puppy
Newborn Chihuahuas weigh just a few ounces and can fit in the palm of your hand. These little guys will grow rapidly in the first few weeks and need plenty of nutrients to make them strong and healthy.
A healthy puppy who gets regular exercise and is under one year old will need approximately 50 calories for every pound of body weight. Which is all well and good to say, but what does it mean in practical terms?
The best way to ensure you are giving your pup the right amount of food is to start with the information given on the packaging. Weigh out the daily kibble rations at the start of the day, then if after a few days your pup is looking a little skinny or chubby you can adjust accordingly.
Any changes to their brand of diet should be introduced slowly. Two weeks is the minimum amount of time suggested before introducing a different type of food. Chihuahuas are very sensitive to what they eat and a quick diet conversion can lead to an upset tummy and picky eating.
How Often To Feed A Chihuahua Puppy
Chihuahua puppies should be fed small, frequent meals. The amount of food and the number of Chihuahua feedings per day depend on their age and activity level.
Puppies under 3 months should be fed 4 to 6 times a day. From the ages of 3 to 6 months, you can decrease your Chihuahua puppy feeding schedule to 3 to 4 times a day.
Reduce meals to 2 to 3 times a day from 6 months to one year of age. Once into adulthood, scheduled meals can probably be reduced to twice daily.
Feeding vs Growth Rate
Newborn Chihuahuas will be approximately 3 to 4 inches in length. There are a number of factors that will determine the growth rate of your Chihuahua puppy and how big he will become. The size of both parents, and even his ancestors generations back, will be a factor in his size, as will the dog's activity level and caloric intake.
An adult Chihuahua ranges from 2 to 6 pounds. This 4 pound variance is huge for such a tiny dog and the reason is that their body structures can vary a lot.
Teacup Chihuahua is a term used to describe a Chihuahua that is smaller than average. The deer head variety tend to have a longer overall shape than the apple head Chihuahua.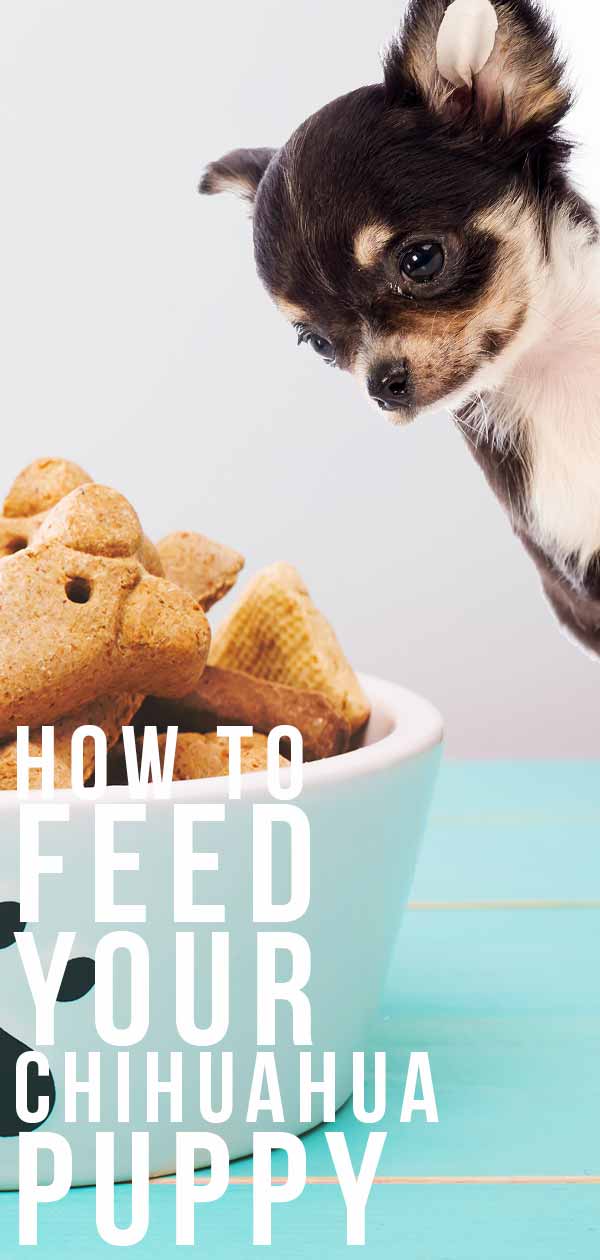 What should I do if my Chihuahua puppy is overweight?
Due to their tiny size it's easy to overfeed this breed and you'll detect even a small amount of extra weight in your Chihuahua puppy's appearance.
Overfeeding or giving them the wrong kinds of food can lead to obesity in later life as well as a wide range of health issues, from arthritis and diabetes, to heart and thyroid problems.
Their small size also means owners often carry Chihuahua puppies around and they may not be getting the exercise they require to burn off calories.
A puppy shouldn't be put on a diet before a veterinarian examines him to rule out other common Chihuahua health issues.
What should I do if my Chihuahua puppy is underweight?
If your Chihuahua puppy is underweight it could be due to a number of reasons including: lack of a healthy diet, burning more calories than he's eating, or a medical issue.
A visit to the veterinarian is important to rule out problems like parasites or hypoglycaemia.
Like many toy breeds, Chihuahuas have trouble regulating their blood sugar. Symptoms include: drowsiness, trembling, muscular weakness, twitching, and convulsions.
Hypoglycaemia can be life threatening if not properly treated.
Giving your Chihuahua puppy extra food might seem like a good way to get him to gain weight, but you need to make sure he's getting foods that provide the proper nutrition. If you want to learn more information about the quality ingredients offered in different dog food brands, check out this in-depth guide.
Foods to avoid feeding a Chihuahua puppy
Some of the foods and ingredients listed here are toxic to all dogs, but because of the Chihuahua's small size, you need to be even more diligent to ensure they never ingest them. The list of foods to avoid during Chihuahua puppy feeding time include:
chocolate,
alcohol,
caffeinated food and drink,
garlic & onions,
avocados,
uncooked dough,
cat food,
grapes,
raisins,
macadamia nuts,
walnuts,
nutmeg, and
citrus fruits.
If you're buying commercial brand puppy food there are a number of ingredients to keep away from. Artificial ingredients like preservatives, coloring, and flavoring can cause gastrointestinal problems and allergic reactions.
Fillers like cellulose, corn bran, and soybean or wheat mill run can lead to nutrient deficiencies. Any foods that contain low-quality, generic meat sources and meat by-products should always be avoided.