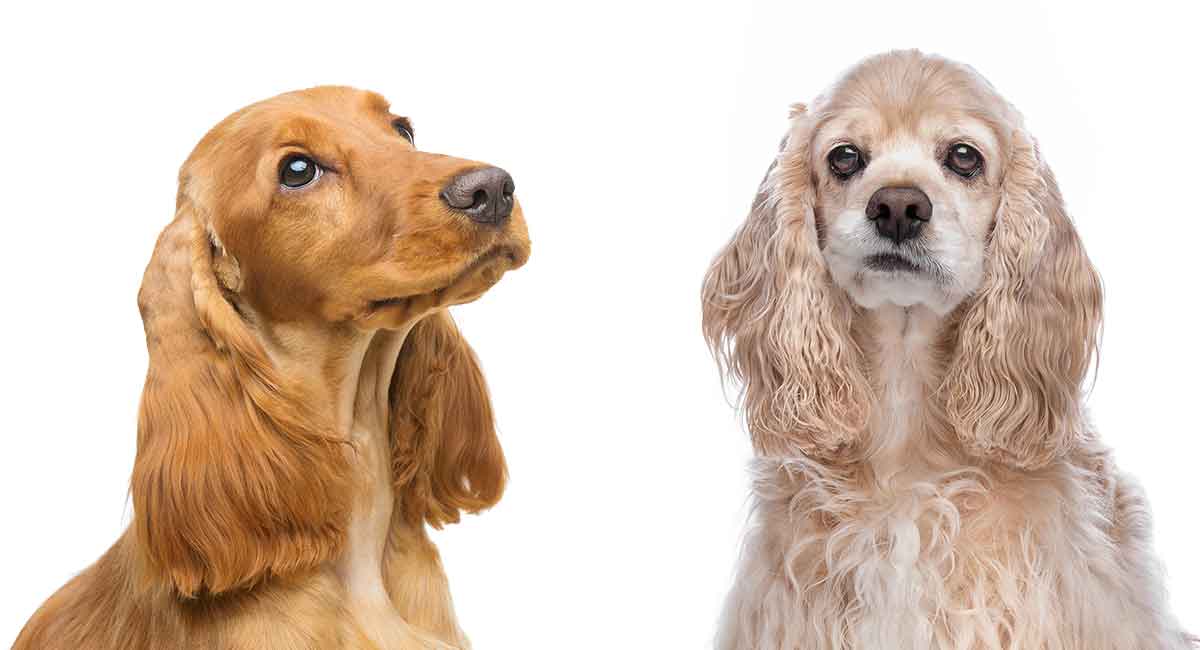 Are you struggling to pick between the English vs American Cocker Spaniel? Both breeds are beautiful and are known for their loving and playful temperaments. However, they are surprisingly different when it comes to a few factors. The English Cocker Spaniel was bred for hunting while the American Cocker Spaniel was created for companionship and the show ring. English Cockers have a higher prey drive and will need more exercise. They also have some potential for temperament and health issues that are distinct from their American cousins. However, the American Cocker is more prone to separation anxiety and needs extra effort when it comes to grooming.
Contents
English vs American Cocker Spaniel History
The English Cocker Spaniel came first, by way of England. Originally, it was grouped with a number of other spaniel hunting breeds and was separated only by type and hunting ability.
They were first known as a Cocking Spaniel due to a smaller size and the way they hunted birds. The Cocking Spaniel became the English Cocker Spaniel after finally being classified as their own breed in the 19th century.
In the 20th century, American enthusiasts of the English Cocker Spaniel opted to breed a companion dog of comparable temperament and beauty. This breed was smaller and had a more relaxed, family-oriented personality. Today, both breeds are favored by certain dog enthusiasts and clubs for their unique talents, temperaments, and looks.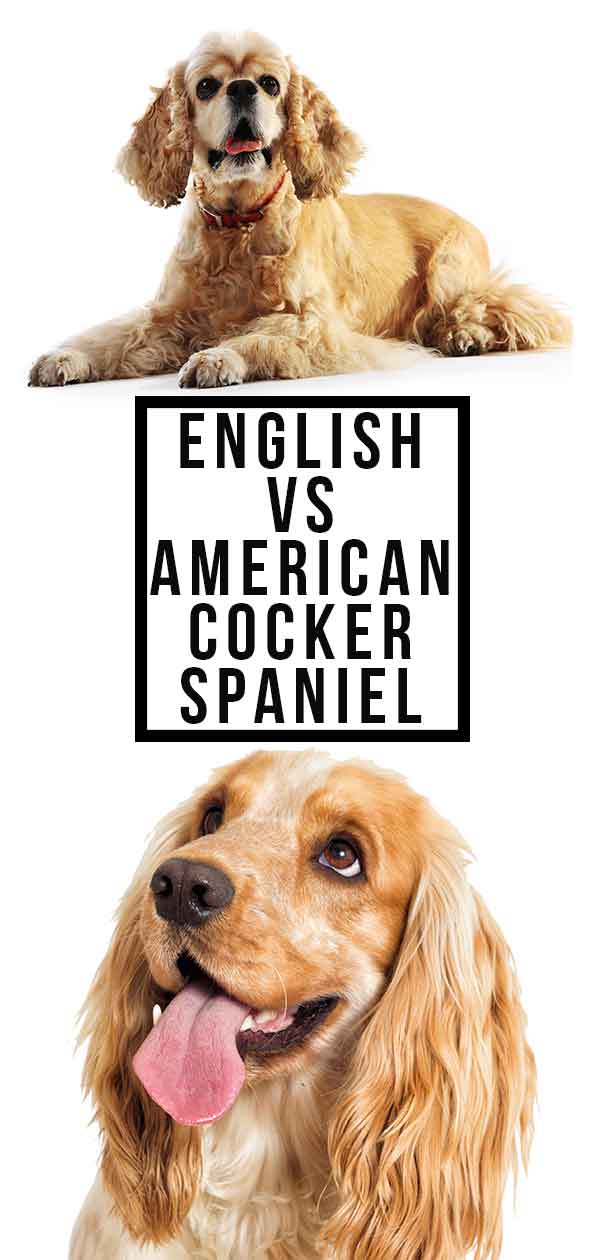 Differences In Appearance
The English Cocker Spaniel and American Cocker Spaniel vary quite a bit in appearance, although it may not be that obvious at first. Both have thick wavy fur, long ears, and adoring expressive faces.
English Cockers tend to be the larger of the two, reaching up to 17 inches tall and weighing 30 odd pounds. In contrast the American Cocker is on average two inches shorter and about five pounds lighter.
There are also some differences in terms of coats. English Cockers come in a wide range of shades and patterns, whereas the American is limited to seven official colors.
English vs American Cocker Spaniel Personalities
Both the English and the American Cocker Spaniel have good temperaments and are eager to please. However, the American Cocker Spaniel was built for companionship and becomes incredibly bonded with their people.
This breed's goal in life is to please his family and to be with them as much as possible. The English Cocker Spaniel is also a loving breed but is more energetic with a higher prey drive.
They are both playful and outgoing and get along with both children and other household pets.
Temperament Issues
The English Cocker Spaniel has high prey drive.
This means they should be kept away from other pets in the home, including guinea pigs, hamsters, birds, and more. Furthermore, some studies have shown that English Cocker Spaniels can show aggressive behaviors in certain situations.
For the most part, these situations include aggression towards strangers and strange dogs they do not know. As always, early socialization and obedience training beginning in puppyhood will play a key role in the temperament.
Early socialization and obedience training will also help your puppy adapt to any situation and ensure that he grows up into a well-adjusted adult.
English vs American Cocker Spaniel Training
These breeds are both intelligent and cooperative, and even more importantly they are very motivated by meals or games. If you're using positive reinforcement methods you can use pieces of kibble, chunks of meat or even the throw of a ball to encourage your dog to follow your cues.
Although you might find the English Cocker a better hunting companion if you want to work your dog, for basic commands they are both great partners.
Do They Have Similar Exercise Requirements?
The English Cocker Spaniel, especially, will do best with long walks or hikes with his person. Although a leash will be necessary if you don't have a great recall.
Their natural prey drive could get them into trouble at home as well, and while they do best in homes that have a backyard suitable for him to play in freely, owners should make sure the yard is fenced properly so the dog stays safe.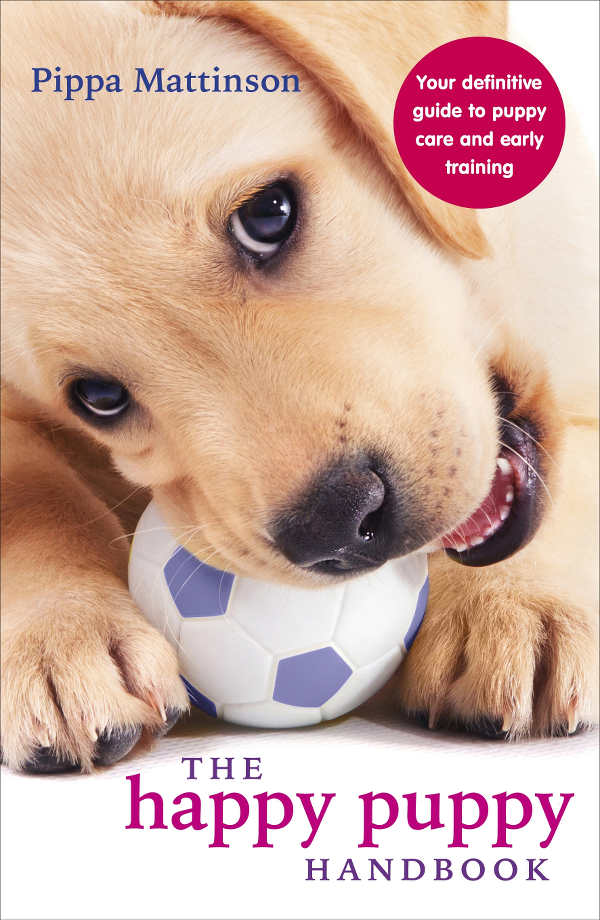 The American Cocker Spaniel, bred for companionship, does not need as much exercise as the English Cocker Spaniel, although he certainly needs some. Since he so thoroughly enjoys being with his people, any exercise activity that involves the two of you together will do just fine.
This could include a nice walk and a game of catch in the park or throwing a ball in the backyard.
Differences In Health
All pedigree dog breeds have at least some genetic health issues that could cause them issues. Fortunately, those which impact both of these breeds can generally be health tested for. Conditions like hip dysplasia and vision problems can occur in both, so make sure your puppy's parents have good hip scores and a recent clear eye test.
The breeds have similar potential lifespans of up to around 14 years, and although they are prone to hear infections and dental problems are generally pretty healthy pups.