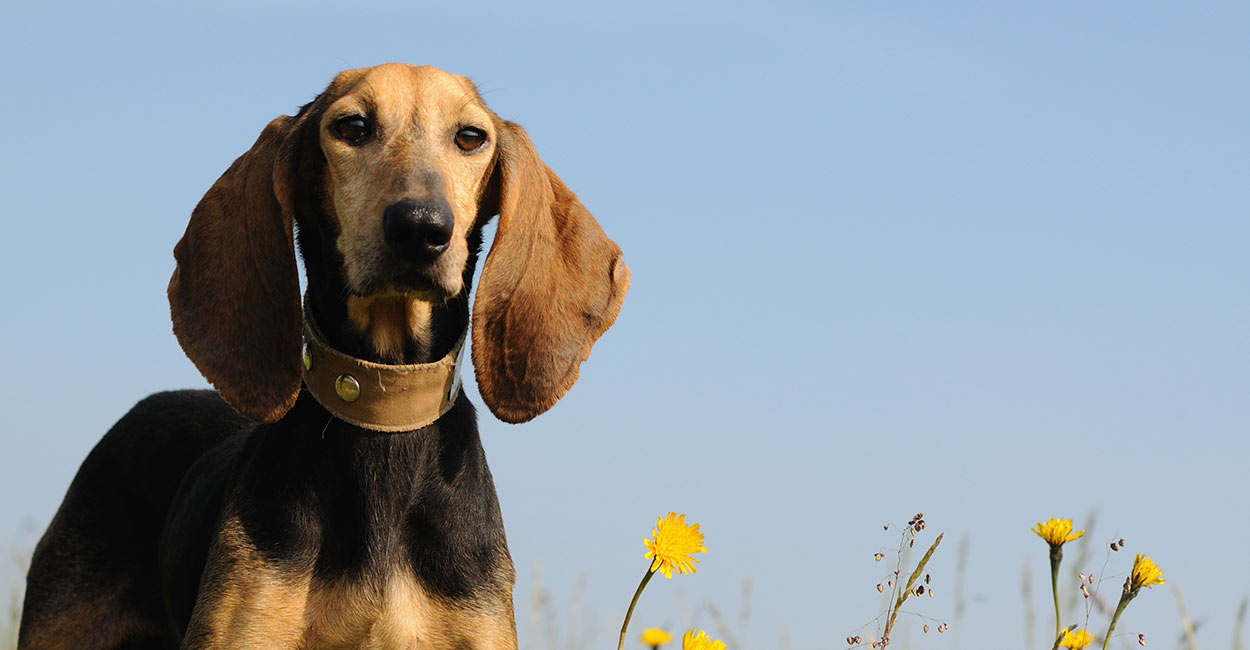 Just the sight of dogs with long ears is so endearing!
The best-known types of dogs with long ears are hound dogs, of course, but actually there are many dog breeds of all sizes and shapes that sport long folded or droopy ears.
Long eared small dogs, medium dogs, and large dogs have special health needs when it comes to ear care, ear health, and ear cleaning. Experienced hound owners, for example, know that a weekly ear cleaning is just as important as a weekly coat brushing or teeth cleaning!
In this article, we take a close look at some of the most popular dogs with very long ears. These lovable, floppy-eared pooches can make great pet dogs for the owner who is willing to devote a bit of extra time each week to ear health and care!
Dogs that have long ears
Drop ears. Folded ears. V-shaped ears. Filbert ears. Button ears. Rose ears.
These are just some of the various names given to dogs with really long ears. As it turns out, there are as many different types of dogs with long ears as there are types of dogs with short ears, pointed ears, cocked ears, upright ears, candle flame ears, hooded ears, or bat ears (yes, "bat ears" are a real thing).
But why do dogs have so many different ear types? For instance, why do hound dogs have long ears, while Alaskan Malamutes have upright ears and terriers have candle flame ears?
The truth is, scientists aren't completely sure yet. Some researchers believe a particular set of cells, called "neural crest cells," have evolved (or devolved, depending on which researcher you ask) to produce floppy ears rather than upright ears.
Other researchers question this hypothesis, considering that the halted development of the domesticated canine at a more juvenile state ("dog versus wolf") might be a more accurate explanation.
Still other theories include breed-specific breeding strategies, which (for example) have also produced short-faced or brachycephalic breeds like bulldogs. But these traits, like long ears, do not show up in all domesticated canine breeds.
The long and short of it remains that we still don't know yet precisely why some dog breeds have long droopy ears and other dog breeds have short upright ears, and still others have ear types that fall somewhere in between.
Ear cleaning for dogs with long ears
Most dogs don't love having their ears cleaned. But then again, although dogs can't speak in human words, by their behavior we can infer that they certainly don't seem to love having ear infections either!
If your dog starts to rub her ears a lot, scratch at her ears, or whine and paw at her ears, or you notice redness, oozing, scabs, or an unusual or stinky odor near the ears, these are all warning signs your dog's ears may be infected.
The hands-down best way to help your dog avoid ever having to go through ear infection treatment is to schedule regular ear cleanings. For dogs with long ears, this may mean a once-weekly ear cleaning for "indoor" dogs and a more frequent ear check and possible cleaning for "outdoor" dogs.
Regardless of what shape and size your dog's ears are, a canine ear has three basic parts: outer, middle, and inner.
The outer ear, or pinna, is the floppy or perky part. The middle ear is where the tiny bones and sensitive ear tube are located. The outer and middle ear are separated by the fragile, thin eardrum. The inner ear leads straight to your dog's brain!
You should always talk with your veterinarian about how frequently and how to clean your dog's ears. You should also follow your vet's recommendations about what type of cleaning solution to use.
Dogs with long ears: Basset Hound
The basset hound is one of the best breed examples of a dog with long ears. The basset hound's long, droopy ears are a delight to behold, being described by the American Kennel Club (AKC) breed standard as "extremely long, low set" and "velvety in texture." Pure heaven!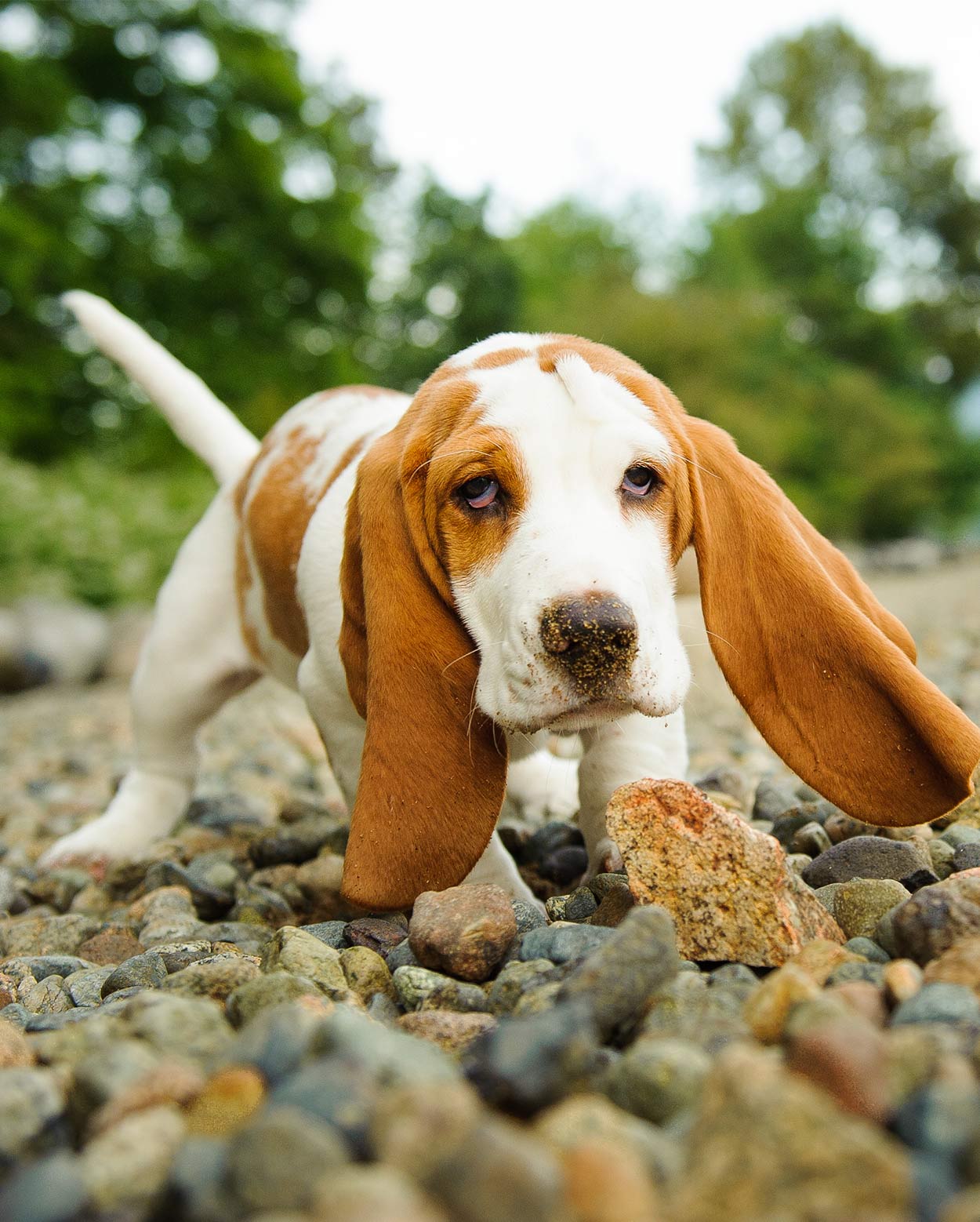 Together with the basset hound's perpetually sad-clown expression and wrinkly forehead, it is easy to just see "cuteness" and forget all about this hound's amazing sniffer and its hunting and tracking abilities.
Because the basset hound's ears are so very long and folded over, they need to be checked and cleaned at least weekly and more frequently if your dog is active outdoors. The simple lack of air circulation is a frequent contributor to ear infections, as is the warm, enclosed, sheltering space of the ear canal.
Basset hound enthusiasts suggest using wet wipes with a homemade cleaner of half white vinegar and half water to clean your dog's ears. Treats can help entice your pup to be an enthusiastic participant in this process!
Dogs with long ears: Beagle
Beagles are hounds on the outside and all heart on the inside. With their liquid-brown begging eyes and instant friend-making personalities, it is hard to imagine a cuter pup than the Beagle.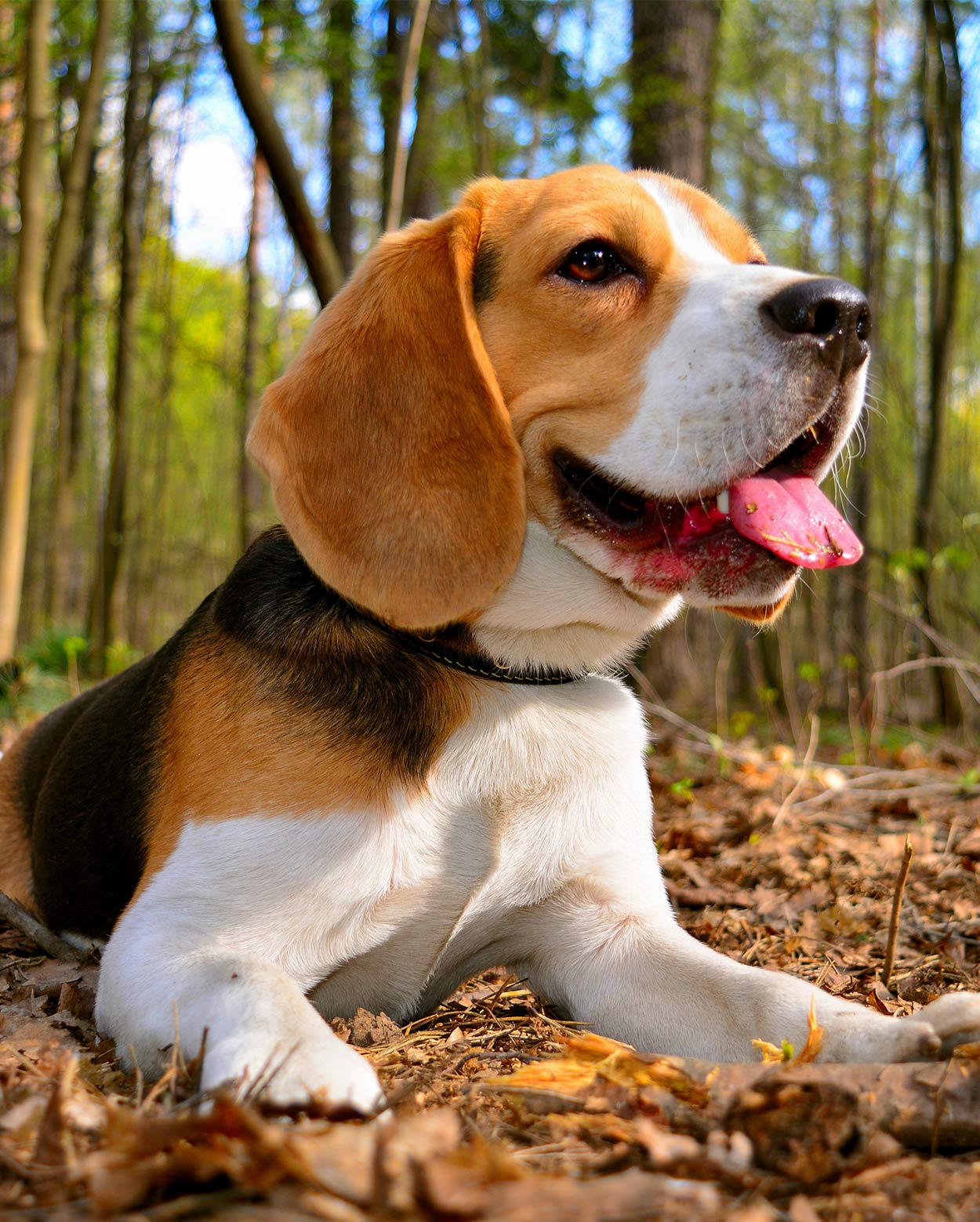 Beagles also rank fifth on the American Kennel Club's list of the 192 most popular purebred dog breeds – not a feat that just any dog could pull off!
This small dog with long ears lives to be with his people, joining in the fun wherever fun is to be found. They are amazing family dogs and are equally good with adults and kids.
Leave a Beagle alone, however, and you will soon discover these dogs can make their own party, tunneling under backyard fences or howling tunefully while your neighbors are trying to sleep (this adorable video is a perfect example of the Beagle's natural howling talent).
Caring for a Beagle is generally easy – their short coats only need brushing every week or so, and they don't need too many baths unless they roll in something extra stinky! But as with many dog breeds with long ears, you will need to pay close attention to your Beagle's ear health, scheduling at least weekly ear checks and cleaning to avoid ear infection.
Dogs with long ears: Dachshund
Consider the phrase "a small hound dog with long ears." Which dog breed instantly springs to mind? If you thought "the dachshund!" you certainly are not alone.
The dachshund is not only the 13th most popular purebred dog breed according to the AKC, but it is also one of the few breeds nearly everyone can recognize and name on sight!
These precious "sausage dogs" with their short legs and adorable, long floppy ears are surprisingly agile and energetic for their unusual shape. These dogs were born and bred to hunt badgers in their ground burrows – hence the name "dach-shund," or "badger dog."
Having covered ear openings comes in handy when you are a dog that literally digs and crawls into a ground burrow while retrieving your prey. But those long ears can also cut off air flow to the ear canal and provide a warm, moist environment for ear infections to take hold.
This is especially true for the long-haired and wire-haired dachshunds, since both breeds tend to have more fur on and around their ear canals, which can reduce air flow quite a bit.
Dogs with long ears: Cocker Spaniel
The Cocker Spaniel may look like a canine supermodel, with its long silky fur, ears, and gorgeous fluffy coat, but this dog breed was actually born for sport and hunting!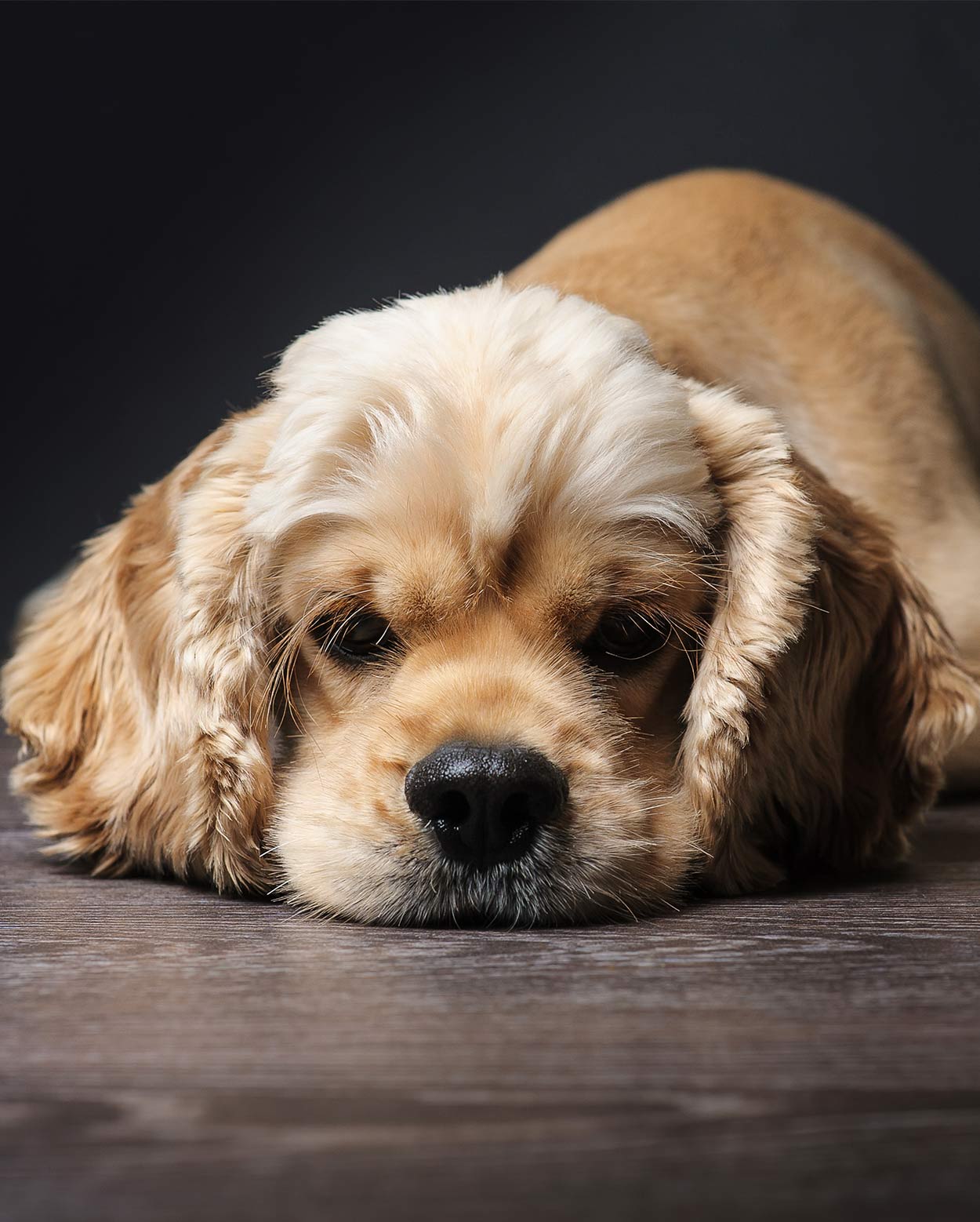 The Cocker is energetic, playful, active, and athletic. Whatever this dog does, he will do it with gusto, maintenance-intensive coat and ears notwithstanding!
For the new Cocker Spaniel owner, it can sometimes come as a shock to realize how much brushing and grooming these dogs need to stay tangle and mat-free. Also, once-weekly ear checks are mandatory to keep ear infection at bay. Since this dog breed's ear fur can grow very long, this means air circulation rarely has a chance to reach the inner ear canal.
For this reason, Cocker Spaniel breeders sometimes cite ear infections as the most common health issue Cocker Spaniels face.
If your Cocker develops ear issues, you may find this breeder remedy helpful, although it is always best to talk with your veterinarian first to get an accurate diagnosis and a recommended treatment plan.
Dogs with long ears: Bloodhound
The bloodhound is such a talented scent hound and tracker that most courtrooms will allow the results of tracking with bloodhounds as official testimony during a court hearing!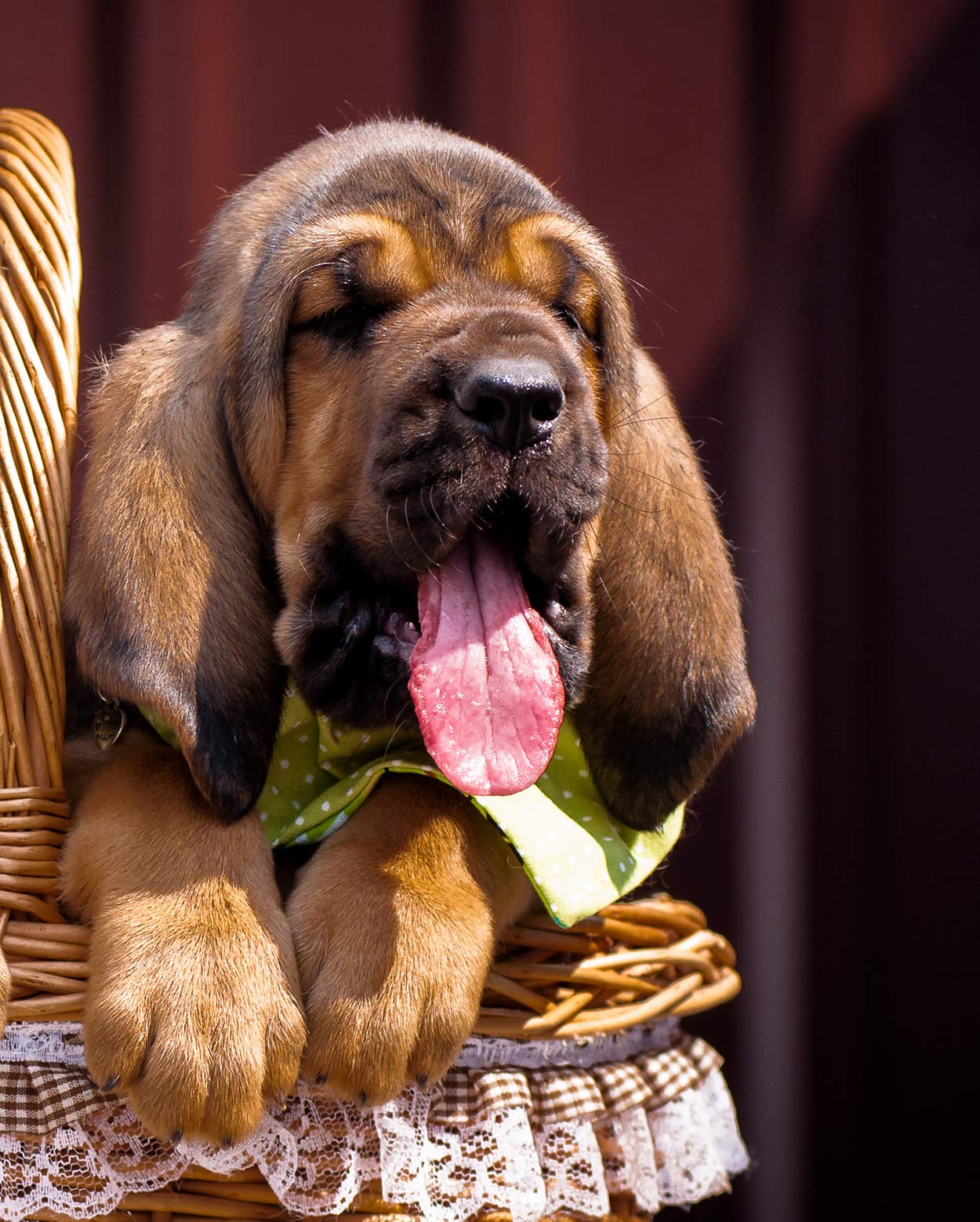 These hounds are also considered to be possibly the oldest breed of scent hound on the planet. While their nose is undeniably their most famous trait, their amazingly long ears certainly make their own unique statement as well!
The bloodhound's ears are extremely long and very floppy, falling in folds all the way down to the shoulders. The skin of the ears is actually quite thin and fragile and very loose – they definitely need to be handled with care.
Breeders recommend checking the bloodhound's ears not just weekly but daily, because both the size and length of the ears, as well as how they fold, can make this breed particularly prone to ear infections and especially infections that start from yeast overgrowth.
Dogs with long ears: Poodle
The Poodle truly is a breed that stands apart, with its near-hypoallergenic curly fur and its vast diversity in sizes: toy, standard, and every size in between! While these dogs often appear to be pampered lap loungers, the Poodle is not only one of the smartest of all dog breeds but is also a natural athlete!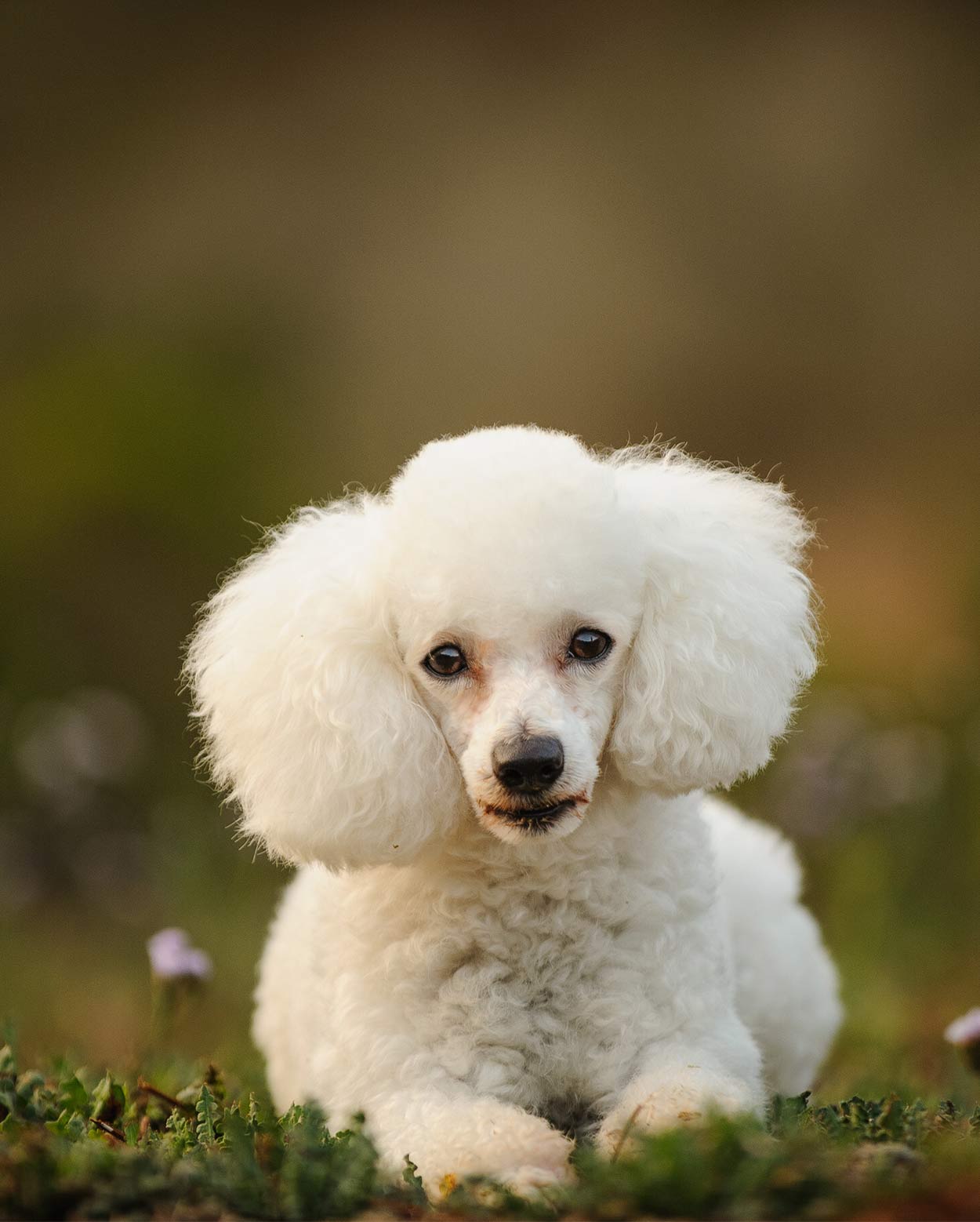 One thing all poodles share in common is their long fluffy ears. The hair is so fluffy in many traditional poodle cuts that it is hard to even see ears under all that fur, but they are definitely there, and are long, wide, and very floppy as they hang down close to the head.
The amount of hair, the size and shape of the ears, and the shape of the ear canal can make inflammation and infection a chronic condition for poodles. And here, the smaller the poodle, the greater the potential for a serious issue to develop. The most serious issues can lead to surgery.
Wax buildup is another potentially chronic condition that can turn serious if left unattended. The shape of this breed's ear canals makes it nearly impossible for the ear to drain built-up wax naturally, so you will need to clean it out manually.
It may be necessary to pluck out some of the inner ear hair to allow for improved air circulation as well as better visibility while cleaning your Poodle's ears.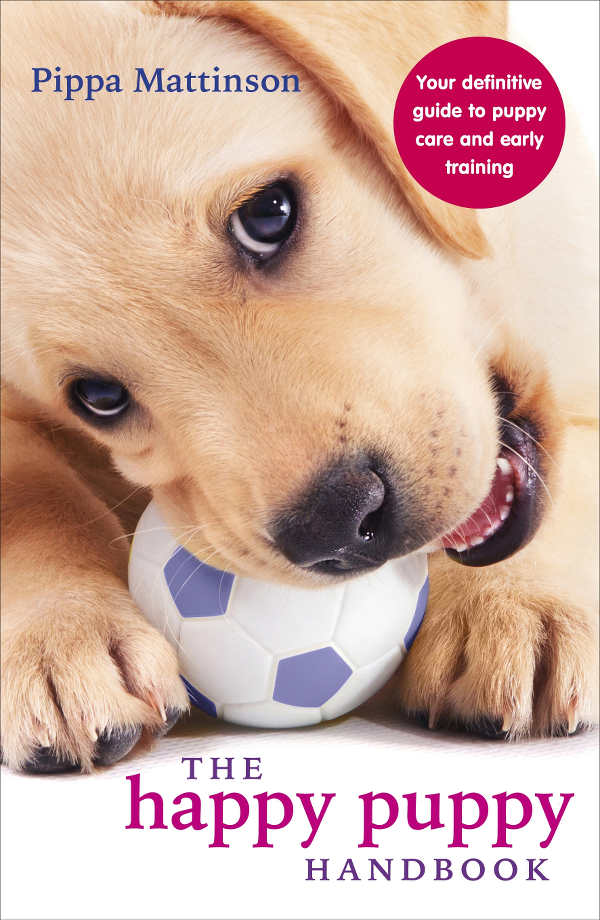 Dogs with long ears: Lhasa Apso
The Lhasa Apso is a truly ancient dog breed, known as a guardian of Buddhist temples and palaces.
The name loosely translates to mean "bearded lion dog." Literally, the name "Lhasa" is the most sacred city in Tibet, and "Apso" means "longhaired dog."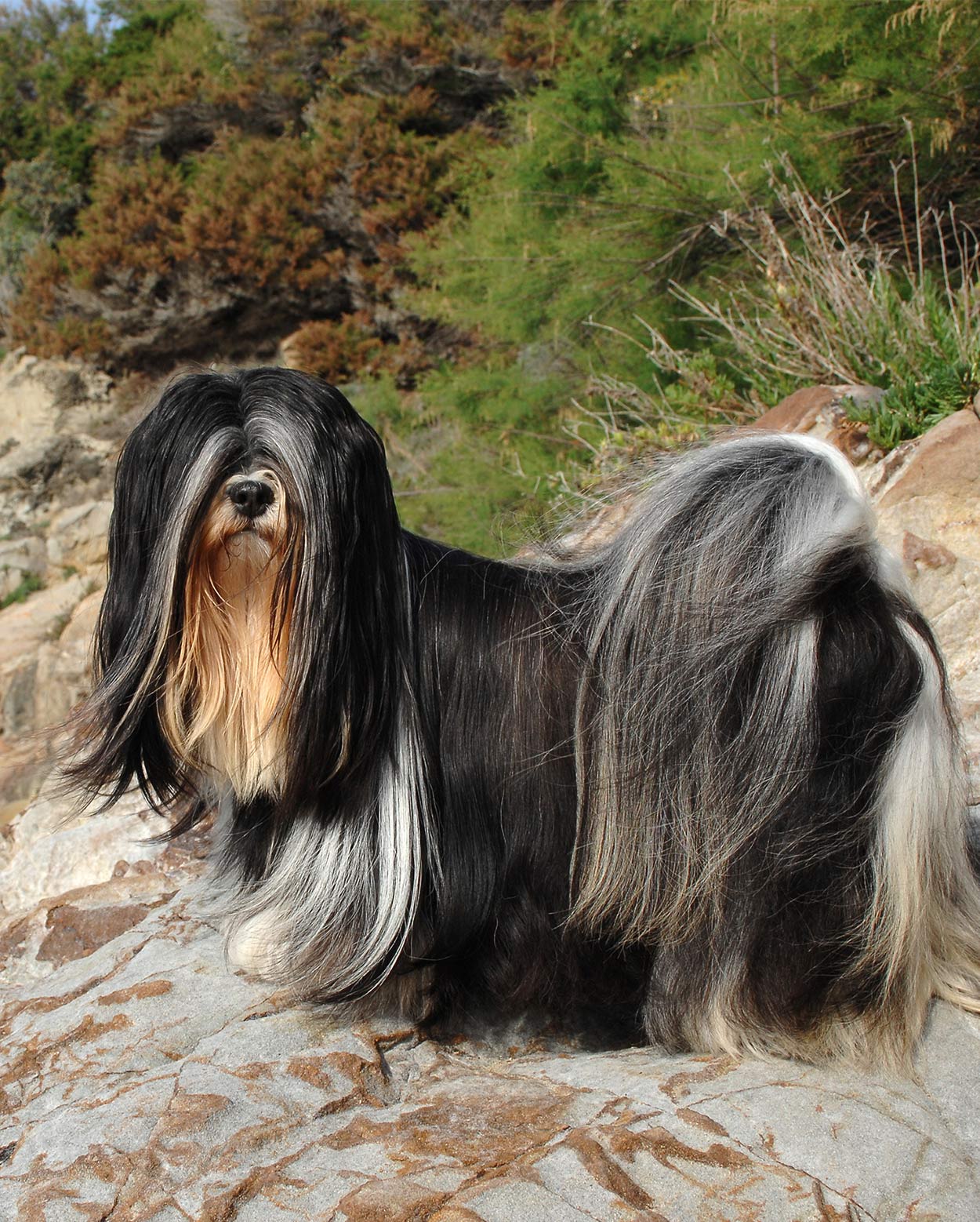 The name might also aptly be translated to mean "long-eared dog," which this dog breed certainly is!
When you first look at a Lhasa Apso dog, you may struggle to figure out exactly where the ears are because this dog has so much hair all over the face and head!
In fact, there is nearly as much hair inside the Lhasa Apso's ears as there is on the outside, making it a real challenge to keep this dog breed's ears clean.
And the hair often extends all the way down inside the ear canal, making the task of getting any air circulation inside the ear itself nearly impossible.
Breeders recommend plucking out some of the interior ear hair, which can be made easier with the help of some ear powder.
You may also want to ask your vet or groomer to take care of this for you if you feel hesitant to do it yourself.
It goes without saying that very regular ear checks and cleanings are simply a must with the Lhasa Apso.
Dogs with long ears
We hope you have enjoyed learning more about these wonderful dogs with long ears!
One of the greatest things about humans' best friend, Canis lupus familiaris, is that dogs exhibit so much variety in both appearance and attributes – just like we do!
Do you have a favorite amongst the many wonderful dog breeds with long ears? Please drop us a comment and let us know!
References and Further Reading