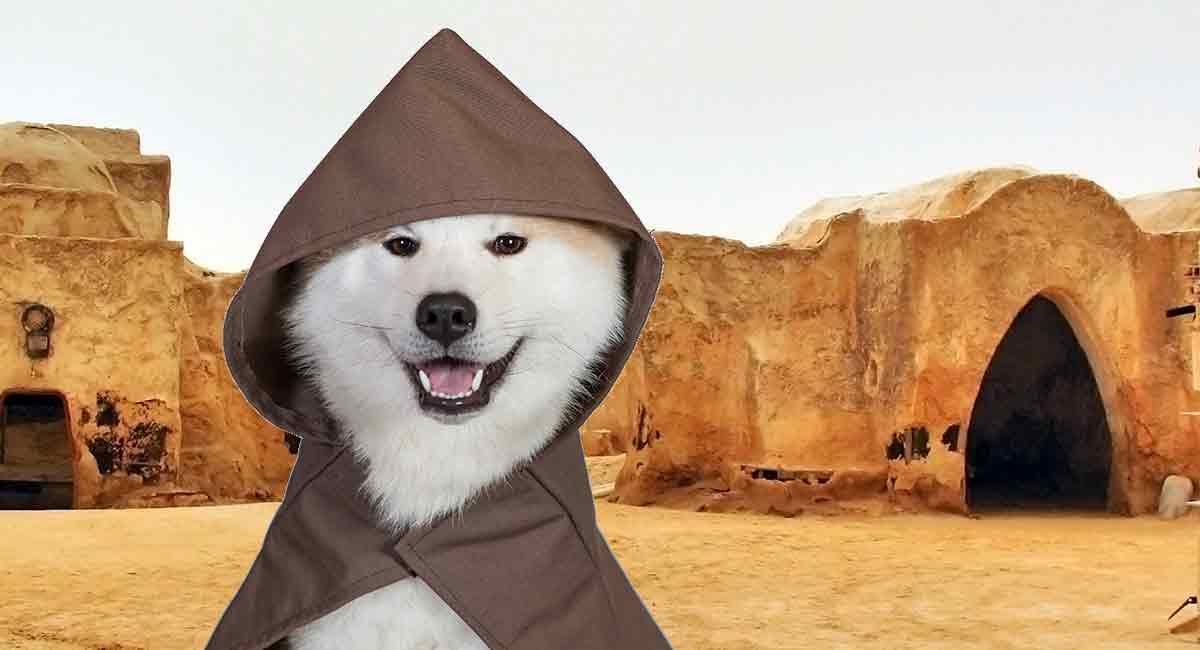 Star Wars dog names are as cool, unique and varied as the characters and settings themselves. It's the series that's bound generations together. So it's no surprise that Star Wars is one of the most successful movie series of all time.
It has launched countless spin-offs, including video games and animated series, and references to comic books. Of course there's also a never-ending plethora of products, such as battery-powered lightsabers and Halloween costumes. If you want to name your new canine sidekick after your favorite movie series, this article will give you a wealth of creative Star Wars dog name ideas to try on for size.
Naming Your Star Wars Dog Puppy or Rescue Dog
One of the most awesome aspects of the Star Wars series is how frequently underdogs rise to become heroes. In other words, if they are smart, scrappy and courageous, they may just have a bright future in the Star Wars universe.
This describes rescue dogs so well, doesn't it? Maybe the beginnings weren't so great, and maybe they had a few false starts along the way. But with perseverance and hope, that perfect "fur-ever home" is still waiting ahead. After all, puppies start out life as pure potential covered in fur (and cuteness, of course).
Along the way, we hope these timely naming tips may help you pick out the perfect Star Wars dog names from the lists here. Try to avoid naming your dog any name that sounds too similar to major training commands. This can keep frustration during training to a minimum.
Consider whether the name you pick will be short and easy enough to say many times each day (or can be shortened to a quick, easy nickname for daily use). Be sure you feel comfortable yelling out your dog's new name in public and around total strangers.
Best Star Wars Dog Names
Naming pets after Star Wars characters is quite popular today. After all, the Star Wars cast of characters is always expanding, always colorful, always inventive and original—just like plot twists and turns.
However, some Star Wars names have risen to the top of the pack, so to speak, whether due to the long history of the Star Wars movie franchise, the popularity of certain characters or the ease of spelling and saying particular names. This list represents some of the best Star Wars dog names and the ones that are the most popular today.
Chewie
Jabba
Han
Darth
Luke
Yoda
Leia
Vader
Boba Fett
Lando
Wicket
Chewbacca
Darth Vader
Han Solo
Obi Wan
Jar Jar
Anakin
Kylo Ren
Darth Maul
Finn
Female Star Wars Dog Names
These female Star Wars dog names highlight the intelligent, brave, beautiful ladies of the franchise. One of these female Star Wars dog names might be the perfect fit for your new pup.
Rey
Princess
Maz
Kanata
Qi'ra
Rose
Aurora Ventafoli
Amidala
Amilynn Holdo
Mon Mothma
Jyn Erso
Amee
Apailana
Aphra
Shara
Chirpa
Dorme
Lyra
Shmi (Skywalker)
Paige Tico
For even more strong female dog names like these, check out this list.
Male Star Wars Dog Names
Star Wars has always featured a colorful cast of male leading and supporting characters. You may find your dog's new name in this list of male Star Wars dog names.
Poe Dameron
Lor San Tekow
Luleo Primoc
Crimson Dawn
Firmus Piett
Admiral Akbar
Bith
Warrick
Qui'Gon Jin
Chirrut Imwe
Mace Windu
Grand Moff Tarkin
Cassian Andor
J.J. (Abrams)
Ben Solo
Tobias Beckett
Biggs Darklighter
Galen
Hobbie
A'Koba
For even more great male dog names, be sure to have a look at this comprehensive article.
Cool Star Wars Dog Names
Is it cool to name your canine after a droid, a starship, a movie director, a movie actor or a fictitious planet? These cool Star Wars dog names may convince you that it is very cool indeed.
BB-8
Peazy
Teedo
L3
Emilia
George
Lucas
Donald
Phoebe
Lupita
Andy
Isaac
Oscar
Adam
John
Daisy
Ridley
Christie
Domnhall
Gleeson
Zuvio
Kiran
Simon
Pegg
Goss Toowers
Ello Asty
Scarif
Cham Syndulla
Ryloth
Corellia
Looking for more cool dog names? This article has plenty of them.
Cute Star Wars Dog Names
This list of cute Star Wars dog names comes from some of the lesser-known cast of characters in the series and spin-offs.
Dud Bolt
Sio Bibble
Shu Mai
Count Dooku
Slug Lady (Loatha)
King Katunko
Tico
Pao
Walrus Man
Yub Yub
Bib Fortuna
Beezer Fortuna
Milton Putna
Tano
Baron
Oola
Padme
Sebulba
Motti
Conan
Uncle Owen
Auntie Beru
Wedge
AT-AT
Tauntaun
IG-88
Nien Nunb
Lobot
Ponda Baba
Bendu
To discover more cute dog names for both male and female dogs, hop on over to this curated article.
Funny Names from Star Wars
Sometimes the only way to ensure you have a selection of truly unique Star Wars dog names to choose from is to do mashups. Some of these funny Star Wars dog names are true mashups. Others are genuine character names spelled just as they appear in the cast credits.
Chewie Barker
Jabba the Pup
Boba Plays Fetch
Darth Pawtens
Luke Highbarker
Canto Bite
Slowen Lo
Modal Nodes
Sy Snootles
Max Rebo
Droopy McCool
Sudswater
Mister Bones
Red Six
Infrablue Zedbeddy Coggins
Doda Bodonawieedo
Whorm Loathsome
Malkili
Ralakili
Salacious B. Crumb
Squid Lake
Papanoida
Therm Scissorpunch
Neepers Panpick
Enfys Nest
Figrin D'an
General Grievous
Greedo
Savage Opress
Naboo
Unique Star Wars Dog Names
Many of the people, places and things in Star Wars have such interesting, creative and unique names. These unique Star Wars dog names take their cue from the wealth of naming originality in the series itself.
Hoth
Jakku
Kessel
Rogue
Falcon
Destroyer
Starship
Mustafar
Tatooine
Concorkill
Toydaria
Elan Sleazebaggano
Gafferky Lenzwin
Mykapo
Mart
Mattin
Satto Hammer
Mos Eisley
Kitonak
First Light
Yavin
Carkoon
Barada
Khetanna
Klaatu
Nikto
Bundki
Hylobon
Ahsoka
Rancor
Craving even more unique dog names? This article has just what you are looking for.
Tough Star Wars Dog Names
Star Wars has some pretty tough characters on both sides of the Force fence. While some Star Wars characters are clearly portrayed as bad or good, far more characters have subtle nuances that always keep you guessing.
Darth Vader, the father of Luke Skywalker and Princess Leia Organa, is a perfect example. These tough Star Wars dog names take their inspiration from some of the toughest, strongest, most powerful leaders of the Rebel Alliance and the First Order.
Palpatine
Valorum
Phantom
Lady Proxima
Sith
Jedi Knight
Stormtrooper
Rebel
Lightsaber
Phasma
Maz
Snoke
General Hux
Constable Zuvio
Sarco Plank
Tasu Leech
Unkar Plutt
Senator
General
Supreme Emperor
K-2sO
Broken Horn
Cikatro Vizago ("Scar Face")
Ghost
Ezra Bridger
Toht Ra
Dryden Vos
Orson Krennic
Hammerhead
Jango Fett
For even more brainstorming ideas, check out this list of tough dog names.
Fun Facts About Star Wars and Dogs
While there are no canines, per se, in "Star Wars," there are touching interspecies alliances, friendships and partnerships. These are part of what makes the movies feel so real.
Clearly, there are heartfelt connections between droids R2D2 and C-3PO. The teacher-student connection between Luke Skywalker and Yoda. And even the pseudo-romantic crush that appears between a young Lando Calrissian and his droid co-pilot, L3-37. If no dogs exist in Star Wars, the movie is the poorer for it, but you can help remedy that by naming your pooch after your favorite Star Wars character.
Which Star Wars Names Are Your Favorites?
So there you have it—a long list of some of the most creative names in the galaxy. Now it is up to you to choose the perfect Star Wars name for your fur sidekick. Let us know in the comments below which Star Wars dog name is your favorite and why.
References and Further Reading