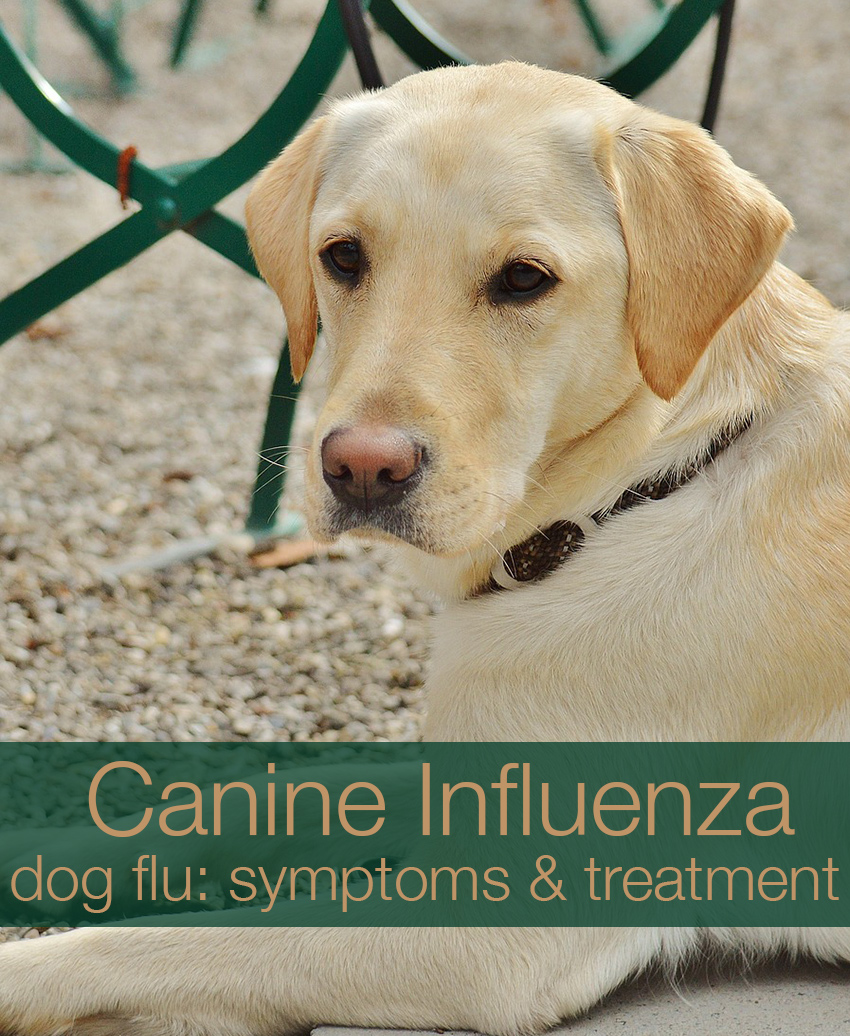 Today we are looking at dog flu, we'll be investigating the causes of canine influenza, the symptoms and how to treat and avoid canine flu.
A bad case of the flu is no fun at all.
It can make you feel pretty miserable, and even keep you in bed for a few days.
But what about dogs?
Do dogs get the flu in the same way that people do?
Can our furry friends catch the flu from humans? Or is dog flu somehow different from people flu?
Let's take a look at this nasty infection we call flu
What is flu?
Influenza is an upper respiratory infection. That means it affects your upper airway – mouth, nose, throat, and windpipe.
It doesn't usually get right down into your lungs, but it can make way for a secondary infection that does.
In most cases healthy people and animals recover from flu quite quickly, but there are many different varieties of the virus, and some make us feel more ill than others.
Each variety of flu virus is given a letter and number code. You have probably heard of H1N1 or swine flu which hit the news a few years ago
We also see some varieties of flu in animals, and even more importantly there are some types of flu that can cross from one species of animal to another
Can dogs get the flu?
A few years ago, the answer to the question "can dogs catch the flu" was no. But in 2004, that all changed
Horses in the USA are susceptible to a flu virus called H3N8.
And in 2004, an outbreak of this virus appeared among greyhounds at a racetrack in Florida.
Then in 2015, another, different strain of flu virus broke out in dogs in Chicago.
This one was called H3N2 and seems to have come originally from birds.
Dog flu has now become endemic in the USA and is passed from dog to dog during outbreaks.
In the UK, the situation is different. According to the Animal Health Trust, there have been two outbreaks in the UK, both confined to foxhound packs, and neither of which spread to the pet dog population.
So the answer to the question "can dogs get flu?" at the moment, is
Yes, if you live in the United States. Not likely, if you live in the United Kingdom. In other regions, you will need to contact your vet to get an update on the situation.
Can dogs catch flu from humans?
Diseases that jump from animals to people are called zoonoses. But there is also the potential for diseases such as flu, to pass from people to animals. These are called reverse zoonoses.
Reverse zoonosis isn't very well understood, and it isn't very common.
We know that ferrets, and occasionally cats, can catch flu from people, but there is less evidence of dogs doing so.
There is a report of a single case of human to dog transmission of the H1N1 virus during the epidemic of 2011  but at the moment, this is still looking incredibly rare.
If you get the flu, it may be a wise precaution not to sniff and sneeze all over your dog, but overall, the risk of you infecting him looks very slim.
Can humans catch flu from dogs?
According to the Centers for Disease Control and Prevention there is no evidence of transmission of canine flu from dogs to people. Indeed there have been no reported cases of a person catching flu from their dog.
Don't Forget To Add Your Dog!

So while there is always a possibility with flu that that could change in the future, right now, it would appear that you are not at risk of getting sick, because your dog has got the flu
Can cats catch flu from dogs?
According to the American Veterinary Medical Association, in March 2016, the University of Wisconsin School of Veterinary Medicine and the Wisconsin Veterinary Diagnostic Laboratory announced that the H3N2 strain had infected a group of cats in the Midwest.
Additionally, they reported that their findings suggested that the virus was replicating in cats and could spread from cat to cat.
Symptoms in cats described by the AVMA include nasal discharge, congestion, malaise, lip smacking and excessive salivation.
If you are concerned about your sick dog infecting your cat, this is something you should discuss with your veterinary surgeon.
What causes dog flu?
In almost all cases dog flu is caused by one of two different viruses
Your dog will be infected with the virus when he comes into contact with another dog that has it. This can happen, even if the other dog is not yet showing symptoms
Let's see what happens to a dog when he catches dog flu.
Dog flu symptoms
After your dog has been in contact with an infected dog, there will be an incubation period of 1-5 days during which he appears to be well.
The symptoms of dog flu will then begin. And these can take one of two forms. This is because some dogs get a mild version of the flu, while others get a more serious form
Mild dog flu symptoms
The main symptom of mild flu is a cough which drags on, and a runny nose. This form of dog flu can be very similar to kennel cough.
Your dog may also have a reduced appetite and be a bit miserable. But he'll recover over the next two or three weeks without much intervention or medical treatment.
Severe dog flu symptoms
In its severe form, dog flu presents with a very high temperature and the dog is clearly very poorly.  Dogs can't lose heat by sweating like people do, so first signs of a raised temperature may be increased panting.
He may quickly develop pneumonia and may start coughing up blood. Rapid, effective veterinary attention is essential.
Diagnosing dog flu
Veterinary attention is important for any dog with suspected flu. Even if your dog has the mild version, he needs to be seen by a vet and monitored by you, to make sure he continues to improve and recover.
Call your vet in advance to tell him you are bringing in a dog with suspected flu.
He'll want to examine your dog without exposing his other patients to infection, and may admit you through an alternative entrance.
Your vet will let you know what he thinks the problem is, and advise you on how to treat and nurse your dog.
Treatment for dog flu
Caring for a dog with the flu is often a case of simple support measures such as making sure your dog is well hydrated and encouraging him to eat while his body fights off the virus.
If your dog gets a secondary infection he may need antibiotics, but these won't help him fight of the original virus, he has to do that by himself.
Some dogs get runny eyes when they have flu. If this happens to your dog, you can help keep him comfortable and his fur clean by bathing them with cool, previously boiled water that has a little salt sprinkled into it.
The important thing is to keep an eye on your dog and to keep in touch with your vet.  Telephone your vet for advice if your dog seems to be getting worse – he may need to be examined a second time and given some extra treatment.
This close contact is especially important if your dog is more vulnerable, if he is elderly for example, or suffering from another additional illness.
Remember, most dogs make a full recovery from dog influenza. So try not to worry.
How to avoid spreading dog flu
Dog flu is very infectious. If you have another unvaccinated dog he is likely to catch the flu too.
Dog flu can be transmitted on food bowls, toys, leashes etc, and even on your clothing.
You can take some simple precautions such as wearing an apron to handle the sick dog, washing your hands thoroughly after handling the sick dog, and using separate feeding bowls.
The chances are, your other dog will come into contact with the virus, but around a quarter of dogs won't get sick, even though they have been exposed.
To protect dogs outside your family the AVMA recommend that infected dogs are kept at home for 21 days
Dog flu antibiotics
Most dogs won't need antibiotics when they have the flu. Antibiotics are not effective against the flu virus.
The only reason your vet will prescribe them is if he thinks your dog has developed a secondary bacterial infection such as pneumonia
If your dog is prescribed antibiotics, make sure he completes the full course to prevent the bug recurring.
And if he gets sick again after the course is finished, phone your vet! The dog may need a further course to make him well again.
Dog flu vaccine
One way to help your dog stay free from the flu is to vaccinate him against it.
Vaccines have now released vaccines against both dog flu viruses.
Flu vaccines are not a guarantee that your dog won't catch the disease, but if a vaccinated dog does go down with flu, it is usually not as serious as it is in dogs that are unvaccinated.
The AVMA have described the vaccines for dog flu as 'lifestyle' vaccines and state that not all dogs need to be vaccinated.
This is something to discuss with your vet
How about you
Has your dog ever had the flu? How long was he ill for? Have you any tips for nursing or cheering up a sick dog? Share in the comments below
references for this article