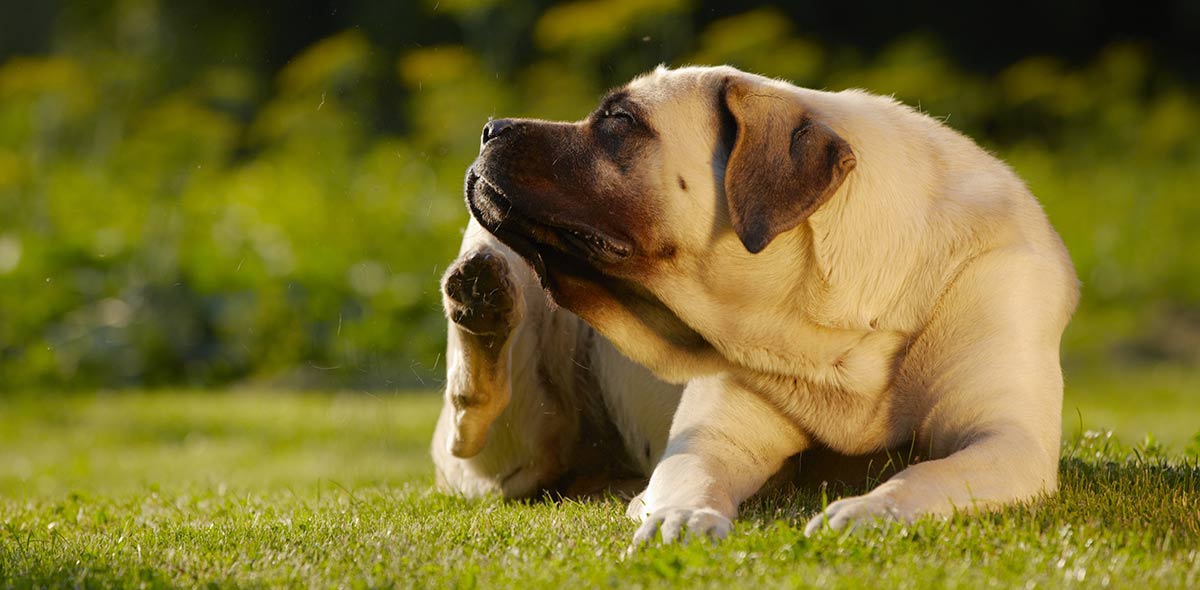 Sarah Holloway helps you banish dog fleas from your dog, your home, and your life.  Bringing you all the information you need to know about dog fleas, and how to get rid of them for good.
Fleas in dogs – know your fleas!
It's all too easy to associate fleas with strays and neglected dogs in our minds.
But in reality, even the best cared for pets will surprise their owners with unwelcome guests at some point.
It's unlikely to be because we've done anything wrong, fleas are just uniquely adapted to survive and thrive wherever a potential host is nearby.
Let's take a quick look at what we're up against…
The Formidable Cat Flea
Cat flea? But I'm here about my dog! My DOG has fleas. D. O. G.
I hear you, but here's a fun fact: the dog flea (Ctenocephalides canis) only accounts for around 10% of fleas found on dogs.
However the pesky cat flea (Ctenocephalides felis) accounts for up to 80% of fleas found on dogs.
(The remaining 10%, in case you're wondering, are usually a motley assortment of rabbit fleas, human fleas, hedgehog fleas and the intriguingly-monikered stick-tight poultry flea.)
Fleas only live on our dogs in their adult form
When female fleas lay eggs, the eggs fall from the dog's coat and land in the environment.
Larval fleas hatch from the eggs and spend roughly two weeks eating and moulting until it's nearly time to find their final host.
Then they build themselves a cocoon, and wait… for three months if necessary… until clues from light and shadows, temperature, and even ambient CO2 levels (ambient CO2 levels! I told you they were smart survivors!), tell them a host animal is nearby.
Then it takes a matter of minutes to hatch and jump on board, and tuck into their first blood meal.
So don't be embarrassed if you suspect your dog has fleas. It can, and does, happen to the best of us.
So how can you tell when it's happened to you?
Spotting fleas on dogs – what to look for
Sometimes it's as simple as spotting them in your pet's coat.
Fleas are 1-2mm long, and reddish brown in color.
They feed by sucking you dogs' blood through specially adapted straw-like mouth parts, so if you find them they'll be nestled as deep as possible in your dog's coat, right against the skin.
Their bodies are laterally compressed (which means they look like they've laid down on their side and been squished) to help them slide down between your dog's hairs, but it also makes them fiendishly difficult to see, even against a white coat.
You might have more luck spotting their poo – tiny black flecks left in your dog's fur.
If you can catch some of those flecks on a piece of white paper, add a drop of water to them and swirl it about.
If the water turns reddish brown, you're almost certainly looking at flea poo.
How to recognize a dog with fleas when you can't see the fleas
If your dog has a dark coat, the first signs they have fleas are likely to be physical symptoms.
If your dog isn't allergic to flea bites, they might not show any signs of having fleas straight away.
But if a small infestation goes unchecked, they could develop any of the following symptoms:
Anemia – look out for unusually pale gums.
Skin irritation – watch for them scratching more than usual.
Tapeworms – tapeworms are transmitted between animals by flea bites, so a dog with tapeworms almost certainly has fleas too. Tapeworm segments look a bit like grains of rice, either in your pet's poo, or on the skin around their bottom.
Hotspots – damp red patches on their skin caused by scratching, licking and chewing at bites, which then fester under the warmth of their coat.
Lesions on their lower legs caused by excessive licking.
Flea allergy in dogs
Sometimes flea bites on dogs trigger an allergic reaction which causes in intense itching sensation that takes a long time to subside.
Flea allergy is is most common in dogs between three and five years old.
Besides a constant need to scratch, if your dog is allergic to fleas you might also notice redness of the skin and itchy scabs forming over the flea bites.
Left untreated, allergic dogs with a flea infestation may begin to suffer hair loss, areas of their skin may become leathery and their coat color may change.
How do dogs get fleas?
Dogs almost always pick up fleas from their environment.
If you have more than one pet and they sleep together, adult fleas may occasionally jump from one to the other.
But usually they will stay on their first host until they are killed or cleaned away through grooming.
Fleas prefer warm climates, so depending how cold your winters are, you might find that fleas are more of a summer problem.
A large study conducted across Germany in 2006 found that living in an urban or rural area didn't make any difference to the likelihood of getting fleas.
What to do when your dog has fleas – getting the right diagnosis
If you dog has symptoms of a flea infestation, it's really important to ask a vet to confirm your suspicions.
Your vet will be able to help you treat any side effects of fleas your pet is suffering, and also check for other illnesses which often go hand in hand with fleas, like tapeworms.
What happens next? Flea treatments for dogs
Getting rid of fleas happens in two parts: killing the adult fleas on your dog, and eradicating the eggs and larval fleas from your home.
Let's look at getting rid of fleas on the dog first
How to get rid of fleas on dogs
This is the easy part.
Your vet will recommend a dog flea treatment for your pet.
Flea treatment for dogs comes in all sorts of forms these days: dog flea shampoo, flea sprays and powders, as well as flea medicines and spot on treatments.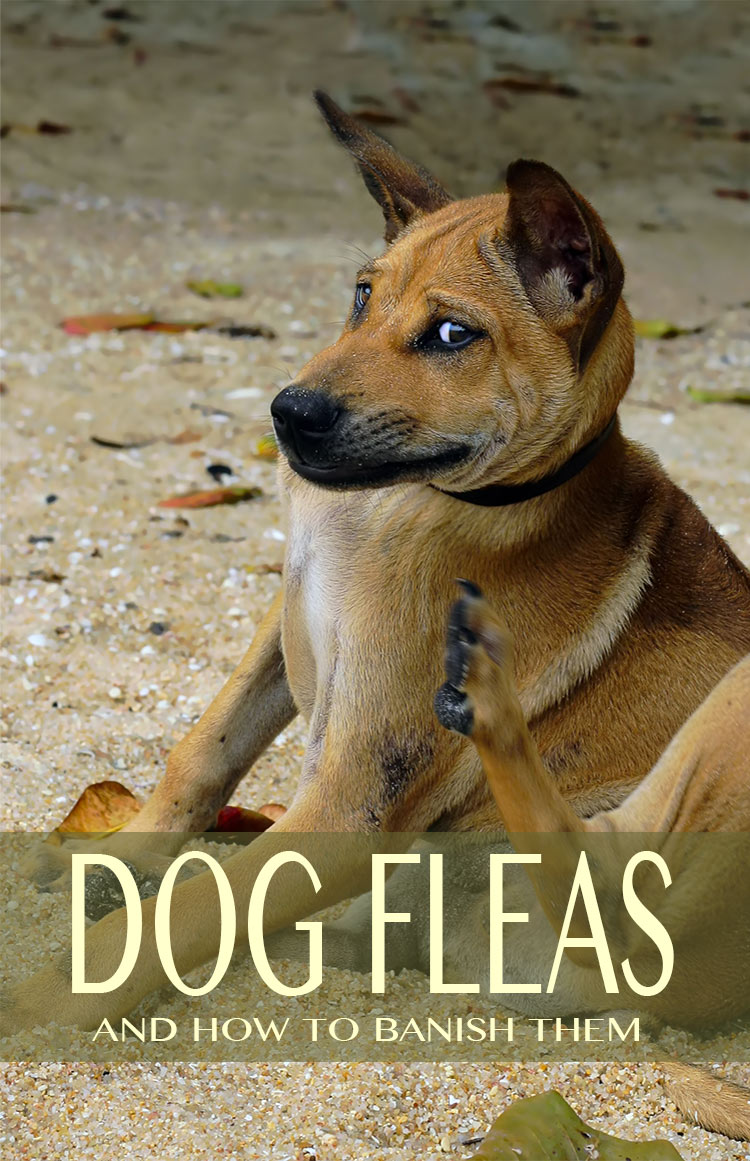 Whatever your dog's medical history, and disposition to being treated, there is an easy to use flea killer for dogs out there waiting for you.
Your vet might recommend a flea medication for dogs you can buy over the counter next time, but it's wise to start with a professional recommendation about the most suitable product for your dog's needs.
Remember to always follow your vet's instructions for getting rid of fleas on dogs.
Bear in mind if you have other pets at home, your vet is likely to recommend treating all of them.
Dogs and cats must never share flea medicine!
If you have a flea problem you'll need to treat your cat too.  But with a product specifically designed for cats.
Even though dogs and cats get the same fleas, flea and tick medicine for dogs frequently contain permethrin, which is incredibly poisonous to cats!
The same caution needs to be applied to flea treating any bed that your cat and dog may share.
Natural flea treatment for dogs
There's a lot of interest at the moment in natural remedies for fleas on dogs, based on essential plant oils though to deter fleas.
It is just as important to discuss these with you vet before using them.
Don't Forget To Add Your Dog!

The risk of home brew remedies recommended by other dog owners online is that if they don't work, your dog will continue to suffer the effects of fleas, and if they are too aggressive they could irritate your pet's skin even more.
The best flea treatment for dogs is always the one recommended and approved by their vet!
Getting rid of fleas from your home
Unfortunately because fleas spend so much of their life cycle in the environment instead of on a dog, treating the flea infestation on your dog is only the tip of the flea population iceberg.
To stop the next generation of fleas reaching your dog, you need to treat your home too.
Flea eggs and larvae are microscopically small, and they can work their way into the tiniest spaces.
So the key to successfully getting fleas out of your home is to get in the fighting spirit, be thorough, and be determined!
Start by putting your vacuum cleaner on its highest setting, and giving all carpets, rugs, hard floors, and fixed upholstery a really intense clean.
Vacuum along the tops of your baseboards too, and give extra attention to the places where your dog likes to rest and sleep.
Next, I'm afraid you have to chuck the bag from your vacuum cleaner straight into an outside bin.
Repeat this every day for as long as the course of flea treatment from your vet lasts.
This will pick up new eggs laid by the fleas on your dog, until all the fleas on your dog are definitely dead.
Wash removable upholstery covers and bedding at 60ºC/140ºF or more, and dry them for at least 30 minutes in a hot dryer if possible.
If your dog has any special toys or blankets which cant be washed, put them in the freezer for a couple of days instead.
Finally, give yourself a reward for all your efforts! It hasn't been easy, but it will be worth it!
The success rate for treating dog fleas
Without a doubt, the tiny flea is an enormous nuisance.
But the good news is, the vast majority of flea infestations and their side effects can be treated and then forgotten.
When to take extra care: a puppy with fleas
As we've seen, fleas survive on the blood of their hosts.
It's much easier for fleas on puppies to make their host dehydrated or anemic, simply because they have less blood to spare.
If your puppy shows any signs of fleas, take him straight to the vet.
Depending on their age, your vet may recommend a specialized flea treatment for puppies.
Flea prevention for dogs
Much easier than dealing with a flea infestation, is taking some regular precautions to make sure the infestation never takes hold.
The first part of this is keeping the population of adult fleas on your dog to a minimum.
If your dog likes a bath, and they're small enough to wash regularly, this is a great way to remove adult fleas.
You don't have to use a specialist flea shampoo for dogs every time, only when you know you're dealing with an infestation.
If soaking in the tub isn't an option, your vet can recommend flea products for dogs which you apply every four to six weeks to eradicate any fleas which have made their way into their coat.
Since fleas spend so much of their life cycle lounging on your sofa or kipping in your carpet, it's smart to vacuum regularly, including upholstery and baseboards to pick up flea eggs and larvae.
Get into the habit of washing your dog's bedding regularly too.
Can dog fleas live on humans?
Finally, this is often the question on people's minds when they've finished worrying about their pets.
And the short answer is yes, but the long answer is that if you have a dog, or any other furry pets living at home, the fleas will practically always choose them over you.
As a result, dog fleas on humans are pretty rare.
Summary: treating fleas on dogs
Fleas are a common problem for dogs, but the advantage of this is that we have lots of products and knowledge at our disposal for getting rid of them.
Don't be embarrassed if you find out your dog has fleas, it's nothing to be ashamed of.
Remember the secret to getting rid of them is simply a matter of being methodical, and thorough, and before you know it they'll be just a memory.
Dogs with fleas: share your experiences
Sometimes it can be hard to tell when your dog has fleas. If your dog has had fleas, what were the first signs you noticed?
What are your top tips for getting rid of fleas from the home?
Share your experiences in the comments section below!
"Today's article is by Sarah Holloway. Sarah holds a bachelors degree in Zoology and has a special interest in animal behavior and communication"
References
Beck, W. et al, (2006), "Qualitative and quantitative observations on the flea population dynamics of dogs and cats in several areas of Germany", Veterinary Parasitology, 137(1-2): 130-136.
The Royal Society for the Prevention of Cruelty to Animals, "Keep Fleas in Check", www.rspca.org.uk.
Dryden, M. W., (1989), "Host Association, on-host longevity and egg production of Ctenocephalides felis", Veterinary Parasitology, Volume 34, Issues 1-2, pp 117-122.
Jacobs, D., Fox, M., Gibbons, L., (2015), Principles of Veterinary Parasitology, John Wiley & Sons, p34.
Paterson, S. (2009), Manual of Skin Diseases of the Dog and Cat, John Wiley & Sons, pp 122-124.