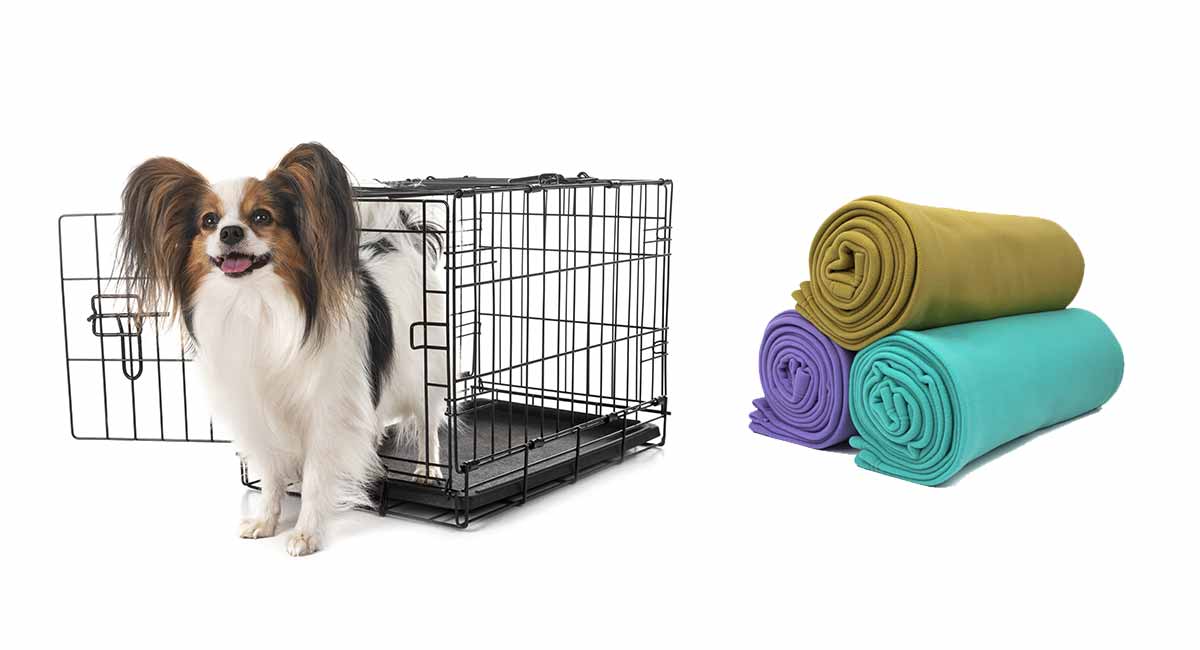 Dog crate covers add a whole new dimension of cozy to your dog's private den. Covering your dog's crate will help to keep him feeling safe, secure, and happy in his private den. Covers come in a variety of fabrics made to fit in everywhere from rainy or cold outdoor spaces to an elegant living area. You will definitely want to make sure and get the size that will fit your dog's crate!
In This Article, we will take a look at some of the very best dog crate covers on the market.
Products included in this article were carefully and independently selected by the Happy Puppy Site team. If you decide to make a purchase from one of the links marked by an asterisk, we may earn a small commission on that sale. This is at no extra cost to you.
Our Favorite 5 Dog Crate Covers
Crown Pet Products Wood Pet Crate End Table
A two-in-one solution, this wooden crate* has a top that also functions as an end table. An elegant solution for a living area. It comes in medium and large sizes and two different natural wood finishes.
MidWest Homes for Pets Dog Crate Cover
This crate cover* comes in neutral patterns and will be a cinch to keep clean with the Teflon coating and easy to machine wash and dry as needed. It comes in several colors and covers most crate sizes.
Pet Dreams New Double Door 3 Piece Crate Bedding Set
Maybe not the choice for a large, chewy dog, but this luxe crate cover* is sweet and cuddly to comfort your smaller canine pal. It comes in a variety of sizes and colors. The kit also includes some bedding to enhance comfort within the crate.
ArcticShield Insulated Kennel Cover
If you're looking for more of a rough-ing it type of cover for outdoor adventures, this one* deserves a look. Not only is it insulated to help keep your dog warm through cold transitions, but it also has pockets for all those things you need on an adventure, so when you're ready to get going, you don't have to scramble to find everything, just grab it and your dog, and go!
Molly Mutt crate cover
If a fun style is one of your highest priorities in a crate cover, be sure to check out the patterns in the Molly Mutt Crate Cover line*. Chances are you can find a pattern and size to suit your needs. It is also washable, and the door panel can either stay down or be buttoned up to stay out of the way.
Jump Straight to What You Need

Why Should I Get A Dog Crate Cover
A dog crate is the canine equivalent of a bedroom.
Just like humans, dogs too, crave a room of one's own, a place that is all theirs.
Ensconced in the safety of their den/crate, dogs can watch the world go by, catch a few ZZZ's, or simply retire to his own corner of the universe for a bit of peace and privacy.
In this sense, a dog's crate is his personal space, a refuge that belongs only to him.
Historically dogs were "den" creatures. Dogs who lived generations ago (and those who still live in the wild) sought out small, confined spaces to hide or sleep in as a way of protecting themselves from predators and the elements.
Today dogs still seek this feeling of security by hunting out small, enclosed places (dens) in our homes. A crate can be great for fulfilling this need, but even better if it is covered.
The purpose of dog crates
Dog crates serve several important purposes.
Providing a restful, safe place to retire to is just one of the many uses for a dog crate.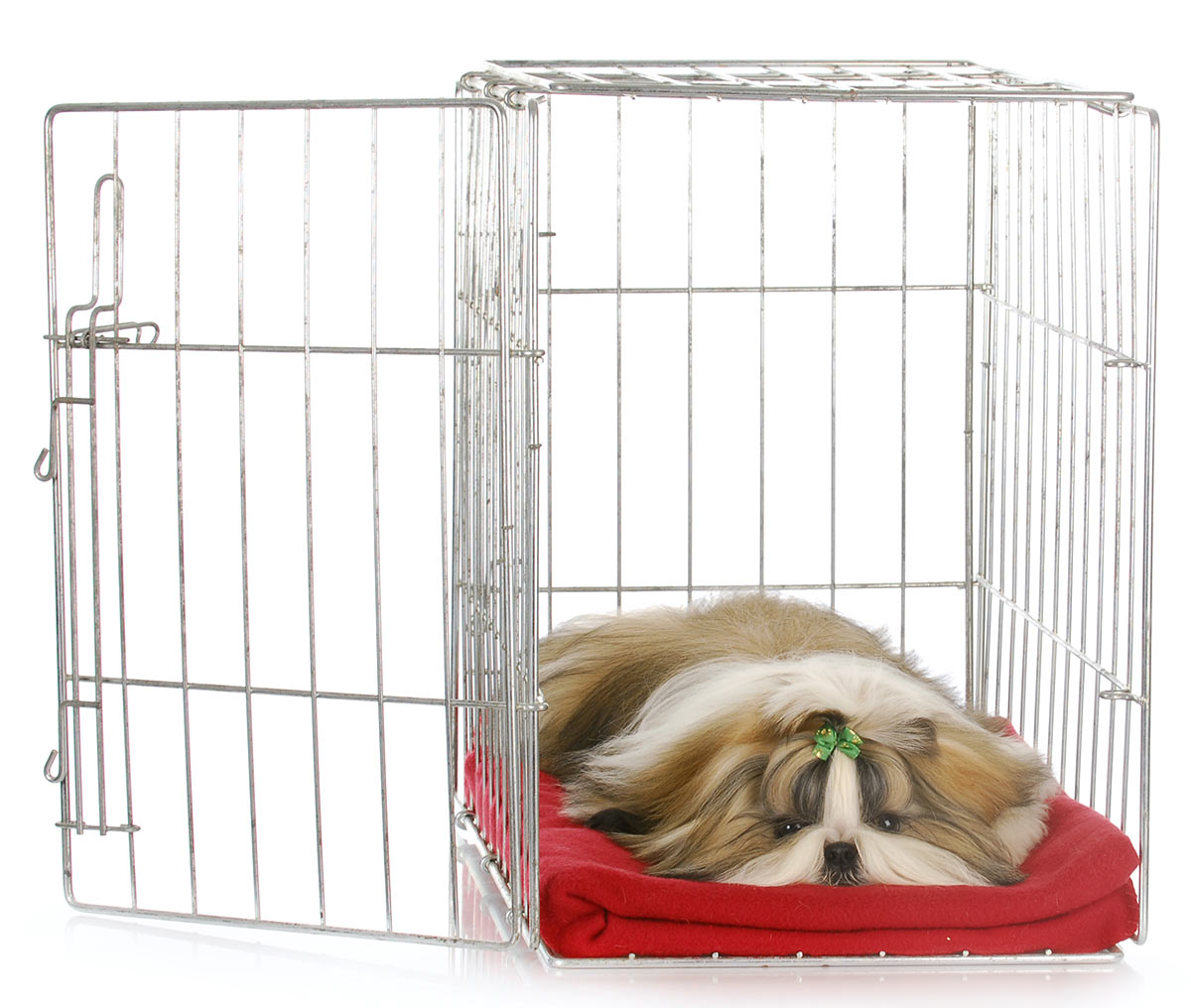 Crate training is very useful for modifying unwelcome behaviors such as destructive chewing, eliminating in the house, separation anxiety, etc.
When used in this manner, crates are employed to contain pups while they go through the chewing phase, as well as train them to use only the outdoors as a bathroom.
Additionally, travel is less stressful for your pup when she can do so within the familiarity and comfort of her own crate.
This is particularly true when your dog has to be away at places she may not love, such as the vet or groomers.
Think about it, how many times have you wished that you could bring your own bed with you when you're traveling?
Well, someone in your family can do just that: Fido!
What are dog crate covers?
There are so many positive benefits to owning and using a dog crate!
In the end, a dog's crate can serve as the ultimate warm and secure shelter. Of course, how better to increase the secure feeling than a cozy cover, special-made to fit his crate? Enter the dog crate cover.
Why use a dog crate cover?
Crate covers for dogs serve a multitude of purposes.
In addition to a visual block, creating a greater sense of security, a dog crate cover can provide a gentle buffer against indoor drafts and noise.

A secure dog is a happy dog. Paying attention to some of the small details like how to improve the ambiance of his space can make a big difference for your best friend.

Choosing the Best Dog Crate Cover
Plan to be traveling where the crate may be out in the rain for a bit? There is a waterproof cover for that. Or does it stay in the main room of your home? There are options to match a variety of decor styles.
There are so many choices, from practical to chic, that we've compiled reviews for many types.
Size
Size is going to be about the simplest choice. If you already have a crate, how large is it? Covers are made for the full range of sizes, and your task is to simply find one that fits. Easy peasy. Just write down the measured dimensions of your pup's crate and make sure the cover dimensions match!
Material
Covers come in a number of different materials. This is where your intended uses and desired qualities start really influencing the choices. You may want to think about these things before you dive too deep into shopping.
Do family members have allergies or do you also have cats in the home? Maybe you would like to narrow your search to machine-washable covers. Or, as a more elegant and super-easy to wash option — opt for a solid wooden crate!
Does your dog tend to be more anxious or do you have young children and a noisy household? Maybe consider a soundproof cover to really give your pup a haven of relaxation!
For those who may be traveling with a pet in the crate and the crate may be outdoors at times, there are weatherproof covers.
DIY
If you are looking for the ultimate in personalization, DIY is certainly an option, limited only by your imagination, sewing (or carpentry!) skills, and perhaps resourcefulness in procuring materials.
A dog crate with cover is a terrific way to tell your dog that you love him or her.
So, if it's a covered dog crate that you're looking to create, you've come to the right place!
Best Wooden Dog Crate Covers
Not a cover, per se, but a different style of crate that doesn't need covering, wooden dog crates are designed to look like a regular, everyday piece of furniture.
This choice is best for owners who prefer a crate that more readily blends into the living room, bedroom, etc. The tops of these crates are flat and can double-task as an end table.
The aesthetics of a wooden crate are as important as its function, so in reality covering these handsome pieces of doggie furniture would be redundant.
Still, we have you covered (so to speak!) if you would like a wooden dog crate cover (perhaps to add some warmth in winter?). Further down in this article we have a DIY section that suggests ways of making your own covers.
If you're interested in this two-for-one approach of elegant simplicity, you may like to check out some of those we have reviewed here:
Crown Pet Products Wood Pet Crate End Table
Available in both medium and large sizes and two tones of wood, this lovely wood crate end table* is the perfect accent piece for your living area while at the same time providing Fido with his own room!
It has open a mixture of solid wood for privacy and open slats for ventilation.
Casual Home Pet Crate
This crate* has solid panels along the bottom half and vertical slats across the top half to promote air flow.
The top is a solid piece and one side door provides easy access. It comes in your choice of white, black or espresso.
Best Insulated Dog Crate Covers
If you live or travel in cold climates, it is important to pay attention to keeping your dog warm, just as you would a child. These insulated crate covers can help to give your dog a bit of a cozy space protected from the cold as you travel.
Mud River Dixie Kennel Cover
Your pooch is sure to stay warm beneath this rugged, quilted cover* that comes in either black or brown.
The two-ply exterior features Microlite 3 insulation capable of keeping the inside temp approximately 35 degrees higher than the outside temp.
All-weather features include a non-skid bottom, attached tie-down rings, and rubber mesh window screens.
ArcticShield Insulated Kennel Cover
This insulated kennel cover* works with portable crates. It is weatherproof and ventilated and comes in medium and large sizes.
It has tie down attachments to secure it in the back of a truck.
Best Small Dog Crate Covers
If you have a small dog, you'll want a small crate, which means you need a small dog crate cover to match! These popular choices are worth your consideration:
Precision Pet Indoor/Outdoor Crate Cover
This is the perfect go-to cover* for extra small (19 inch) and small (24 inch) crates.
The machine-washable fabric has reinforced stitching, and roller shades for the windows ensure that proper ventilation is available at all times.
MidWest Homes for Pets Dog Crate Cover
You will love the subdued designs for these small dog crate covers*. The teflon-coated polyster cotton fabric repels stains and oils, staying clean longer.
It is also machine washable (and dry-able!) when the time comes for deeper cleaning.
Best Large Dog Crate Covers
Large dogs place more strain on their belongings, but these sturdy, large dog crate covers are made to withstand the stress and strain of big dawgs.
MidWest Wire Dog Crate Covers in Black or Camouflage
If you have a 42 or 48-inch crate* this 100% polyester cover is perfect for providing the privacy your big dog needs
The cover is fully machine washable and safe to throw in the dryer.
In addition, the durable cover comes with a 1 year Manufacturer's Warranty.
Pet Dreams Crate Cover
This versatile cover* is available in 42 inch and 36 inch options, and features an open door design that makes it perfect for home use.
As an added bonus the cover comes in four attractive colors so you can match your pup's lair to your decorating scheme.
Best Designer Dog Crate Covers
Who says a dog crate cover has to be practical only?
If your dog appreciates the finer things in life, why not spruce up her crate with a fashionable and functional cover?
These delightful choices are sure to please any pampered pooch.
Molly Mutt crate cover
If you love the Molly Mutt line of dog products, you'll be glad to know that they make a crate cover* that comes in tons of patterns (plus five sizes) to suit just about every taste and home décor.
The preshrunk covers come in a rainbow of colors and can be machine washed.
Two door panels can be either rolled down or snapped shut.
Pet Dreams New Double Door Bedding Set
Would your pooch like a luxurious crate cover* plus a color-coordinated bumper and pad set? Of course he or she would!
And you'll love the lifetime guarantee that comes with the matching set.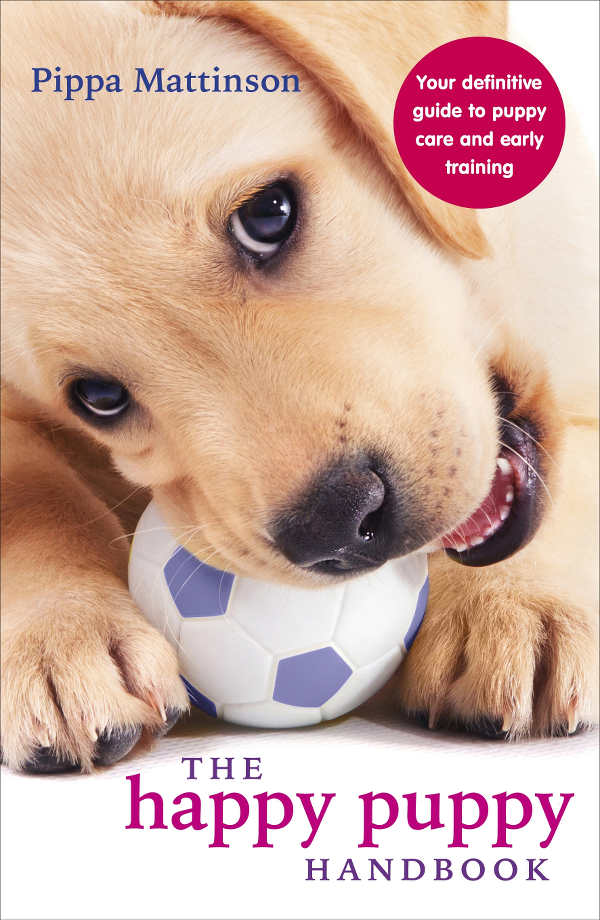 The attractive, breathable fabric (choose either twill or plush fabric) comes in enticing colors such as Dusty Pink and Coco Brown and can be machine washed and dried.
Best Waterproof Dog Crate Covers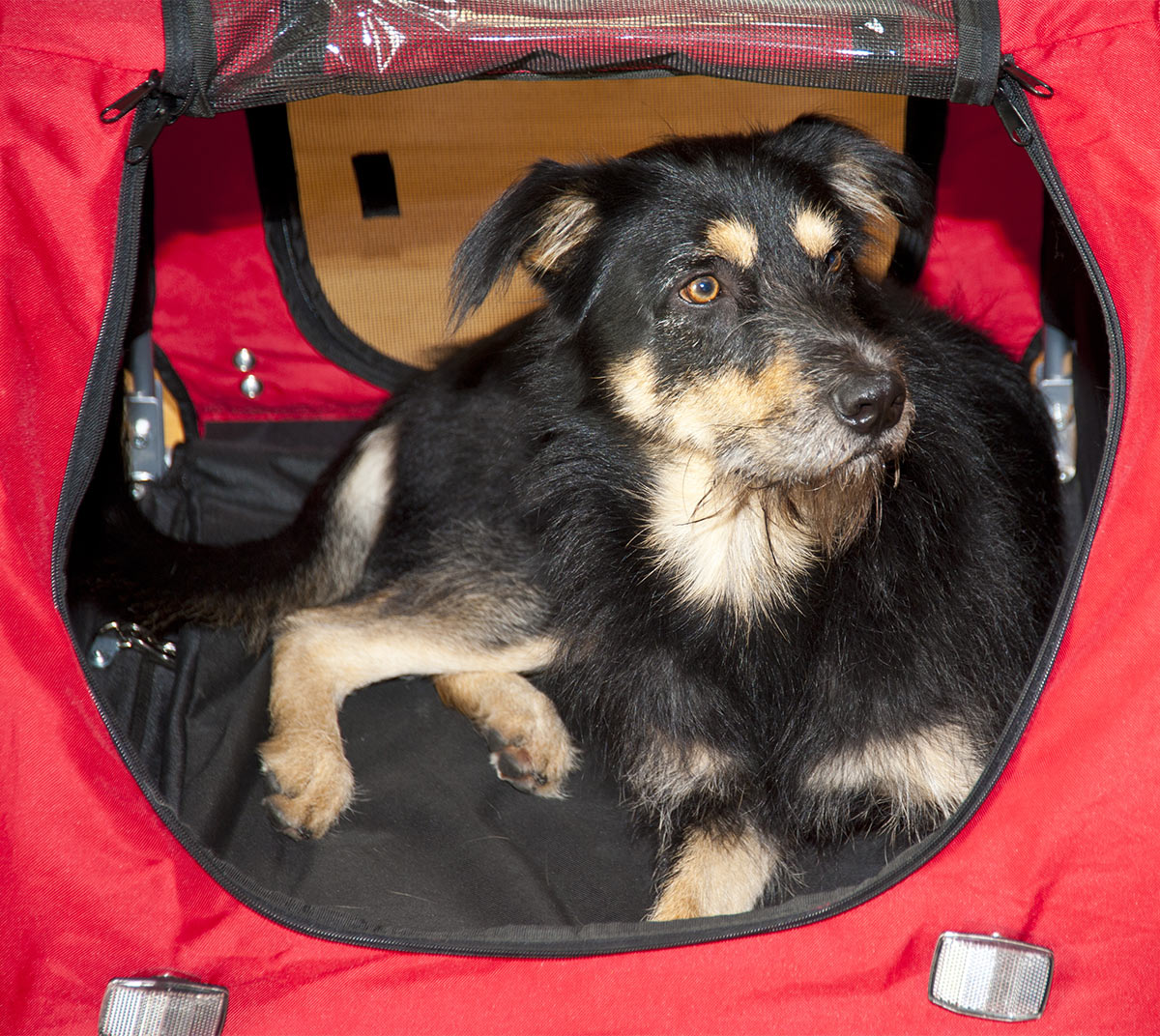 If your dog has to travel in the rain, you can rest easy knowing that these waterproof and water-resistant covers will keep her dry and warm.
Petsfit Polyester Crate Cover for Wire Crates
Both waterproof and windproof, this cover* comes in two options: black with a single door or gray with double doors.
It's made of Oxford cloth and features thick padding for comfort. The durable cover comes with a 30 day satisfaction guarantee.
Precision Pet Indoor/Outdoor Crate Cover
This cover masters simplicity*. It comes in a range of sizes and two basic neutral colors, so chances are you can find a version that works well for you!
It is durable and waterproof and should work in most kinds of environments.
Best DIY Dog Crate Covers
Are you a dedicated DIY'er? If so you may want to consider a tailor made diy dog crate cover that meets all of your needs.
What goes into how to make dog crate covers? If you're handy with scissors and fabric, making a cover for dog crate that both you and your pooch will be proud of will be a cinch.
From the type of fabric to the number of pockets and windows, you can design an awesome cover tailor-made to fit your dog's crate.
How to make a dog crate cover is a topic well worth exploring. Here are just a couple of the awesome dog crate cover pattern tutorials you can peruse if the crafting bug gets ahold of you:
Crate cover blanket
Should you cover a dog crate with a blanket? Most experts agree that a blanket is a poor substitute for a specialized dog crate cover.
A blanket can be tough to affix to the crate, and it is easily shredded when bored dogs try and pull the blanket into the crate.

What is the Best Dog Crate Cover?
So, as we have seen, crate covers come to fit many needs. They are available in sizes to cover most crates, fabrics designed for outdoor use, and those for chic living environments. In the end, it's much better to choose a cover specifically made for the purpose of covering dog crates versus making do with a blanket or towel.
The choice is yours and no doubt your dog will thank you for your thoughtfulness in providing a bit more quiet and privacy for her little den.
Not sure? Our top picks would make a great choice!
Which crate cover(s) have you chosen for your dog? Have you used any of these products before? Or maybe you have made your own dog crate cover?
We'd love to hear your ideas in the comments section below!
Affiliate link disclosure: Links in this article marked with an * are affiliate links, and we may receive a small commission if you purchase these products. However, we selected them for inclusion independently, and all of the views expressed in this article are our own.
References and Resources
Creel, Scott and Creel, Nancy Marusha, 2002. The African Wild Dog: Behavior, Ecology, and Conservation