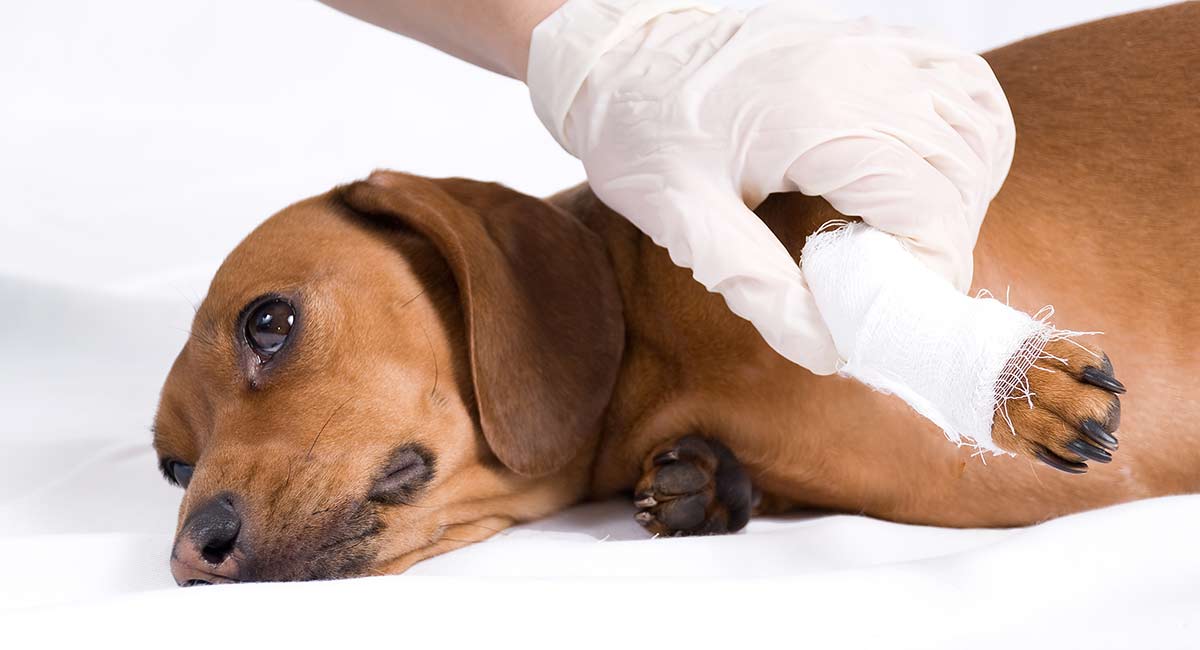 Keeping your dog safe and happy is incredibly important. A good knowledge of dog CPR and first aid might just the difference for your dog. Scroll down for an excellent dog CPR and dog resuscitation video!
In this article vet Eman Magdi explains how to carry out dog CPR, and let's you know the most important items to include in your dog's first aid kit.
We all hope that our dogs will never need emergency treatment. That they will stay fit and healthy when we are visiting friends or out for a walk. But sometimes accidents happen, and being prepared for them could potentially save his life.
Procedures involving emergencies and first-aid do not take away from veterinary practice care.
But sometimes prompt action is required. If you are away from home and emergency care has to be given, then a good first aid kit and knowledge of CPR can make all the difference.
Different accidents, injuries or health problems call for different responses. So let's start with a real life-saver – knowing the basics of dog CPR for respiratory issues.
What Is Dog CPR?
Canine Cardiopulmonary Resuscitation (CPR for dogs) is a set of steps and chest compressions applied to dogs with cardiac arrest and respiratory issues.
The most common situation where CPR is resorted to, is when a dog is unresponsive or has a faint pulse. In some cases, artificial respiration can be alternated with chest compressions.
To know when to preform CPR, you need to know when to spot the signs of these situations.
Proper training and immediate identification of a cardiac arrest or air passage failure is critical to a dog's survival.
The faster a respiratory or a cardiac malfunction is detected, the more chances your dog has got to overcome a full cardiac arrest.
However, don't forget that even if your dog appears to recover, a prompt visit to the veterinarian after conducting CPR is essential.
Dog CPR Instrucitons
To carry out CPR on your dog, you will need to use the following dog CPR instructions:
Lay the dog on its side making sure that the dog's air passages are unobstructed by any objects. In large dogs, lay the dog on its back.
If there is an object in the air passage, the Heimlich manoeuvre has to be carried out by holding your standing dog around the belly and before the ribcage, then pushing the dog up and forward.
For a large dog, close the jaws shut and breathe through the nasal passages twice.
If it is a small dog, or a puppy, you can breathe through both the nose and mouth twice.
Lay a large dog on its back for chest compressions, while small dogs and large dogs with funnel chests should be laid on their sides.
Chest compressions will follow depending on the dog's size.

For dogs up to 10 lbs: 120 compressions per minute.
Between 11 and 60 lbs: 80-100 compressions per minute.
For dogs over 60 lbs: 60 compressions per minute.
The procedure should be finished when your dog starts breathing again or when you decide that very sadly it has not been successful.
Upon resuscitating your dog, take him straight to the nearest veterinary hospital.
Dog CPR Video
Through a simple dog CPR video, Dr. Janet Olson from the veterinary cardiologist and President of Basic Animal Rescue Training demonstrates how and when to perform dog CPR and dog resuscitation.
Dr Olson shows us the necessary health issues to look out for before having to resort to CPR, so make sure to pay attention when you watch.
Dog First Aid Course
Knowing all about dog care and emergency procedures can help to keep your dog healthy. So why not go along to a dog first aid course and get some dog CPR certification?
Pet Tech is a certified training center dedicated to instructing pet parents and handlers on how to correctly perform CPR. As well as giving those all important tips on hold a dog in respiratory and cardiac distress without harming it.
Don't Forget To Add Your Dog!

Pet Tech offers a PetSaver 8 hour course providing hands-on skill practice on first aid skills from initial assessments to doing snout-to-tail evaluation of injuries and resuscitation. The PetSaver course also grants trainees a handbook and certificates upon completion of the course.
Dog First Aid Kit
The Canine Health Foundation has put together a twenty-item first kit that each household could benefit from benefit from having. The kit should assist with cases of emergency and minor injuries.
A kit is a precaution though not a substitute to veterinary emergency care. Amongst the most important items are:
A box or a container: A solid, waterproof container to protect other items from wear and tear, or accidental damage.
A label for the container: The label should have clear and concise information on injuries, and emergency or vet contact details.
Anemergency handbook: It will include basic knowledge and comprehensible information on how to handle the situation in support of the dog's condition.
Gauze sheets of various sizes for different uses.
Antiseptic solution
Adhesive vet wrap
Antibiotic ointment
Disposable towels for injuries and blood to absorb.
A muzzle. An injury can drive a dog towards anger and respond through biting.
A rectal thermometer: The most accurate temperature can be obtained through a dog's rectum.
Hot and cold packs
Rubber gloves
Scissors, clippers or razors: There could be a need to shorten fur around a wound in an injured dog.
Saline: to clear out dust and debris around orifices and eyes.
Wet food: It is meant to help with poisoning by slightly diluting the poison itself.
Hydrogen peroxide: The solution can work to induce vomiting.
You can also buy ready made dog first aid kits.
They come in large dog first aid kits which should include everything you need, or smaller cheaper basic dog first aid kits which you can add your own additional items.
Dog First Aid And Dog CPR
As a dog owner, knowing the basics when it comes to dog first aid and CPR is crucial. Hopefully you won't ever need to put this knowledge into practice, but if you do it could make a big difference to your puppy's health. Even the difference between life and death.
When accidents occur, knowing how to act quickly and correctly will help you and your dog to stay calm and safe, until you can get him to the veterinarian.
References & Further Reading