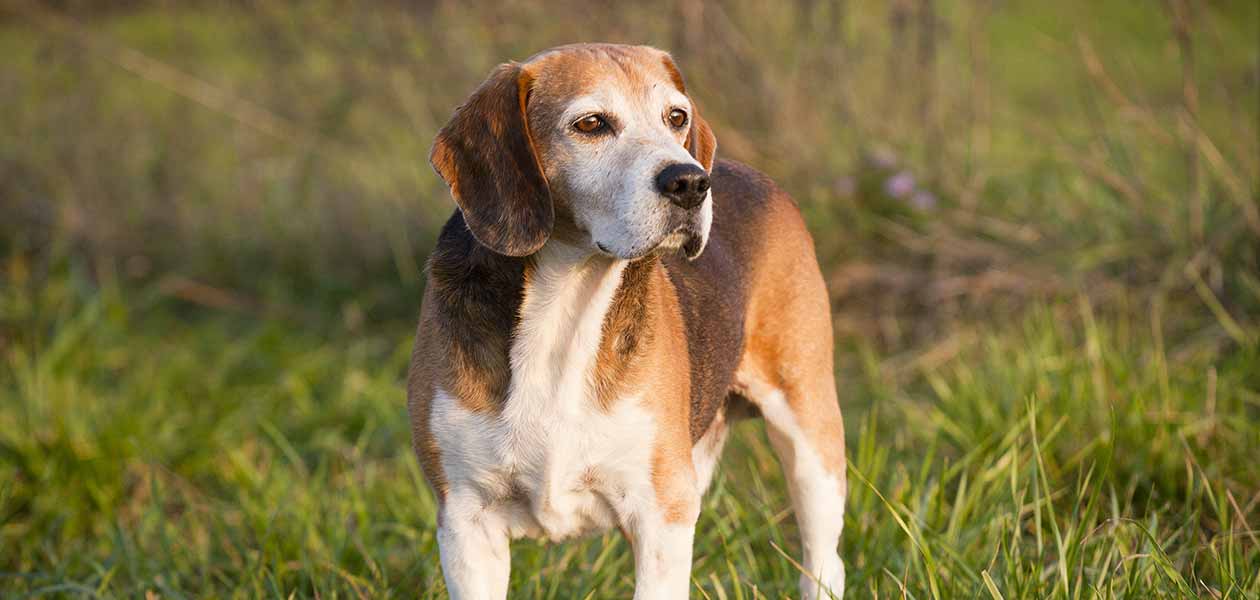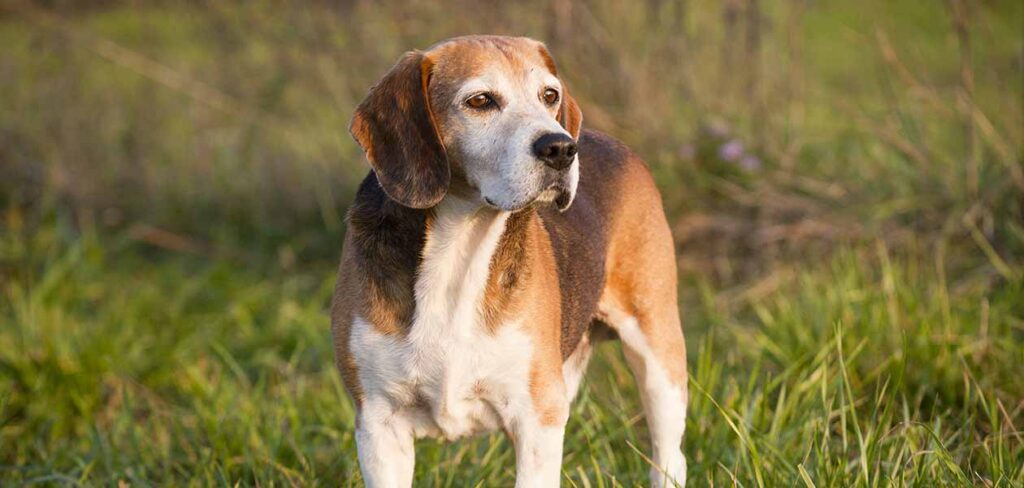 The English Foxhound has floppy ears, patterned fur, honest eyes and was bred to hunt foxes in the English countryside. This sleek and sturdy hound was designed to be the perfect combination of stamina and strength. English Foxhounds grow up to 24 inches as adults, and weigh from 60 to 75 pounds. They are intelligent, active, and affectionate dogs, but won't suit every family home. Let's learn more about their history, health, temperament, and exercise needs so you can decide for yourself.
What's In This Guide
English Foxhound FAQs
Here are some of the most frequently asked questions we receive about this breed.
Are you wondering if a dog that was bred for hunting would make a good pet?
Breed At A Glance
Popularity: 193 out of 193 AKC breeds in 2019
Purpose: Hound dog
Weight: 60 to 75 pounds
Temperament: Affectionate, gentle, friendly
These active dogs bear the quintessential hound look you see portrayed in fox hunting paintings.
English Foxhound Breed Review: Contents
Are you interested in knowing more about this breed?
History and Original Purpose
The English Foxhound's ancestors date back to medieval England when aristocrats used hounds to hunt stags. Traditional British fox hunting began in the 1600s.
As this pastime of the wealthy increased in popularity, dogs were developed to accompany hunters on horseback, run in packs, and chase foxes.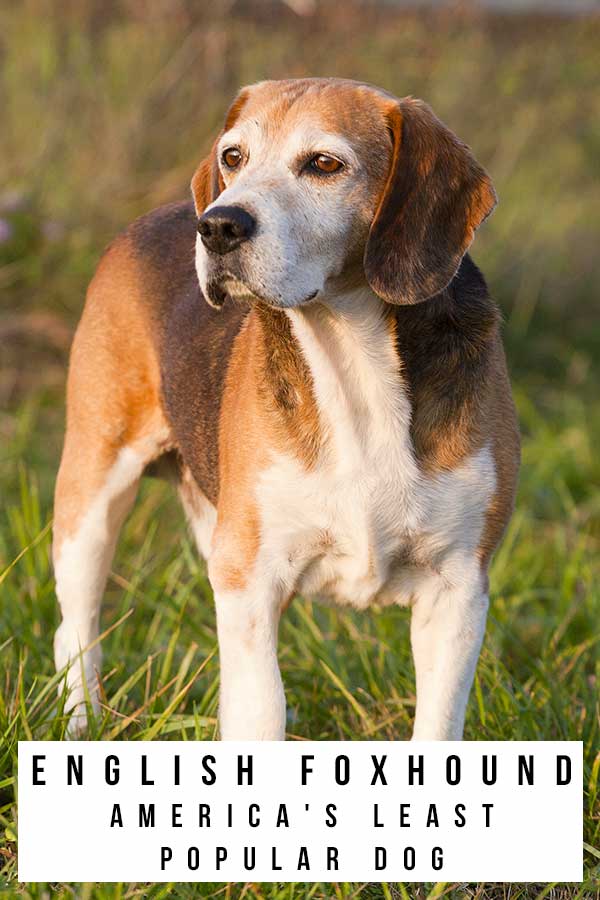 Although the exact origin of the breed is unknown, it's believed large stag-hunting hounds were bred with long-legged Greyhound-type hounds.
Therefore, the resulting dog combined a keen sense of smell and endurance with speed and agility.
The British Master of Foxhounds Association has been keeping detailed records of the breed since the late 1700s.
Changes in Breed and Purpose
The English Foxhound we know today has changed little in appearance or attitude.
Nowadays, fox hunting in Britain has been banned. But, Foxhound packs are still maintained for the sport of drag-hunting.
Fun Facts About English Foxhounds
It's easy to confuse the English Foxhound with his canine cousin the American Foxhound.
Whilst these two dogs are very similar in appearance, the English Foxhound has a heavier build.
An English Foxhound named Auditor was the first of the breed to be registered with the American Kennel Club (AKC) in 1909.
The English variety of the breed has never been extraordinarily popular in America. But, in 2019, it actually sunk to the very bottom of AKC's list.
With their exceptional sense of smell, the English Foxhound can be taught to hunt almost any ground-dwelling prey!
English Foxhound Appearance
The English Foxhound sports an athletic build. It is medium-sized and muscular.
Long straight legs, a deep chest, level back, and a long tail held straight over the body are signature features of the breed.
As adults, these dogs can grow up to 24 inches tall, and weigh from 60 to 75 lbs.
Their muzzle is long and their ears are low-set and lay flat against the head. Large, brown eyes bear a gentle expression. Their short coat is glossy and dense.
Coat colors include, black, white, and tan. The breed often displays a tri-color coat.
White with either yellow or tan may also be found in the breed.
English Foxhound Temperament
This is a dog known for being gentle, affectionate, and outgoing.
Although friendly with people, the English Foxhound is pack-oriented and happiest when in the company of other canines. So, if you have other dogs at home, this is a great choice!
They're known for being good with children, but may be too exuberant and knock down little ones if not supervised.
These scent hounds also have a deeply ingrained instinct to chase a scent. Homes with cats and other small animals aren't a great fit.
Not much will get in the way of this single-minded breed when tracking an odor.
These dogs are known for their tireless endurance. They were made to chase and can do so for hours without stopping.
Extremely active and athletic, the English Foxhound needs plenty of room to roam and are best suited to rural, country surroundings.
Show vs Field Varieties
There are two different types of English Foxhounds: field and show lines.
Both types are highly energetic and require a lot of daily exercising.
However, the field types are bred for hunting and are generally too active to make good house pets.
If you're looking for a family pet, a show variety will most likely be best.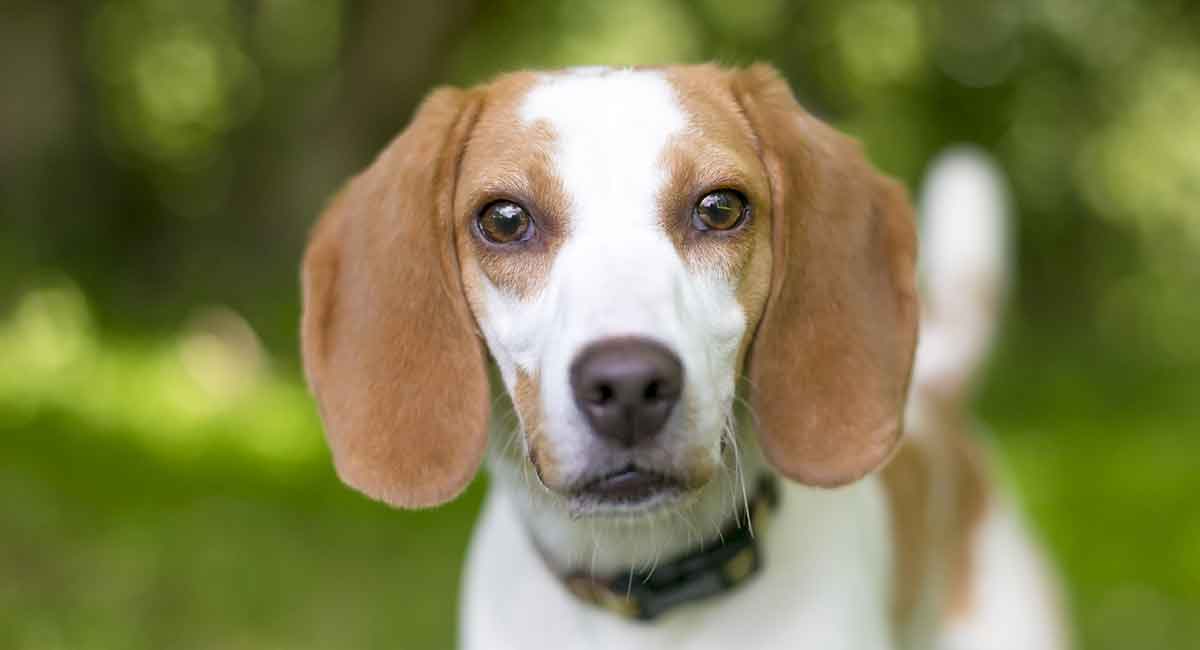 Socialization
If you're considering this breed, it's important to learn exactly how much socialization they need.
Socialization won't prevent natural chase instincts. So, even very well socialized English Foxhounds may not be great with other small animals.
But, it can minimise the risk of aggression in adult dogs.
When your Foxhound is a puppy, make sure to introduce them to as many new things and experiences as possible to minimise a fear-based response when older.
Training and Exercising your English Foxhound
English foxhounds are an independent breed with a tendency to be stubborn.
If they pick up a scent, their natural instinct is to chase it, regardless of what you want them to do.
Needless to say, training can be challenging and will require consistency and persistence.
English Foxhounds will respond best to calm assertiveness and reward-based methods. Harsh words and punishment will only lead to aversion.
In addition, this breed is prone to baying and howling, especially if left alone too often.
English Foxhounds that are specifically bred for fieldwork tend to be more excitable and will be harder to train. But to be healthy and happy dogs, both show and field lines need a huge amount of daily exercise and outdoor activity.
Exercise Needs
The amount of exercise this breed requires cannot be overstated. This high-energy dog can run for miles.
As such, they make excellent jogging and hiking companions and are best-suited for very active people who have large properties.
However, it's always best to keep them on a leash unless you're in an enclosed space. If they catch a scent they're likely to take off.
Despite their high energy, as long as your dog gets the exercise and space they need, they're sure to be easygoing and affectionate.
English Foxhound Health and Care
English Foxhounds are overall healthy dogs with a lifespan of 10 to 13 years. But, like any breed, there are some health issues that can affect them.
Two problems that you should be aware of as a potential owner are hip dysplasia and bloat. Let's take a closer look at these issues.
Bloat
Large, deep-chested breeds like the English Foxhound are susceptible to a sudden, life-threatening condition known as bloat, or gastric dilation-volvulus.
It causes the stomach to fill with gas and the stomach to twist, cutting off blood flow. The dog will go into shock and require immediate surgery.
No one knows exactly what causes bloat to occur, but hyperactive dogs and those that eat too quickly appear to be more at risk.
Hip Dysplasia
Hip dysplasia is a common skeletal condition that affects the English Foxhound's quality of life.
This is a hereditary disease in which the hip joint doesn't develop properly and deteriorates over time.
Luckily, responsible breeders will test parent dogs' hips before breeding from them. This ensures puppies have the best chances at healthy joints.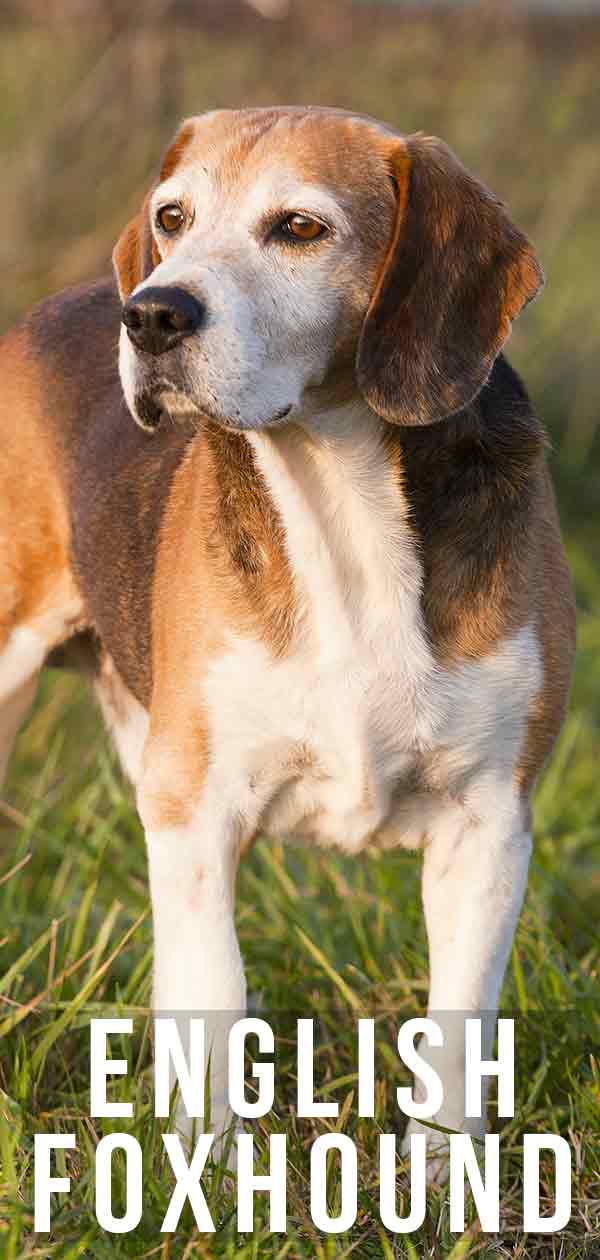 Other Problems
The English Foxhound is also prone to epilepsy and kidney disease.
Choosing a responsible breeder and giving your dog the best care possible throughout their life is the best way to ensure they are healthy.
Attend regular vet check ups, and make sure you are treating any problems as soon as you notice them.
Grooming and Feeding
Check the low-hanging ears of the English Foxhound regularly. Clean them if necessary since ear infections can be a problem.
Otherwise, grooming consists of brushing their short, dense coat to remove dirt and loose hair once a week.
Regular grooming will also help to control shedding. English Foxhounds will shed, so they aren't a great choice for people with allergies.
Trimming your dog's nails if they're too long is important since long claws can lead to a lot of doggie discomfort.
It's recommended to feed your English Foxhound a high-quality dog food that is appropriate for their age and activity level.
Do English Foxhounds make Good Family Pets?
If you spend lots of time outdoors pursuing energetic endeavors and live in a rural environment, the English Foxhound can make an excellent companion.
However, for the average family, this dog is probably not the best choice of pets. They are far too active for city living or lounging around the house.
In particular, English Foxhounds bred for fieldwork are too high-strung and hunting-oriented to settle into family life.
They will be great in homes with other dogs, but may not suit living with pets like cats or other small animals.
Provided you can offer enough exercise, interaction, and training to this dog, they can make a great family pet.
Rescuing an English Foxhound
If you've decided that the English Foxhound is the right dog for you, you could consider the option of rescuing a dog from a shelter.
Although this is not a popular breed, hunting hounds like the English Foxhound can occasionally be found in shelters.
Rescuing a dog from a shelter has many benefits, none more than knowing you're giving a dog a second chance for a happy life.
If this is the path you want to take, scroll to the end of this guide for some links to help you get started on your search.
Finding an English Foxhound Puppy
Because the English Foxhound ranked 193rd out of 193 breeds in 2019 according to the AKC, finding a new puppy can be quite difficult.
Just remember, no matter how much you want a puppy, always avoid buying dogs from puppy mills.
Puppy mills are in the business of churning out puppies without much regard for their health or wellbeing. Many of these dogs end up being sold in pet stores or on the internet.
If you're determined to get an English Foxhound puppy, look for reputable breeders who specialize in this breed.
They should be able to offer health certificates and be able to answer all of your questions about the breed.
A good breeder will also be happy to let you meet your puppy's parents and to show you where they are housed.
Take a look at our puppy search guide for more help.
Raising an English Foxhound Puppy
The English Foxhound is not the breed for everyone. Especially if this is your first time owning a dog. They may be more than you can handle.
This is a dog accustomed to the company of other dogs and they don't always respond to training immediately.
You'll need to have patience until they understand what you want from them. Knowing how to use rewards can be very effective.
This article breaks down puppy training into stages so that it will be less overwhelming. You can also find out more about puppy development stages here.
The English Foxhound requires a lot of attention, especially if they are the only dog in your home.
If you want more help with training and raising one of these puppies, take a look at our online training courses.
Popular English Foxhound Breed Mixes
Mixed breeds are becoming more and more popular recently. Breeders mix dogs in an attempt to combine the best traits of each breed.
So, if you aren't quite sure about the purebred version, an English Foxhound mix might be better for you.
However, be aware that mixed breed puppies can inherit any mixture of traits from their parent dogs.
So, say you get an English Foxhound Beagle mix, it may be a lot more like its Beagle parent. There is no way of predicting which English Foxhound characteristics mixed puppies will inherit.
Similar Breeds
If you're having trouble finding an English Foxhound, there are some other dogs in the hound group you may want to consider.
The American Foxhound was adapted from the English version! They're said to possess even greater agility and stamina with a keener sense of smell.
Far more popular than the English Foxhound, the Beagle is a great family pet, despite a hunting heritage.
Although not as well-known, the Harrier is very similar to the Beagle but is considerably bigger.
The Greyhound is a larger dog, they may work better for inexperienced owners as they're less stubborn and energetic than the English Foxhound.
Now, let's recap the pros and cons of this energetic dog.
Pros And Cons of Getting an English Foxhound
There's a lot to consider when choosing the perfect dog breed for you. So, we've summarised some key points.
Cons
Can be stubborn if not properly socialized.
Needs an enormous amount of daily exercise.
Requires plenty of space to run in an enclosed area.
An innate tendency to chase can make training difficult.
Can suffer from separation anxiety and may become destructive if left on their own too often.
Pros
Their short, dense coat is easy to groom.
An overall gentle and easygoing attitude.
A sociable animal who gets on extremely well with other dogs.
English Foxhound Products and Accessories
There are a number of special products you should be looking for if you are bringing home one of these dogs.
Interactive toys interest and occupy active dogs like the English Foxhound when you're not around.
They not only stimulate them mentally but can help to keep them from being destructive.
A no-pull harness is more comfortable for your dog and will stop him from straining on the leash.
Ear cleaner works well on the English Foxhound's low-hanging ears, which can be prone to infection.
English Foxhound Breed Rescues
Here a list of rescues for the English Foxhound.
Do you know a local or national shelter specializing in the breed? Please tell us about them in the comments box.
Is An English Foxhound Right For Me?
Before you bring an English Foxhound into your life, it's important to ask yourself if you have the time and energy to care for such an active and energetic dog.
This breed will be a handful, especially for first-time owners.
If you have other small pets or young children, this is probably not the right dog for you. Likewise, if you're living in an apartment since the English Foxhound needs lots of space.
They enjoy barking. This is problematic for owners with sensitive neighbours.
However, if you live in the country and you're a jogger, cyclist, or simply someone who loves spending their free time exploring the outdoors, this could be a great match for you.
Do you have any experience with this breed or are you planning on adding one of these energetic pups to your family? We'd love to hear in the comments below.
References And Resources