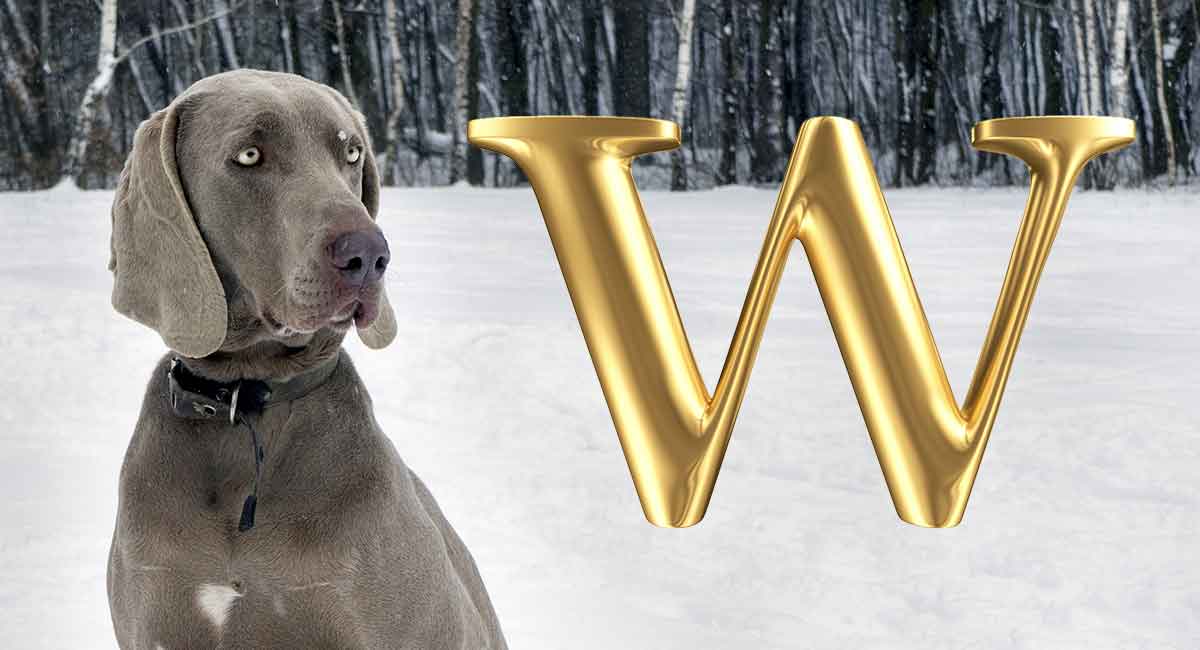 Dog breeds that start with W are rare, making up just 9 of over 200 official dog breeds. They include the Whippet, Weimaraner, Wirehaired Pointing Griffon, Welsh Springer Spaniel, Wirehaired Vizsla, Welsh Terrier, Working Kelpie, Westie and Wire Fox Terrier. Fascinatingly, all the dog breeds that start with W are working bred, usually from a hunting background. Today we'll share the breed traits of these wonderful dogs, and help you to pick your perfect pet with photos and facts!
Contents
Where Do The Dog Breeds That Start With W Come From?
You might choose to adopt one of the dog breeds that start with W due to your ancestry or location. Some of these dogs are Welsh, and a couple are also Scottish. There is even a German dog breed that starts with W.
Working Dog Breeds That Start With W
W is an unusual letter for a dog name. However, all of the breeds that start with W are working bred. They predominantly have backgrounds in hunting, flushing game, retrieving and pointing. Bred for speed, brains and tenacity they can be quite a handful, but the rewards of these dogs are huge.
Are The Dog Breeds That Start With W Good Pets?
What makes a dog a perfect family pet differs depening on the family. Very clever, busy dog breeds like those we'll look at today can be too much for novice dog owners. Or for families that already have a lot of commitments or are out the house a lot.
However, if your family has dog experience and an interest in positive reinforcement training, then some of the dog breeds that start with W can make for amazing family pets.
Meet The Dog Breeds That Start With W
No matter the reason you're interested in dog breeds that start with W, these dogs can be wonderful pets for the right family. We've gathered all the must-have info on each of the dog breeds that start with W into one place for you. They include:
Weimaraner
Whippet
West Highland White Terrier
Working Kelpie
Welsh Springer Spaniel
Wirehaired Pointing Griffon
Welsh Terrier
Wirehaired Vizsla
Wire Fox Terrier
Weimaraner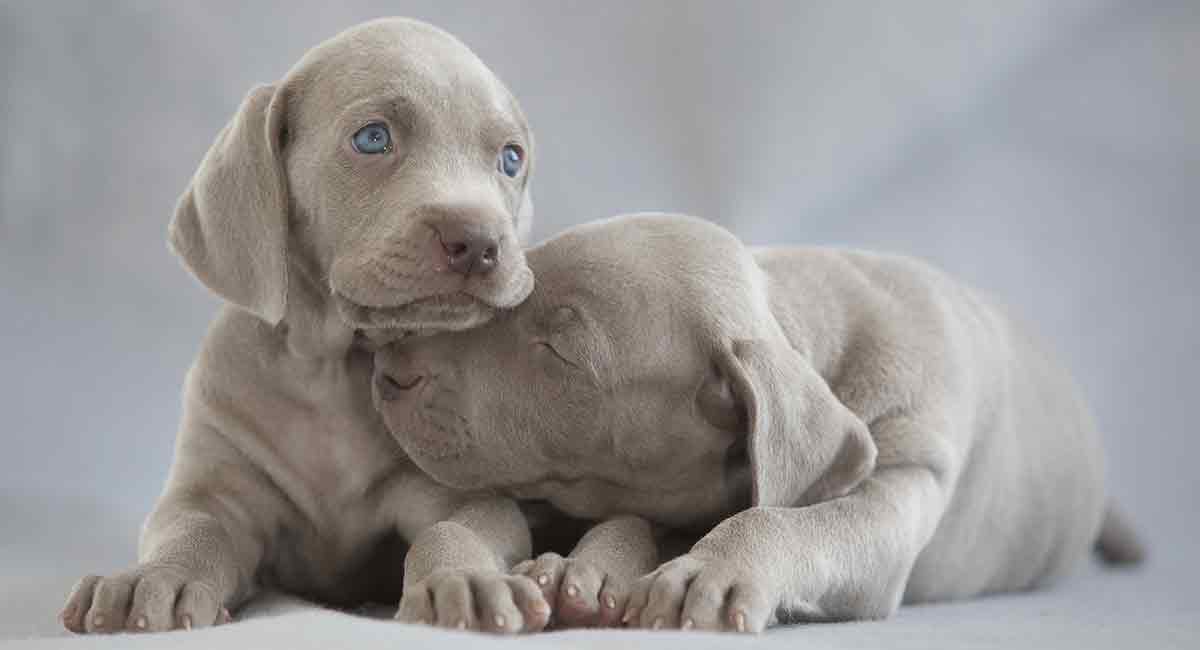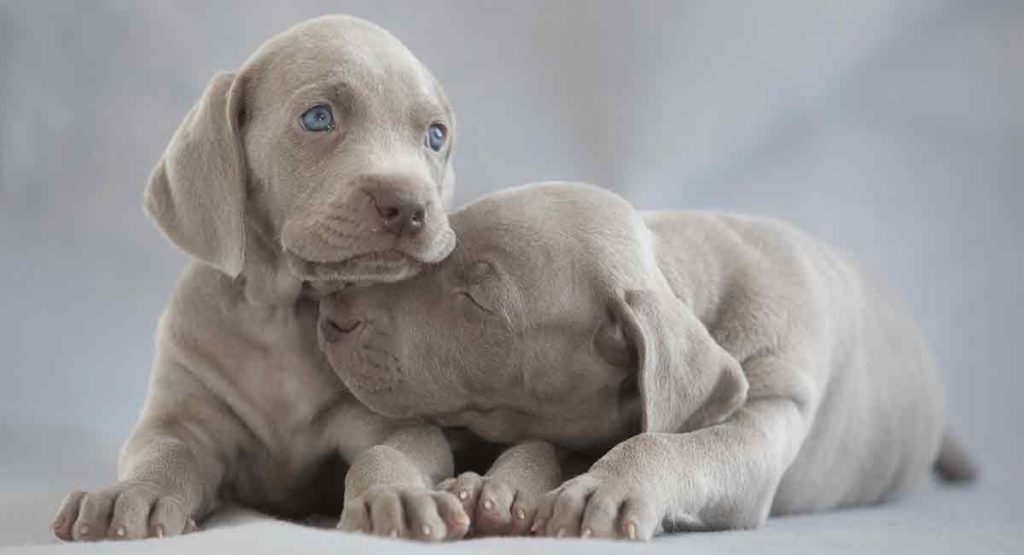 The Weimaraner was bred in Weimar, Germany. The Duke of Weimer was an avid sportsman and sought to create the perfect hunting dog. To create this dog, he bred a Bloodhound with various other German and French hunting dogs. The result was the Weimaraner, whose name means Weimar Pointer.
Originally, these dogs were used for big-game hunters, including bears, mountain lions and wolves. However, once the population of these species decreased, the Weimaraner became an all-purpose hunting dog. For a while, this dog was the secret of German aristocracy. But specimens began showing up in America in the 1920s.
Weimaraners are known for their sleek, grey form. However, some have a white spot on their chests. More white spots are possible but rare. Their eyes are almost all amber or blue-grey. Their ears are long, velvety and stand up on their heads.
The Weimaraner sheds seasonally and requires weekly brushing. They need lots of activity due to their hunting nature. These friendly, agreeable dogs are eager to please but can be quite stubborn.
Welsh Springer Spaniel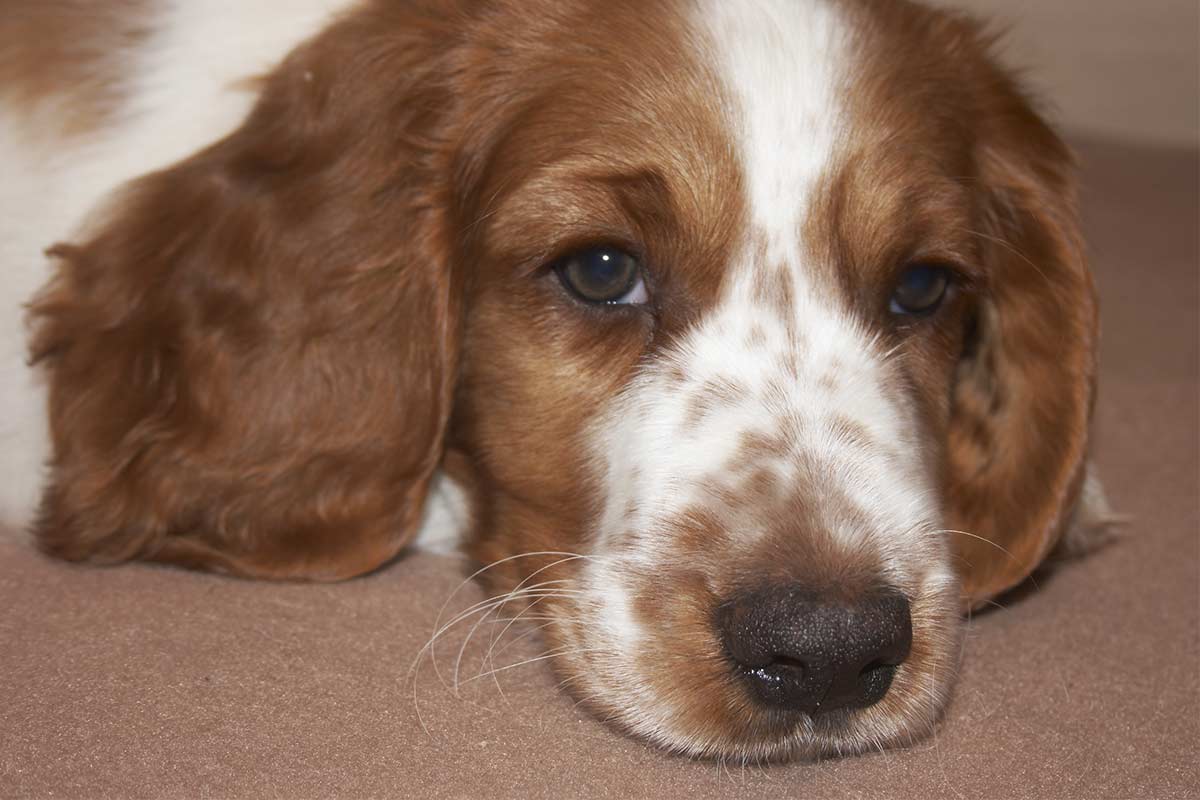 Another of the dog breeds that start with W is the Welsh Springer Spaniel. This medium-size sporting dog is one of Britain's oldest sporting breeds—and for a good reason. These dogs stand between 17 and 19 inches.
Welsh Springer Spaniels are bigger than Cocker Spaniels but smaller than English Springers. This breed has two distinguishing characteristics that set them apart from other dogs—their uniquely shaped heads and red-and-white coats.
Welsh Springer Spaniels' features aren't just ornamental. Their coat is waterproof, weatherproof and thorn-proof, which helps their stamina in the fields. This coat also helps them adapt to various climates and terrains.
As one of the oldest British species, they originally descended from the original spaniels of the Iberian Peninsula. It is unknown how these dogs arrived from Spain to Wales. However, Welsh Springer Spaniels appear in British art going back to 250 B.C.
The Welsh and English Springers became separate breeds in the early 1900s. These dogs are generally pretty healthy, but there are a few health conditions to know. Welsh Springer Spaniels are prone to hip and elbow dysplasia, autoimmune thyroiditis and eye disease. These dogs are reserved with strangers but very friendly with those they know.
Welsh Terrier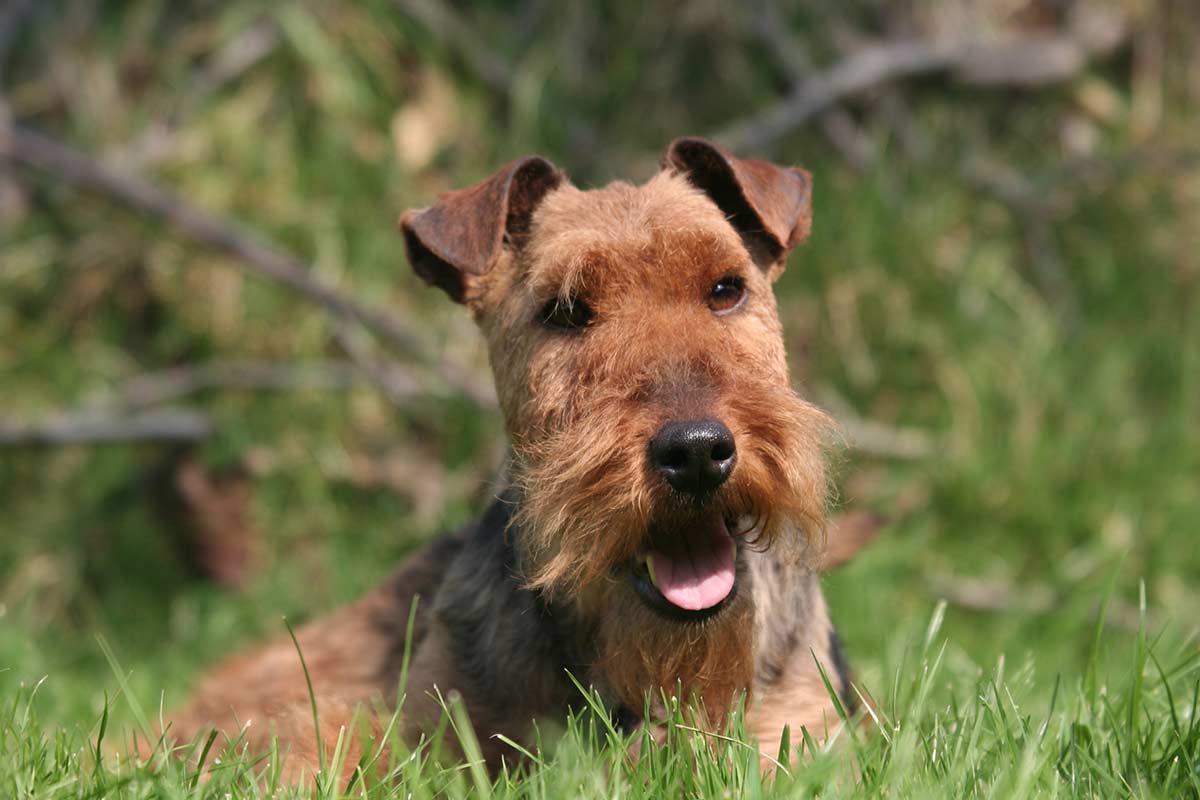 The Welsh Terrier is alert and spirited, much like any other terrier. They were originally bred to hunt badgers, otters and other similar game. They are sturdy, compact and rugged. Their tight-fitting black-and-tan coats make them stand out from other terrier breeds.
The Welsh Terrier stands are 15 inches at the shoulder. They are slightly larger than the Lakeland Terrier but much smaller than the Airedale. However, all three of these dogs share a striking resemblance.
The Welsh Terriers are very similar to other British long-legged terrier breeds. They were bred to hunt fox, badger and other similar animals in remote regions of Wales. To help them combat these foes, the Welsh Terrier developed powerful forequarters and jaws.
They are nearly fearless like many terriers. These hardy dogs don't get sick much. But some Welsh Terriers are prone to allergy problems, hip dysplasia, eye disease and Legge-Calve-Perthes disease.
West Highland White Terrier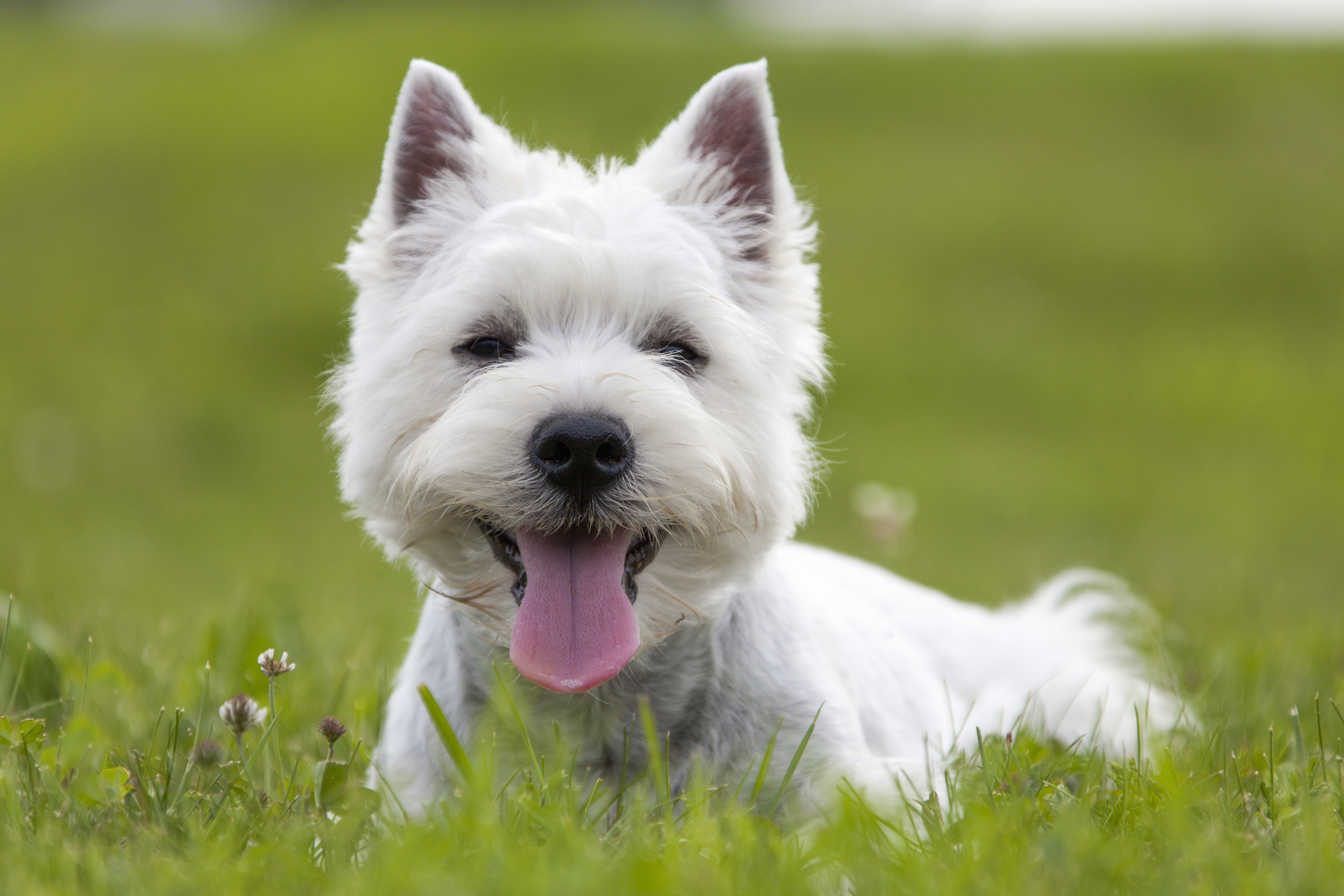 This sturdy dog, another of the dog breeds that start with W, is one of the most popular small terriers. They stand at between 10 to 11 inches at the shoulder.
West Highland White Terriers may look innocent and lovable, but they are also courageous and hard working. Because they were bred to hunt rodents, they are surprisingly tough. Their double-coat is hard to the touch, not soft and fluffy like you might imagine.
West Highland White Terriers act like most terriers. They are alert, active, and independent. Their prey instincts are strong. They will chase after anything that moves, which make them get into trouble. They are also resistant to recall commands, making their susceptibility to getting lost even higher.
The independence of West Highland White Terriers can make them difficult to train. However, they are very intelligent. Training them requires time and patience, but they are trainable.
These dogs require daily brushing, and shedding is seasonal. Though pretty healthy, these dogs are prone to cardiac disease and patellar luxation. Ethical breeders should not breed dogs together that have these health problems.
Whippet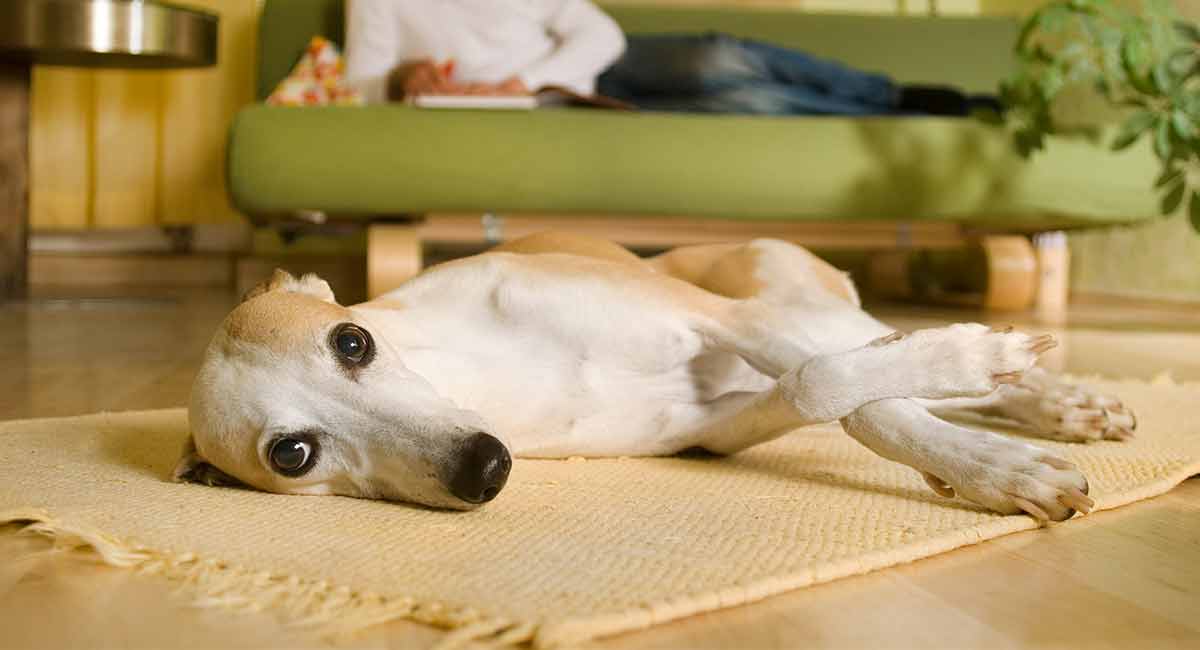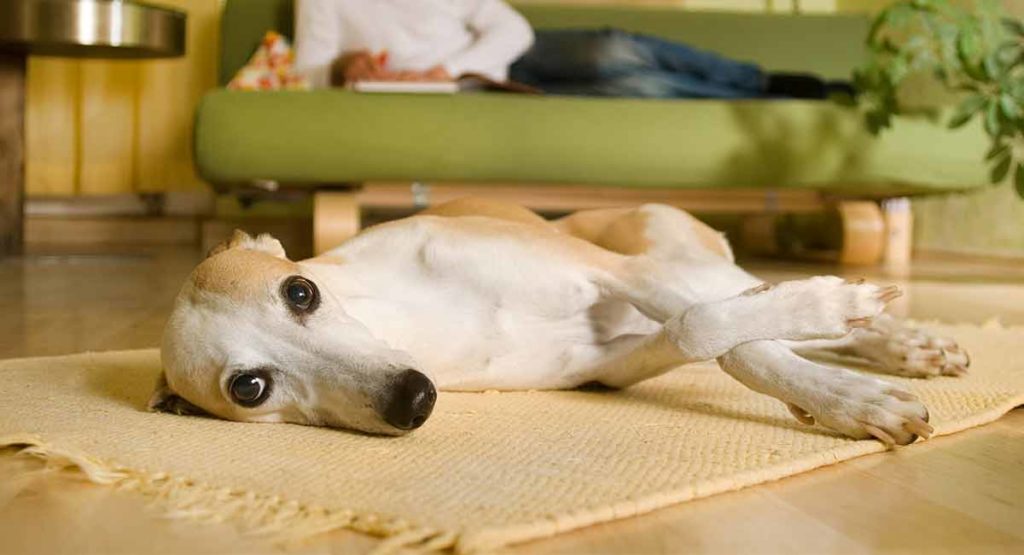 The Whippet has been described as the "poor man's racehorse." They are lightning quick and resemble a Greyhound in appearance, though they are smaller. They stand between 18 and 22 inches at the shoulder, with deep chests and small waists.
Their heads are lean and long. Their slim legs allow them to be agile, fleet athletes. However, their energy usually comes in spurts.
In between Whippets' intense runs, they stretch out and relax for hours. They are dogs of speed, not stamina. These dogs prefer large, fenced-in yards to run in. However, they are also suitable for apartments as long as they are exercised properly. Whippets rarely bark and are overall very low maintenance. They require only occasional brushing and shed infrequently.
Wire Fox Terrier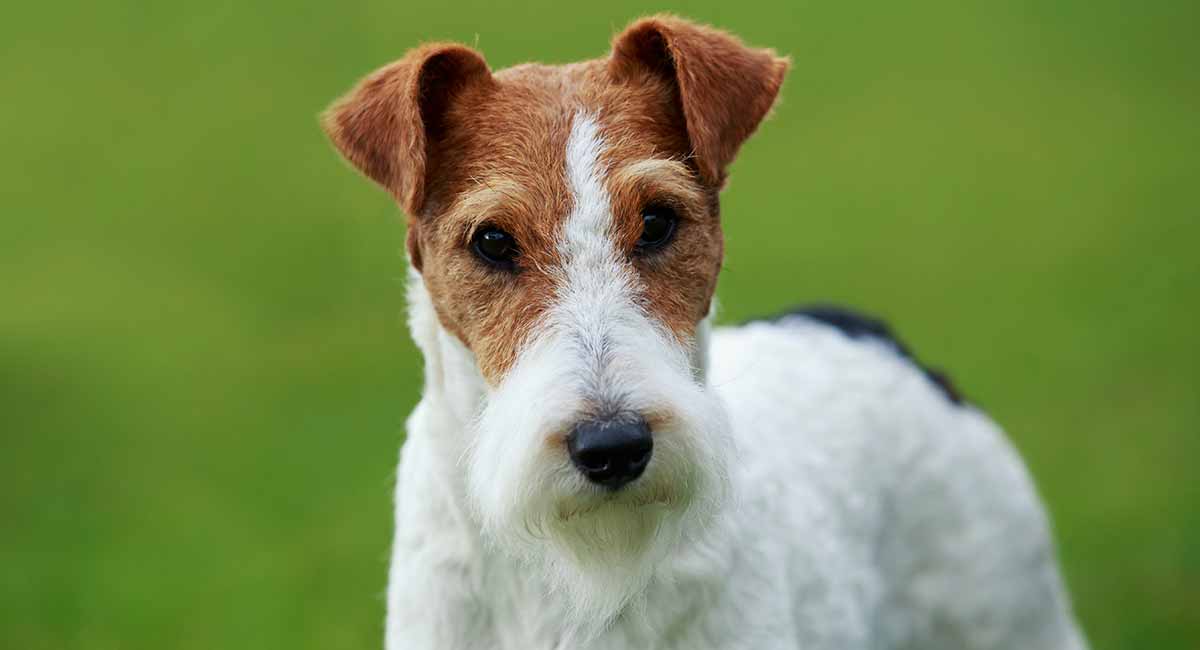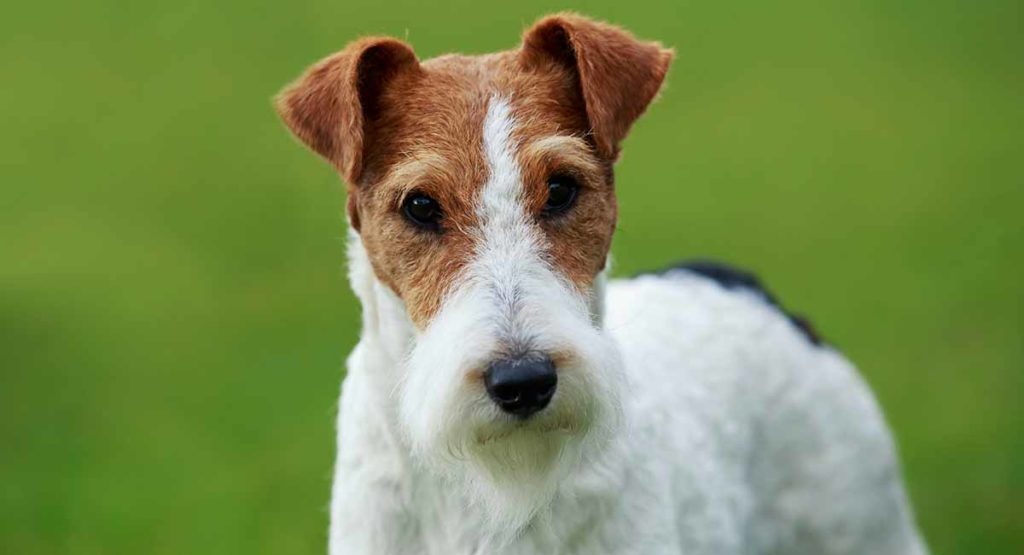 The Wire Fox Terrier was bred for fox hunts, as you might expect. However, today they are mostly used as companion and show dogs. This terrier was originally bred to chase the fox out of its den, which allowed the hunters and other dogs to move in. These dogs were bred only to be white. Any other color would cause them to risk being mistaken as a fox during the hunt.
Standing at 16 to 18 inches tall, they're sturdy and short-backed. Wire Fox Terriers' intelligence and prey drive are on par with their terrier lineage. They are quite independent, making training a challenge but not impossible.
These dogs require at least weekly brushing and shed infrequently. Wire Fox Terriers do require regular exercise. They require secure, fenced-in areas to exercise properly due to their prey instincts. While not extremely outgoing, these dogs are alert and responsive.
They can get along with nearly anyone if socialized properly and given enough patience. These dogs are prone to a few different health problems, including eye disorders, luxating patellas, elbow and hip dysplasia and "wobbler's gait."
Wirehaired Pointing Griffon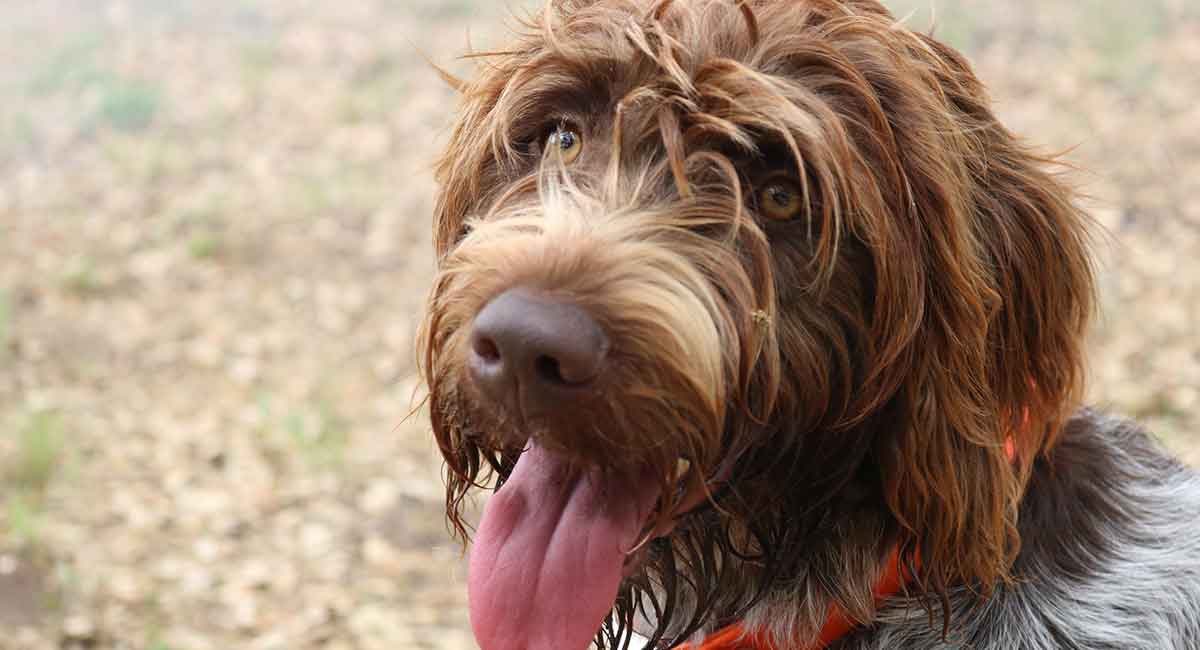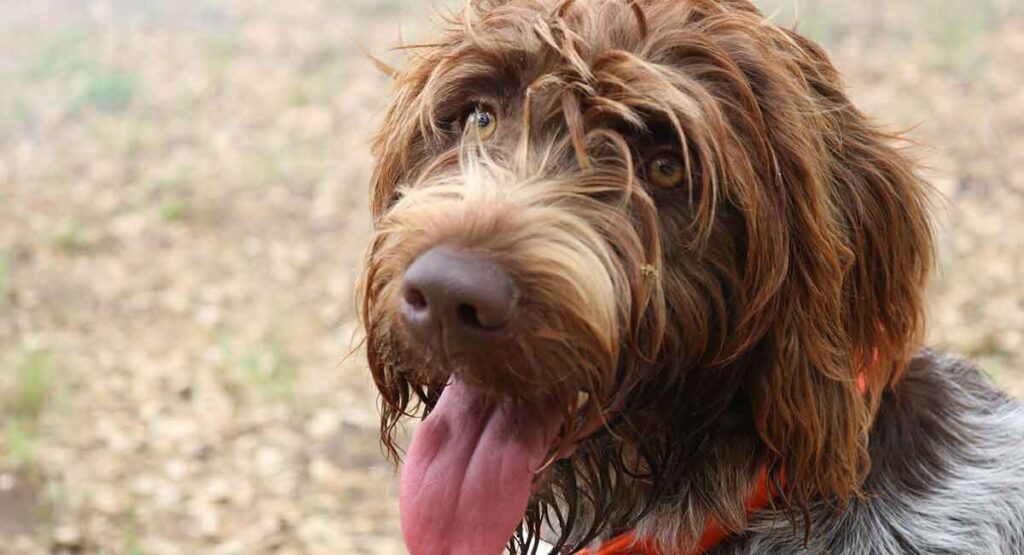 The Wirehaired Pointing Griffon is known as the supreme sporting dog. This breed came into being in the 1800s. During this time, the sportsmen of Europe were attempting to breed versatile hunting dogs.
Wirehaired Pointing Griffons' harsh coats give them a natural unkempt appearance, and they don't shed. The preferred coat color is gray with brown markings. However, other colors are possible. These dogs require weekly brushing and the occasional trim around their feet and ears.
These dogs are medium-sized and stand no higher than 24 inches. They require lots of exercise but love to please their owners and are considered easy to train. If they are used for hunting, it is essential to introduce them to the sport early, however.
Wirehaired Vizsla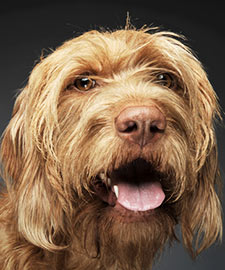 Another of the sporting dog breeds that start with W, the loyal Wirehaired Vizsla was bred to be an efficient hunter on land and lake. They are very closely related to the Vizsla. The only major difference is the Wirehaired's wiry coat.
These dogs are classified as medium-sized. They stand slightly taller than their Vizsla cousins. Both breeds share the same striking red coat coloring. The Wirehaired Vizsla requires only minimal grooming and sheds seasonally. All they really need is the occasional bath and wipe down.
These dogs are energetic and require a decent amount of exercise. It is important that they can run and play often. Their hunting instincts are strong, and they cannot resist the urge to hunt prey. Owners may prefer to keep them on a lead or in a securely fenced-in area.
Wirehaired Vizslas are very smart but can get bored easily. Ideal training sessions are fun and short. These dogs are prone to quite a few health problems, including hyperuricosuria (susceptibility to kidney and bladder stones), elbow and hip dysplasia, subaortic stenosis, glaucoma, progressive retinal atrophy, and cataracts.
Working Kelpie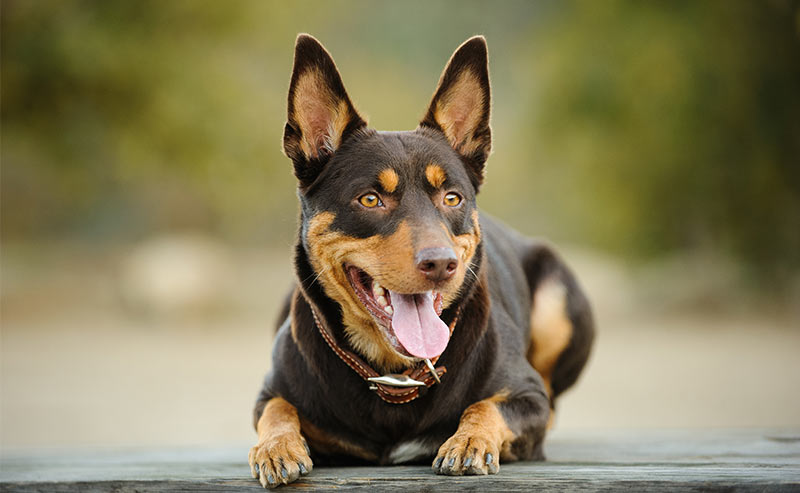 The last of our dog breeds that start with W is the alert and intelligent Working Kelpie. This dog strikes a nice balance between a need to work and ability to relax. They have extremely high stamina and are built to herd sheep and other livestock.
These dogs are medium-sized, muscular, active and bred to work. While they were originally herding dogs, they are also police dogs, sled dogs, and used widely in search and rescue.
Kelpies are usually gentle, and can live quite peacefully within a family home. They require only occasional brushing and shed seasonally.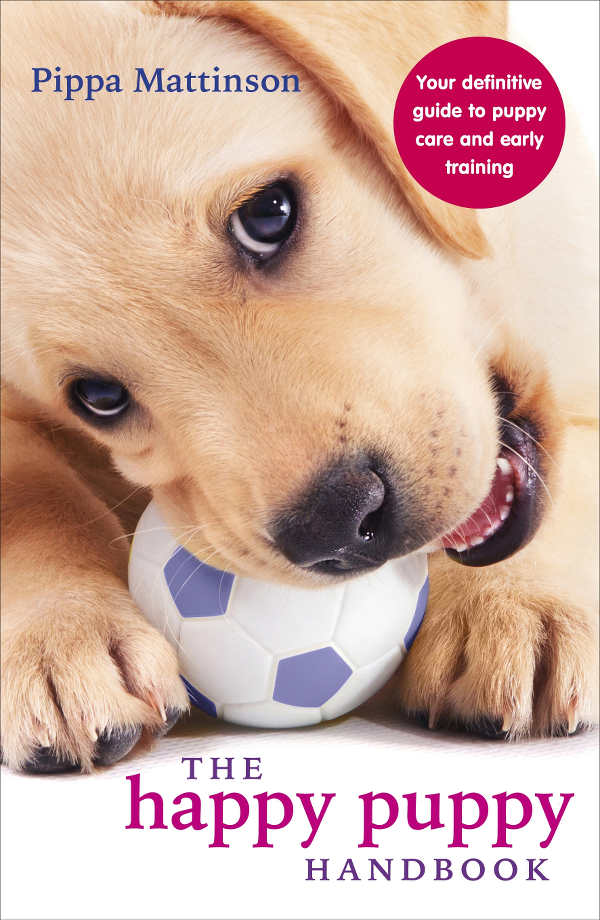 The Working Kelpie needs companionship and does not do well alone. They are very energetic, and require much physical and mental stimulation. These dogs are independent, which can make training difficult. The best training sessions are short and sweet.
Designer Dog Breeds That Start With W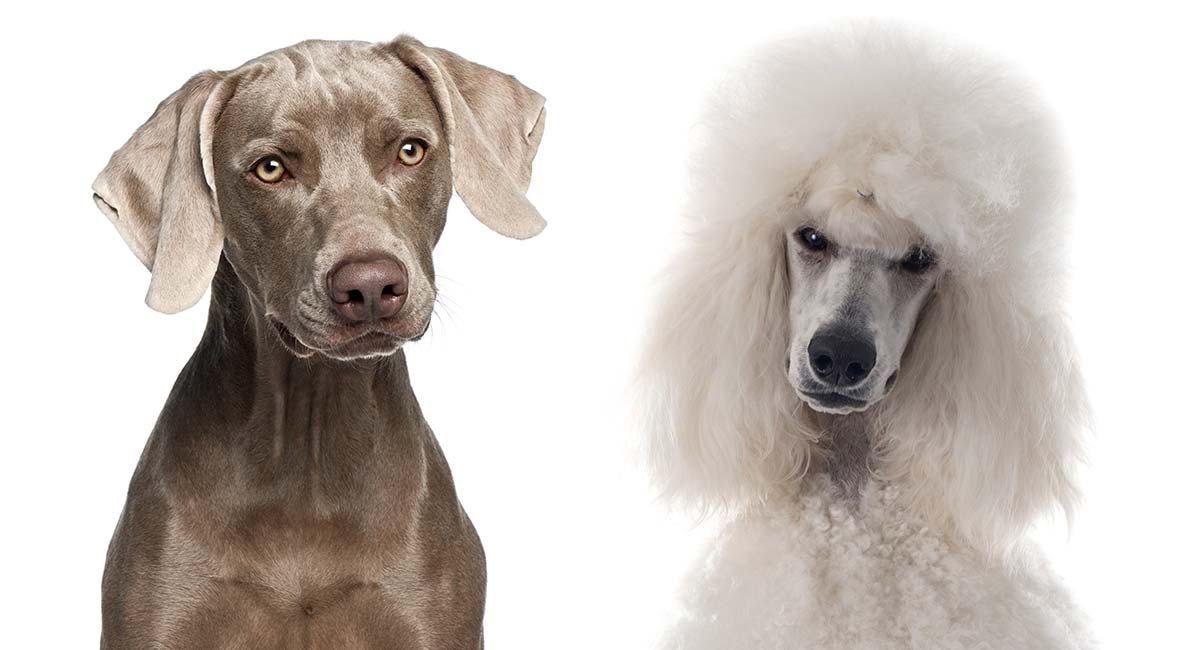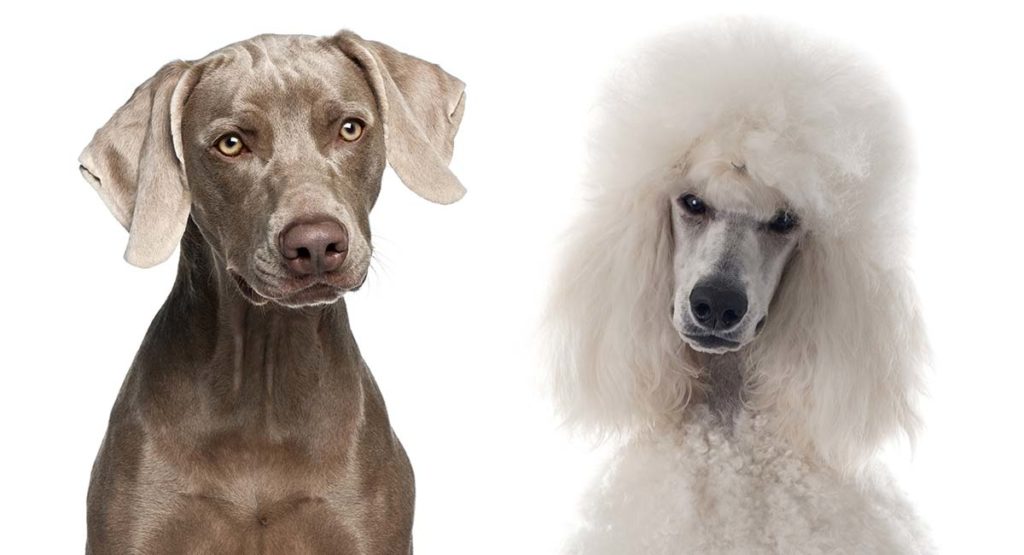 If you aren't looking for a purebred pet then there are a lot more options of dog breeds that start with W for you. Any breed that has one parent with a W name could produce a mix that starts with W. Popular W dog breed mixes include the Weimardoodle, a cross between the Poodle and Weimaraner.
Of course, just like with your breed mixes, it's important to get to know your pup's type before you comit to bringing them home. Make sure you love the traits and appearance of both their parent breeds, and that you buy your puppy from an ethical breeder that health tests the parents and socializes their puppies.
Which Dog Breeds That Start with 'W' Are for You?
We hope you enjoyed our breakdown of dog breeds that start with W.
Do you own one of the dogs below? Tell us what your experience is like with having one of these breeds in your family.
References and Further Reading:
Adams, V.J., et al., 2010, "Methods and Mortality Results of a Health Survey of Purebred Dogs in the U.K.," Journal of Small Animal Practice, Vol. 51, Issue 10, pgs. 512-24
Barnett, K.C., 1980, "Hereditary Cataract in the Welsh Springer Spaniel," Journal of Small Animal Practice
Brodey, R.S., 1954, "Renal Osteitis Fibrosa Cystica in a Wire-Haired Fox Terrier," American Journal of the Veterinary Medical Association, Vol. 124, Issue 925, pgs. 275-278
Gelatt, K. and Mackay, E.O., 2005, "Prevalence of Primary Breed-Related Cataracts in the Dog in North America," Veterinary Ophthalmology, Vol. 8, Issue 2, pgs. 101-111
Webb, J.A. and Armstrong, J., 2002, "Chronic Pulmonary Disease in West Highland White Terriers," BMJ Journals, Vol. 43, Issue 9, pgs. 703-705