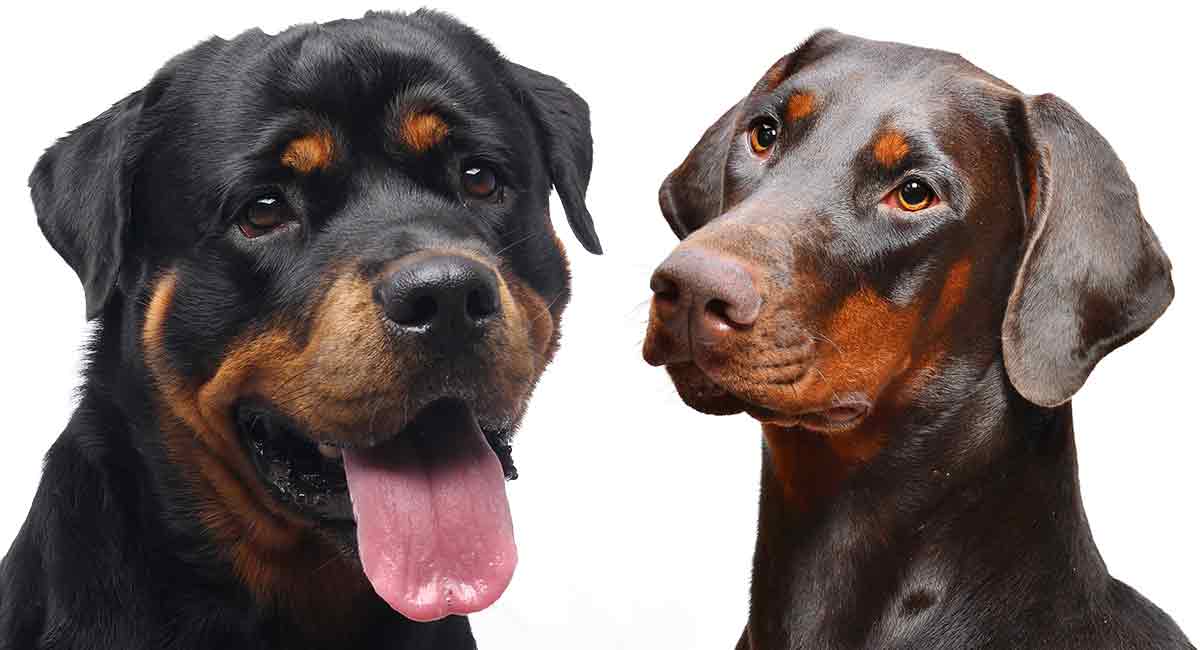 Doberman vs Rottweiler – it's a tough choice when two dogs appear to be so similar!
The Doberman and the Rottweiler are both large working breeds of German origin who make excellent guard dogs.
Known for being extremely loyal to their owners, each makes a wonderful pet for the right family.
Both of these strong, powerful breeds can display aggressive tendencies if not properly trained and socialized from a young age.
When comparing the Doberman vs Rottweiler, in terms of physical traits and temperament, there are some differences.
Considering any potential health problems that these breeds can face is another important factor when choosing between Doberman vs Rottweiler.
This article offers a complete Doberman vs Rottweiler comparison so that you can make an informed decision about these two breeds.
Doberman vs Rottweiler – which breed is right for you?
When choosing a dog breed there's no one-size-fits-all.
Both the Doberman and the Rottweiler have many excellent traits that make them wonderful canine companions.
But when you do an honest, overall comparison, there'll be one breed which you'll feel more compatible with.
No matter which breed you choose, always get a puppy from a reputable breeder who has done health testing.
Doberman vs Rottweiler – what's the difference?
Let's take a closer look.
Side-by-side you'll soon see that these two dogs are quite distinctive.
Both dogs were developed for a different purpose but are classified as working breeds.
You can see this when comparing the sleek, powerful physique of the Doberman with the solid, thick-set muscles of the Rottweiler.
The Doberman stands somewhat taller. A male measures 26 to 28 inches compared to the Rottweiler at 24 to 27 inches.
When comparing weight you'll see a real disparity.
A male Doberman weighs between 75 and 100 pounds, while the Rottweiler can weight up to 135 pounds.
One way they are similar in appearance is in their short, black and brown coats.
Although the Doberman's coat is smoother than the Rottweiler's coarse fur, both are moderate shedders and require fairly little maintenance when it comes to grooming.
Doberman vs Rottweiler temperament
Both the Rottweiler and Doberman are often perceived as being aggressive dogs.
Their reputations for being ferocious is more about how they were raised, than about the breeds themselves.
The Rottweiler is actually quite calm, gentle, and intelligent.
Devoted and affectionate towards their families, they like to be close to those they love. However, they tend to be aloof when it comes to meeting strangers.
Alert, fearless, and highly intelligent, Dobermans are fiercely protective, and can behave in an intimidating way if they feel threatened.
Today, good Doberman breeders use plenty of socialization and positive reinforcement training from their puppies' earliest days to raise confident, non-aggressive dogs.
And now the breed is considered to be friendlier and calmer than ever before.
But, to be safe, neither of these large, powerful dogs should be left alone with children or strangers.
Doberman vs Rottweiler guard dog
The Doberman was originally bred as a guard dog in the 1890's by a German tax collector.
He was created as a protector who was strong, loyal, and ferocious.
The Rottweiler's story extends much further back through history.
A descendant of the drover dogs who belonged to the Roman armies, it was their job to guard the herd as they moved across Europe.
When it comes to Rottweiler vs Doberman guard dog abilities, either of these breeds will excel in this role.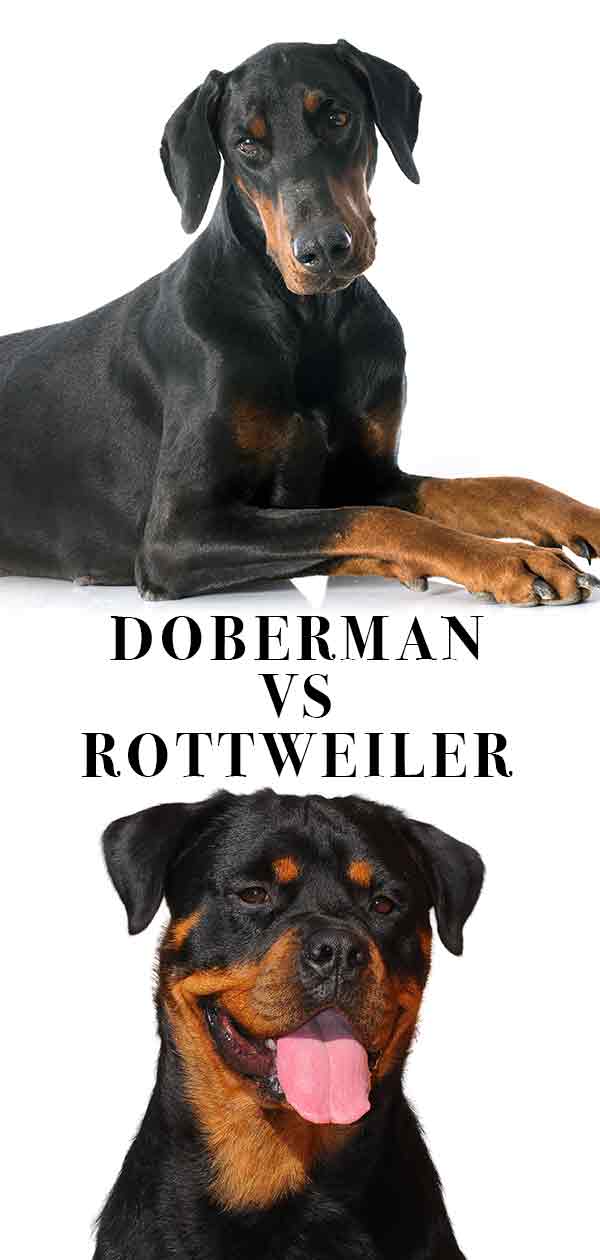 Doberman vs Rottweiler health problems
Unfortunately neither of these breeds has an especially long life span.
The Doberman typically lives between 10 to 12 years, while the Rottweiler lives 9 to 10 years.
Whenever you're looking at purebred dogs, it's important to find out about the breed's predisposed potential health problems.
Reputable breeders provide health certificates of the parents. This ensures they've been tested and cleared of hereditary health concerns.
Here are the most common health issues these two breeds face:
Doberman health problems
Dilated cardiomyopathy – a condition in which the heart's ability to pump blood is decreased. Prevalence in Doberman's is high and yearly screening is recommended, starting at 2 years of age.
Disc-associated Wobbler's syndrome – a malformation of the vertebrae that Doberman's are susceptible to and can cause spinal cord compression.
Von Willebrand's disease – an inherited bleeding disorder in which the blood doesn't clot well. Usually diagnosed when there is excessive bleeding after an injury.
Other conditions commonly seen in Dobermans include:
Addison's disease
bloat
prostatic disease
hypothyroidism
hip dysplasia
and canine compulsive disorder.
Rottweiler health problems
Hip and elbow dysplasia are hereditary malformations that occur during periods of rapid growth and can cause arthritis and deformed joints.
It's a problem that affects many breeds, including the Rottweiler.
This study sought to discover if major genes could be identified as the cause, but further study is required.
Breeding dogs should have their hips checked by a vet before they mate.
Hypothyroidism occurs when the thyroid gland doesn't produce enough hormones, resulting in numerous symptoms including tiredness, weakness, and loss of hair and appetite.
This article suggests that a sudden onset of behavioral aggression at around the time of puberty could also be caused by hypothyroidism.
Other health issues Rottweilers are prone to include:
Cancer,
progressive retinal atrophy,
osteochondrosis,
panosteitis, and
sub-aortic stenosis.
Rottweiler vs Doberman facts – which breed will you choose?
Making the decision between two such similar breeds isn't easy.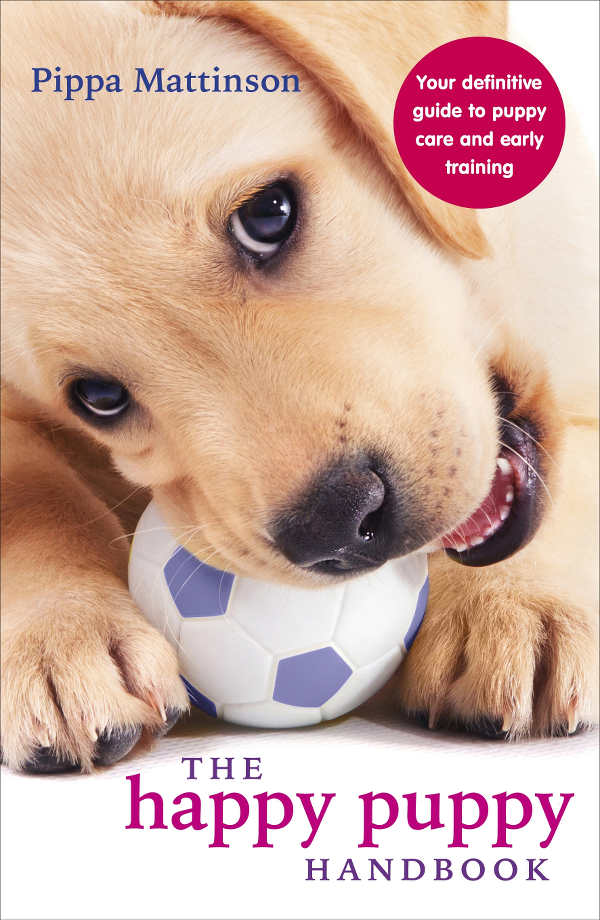 When comparing the Doberman vs Rottweiler, consider the pros and cons of each breed.
Bear in mind that each of these dogs has strong protective instincts and needs proper training and socializing done in a kind and positive manner.
Both breeds require daily exercise, but the Doberman is more athletic.
Rottweilers suffer from separation anxiety. They are best suited to homes where there is family member at home.
Your lifestyle is something to bear in mind while making your choice. Think about your own activity level and how much time and attention you're able to devote to your new dog.
Ultimately the choice is yours. We'd love to hear about your decision in the comments below!
Related Articles
References and further reading
Briones, EM, et al., Perceived Aggressive Tendencies and Functional Attitudes Towards Various Breeds of Dogs, Department of Psychological Sciences, Texas Tech University
Wess, G., et al., 2010, Prevalence of Dilated Cardiomyopathy in Doberman Pinschers in Various Age Groups, Journal of Veterinary Internal Medicine
VanGundy, DE, 1998, Disc-Associated Wobbler Syndrome in the Doberman Pinscher, Veterinary Clinics of North America: Small Animal Practice
Brooks, M., et al., 1992, Epidemiologic features of von Willebrand's disease in Doberman pinschers, Scottish terriers, and Shetland sheepdogs: 260 cases (1984-1988), Journal of the American Veterinary Medical Association
Mäki, K., et al., 2004, An indication of major genes affecting hip and elbow dysplasia in four Finnish dog populations, Heredity, 2004
Aronson, LP, et al., The Effect of Hypothyroid Function on Canine Behavior.