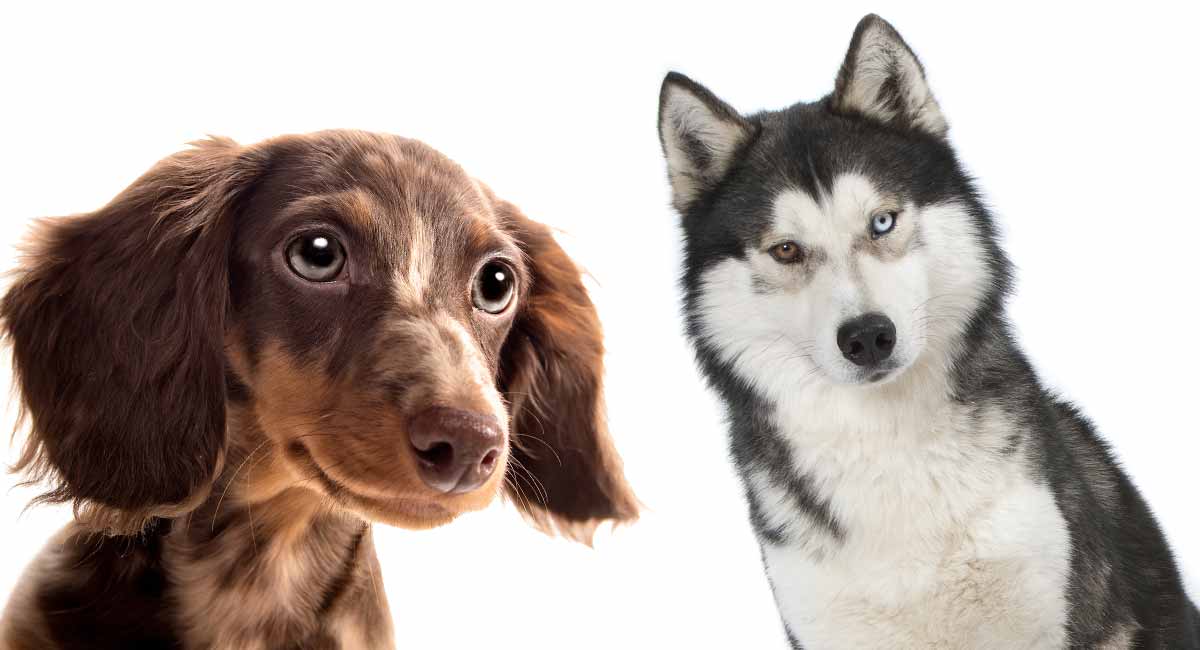 The Dachshund Husky mix is a rare unusual cross that aims to delight fans of both the Husky and Dachshund by attempting to put loved qualities of both into a single breed.
However, the art of crossbreeding is by no means that simple.
In this guide we will be taking a look at everything there is to know about this new breed, from their appearance to their health issues.
Where Does the Dachshund Husky Mix Come From?
Sadly, there isn't much information out there on the exact origin of this cross, as it is with many of the recent new crossbreeds that have come from the designer dog trend.
However, we can still gain a good understanding of the background of this cross by looking at the history of both parent breeds.
Origins of the Dachshund
The Dachshund is a breed that finds its ancestry inGermany, where they were used primarily for badger hunting.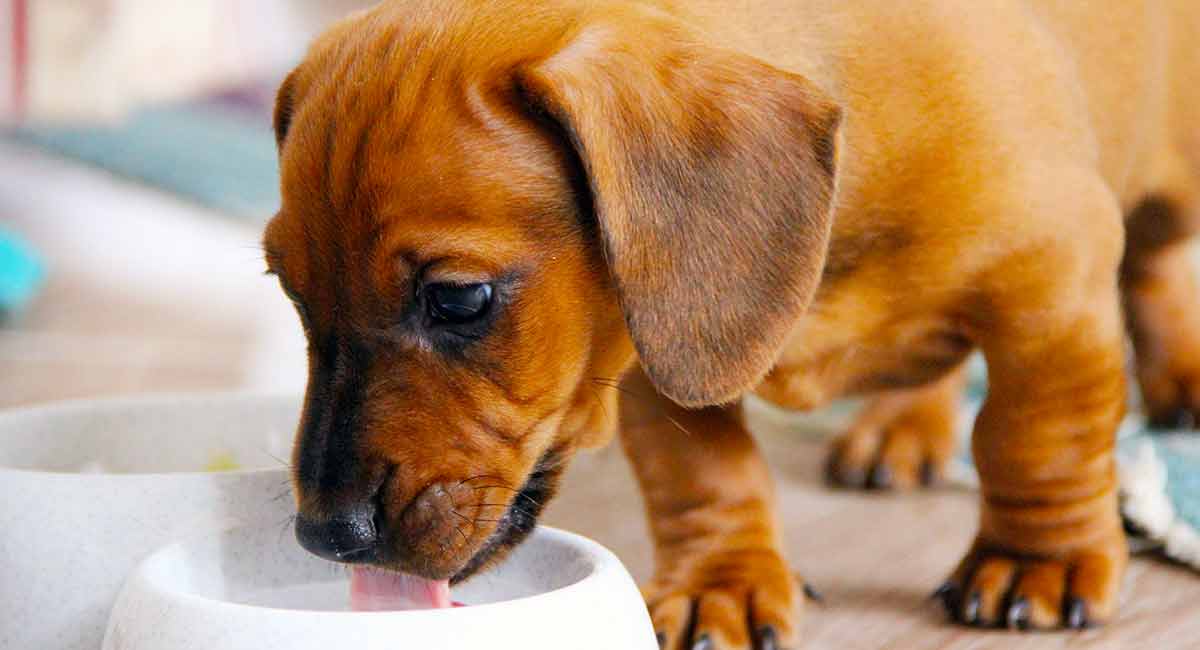 Their short legs and long back proved them to be the perfect dog for navigating underground badger dens and forcefully ejecting its occupants.
Today, the Dachshund is an incredibly popular companion dog around the world due to their appealing appearance and personality. They are also known as the national dog of Germany!
Origins of the Husky
As for the Husky, their lineage can be traced back to the plight of the Chukchi people in North-eastern Asia.
The Chukchi were a semi-nomadic people separated from the world at large, and with changing climate conditions came more and more difficulty procuring food.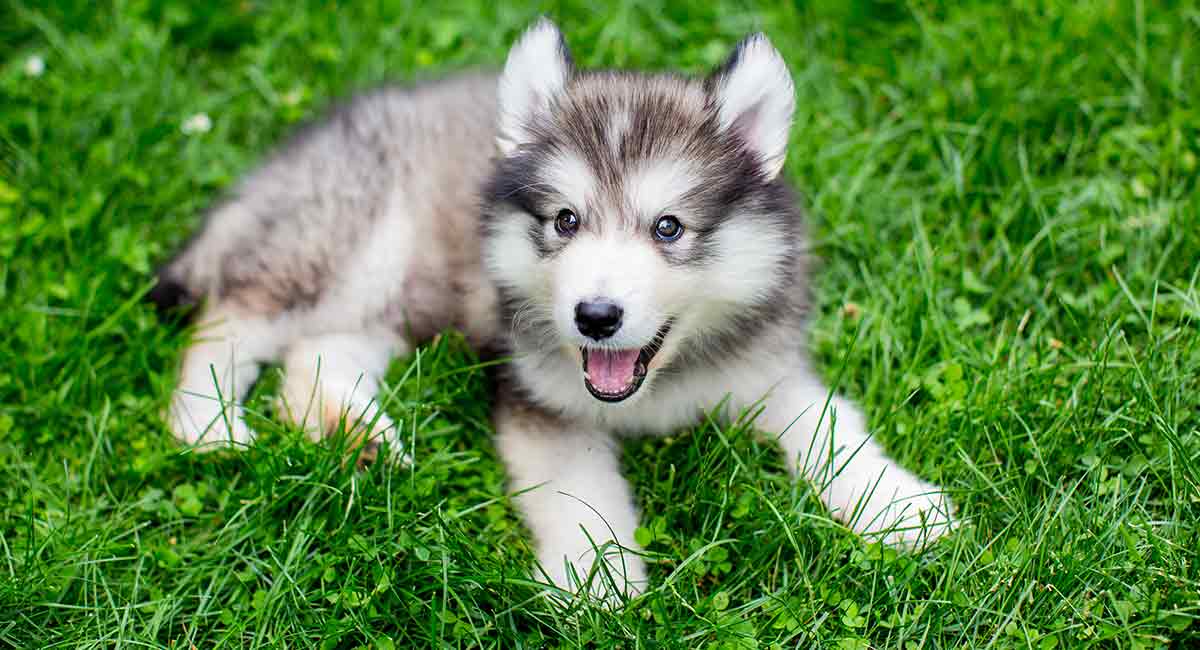 However, the development of the hardy Husky as a sled dog allowed them to expand their hunting grounds, saving the people.
The Husky is now a well-known and loved breed throughout the world for its gentle nature and stunning appearance.
It is important to note that there is a lot of controversy surrounding the topic of designer dogs.
Advocates of purebred dogs state that the practice of designer dog breeding creates unhealthy puppies and that the breeders behind it are inexperienced and greedy.
However, a lot of the points raised in this debate have little to no scientific backing.
Check out this article which explores the topic from a scientific standpoint, debunking some of the misconceptions surrounding designer dogs.
Fun Facts About the Dachshund Husky Mix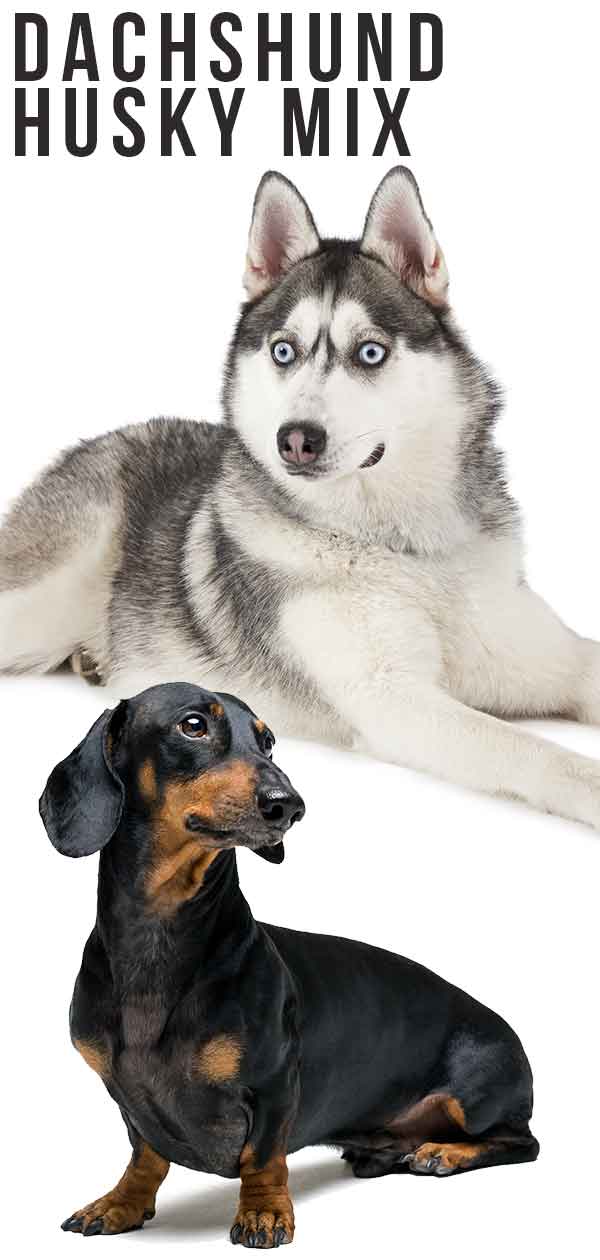 This crossbreed is commonly nicknamed as the "Dusky".
Both parent breeds are incredibly popular, with the Dachshund and Husky ranking #13 and #12 respectively in the American Kennel Club's breed popularity rankings.
In addition, the parent breeds are commonly used in other designer dog crosses such as the Doxiepoo and the Hug.
Dachshund Husky Mix Appearance
As a crossbreed, dogs of the Dachshund Husky Mix may take after either parent in any aspect, or fall somewhere in-between.
Therefore, all we can offer you are estimations as to what to expect, so you may be ready for any potential surprises!
The average height of a Dusky can range from 8 to 20 inches.
It is important to note that if the miniature variation of the Dachshund is used in the cross, your Dusky could be as small as 5 inches.
As for the weight, Duskys can range from 16 to 60 lbs.
Again, if a miniature Dachshund is involved, your Dachshund Husky Mix could be even lighter than 16 lbs.
These wide variations are owing to hugely different average sizes of the parent breeds.
To obtain a better estimation of your Dusky's height and weight, inquire about the exact height and weight of both parent dogs. Your Dusky puppy is likely to fall somewhere within this range.
The Dachshund Husky Mix can inherit either the floppy long ears of the Dachshund or the medium-sized erect ears of the Husky.
The beautiful blue eyes of the Husky can also be inherited by dogs of this cross, provided the parent Husky also has blue eyes.
Dusky's can also inherit the short stumpy legs of the Dachshund.
As for their coat, it can be short or medium-length, smooth or coarse depending on which parent your Dusky takes after.
Coat type will also largely depend on the Dachshund parent's coat.
Potential colors include
red
cream
black
chocolate
wild Boar
gray
fawn
tan
Moreover, certain patterns such as merle, brindle, and piebald can appear.
Again, to get a closer estimation of which coat you can expect, take a look at the coats and colors present of the parent dogs.
Dachshund Husky Mix Temperament
While this breed has the potential to be gentle and loving, there are some temperament concerns that you will need to be aware of before making the decision to take home a Dusky.
First and foremost, the Dachshund has somewhat of a reputation for being a potentially aggressive breed.
A study published in 2008 found that amongst other breeds, the Dachshund has a higher than average incidence of aggression towards both other dogs and humans.
Dachshunds were found to make up a large percentage of dogs that have attempted to bite humans.
Of course, there are numerous factors that play into whether a dog will potentially exhibit takes aggressive behaviors.
This can include upbringing, whether they have ever been trained or socialized, and the given situation.
Nonetheless, Dachshunds seem to be predisposed to aggression problems and this could be passed down to the Dachshund Husky Mix.
Owing to this risk, we do not recommend this cross for households with young children.
Another possible temperamental issue that could be inherited is a strong instinct to chase, which can come from either parent breed.
Your dog may suddenly start chasing small animals, regardless of the potentially dangerous situation they may be putting themselves into.
Therefore, we would not recommend this mix for houses with other smaller animals unless they are socialized from a very young age.
In addition, it's best not to let breed off the leash unless they're in a secure area. Your pup could run off in an effort to chase something.
Stubbornness and independence can also be a high risk in this breed. This can make controlling and training your dog a hassle, but certainly does add to their character!
For this reason, we don't recommend this breed to first-time owners. This is a cross that requires experience to handle correctly.
Training Your Dachshund Husky Mix
Owing to the potential stubbornness and independence that may be present within Duskys, training them can be a challenge.
However, we have plenty of resources and guides on the topic to help!
If you're still struggling to train your pup, it's best to seek the help of a professional trainer.
Giving up and simply not training your dog is never a good option, especially with a breed that may be predisposed to aggression.
Socialization is another incredibly important aspect of training you cannot afford to miss out on with this breed.
Early socialization training will reduce the risk of aggression and help your Dusky to become much friendlier around other dogs and humans.
Dachshund Husky Mix Exercise Requirements
It may take some time to ascertain how much exercise is needed for any given Dusky, which may range from a daily walk or two to a few hours of running about!
To find out how much exercise your Dusky requires, start with small walks.
If they come back home still full of energy, next time increase the size of the walk or try letting them play in a nearby secure area.
Keep increasing the time exercised until your Dusky is satisfied!
Your dog may be very energetic if they take after their Husky parent.
However, if your Dusky has short legs like the Dachshund, it's important to be careful when exercising them.
Their joints and back can be highly vulnerable to injury, so it's best to avoid strenuous exercise with this breed.
Allowing your dog to play in steep terrain or jump on and off objects is not recommended. And this advice applies to inside the house too.
Try not to let your dog run up or down the stairs, or jump on and off of the furniture.
Life Expectancy and Health of the Dachshund Husky Mix
The expected lifespan of this cross is around 12 to 16 years. But unfortunately, this breed is prone to certain severe health issues that you should be aware of.
There is a risk Achondroplasia or dwarfism owing to the short, stumpy legs of the Dachshund, which can lead to musculoskeletal health issues in this cross.
While it may be 'cute', this characteristic can put a lot of unnecessary stress on the joints and backs of your dog.
Your dog may have an increased risk of joint conditions such as hip dysplasia and patellar luxation.
Severe back problems such as intervertebral disc disease can also stem from Achondroplasia.
The disease can cause rupture or herniation of one or more discs in your dog's spine leading to severe pain. In serious cases, this may even lead to paralysis.
This cross may also be prone to eye issues such as cataracts and progressive retinal atrophy, both of which can lead to vision loss and blindness.
To help reduce the risk of any of these health issues, choose a trustworthy breeder who can show proof that both parent dogs are healthy and do not have any of these conditions.
Any reputable breeder should be able to provide recent health evaluations for both parent dogs.
It's best to avoid dogs with the shortened legs of the Dachshund since this can help reduce the risk of the joint and back problems.
Dusky Care Requirements
This breed does well on standard, high-quality dog food. However, care must be taken to never overfeed.
Obesity can be a problem, and if your Dusky has shortened legs the extra weight can further increase the strain on the joints and back.
As for grooming, this breed usually only requires a good brush a few times a week to remain at their best.
However, remember to keep on top of their nails and teeth too. Overly long nails can cause discomfort and they will need to be trimmed down.
Regular brushing of the teeth can help keep their mouth healthy and clean.
Do Dachshund Husky Mixes Make Good Family Dogs?
Sadly, we cannot recommend this breed to any families due to concerns over Achondroplasia being present within the breed.
This condition significantly increases the risks of debilitating joint and back problems.
If your Dusky has the weight of a Husky on the shortened legs of the Dachshund could further increase the risk of associated problems.
If your heart is truly set on this breed, we would heavily recommend avoiding any Duskys with shortened legs.
It may also be worth considering rescuing an adult dog rather than purchasing a puppy from a breeder.
Rescuing a Dachshund Husky Mix
Rescuing a dog comes with pros and cons.
The main advantage is that it allows you to have a lot more detail about the dog before purchasing, unlike some cases with breeders.
As the dog you are rescuing is likely to be an adult, most health and temperament issues will already be visible.
However, many dogs within rescue end up there due to severe health or behavioral problems in the first place, so this is something you may need to be prepared for.
If you decide to rescue a dog, you will be asked questions by the staff about your current family situation and how much time you have to devote to your new dog.
This is all to ascertain whether you and your home would be a good fit for the dog.
From there you may be allowed or denied adoption of the dog.
It's important to note that some rescue centers have a reputation for being overly strict. If you feel that this is the case with you, you may want to try again elsewhere.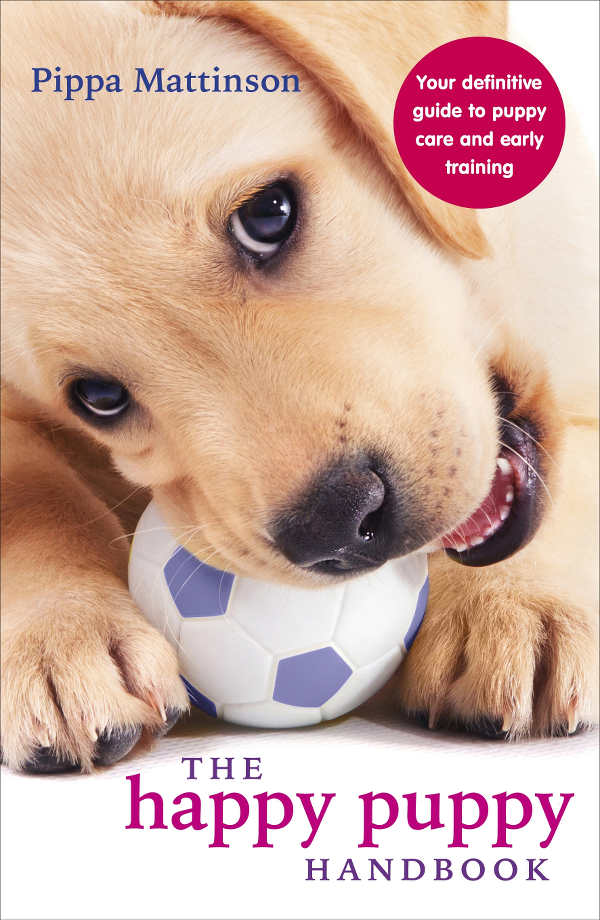 Finding a Dachshund Husky Mix Puppy
If you decide to instead to purchase your Dusky puppy from a breeder, there are some important things you should keep in mind to have the best chance of taking home a healthy dog.
Unfortunately, not all breeders out there have the interests of their litters at heart. Many of these so-called puppy mills sacrifice the wellbeing of their dogs for more efficient sales.
Puppies from these places often have genetic health problems as a result of poor breeding practices.
It is also common for these puppies to be untrained and completely unsocialized, which can lead to temperament and behavioral problems.
Therefore, it's important to avoid such breeders.
Pet shops should also be avoided since many of them buy their stocks directly from puppy mills.
To have the best chance of buying a healthy puppy, spend as much time as you can looking for a trustworthy breeder.
A good breeder will have recognition from reputable breeding societies and positive feedback from previous customers.
For further information on finding a puppy, check out our guide here.
Raising a Dachshund Husky Mix Puppy
Raising a puppy into a well-behaved adult dog can seem like an insurmountable task at times, especially for the inexperienced dog owner!
Luckily we have a few resources to help deal with just that! Check out the following articles:
Dachshund Husky Mix Accessories
If you do decide to purchase this breed, you may need some extra accessories and tools to make life easier!
It's worth considering buying a harness instead of a leash for walks. This can make your dog feel more comfortable.
In another article, we explore some of the best harnesses for the Dachshund, which could also be useful for the Dachshund Husky Mix.
Pros and Cons of Getting a Dachshund Husky Mix
So, what are the pros and cons of this mixed breed?
Pros
Potential to be a loving, loyal dog
Low grooming requirements in most cases
Cons
High risk of structural health issues owing to the short legs of the Dachshund
Potential predisposition to aggression
Strong instinct to chase small animals
May require special care
High exercise requirements that not every family can fulfill
Similar Dachshund Husky Mixes and Breeds
We cannot recommend this breed due to potential health concerns and therefore suggest looking at other similar, often healthier, breeds before making a decision.
Husky Golden Retriever Mix
Dachshund Husky Mix Rescues
Unfortunately, there are no rescue centers dedicated entirely to this crossbreed. However, you may have luck searching for centers focused on the parent breeds!
UK
USA
Canada
Australia
If you know of any other rescue centers we should add to the list, let us know below!
Is a Dachshund Husky Mix Right For Me?
Only you can answer that question.
We cannot recommend this breed due to health concerns of the Dachshund parent, but if your heart is truly set on this breed, be sure to consider whether you have the time and ability to care for this breed correctly.
This is not a breed for first-time owners and may require an experienced hand. Duskys will need a lot of time devoted to them daily to be happy and healthy.
Be sure to check out similar but healthier breeds before coming to any final decisions.
What do you think of this breed? Good or bad? Let us know below!
References and Further Reading
O'Neill DG et al. 2016. The epidemiology of patellar luxation in dogs attending primary-care veterinary practices. England Canine Genetics and Epidemiology.
Gough A, Thomas A, and O'Neill D et al. 2018. Breed Predispositions to Disease in Dogs and Cats. John Wiley & Sons.
Priester WA. 1976 Canine intervertebral disc disease – Occurrence by age, breed, and sex among 8,117 cases. Theriogenology. 1976
Parker HG et al. 2009. An expressed fgf4 retrogene is associated with breed-defining chondrodysplasia in domestic dogs. Science.
Priester WA. 1972. Sex, Size, and Breed as Risk Factors in Canine Patellar Dislocation. Journal of the American Veterinary Medical Association.
Duffy DL, Hsu Y, and Serpell JA. 2008. Breed differences in canine aggression. Applied Animal Behavior Science.
Lewis TW, Blott SC, and Wooliams JA. 2013. Comparative analyses of genetic trends and prospects for selection against hip and elbow dysplasia in 15 UK dog breeds. BMC Genetics.
Lim CC et al. 2011. Cataracts in 44 dogs (77 eyes): A comparison of outcomes for no treatment, topical medical management, or phacoemulsification with intraocular lens implantation. The Canadian Veterinary Journal.