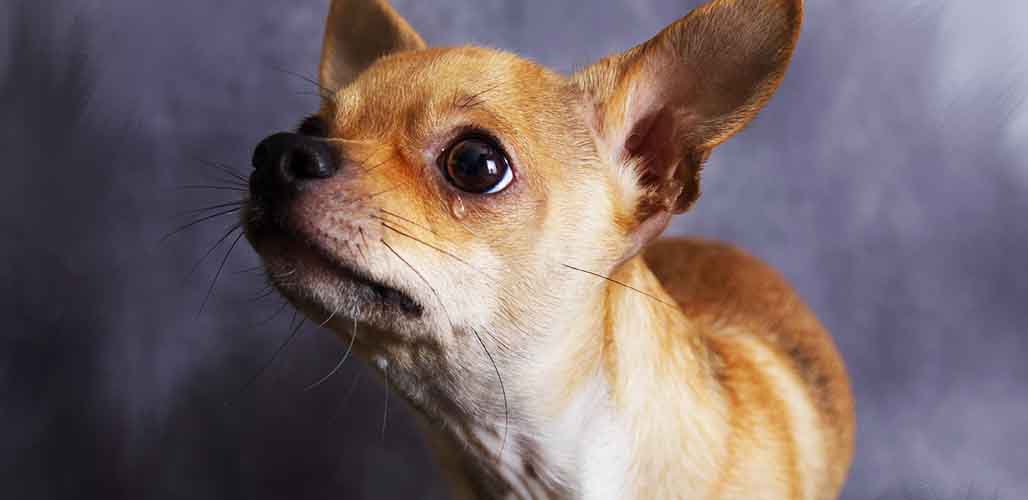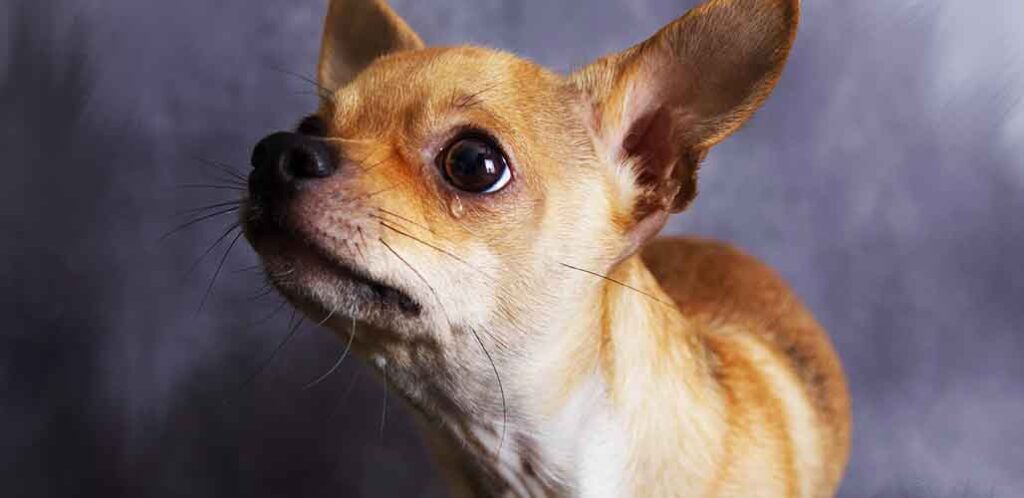 A crying Chihuahua can be frustrating and concerning. But, there are lots of things that can make a Chihuahua cry all the time. Chihuahuas are popular toy dogs thanks to their affectionate personalities and small size. But, like all dogs, Chihuahuas are known to whine or cry in some situations. In fact, a crying Chihuahua can be a sign of a sick or injured Chihuahua. So, it's important to learn exactly what's causing your Chi's behavior. Today we take a look at all of the potential causes and how to help them!
Contents
About the Chihuahua Breed
Chihuahuas are one of the world's most ancient dog breeds, whose ancestors were bred and refined by the Aztecs. These tiny dogs only grow from 5 to 8 inches tall, and will weigh up to 6 lbs. In fact, they're small enough to fit in a handbag – which is a trend that really took off in the noughties.
Chihuahuas are most popular as lapdogs and small family companions. Their small size makes them ideal candidates for small homes, like city apartments. But, this size can also pose problems, like delicate bones, that make them less ideal for homes with young children.
Chihuahuas can vary in shape and color. Long haired varieties are available, as well as short haired. They're generally affectionate, cheeky, and feisty little dogs. But, some people also find that crying and whining is a common trait.
Do Chihuahuas Cry?
Dogs communicate their emotions through their body language and certain vocalisations, like barking and crying. However, Chihuahua crying is not the same as human crying. In humans, crying usually involves tears, and is associated with sadness.
When we say a Chihuahua or a dog is crying, we're actually referring to the whining sound they make. And, though it can mean your dog is sad or in pain, like a human crying might be, it can also just be a way of communicating a need or a desire.
Why Do Chihuahuas Cry?
There are a huge number of reasons why your Chihuahua might by crying or whining. There's no universal explanation. For instance, puppies often cry and whine to communicate with their siblings and mom, but in adult dogs, it can be a learned response. You can narrow down the potential causes by looking at your Chi's other body language and the context in which they are making this vocalisation.
This can be tricky if you aren't familiar with dog body language. But, don't worry! We're going to look at all of the most common reasons why your Chihuahua might be crying next.
Anxiety, Fear, or Feeling Unsafe
A major reason for whining and crying Chihuahuas is fear, anxiety, and generally feeling unsafe. Whining and crying can be a sign of distress. For instance, if your Chihuahua is stuck somewhere or if they can hear or see something that scares them, like fireworks.
Whining and crying is also a consequence of anxiety, such as separation anxiety. So, you may hear your Chihuahua crying when you leave them alone. In extreme cases, this could even be when you leave the room, or if they're separated from you by a barrier like a baby gate.
In some of these situations, you might need to enlist the help of a behaviorist to fix the problem.
Reaction to Pain
Crying can be a reaction to pain in Chihuahuas. For instance, your dog might yelp when you step on their foot, or they might cry more consistently if they have an illness that's causing them chronic, consistent pain.
Chihuahuas are delicate little dogs, mainly as a result of their tiny size. They are very fragile and are prone to injuries and bone fractures. This could be caused by rough handling, falls from high places, or even punishment-based training methods.
On top of this, Chihuahuas are prone to a number of health problems that can cause pain. This includes dental issues, heart problems, and certain joint issues.
Seeking Attention and Mental Stimulation
The reasons we've looked at so far have been in response to triggers. But, Chihuahua crying can also be a sign that your Chihuahua is seeking something, such as mental stimulation or some affection and attention.
Chihuahuas are affectionate lapdogs that form strong bonds with their owners. But, despite this, many people underestimate just how much affection Chis will want and need every day. Most Chihuahuas are happiest when they're with you, whether you're playing a game together or cuddled up on the couch.
Since they're so small, people also forget that Chihuahuas need plenty of mental stimulation. This can come in the form of training, interactive toys, and challenging games around the house. But, it's vital to provide this every single day.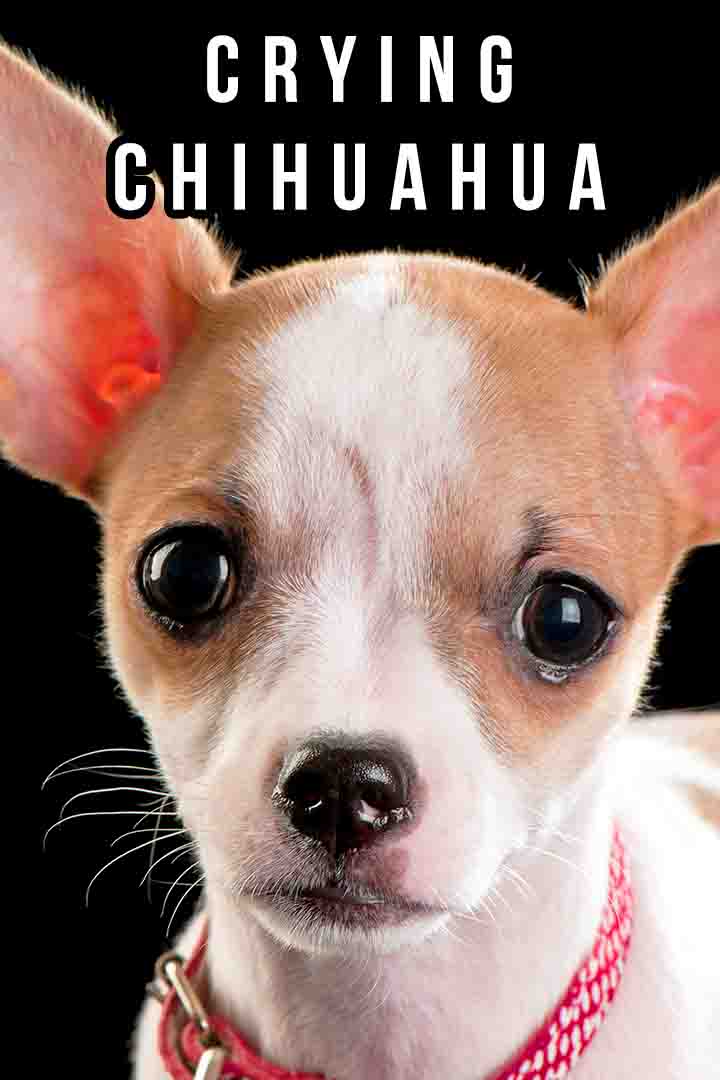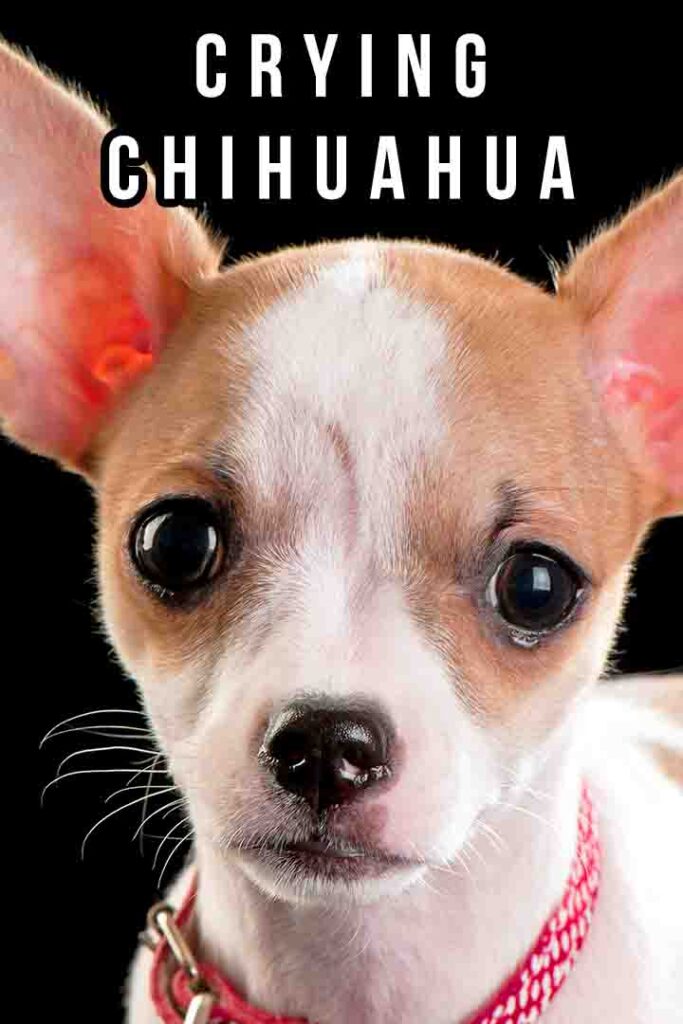 Hunger or Needing the Toilet
Chihuahuas may cry if they are hungry. If you delay one of their meals, rather than serving it at the usual time, this is likely to be why your Chihuahua is whining!
Since Chis are such small dogs, they also have very small bladders. This means they will need to go to the toilet more frequently than larger breeds. And this can be quite a shock to owners that are used to larger breeds! In fact, some Chihuahuas will need to empty their bladder as frequently as every 20 minutes.
Taught Behavior
Whining and crying in Chihuahuas can also be a taught behavior. This is usually an accidental occurrence – most owners won't sit and train their Chi to cry! But, you'll be surprised how easy it is to reinforce unwanted behaviours like this.
For instance, if you pick up your Chi, cuddle them, pet them, or even just speak to them whenever they cry, they'll soon realise that whining gets them good things – you! Chihuahuas form strong bonds with their owners. And, they'll love your attention and time. Rewards don't just come in the form of dog treats!
My Chihuahua Cries at Night
In some cases, Chihuahua crying only happens at certain times. For instance, your Chihuahua might whine at night. There are a few things that could be causing this and a lot of them are linked to the things we've spoken about above.
Your Chihuahua could cry because they're bored, lonely, and want some attention. If you turn up as soon as your Chi starts crying, they know this is all they need to do to get you there! In some cases, this leads to Chihuahuas crying longer and louder until you arrive.
When Chihuahuas first come home, they may cry because they're scared and lonely. It's a big change sleeping alone in a new place without their mom and siblings. So, it can help to let them sleep near you for a few days, until they're more comfortable with your home.
As we know, Chihuahuas have very small bladders. So, a major cause of crying through the night is actually your Chihuahua needing to pee. To solve this, many owners will provide puppy pads in their Chihuahuas sleeping area, to avoid having to wake up through the night and take their dog outside.
And finally, in some cases, a Chihuahua might be crying at night because they've hurt themselves. For instance, they could have trapped a paw or their tail in something. This type of crying will normally sound more distressed than other types.
My Chihuahua Cries in Their Crate
If your Chihuahua is crying in their crate, you might have proceeded too quickly with your crate training. Most dogs won't automatically love being shut away in their crate. It's up to you to make it a happy, rewarding, and safe place.
This can involve leaving the crate door open for your Chihuahua to explore freely when they first come home. It's a great idea to leave treats inside, so your Chi associates their crate with great things. Then, work in very small, slow steps to increase the amount of time they're happy to spend inside with the door shut. You can increase the difficulty by adding distance between yourself and the crate until your Chi is happy spending time in their crate when you aren't even in the room or house.
If you move too quickly, your Chihuahua can become scared and might cry or whine to be let out.
Do Chihuahuas Cry Tears?
Chihuahua crying is not the same as human crying. In dogs, crying is a whining noise. Chihuahuas won't cry tears when they're upset or distressed. In fact, tears are usually a sign of a health issue. Here are some of the most common causes of tears in Chihuahuas: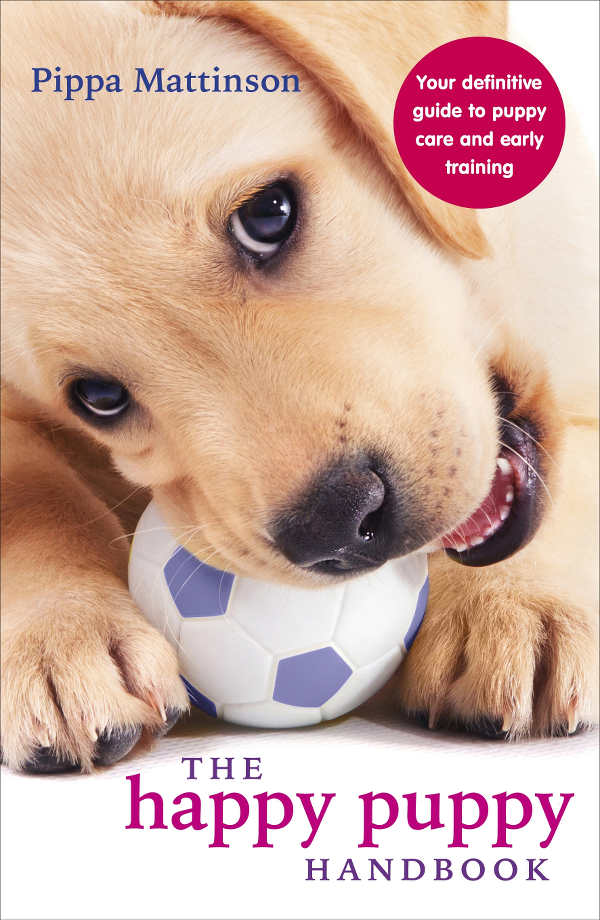 Allergies
Glaucoma
Entropion
Blocked tear ducts
Brachycephalic ocular syndrome
Many health problems like the ones above will cause pain or irritation which could also lead to whining. So, it might look like your Chihuahua is crying tears when they whine. But, this is actually a sign you should visit your veterinarian.
How to Get a Crying Chihuahua to Stop Whining
The first step to stopping your Chihuahua from crying is to identify why they're whining. In some cases, they may be in pain, injured, or unwell. A trip to the veterinarian will be needed to fix the problem. But, in other cases, your Chi may be seeking some attention, or may have another bodily function that needs seeing to.
If your Chi is whining, it's worth checking if they need the toilet or if you are late with one of their meals. However, if you think they are seeking attention, wait until they're quiet before you play with them. Rewarding whining will just lead to more of it!
Make sure you ignore any unwanted behaviors. Instead, reward the behaviors you want to see.
You can minimise crying by keeping your Chihuahua busy, stimulated, and healthy. Handle them gently, and include lots of interactive, fun games in your daily routine.
Do You Have a Crying Chihuahua?
It can be tough dealing with a crying Chihuahua. On the one hand, you'll want to make sure nothing is wrong with your dog. But, you also won't want to reward the noise if it's just to seek some attention!
Keeping your Chihuahua healthy and entertained will go a long way to preventing crying. Work in small steps from the time your Chi comes home to help them feel comfortable when they're alone, including in their crate. Do you have any tips to soothe a crying Chihuahua?
Readers Also Liked
References and Resources