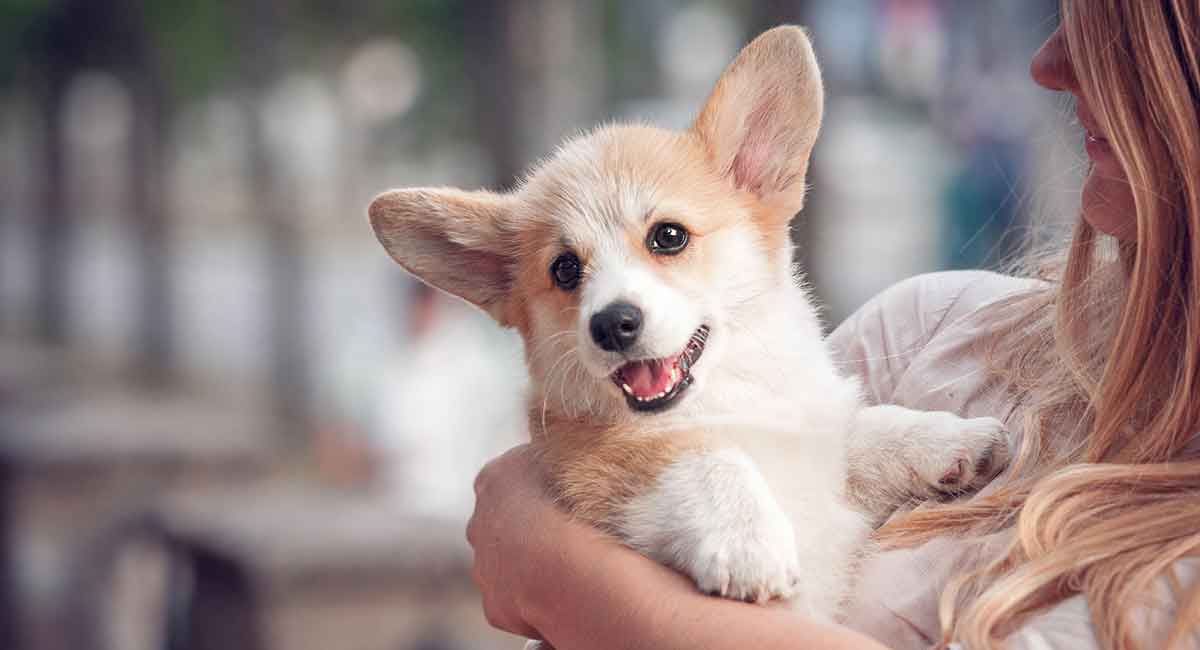 What are some good Corgi names?
That's a question you'll be asking yourself if you're about to welcome a Corgi puppy into your household.
Well, if you're looking for inspiration for some good Corgi names, you've come to the right place!
In this article, we're going to discuss how to choose some great Corgi names.
We'll also talk about the importance of choosing the right name for your Corgi puppy.
Whether you're looking for cute girl Corgi names, cool Corgi names, or Pembroke Welsh Corgi names!
You're sure to find something to inspire you here!
Let's take a look at why choosing the right Corgi name's so important.
Why choosing the right name for your Corgi matters so much
The cheeky Corgi is undoubtedly cute and is full of personality.
And we're sure that's why the Queen loves the breed so much!
But although they may look similar, each Corgi has his or her own individual character.
You want to choose a name for your pup that reflects this.
Naming a puppy is something of a guessing game however.
You never know whether he'll grow into a shrinking violet or a cheeky extrovert.
But you do know the sex of your pup, and what color he will be when he's fully-grown.
You also know your pup's heritage, and their Royal connection too!
Short names are best
When looking through lists of Corgi names, try to choose something short.
Ideally you want to pick a name that has just one or two syllables.
The reason for this is that long, complicated names are very difficult for your puppy to learn and remember.
Of course, if you do come across a long Corgi name you can always give it a short nickname.
So, let's get started and look at some cool dog names that might be perfect for your Corgi!
Sources of inspiration for Corgi names
Inspiration for Corgi names can come from many sources.
You might decide to name your pet after the place you bought him from.
The city or state where you live, or your favorite vacation destination.
Perhaps you have a school teacher who has a great name that would look cool on a Corgi!
Maybe you're a big fan of a TV show with a name that would suit your pup.
And of course if you have a Corgi mix puppy you can take inspiration from even more places!
So what do you do if you find two Corgi names that you really love and you can't decide between them?
Well, why not combine both names to create your very own unique Corgi name!
Welsh Corgi names
The Corgi breed originates from Wales, U.K. where it was originally used as a herding dog.
With that in mind, you might want to choose a Welsh name for your Corgi to reflect the breed's heritage and origins.
Let's start with the girls!
Female Welsh Corgi names
Fflur (Flower)
Ffion (Foxglove)
Ffanci (Fancy)
Ceri (To love)
Ceinwen (Blessed and fair)
Catrin (Pure)
Carys (The beloved one)
Carryl (Love)
Caron (Loving or kind-hearted)
Cari (To love, friend)
Betrys (The blessed one)
Bethan (A form of Elizabeth)
Berwyn (Fair-haired)
Aeron (Celtic goddess of battle and slaughter)
Aeres (Welsh name for heiress)
Welsh male Corgi names
There are plenty of Welsh male Corgi names to choose from.
For more male Corgi names, take a look at our suggestions for male dog names at this link.
Gar (Gentle, Enclosure, Watchful)
Gareth (Gentle, Enclosure, Watchful)
Garth (Gentle, Enclosure, Watchful)
Gavan (White hawk)
Tegan (Darling, Loved one)
Tegau (Darling, Loved one)
Harri (Home ruler)
Huw (Heart and mind)
Ifan (Welsh form of John)
Ifor
Ilar (Cheerful)
Royal Corgi names
It's well-known that the U.K. Royal family have always had at least one Corgi in their household.
Perhaps you'd like to draw inspiration from your puppy's regal associations when choosing his or her name?
Here are a few Royal Corgi names you might like:
Queenie
Sandy (after Sandringham, the Royal summer residence)
Charles
Diana
Harry
Henry
Balmoral
Buck (as in Buckingham Palace)
Clarence (like Clarence House, a royal residence)
King
Prince
HRH
Lizzie
Lilibet (the Queen's family nickname)
Queen Elizabeth Corgi names
As you know, Queen Elizabeth loves Corgis!
Who knows, your puppy could even be related to one of Her Majesty's beloved pups!
So, why not choose to name your Corgi after one of the Queen's dogs?
This is a list of the Queen's Corgi names.
We've included a few other names that HM has given to her other favorite canine companions.
Including cocker spaniels and dorgies (a cross between a Corgi and dachshund.)
We think these names would look great on a Corgi too!
Monty
Emma
Linnet
Willow
Holly
Cider
Berry
Vulcan
Candy
Bisto
Oxo
Flash
Spick
Span
Cowboy Corgi names
For something different, why not look at cowboy names.
Take your inspiration from the Wild West heroes and villains of yesteryear?
We reckon that these can make great Corgi names:
Wyatt
Wesley
Wayne
Virgil
Tom
Sam
Jane
Earle
Dallas
Cooper
Colt
Butch
Boone
Bill
Bart
Annie

Corgi names that suit your pup's small stature
Here's a list of Corgi names that we think perfectly reflect the breed's looks and character:
Baby
Elf
Junior
Mini
Mite
Nipper
Peewee
Shorty
Smalley
Squat
Squirt
Tiny
Cute Corgi names for boys
Corgis are undoubtedly cute! Here's a list of cute Corgi names for boy dogs:
Teddy
Spud
Skip
Scout
Rascal
Kirby
Harvey
Fido
Ernie
Corky
Buddy
Boots
Bernie
Bear
Baxter
Barnie
Augie
Asher
Cute Corgi names female
Female Corgis weigh around 25 pounds and stand only 10 to 12 inches tall.
With their short stature and sweet faces, cute names are perfect Corgi names for such a feminine little girl!
These lovely female names are perfect for your little Corgi companion:
Violet
Trudy
Rosie
Olive
Mimi
Maisy
Lucy
Honey
Gracie
Gigi
Ellie
Dottie
Daphne
Daisy
Clover
Chica
Betsy
Bella
Babe
Ariel
Angel
Funny Corgi names
Corgi names that are funny make popular Corgi names.
Here's a selection of funny Corgi names to make you smile whenever you call you pup at the dog park!
Yoda
Trump
Pope
Obama
Nixon
Ninja
Jekyll
Hyde
Homer
Google
Goliath
Fuzzy
Ewok
Dude
Dilbert
Cupid
Byte
Brain
Bones
Bond
Bingo
Billy the Kid
Bilbo
Big guy
Banjo
Things to remember when choosing the best Corgi names
There are a few things to remember when choosing unique Corgi names.
Choose a name that's nice and short, preferably with only one or two syllables.
If you do go for a longer name, pick one that you can shorten easily so that your puppy finds it easy to learn and remember.
Be sure that you don't pick a name that sounds too similar to that of one of his new companions.
Bear in mind that there must be hundreds of Corgis called "Queenie!"
If possible, try to choose a unique dog name or one that's unusual.
Think about the training commands that you're going to teach your puppy, and choose a name that can't confused with one of them.
For example, if you're going to use "Stay" to tell your Corgi to sit and wait, don't call him "Ray!"
It could cause your poor pup no end of confusion if he comes bounding up to you instead of waiting!
Corgi names – summary
Choosing a great name for your new Corgi puppy is extremely important.
For a start, the name must be one that you will always love!
Be wary of picking a name that's funny or an "in joke" but could lose its meaning over time.
Always pick a Corgi name that is easy for your puppy to learn and remember.
Be sure that the name you choose doesn't sound too much like a training command or like the name of one of your other pets.
We hope you enjoyed our article and have taken away lots of ideas for Corgi names for your new puppy.
If you settled for one of our suggestions, please let us know in the comments section below.
If you already have a Corgi, we'd love to know what his or her name is and how you came to choose it.