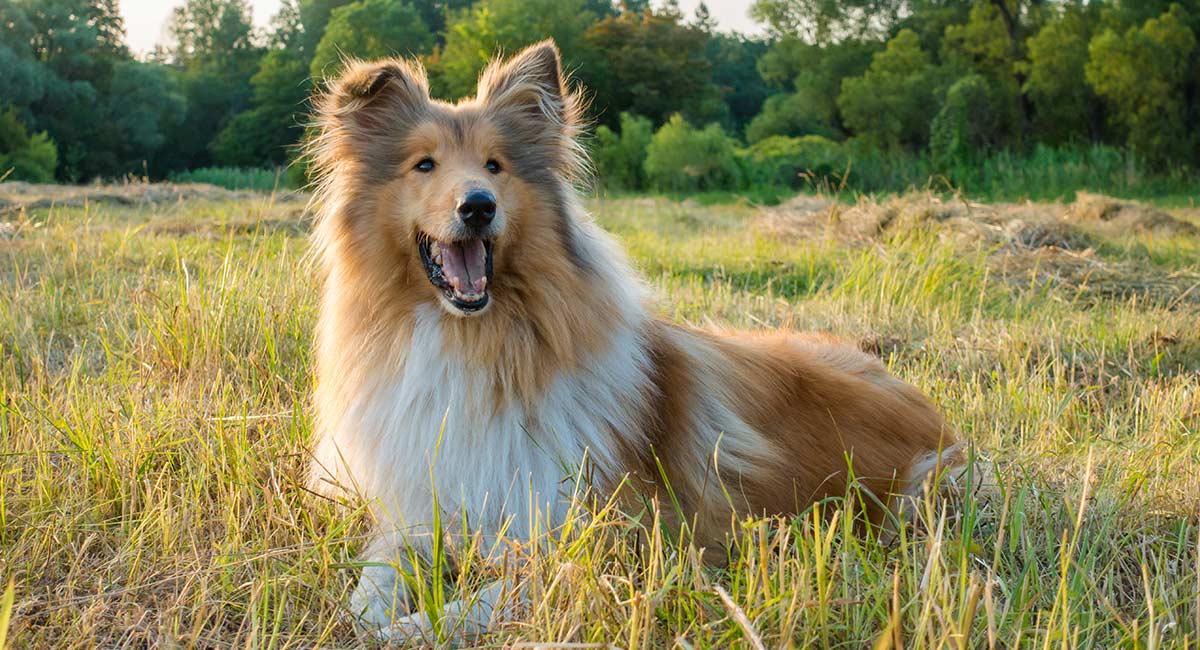 The Collie is perhaps one of the most famous breeds in the canine kingdom due to a century of royal love and Hollywood stardom.
But did you know that this beautiful dog comes in two varieties?
That's right! The Rough and Smooth Collie are just two types out of a wide variety of other Collie species.
Still, the Rough Collie is perhaps the most popular, thanks to the famous "Lassie" dog.
But there is more to the Lassie Collie than just their acting skills
If you are interested in having a Rough Collie of your own, keep reading.
We're going to provide you with everything you should know regarding the stunning and intelligent Rough Collie breed.
Presenting the Collie
As previously mentioned, the Collie comes in two varieties: Smooth and Rough.
But what is the biggest difference between the two? Basically, coat.
You see, a Rough Collie simply has a longer coat while the Smooth Collie has a shorter coat.
Otherwise, the two varieties are remarkably the same.
Intelligent and affectionate, the Collie breed is famous for more than just their role on the big screen.
Adored for their affinity for children and family life, the Collie makes a fabulous companion and herding dog alike.
But what else should you know about the dog before deciding to bring one home? Let's start by learning about how the Collie breed came to be.
History of the Collie
The Rough Collie has quite the Cinderella story with an origin that is believed to have begun in the 1800's in Scotland and Wales.
The Scottish and Welsh varieties of Collie were very different, varying in size and temperament.
The Scottish version was larger and more aggressive whereas Welsh collies were smaller and much friendlier.
Crossbreeding these ancient herding dogs with English sheepdogs is believed to have resulted in the first versions of the Rough and Smooth Collie varieties.
Originally used in Scotland as herding dogs, the Collie breed managed to steal the heart of Queen Victoria during the late 19th century.
The Queen adored Scotland and subsequently fell easily in love with their local breed, taking the Collie from the pastures and skyrocketing it into national stardom.
It wasn't long before the Collie phenomenon had spread to America, where the breed launched to fame thanks to American author and breeder Albert Payson Terhune's Sunnybank Collies books.
However, the Rough Collie reached their peak thanks to the success of Eric Knight's novel Lassie Come-Home.
The British author's novels led to a number of popular movies and even a beloved television series.
This landed the Rough Collie in the homes of many after this widespread promotion of their spectacular qualities and family-friendly affinity for children.
Still, as popular as ever, the Rough Collie breed currently stands at 37 out of 194 on the American Kennel Club's list of most popular dog breeds!
Collie Coat and Other Defining Characteristics
So, what does the Collie look like?
The Collie traits vary depending on whether you have a Smooth Collie or a Rough Collie. Still, even then the Collie Characteristics only vary in the coat.
For example, a Rough Collie, sometimes called a Long-haired Collie, has a long, double-layer coat while a Smooth Collie has a short, dense coat that lies flat.
Both varieties shed and come in six standard color combinations, including the following:
Blue Merle
White
Tri-Color
Sable and White
Sable Merle
Sable
Collies are typically around 22 to 24 inches tall for a female and 24 to 26 inches for a male. But what about the Collie weight?
The average Collie weighs around 50 to 65 lbs for a female and 60 to 75 lbs for a male.
Collies also have erect ears, a wedge-shaped head, and beautiful, expressive eyes!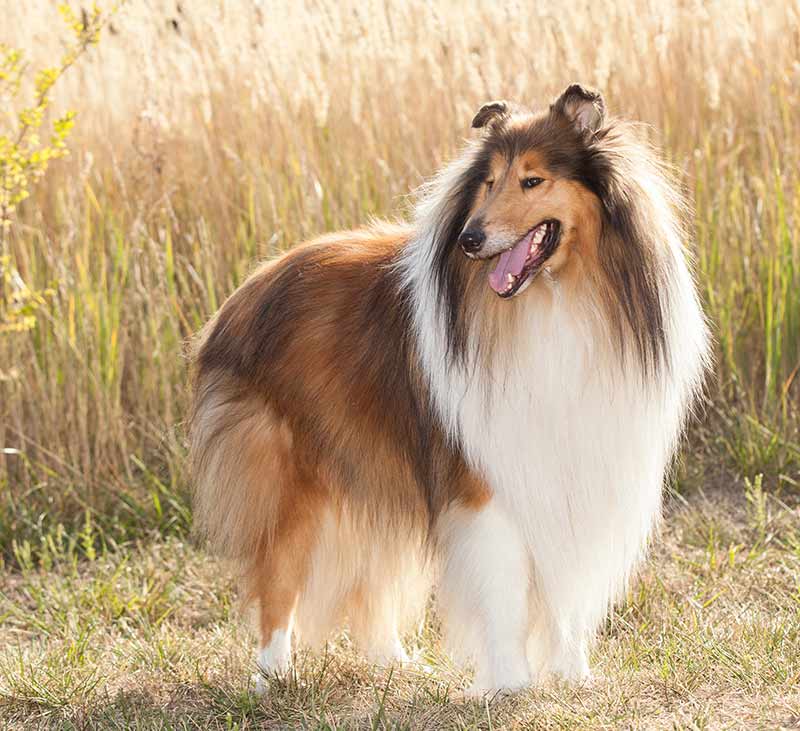 Collie Grooming and General Care
Both Rough and Smooth Collies shed and require a good amount of grooming to keep their coats and skin healthy.
Still, the short hair of the Smooth Collie means their fur doesn't mat the way the Rough Collie's fur does.
This means the Rough Collie will need a bit more brushing to ensure his coat stays tangle-free and shiny.
Brushing about two or three times a week should do for this breed, regardless of the variety.
For the Rough Collie, the American Kennel Club, (AKC), suggests that special care is taken behind his ears and around his elbows.
Now, let's find out about the Collie's personality and what makes him such a great family dog!
What is the Collie Temperament?
Just as the Lassie character portrays, the Rough Collie makes a wonderful family dog and has a strong affinity for children.
The Collie is an intelligent, friendly breed with very devotional instincts and a protective nature for those they love.
And while they bond strongly with his family and is said to be "polite" with strangers, the Collie is not known to be aggressive and is said to merely bark in order to keep unwanted advances away.
However, the Rough Collie does not tolerate being left alone for too long since they are so family-oriented.
They tend to stick to their people, though seem to love all children as if they are their own, whether they are children they were raised with or children they just met!
Being a herding breed, the Rough Collie may have a tendency to herd you about.
They will try to herd their family members and other household pets, and while this can be annoying at times, early training can help discourage this behavior.
Experts also recommend early socialization and obedience training for the Collie breed.
Early socialization will help to keep your Collie well rounded and able to adapt to different settings.
Furthermore, prospective owners should also note that Rough Collie's can become bored easily and will need to be mentally and physically stimulated to stay healthy and happy.
For this reason, training should be utilized throughout the Rough Collie's lifetime, as they enjoy learning new tricks and are eager to please.
How to Exercise and Train Your Collie
The Collie is an active, athletic breed who, as previously mentioned, is eager to please and incredibly intelligent!
They are easy to train and enjoy picking up new commands,
But to keep their intelligence from turning to boredom and subsequently negative behaviors like excessive barking, they'll need to be taught new tricks often and given lots of doggy jobs.
The Collie exercising needs go beyond running and playing in the backyard.
Does the dog in your life have a cat in theirs? Don't miss out on the perfect companion to life with a purrfect friend.

The Happy Cat Handbook - A unique guide to understanding and enjoying your cat!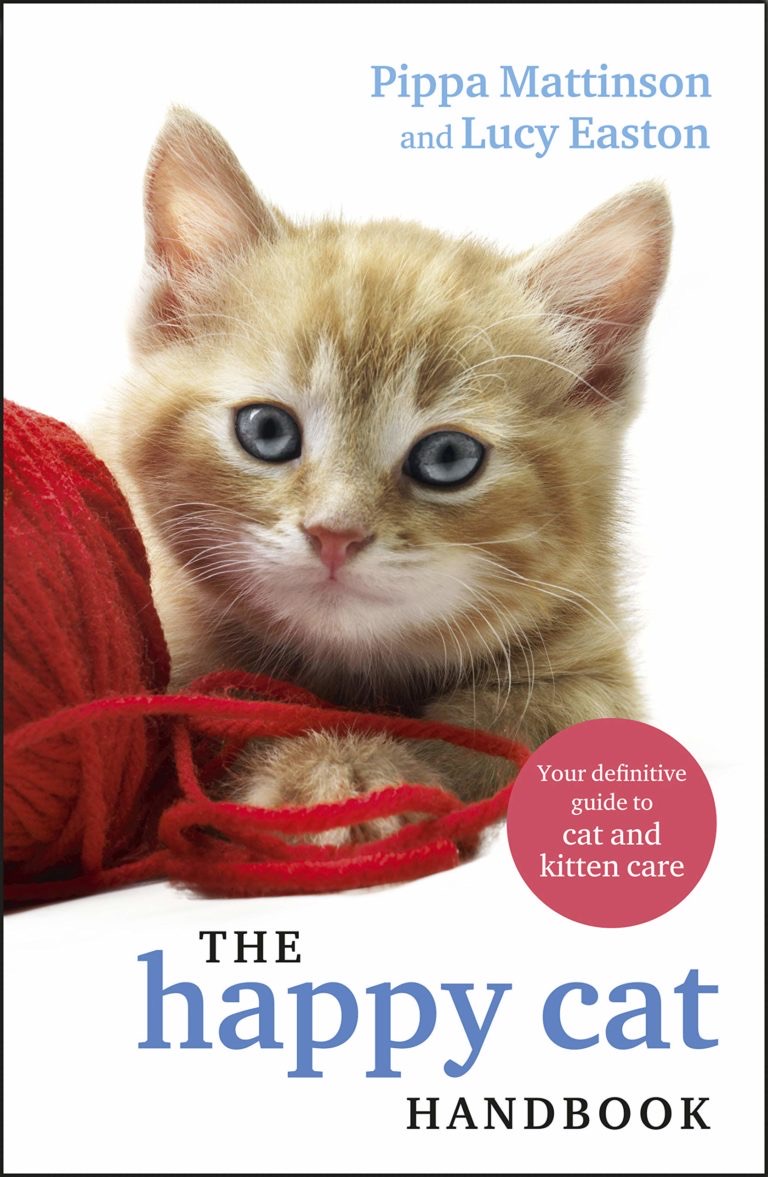 In fact, they will do best not only with games of fetch and playtime, but also with long walks, jogs, or hikes with their people.
Anything they can do with you will keep them happy.
After all, the Collie is a family dog through-and-through and want nothing more than to be with their humans.
While active and athletic, the Collie is an all-around go-with-the-flow family dog.
When properly trained and exercised, the Rough Collie knows when it's time to play and when it's time to relax!
Training should be simple with this intelligent herding breed, although experts suggest training should begin as early as possible to ensure your Collie stays well-balanced and mentally happy.
As previously mentioned, the Rough Collie should have early socialization and obedience training beginning in puppyhood to ensure they are adaptable and healthy.
Collie Lifespan and Health Issues
The Rough Collie life expectancy is about 12 to 14 years.
A lot of time, money, and research has gone into the study of certain diseases that affect the Collie breed. But it's still extremely important for a prospective owner to keep an eye out.
One of the most prevalent health issues that affect the Collie breed is hereditary eye diseases, such as Collie eye anomaly, that can lead to blindness.
Other potential issues include:
skin issues like allergies
autoimmune disease
bloat
heart disease
epilepsy
a drug sensitivity called MDR1 Mutation
If you're considering bringing a Collie home, you may want to consider having your Collie puppy health screened for any of the above heritable health conditions.
Early health screening may help you predict or maybe even prevent any potential issues your Collie could face in his future.
Preparing for any oncoming health issues could help you to prepare for or even possibly avoid certain devastating and financially trying situations.
It's also important to ensure your Collie lives a healthy lifestyle and eats a proper diet. Speaking of diet, what's the ideal food for your Collie dog? Let's find out!
Feeding Your Collie – What is the Best Dog Food for the Rough Collie Breed?
Like most dogs, Collie dog breeds will do best on a high-quality dog food that is high in animal protein and low in unnecessary grains and additives.
Regardless of if you want to feed your Collie canned food or dry dog food, we suggest looking for dog foods that list chicken, beef, or salmon as the first few ingredients.
Avoid foods that have high levels of sugar and additives like corn, soy, and wheat.
Because Collie's are prone to eye and skin issues, you may be interested in specialty dog foods geared towards skin and eye health.
Regardless of what type of high-quality dog food you choose to feed your Rough Collie, it's important to remember to feed your dog food specific for their age, weight, and activity level.
Also, your Collie should eat dog food geared towards larger breed dogs, as larger dogs require certain nutrients for muscle and bone development.
How to Pick Your Collie Puppy!
If you are simply smitten with the Rough Collie and would like to take a look at some Collie puppies, we would love to help!
Here are our tips on how to find the perfect Collie puppy for your household!
There are a number of Collie breeds in shelters who are in need of a home, although finding a Collie puppy at a shelter could be hit or miss.
However, one benefit of rescuing a Rough Collie from a shelter is that the price is going to be much less than if you got your Collie dog puppy from a breeder.
For example, most adoption fees run anywhere from $50 to $100 and many shelters will even cover the initial veterinarian cost.
Great news for both you and your potential Collie as you can rest assured they are healthy and ready to go home with you.
On the other hand, if you want to get a Collie pup through a breeder, you can expect to pay anywhere from $500 to over $1000, especially if your Collie's parents are show quality.
However, one plus of going through a Collie breeder is that you will be able to ask important questions.
It's best to find out if there were any health or temperamental issues with any of the previous Collie litters or parent dogs.
Also, most reputable breeders will have previously had their puppies health screened and will be able to provide you with certificates proving their puppies are healthy and ready to be taken home by you.
Is the Collie Right for You?
The Rough Collie makes for an intelligent, family-friendly dog
They do well in homes that have a large, fenced in backyard and family members who have time spend with them, train them, and play with them.
A potential Collie owner should keep in mind that Collie's are family-oriented breeds who enjoy being with their people.
Therefore, they thrive as part of a family that has flexible work schedules and are able to spend a lot of time with them.
These are not outdoor dogs and should not be left alone for too long, as boredom and depression can lead to unwanted and destructive behaviors.
If you're able to properly train and exercise your Collie, then you'll likely find they make an agreeable, fun-loving companion who can get on well with just about everyone!
On the other hand, keep in mind that the Rough Collie requires a bit of maintenance when it comes to grooming.
They shed a lot, so he may not be the best choice for allergy sufferers.
Also, keep in mind that the Collie is a very active dog who needs more than a few games of fetch or Frisbee to stay healthy.
Training and exercise will be a life-long feat when owning a Rough Collie, as they will need plenty of training to stay mentally happy.
This is in addition to lots of daily walks, hikes, or jogs as well as backyard playtime to stay physically fit.
So, if you don't mind a bit of loose hair on your clothes and furniture, and if you are able to provide your Rough Collie with the time, attention, exercise, and grooming they need…
The Collie will likely make the perfect dog for you and your family!
Do you have more to add about the beautiful and family-friendly Rough Collie breed? If so, we would love to hear from you in the comments!
References and Further Reading
Jeusette I et al. 2006. Hypercholesterolaemia in a Family of Rough Collie Dogs. Journal of Small Animal Practice.
Arvelius P et al. 2014. Genetic Analysis of a Temperament Test as a Toll to Select Against Everyday Life Fearfulness in Rough Collie. Journal of Animal Science.
Gacsi M et al. 2009. Effects of Selection for Cooperation and Attention in Dogs. Behavioral and Brain Functions,
Bjerkas E. 1991. Collie Eye Anomaly in the Rough Collie in Norway. Journal of Small Animal Practice.
Howell TJ, King T, and Bennett PC 2015. Puppy Parties and Beyond: the role of early age socialization practices on adult dog behavior. Veterinary Medicine: Research and Reports.
Sutter NB and Ostrander EA. 2004. Dog Star Rising: The Canine Genetic System. Nature Reviews Genetics.