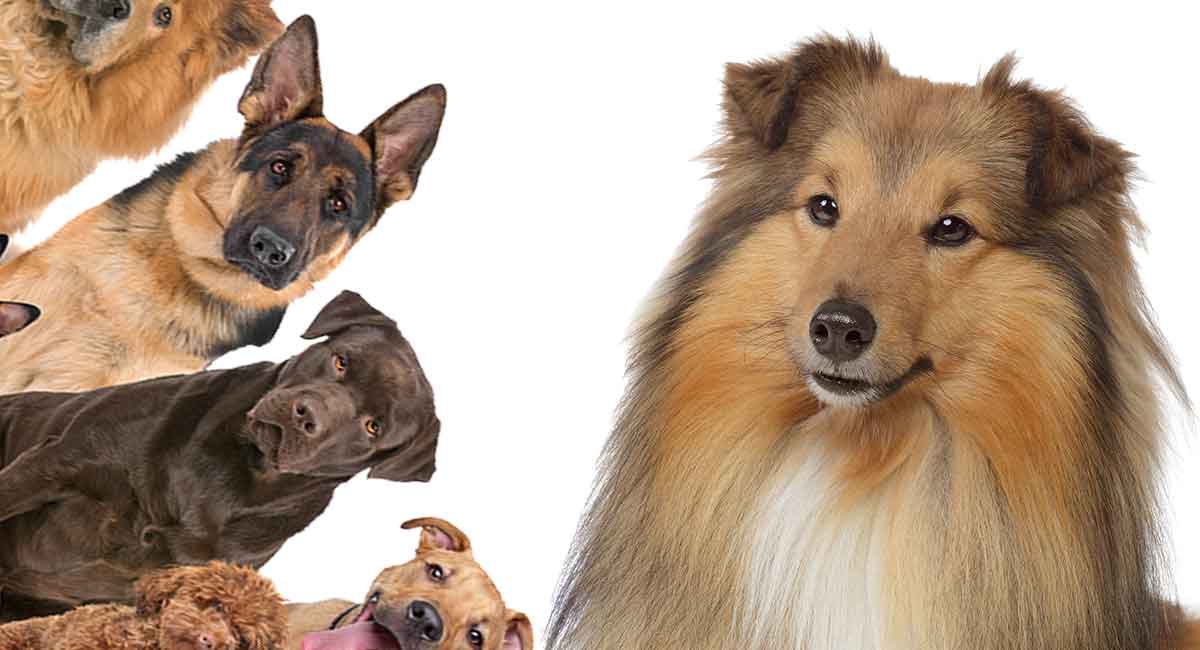 The Collie mix has one parent that is a purebred Collie and another from a different breed of dog. They are usually medium sized dogs, but can be much larger or smaller depending on their ancestry. Most Collie mix dogs are intelligent, very active and devoted to their families.
Nowadays, Collie mixes are becoming just as popular as the purebred Collie! If you're wondering what Collie mixes are available to you, look no further! This article will tell you everything you need to know about popular Collie mixes to help you decide which could be the best new member of your family.
Contents
Collie Mix Coats
Collies are an old breed, written about even in the early 1800s. They were loved and popularized by Britain's Queen Victoria. Collies have two coat types that give them a distinctive look: rough and smooth.
Rough coat Collies are also known as long-haired collies. These need a little more care when grooming, as their fur can mat easily. Regular grooming keeps their coat healthy and also helps to remove any loose fur from the undercoat.
Collies with smooth coats require less grooming, but should still be brushed every couple of days, especially during shedding periods. Smooth Collies still have a double coat, so don't be fooled into thinking they have no grooming needs!
Your Collie mix puppy can inherit either of these coat types, or one that looks quite different to either of them if the other parent is from a short coated breed.
Collie Mix Exercise and Training
Collie mixes are active dogs that need regular exercise, whether this is running around or playing games like fetch. They love the chance to run around in enclosed yards throughout the day. Daily walks are a must. This exercise helps to prevent boredom, which can lead to undesirable behaviors like barking.
Collies are sociable dogs that love to be with their people, happy to settle down with you after a long day of activities! They are a very intelligent breed that benefit from early socialization and training. They are an excellent choice if you want to train a dog in agility, obedience, or activities like herding!
Collies are a generally healthy breed but can be prone to eye problems, pancreatic atrophy, and sensitivities to certain drugs which their mixed breed puppies could inherit.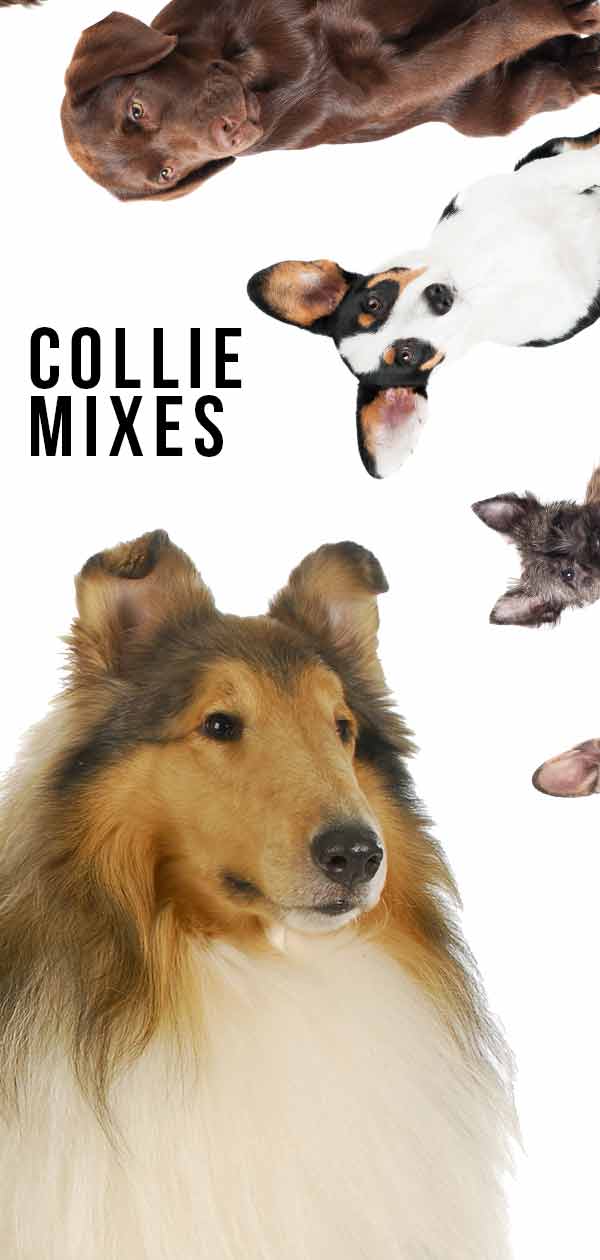 Popular Collie Mix Breeds
So, if you're not sure a purebred Collie is right for you, let's look at some Collie mixes to see if any of these are more suitable. We've looked at what characteristics your Collie mix might inherit from its Collie parent, but what about the other breed?
Afollie
The Afollie is a cross between the Collie and the Afghan Hound. The Afghan Hound was originally a hunting companion, known for its beautiful, sleek, flowing coat. They are medium to large dogs, meaning your mix will probably be a little bigger than a regular Collie.
An Afollie's grooming needs may increase as it gets older, especially if it inherits a longer silky coat like an Afghan Hound!
Afghan Hounds usually have a strong instinct to chase things, which your Afollie could inherit. Avoid letting it walk or run off the lead. However, an enclosed area where your Afollie has the opportunity to run to its heart's content will do it the world of good.
These dogs require regular exercise. Be aware of their ability to leap over short fences! Although both parent breeds are intelligent, your Afollie may inherit the Afghan Hound's stubborn, independent nature, making training tricky!
Start training and socialization as early as possible. But be aware that training may not stop your Afollie's natural chase instinct.
Your Afollie is likely to be a loyal pup that loves spending time with its owners, making it a great pet for those that want a friend for life.
Boxer Collie
The next of our Collie mixes, the Boxer Collie is a cross between the Collie and the Boxer breeds! It is a medium-sized, muscular cross.
Boxers, unlike Collies, have short, shiny coats that require little grooming. The needs of your mix will depend on the coat type it inherits. This might be a good breed choice if you're hoping for a cross with fewer grooming needs. However, although they don't need as much grooming, they will need a lot of exercise!
Like Collies, Boxers love to run around. They're very high energy dogs. They need lots of exercise to maintain their muscular physique.
The strength of Boxers mean your Boxer Collie should be trained and socialized from a young age, to ensure it doesn't accidentally hurt anyone if it jumps up!
The high intelligence of both parent breeds means these Collie mixes are a great choice for agility, herding, or obedience training.
They're eager to please, so take to training well, but may get bored with long training sessions.
Cadoodle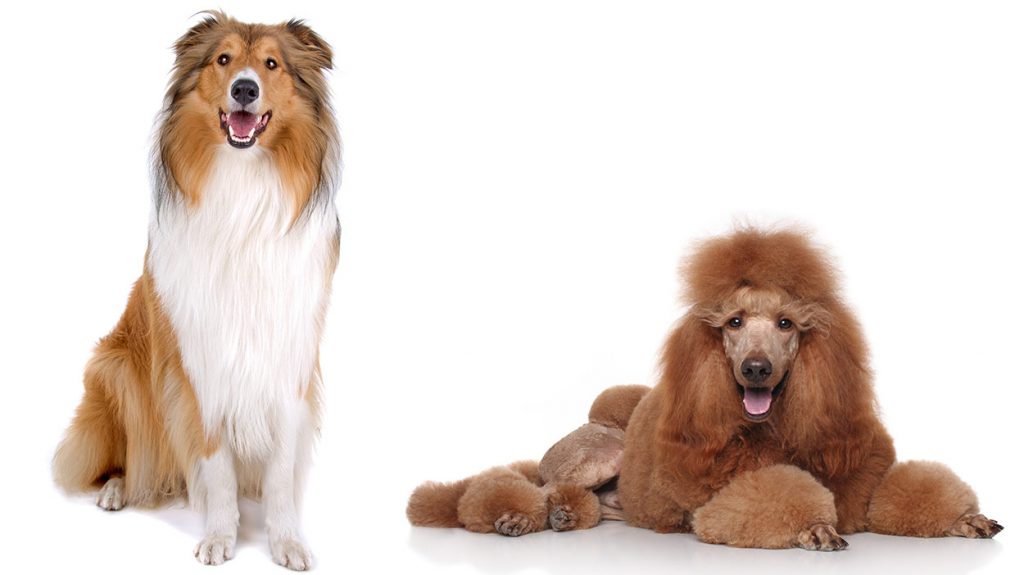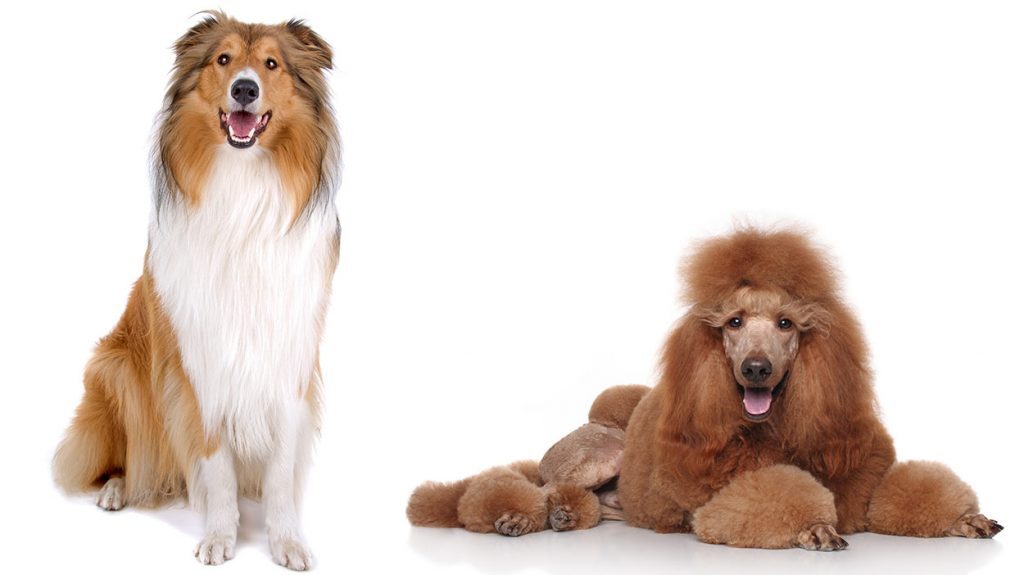 The Cadoodle is a mix between the Collie and a Poodle. Both its parent breeds have high grooming requirements, so you may find it easier taking your Cadoodle to a professional groomer.
Poodle fur needs to be brushed completely to the skin, otherwise tangles can occur at the roots of the fur. If this occurs, the pup will need to be shaved. Poodles are low shedders, which makes them popular with people with dog allergies. However, remember you cannot guarantee the poodle coat when breeding a Cadoodle.
Like Collies, Poodles require lots of exercise, as they are full of energy! Activities like swimming, running and retrieving toys are perfect for this cross. Both Poodles and Collies are very intelligent and take well to training. Cadoodles make a great choice if you're looking for a dog you can train in agility, obedience, or tracking.
Doberman Collie
This is the cross between the Doberman Pinscher and the Collie. The Doberman Collie is a large, intelligent dog that loves being around its owners.
The Doberman requires little grooming, so the Doberman Collie can be a safer bet if you want a Collie mix that you won't have to brush more than once a day! Of course, this does depend on the type of coat your cross inherits.
These Collie mixes will require a lot of exercise, and is a great breed if you're looking for a hiking or walking companion.
A large enclosed yard for your Doberman Collie to run around in is vital. This mix is naturally intelligent and eager to please! However, if not trained properly, they can exhibit destructive behaviors, showing why early training and socialization is so vital.
Gollie
The Gollie is a cross between a Collie and a Golden Retriever. This will produce a medium-sized cross. Most people hope for the golden fur of the Retriever when they mix these breeds!
Depending on the coat your dog inherits, it is likely you will have to groom regularly, and increase frequency during heavy shedding seasons.
Both parent breeds have high exercise needs, especially to avoid undesirable behaviors. You should give your Gollie daily exercise. They make great companions for long walks or runs! They're a highly intelligent breed, great candidates for sports like agility, obedience and tracking.
Training and socialization should start at a young age to make the most of this breed's naturally loving personality.
Labollie
The Labollie is a cross between the Labrador Retriever and the Collie, and has similarities to the Gollie. This is a medium sized mix that is adored for its personality.
With the Collie's intelligence and energy and the Lab's love and eagerness to please, you can't go wrong!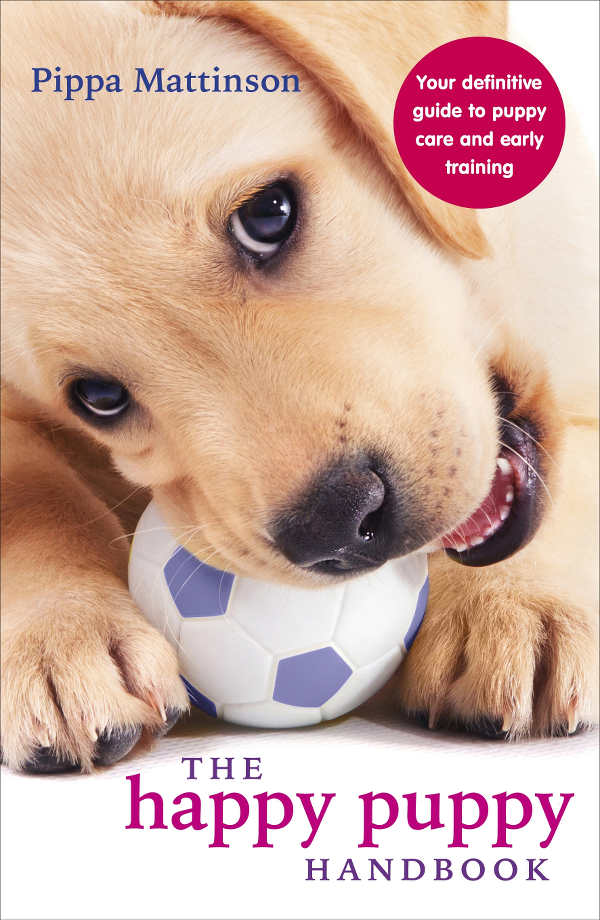 This cross makes a brilliant family pet, especially if surrounded by people to give it attention and affection. Labradors only require occasional bathing or brushing, so the amount of grooming for your cross will depend entirely on the type of coat it inherits.
This mix will be extremely energetic and love lots of exercise to avoid destructive behavior. Retrieving games like fetch are great, as well as running in enclosed places, and learning agility, obedience, or tracking.
Early socialization and training are key to make the most of this breed's friendly nature. It will take well to training given its high intelligence.
German Collie
This is the cross between a German Shepherd and a Collie. This produces a medium to large, hard working cross. Depending on the coat they inherit, they will likely require regular brushing, more frequent during shedding seasons.
They are very active, and will need daily exercise and play to avoid destructive behaviors. Their tendency to chase things means they're best running around in enclosed yards.
High intelligence makes these Collie mixes great at activities like herding, tracking, and agility. Socialization and training should start early on to receive the best results!
Sprollie
The final mix on our list is a cross between the Collie and the English Springer Spaniel! These beautiful crosses are medium sized and usually very friendly. Grooming will depend on the coat they inherit, but they should be brushed at least weekly to keep their coat shiny and healthy and avoid tangles.
They aren't the most high energy mix on this list, but love outdoor activities with their owners, whether it's daily walks or longer hikes and runs!