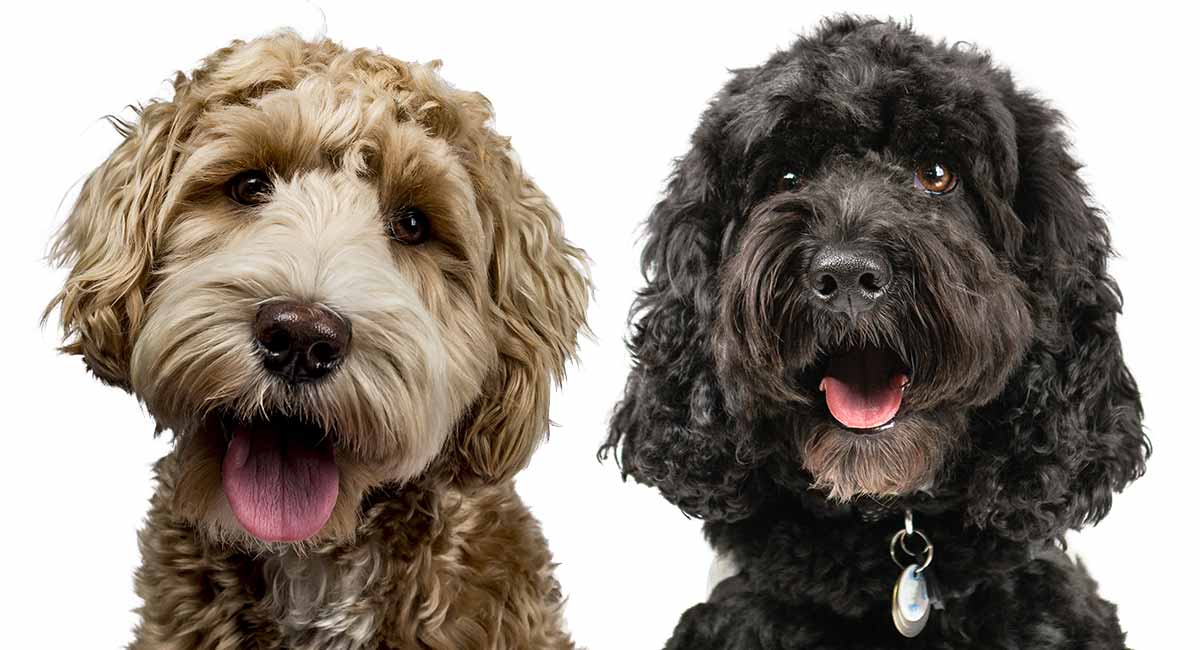 Cockapoo vs Labradoodle is a tough choice. These Poodle mixes are both excellent family pets, with high energy and a strong sense of loyalty. Labradoodles are bigger, but Cockapoos tend to be more likely to be anxious. Both pup's hair type can vary from loose waves to tight curls, but the Cockapoo's coat can be a little more high maintenance.
You're searching for a new dog, and it's come down to these two breeds: Cockapoo vs Labradoodle.
Although they have 50% shared parentage, the Cocker Spaniel Poodle mix and Labrador Retriever Poodle mix can be surprisingly different.
Which Pet to Choose?
Cockapoos have been around since the 1950s, and Labradoodles were first bred in the 1980s. Keep in mind your preferences and your lifestyle as you decide which crossbreed to get.
Are you an experienced dog owner? Do you prefer a larger dog or a smaller one? How do you feel about shedding? And how much of a commitment will you make to properly socializing your new family member?
Both of these crossbreeds can be fantastic companions if you are careful about sourcing from a good breeder.
What Is the Difference Between Cockapoo and Labradoodle Dogs?
Cockapoos and Labradoodles may seem quite similar. As Poodle mixes, they have similar traits that come from the Poodle side of their family. And some Labradoodles, depending on breeder, location (especially Australia) and how many generations have been bred, may even have Cocker Spaniel blood in them.
One thing you should know about mixed breeds is that they can get any trait from either side of the family in unpredictable amounts. So you may get more Poodle, or more Lab, in a Labradoodle. Same goes for the Cocker Spaniel Poodle mix.
However, there are differences. Size, health and grooming requirements are big ones that may help you decide.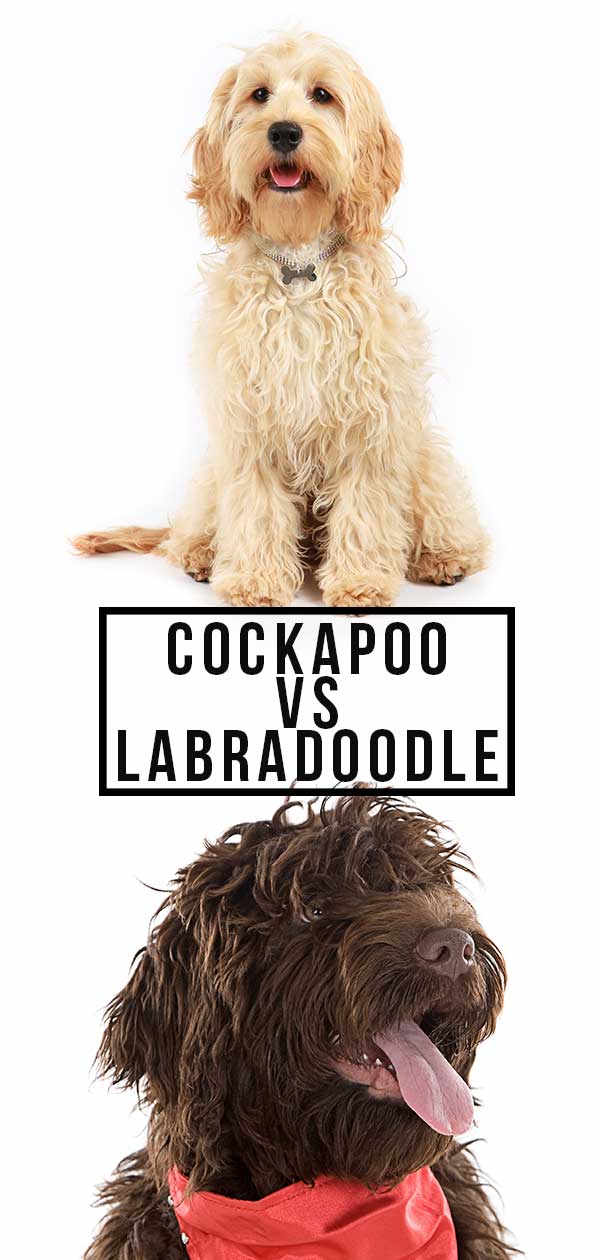 Labradoodle and Cockapoo Size
When it comes to size, there's a big range in these two crossbreeds. Cocker Spaniels are definitely smaller than Labradors. But either breed can be crossed with standard, miniature and toy-sized Poodles.
Full-grown adult Cockapoo height ranges from 9.5-15 inches. Weight is from 6-30 lbs. Increasingly, the smallest individuals are Spaniels crossed with teacup Poodles. Labradoodles range from 14-26 inches in height, with a weight between 15-95 lbs. Pups at the high end are Labs crossed with standard Poodles.
You can also get mini Labradoodles, that are much smaller!
Grooming and Shedding
Poodles tend to produce less dander than other dog breeds. They don't shed much either. There'sno such thing as a hypoallergenic dog, but Poodles are probably about as close as you can come.
Still, when they're mixed with other breeds of dog, all bets are off.
Cocker Spaniels have long, silky hair. They also shed a lot. A Cockapoo may inherit this coat, the Poodle coat, or a combination. Labradors have a double coat that tends to be coarse and shortish. With Labradoodle pups, three different types of coats may emerge: A coarse coat like the Lab, a woolly coat like that of a Poodle or a fleecy coat.
Either crossbreed, if it takes its coat from the Poodle side, must be brushed daily to the skin to prevent matting. If a Cockapoo has a more Spaniel-like coat, it will need thorough grooming daily and regular bathing. A Labradoodle with a more Lab-like coat may be be fine with a weekly brushing and occasional baths.
Labradoodle and Cockapoo Temperament
Cockapoos are fun-loving, energetic, sociable and friendly. Labradoodles are friendly and easygoing. They also have a lot of energy. But because Labradoodles are larger dogs in general, they require sufficient daily exercise.
The Poodle part of both crossbreeds is more reserved and calm but loyal. Poodles are often intelligent working dogs, and require mental stimulation and activity. Just remember that with any crossbreed, you can get traits from both sides of the family.
This is where you have to look at the dog as an individual, and decide if you can handle his or her personality. Temperament is never guaranteed; socialization and training are key.
Cockapoo vs Labradoodle Training
Cockapoos are generally eager to please and people-oriented, so they are easy to train. Be sure to use only positive reinforcement, though, because they are sensitive to punishment.
Both Poodles and Cocker Spaniels have slightly nervous temperaments. Labradoodles like mental challenges and are also tractable. They benefit from agility training and working-type challenges such as hunting and fetching.
As bigger dogs, they will definitely need basic obedience at a minimum. Both types of dog are generally happier when they are active and spend lots of time with the family.
Differences in Health
There's evidence that crossbred dogs are healthier because they draw from a larger gene pool. Inherited diseases may be less likely to occur. Yet crossbreeds are also prone to the inherited diseases of both parent breeds, so there can also be more to worry about.
Be certain to research the breeder. Ask for health testing results on both the puppy and the parents.
Labradoodles are prone to conditions such as
hip and elbow dysplasia,
epilepsy,
patellar luxation,
heart problems,
Addison's disease,
bleeding disorders,
arthritis
and skin issues.
With Cockapoos, concerns include
blood diseases,
diabetes,
kidney disease,
lymphoma,
cardiomyopathy,
melanoma,
intervertebral disc disease,
heart valve disease
and patellar luxation.
Both crossbreeds experience eye diseases that can lead to early problems and ear infections.